This post may contain affiliate links, which means I'll receive a commission if you purchase through my link. Please read full disclosure here.
Get ready to embrace the sunshine and step up your nail game with some bright summer nails! From neon to pastel, we've rounded up bright and bold nail designs that are sure to inspire your next manicure.
Summer is here and it's time to switch up your nail game! Whether you're hitting the beach or just enjoying the sunshine, a pop of color on your nails is the perfect accessory.
With so many shades and designs to choose from, it can be hard to know where to start. Whether you prefer a classic French manicure or a bold neon design, there's a summer nail look for everyone.
So, get your nails ready for the season with these amazing summer nail ideas. Trust me, they'll make you feel fresh and fashionable all summer long!
✔ Create the perfect bright summer manicure with this starter kit: UV LED Nail Lamp, Gel Nail Polish Set & Manicure Set!
SUMMER NAIL SUPPLIES:
BRIGHT SUMMER NAILS
1. Acrylic Mermaid Summer Nails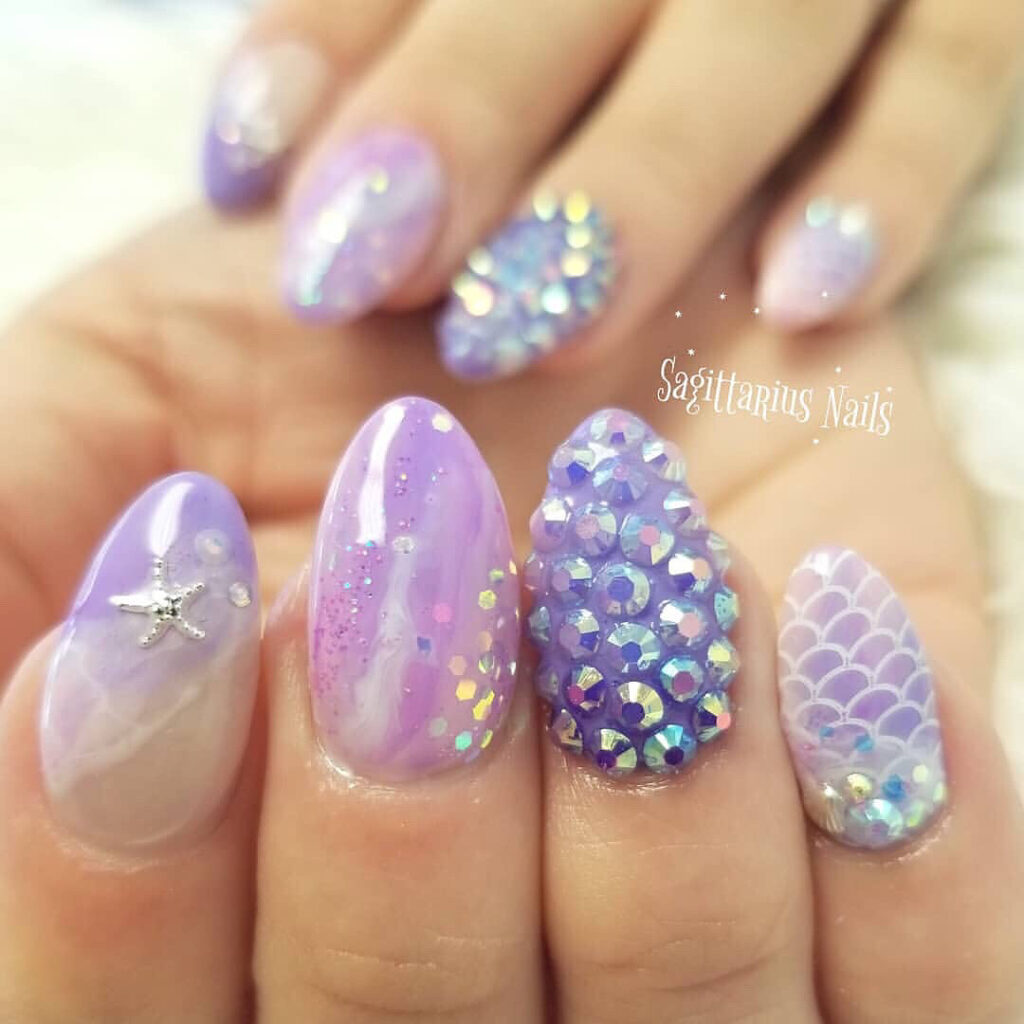 Bring out your inner mermaid with these shimmering mermaid nails. They're so stunning, they'll make you feel like you're swimming in the ocean.
2. Neon Holographic Summer Nails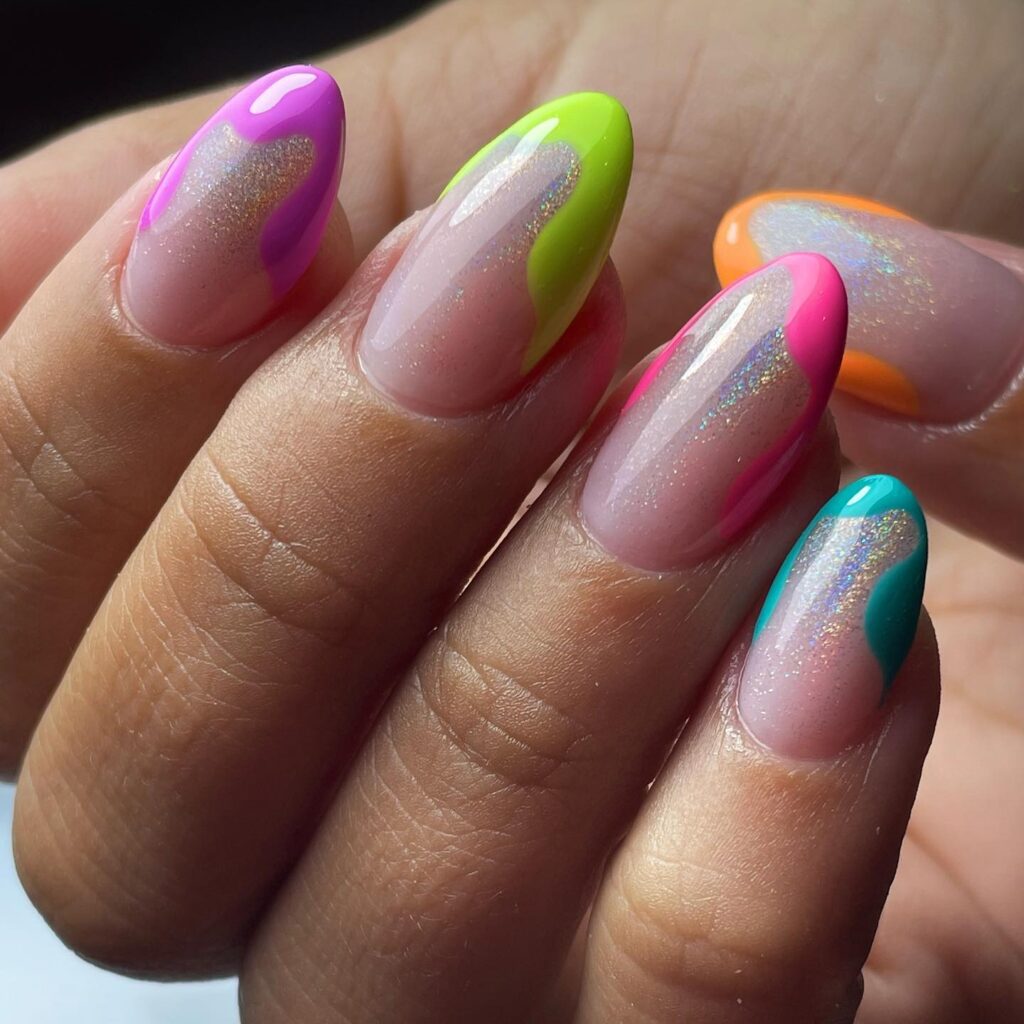 If you want to add some extra sparkle to your summer look, holographic nails featuring neon bright French tips are the way to go!
3. Simple Beach Nails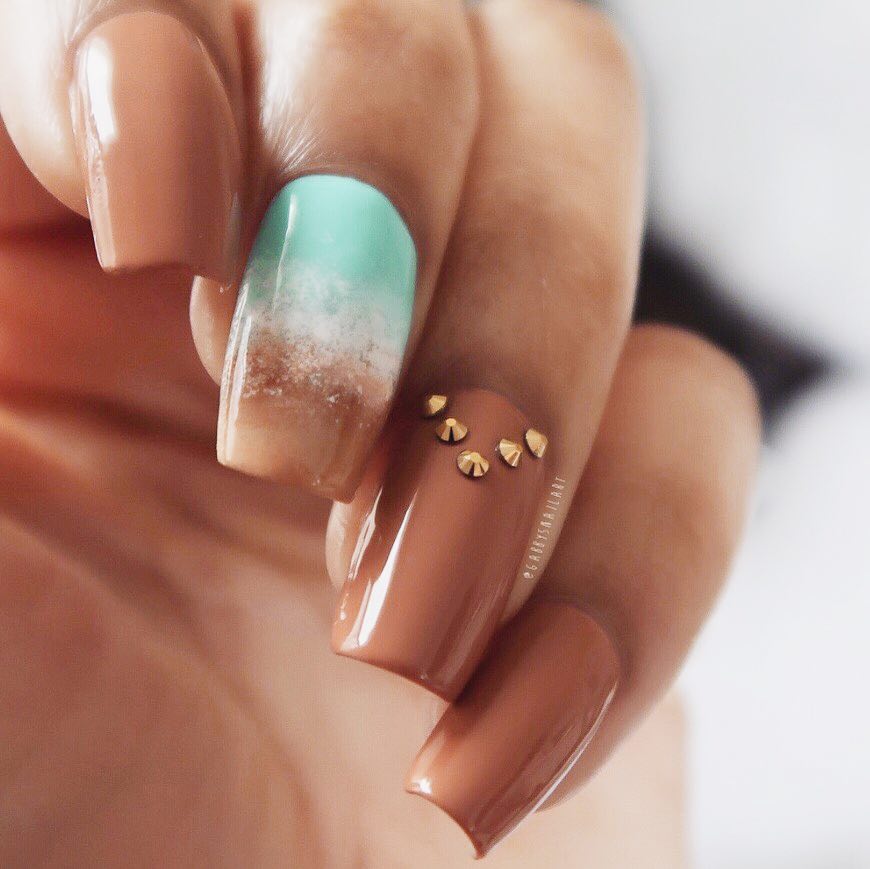 Embrace beach vibes with these caramel nails featuring sandy beach and gold studded accent nails for a touch of seaside charm.
4. Seashell Summer Nails Tutorial
OMG, I'm absolutely in love with these 3D seashell nails! Plus, they're so easy to recreate with white nail polish and don't forget to finish off your look with an elegant jewel!
Classy and sophisticated summer nails!
5. Mini Strawberry Stiletto Nails
These cute strawberry nails bring a playful touch to your summer style.
Vibrant colors and a fun design make them perfect for a lighthearted and flirty look, while red French tips add a touch of elegance.
6. Checkered Floral Summer Nails
I love how these checkered floral summer nails add a pop of color to any outfit with their stunning pastel hues.
From brunch with friends to a day at the beach, these nails will have you feeling stylish and summer-ready!
7. Melted Ice Cream Summer Nail Design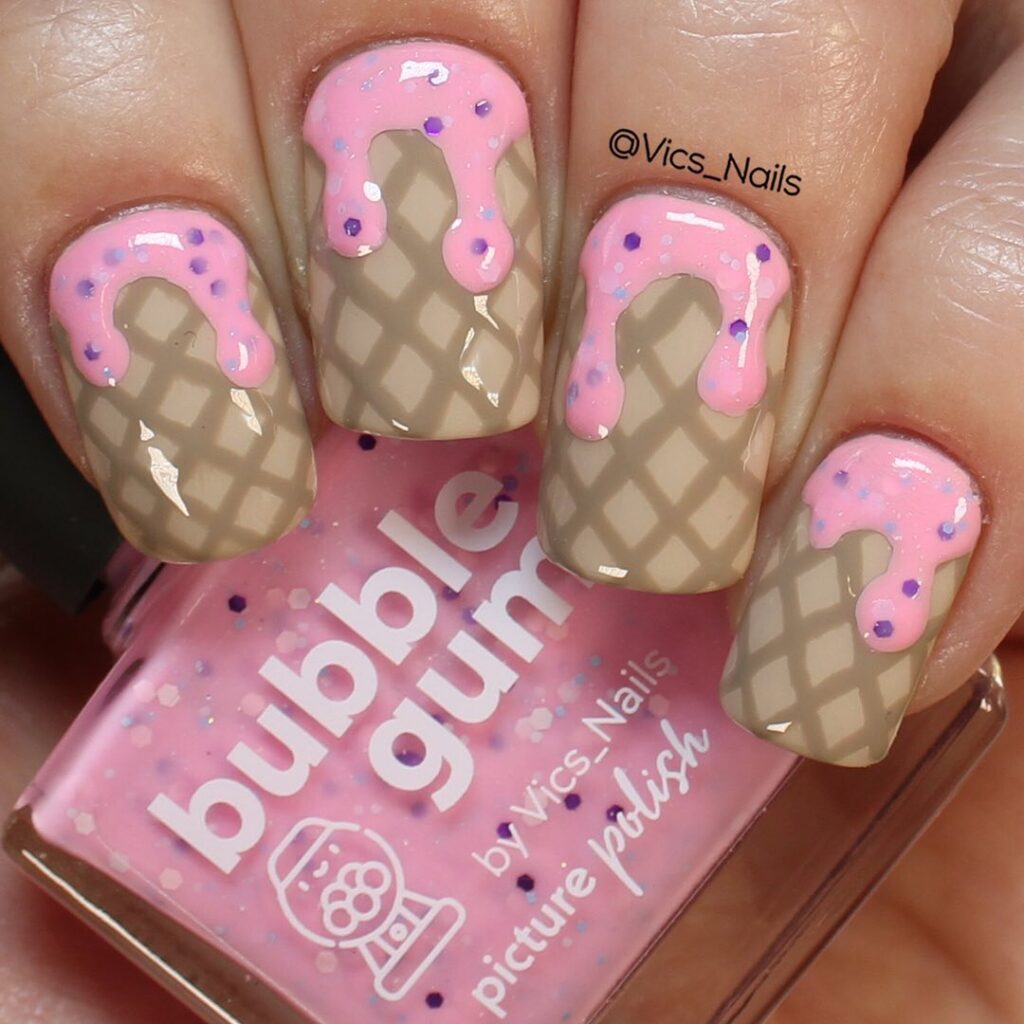 This is such a fun and playful nail design for summer. The melting ice cream with colorful confetti sprinkles looks good enough to eat!
8. Bright Coral Starfish Nails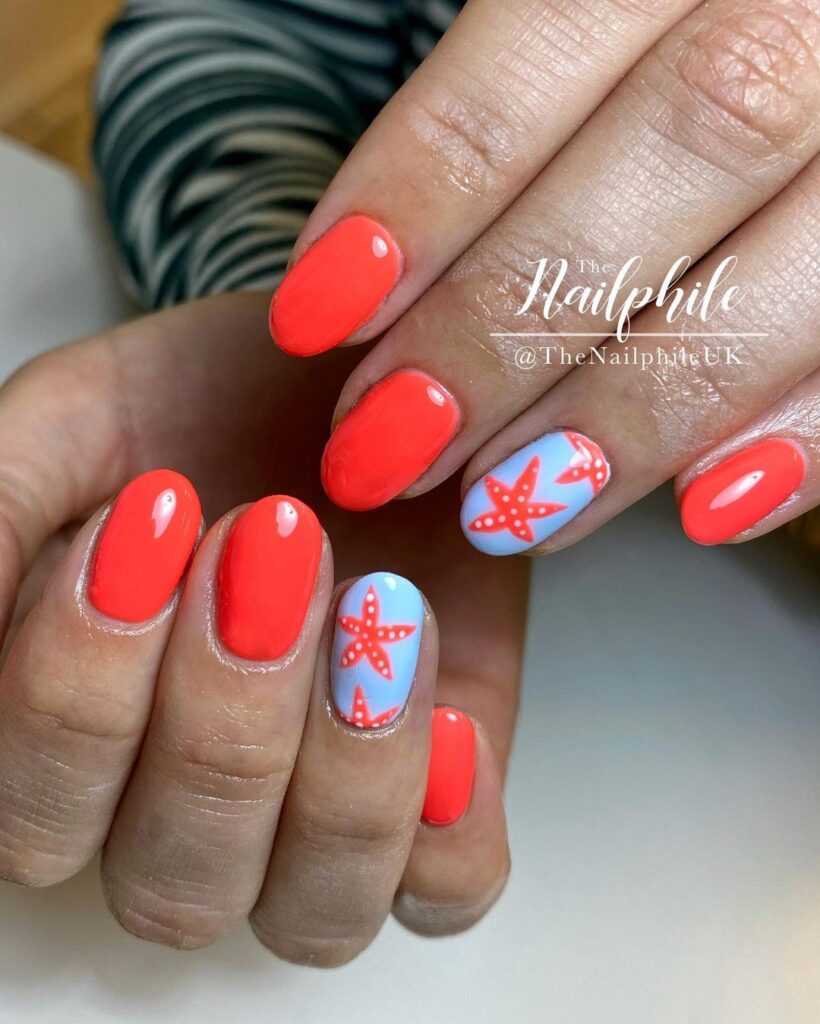 How cute are these coral starfish nails set against a sea blue background? They're perfect for adding a touch of beachy fun to your summer style.
9. Sunshine Gradient Summer Nails
Sometimes you just need a little bit of sunshine in your life, like these gradient nails!
They feature a cheerful blend of warm orange and coral hues that will bring a smile to your face on even the cloudiest of days.
10. Summer Coachella Nail Art
Whether you're dancing the night away under the stars or just soaking up the sun with friends, these Coachella-inspired nails are sure to turn heads. 
11. Beach Polaroid Nail Tutorial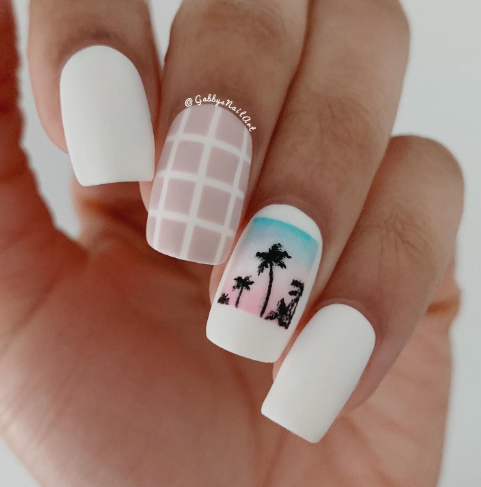 And, if you're looking for a nail design that captures the essence of summer and the beauty of the beach, then this easy-to-follow beach polaroid nail tutorial is for you. 
12. Anchors Aweigh Nail Art
Or sail away with these blue nautical summer nails featuring a gold anchor, stripes, and gold specks.
13. Bright Summer French Tips
Who doesn't love a classic French manicure with a fun twist? These bright summer French tips are bursting with a blend of playful colors and we can't get enough of them!
14. Pretty in Pink Summer Nails
These gorgeous pink gradient nails blend effortlessly together with different shades of pink for a chic and stylish look.
15. Cute Summer Nails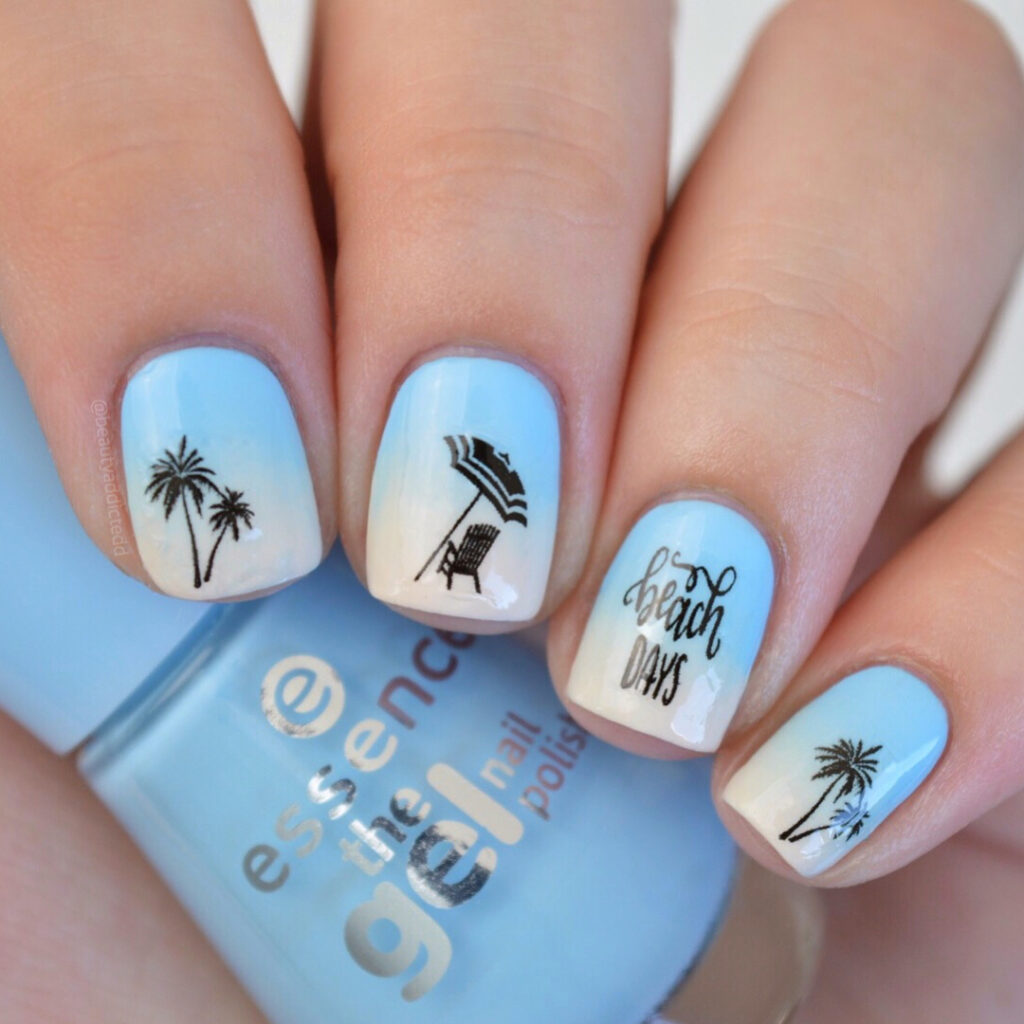 It isn't difficult to achieve these cute summer nails. The beautiful blue and white ombre design topped with simple beach decals are the perfect combination of beachy and chic.
16. Sunflower Nails Design
You can't go wrong with a classic summer staple like sunflowers, and these sunflower nails are no exception!
Every summer needs a bright pop of yellow, and these nails deliver with half yellow nails and a gorgeous sunflower accent nail.
17. Vitamin Sea Nails Tutorial
Dive into summer with these "Vitamin Sea" nails featuring a mesmerizing turquoise marble effect and chic gold foil that are sure to make a splash wherever you go!
18. Neon Bright Summer Nails
But if you really want to make a statement, these bold and bright neon nails will make your hands pop.
19. Summer Cherry Nails
It's easy to recreate these gorgeous cherry nails. All you need are the right tools and the perfect red nail polish, and you'll have a playful yet sophisticated look that's perfect for any occasion!
20. Amalfi Blue Zebra Stripe Nails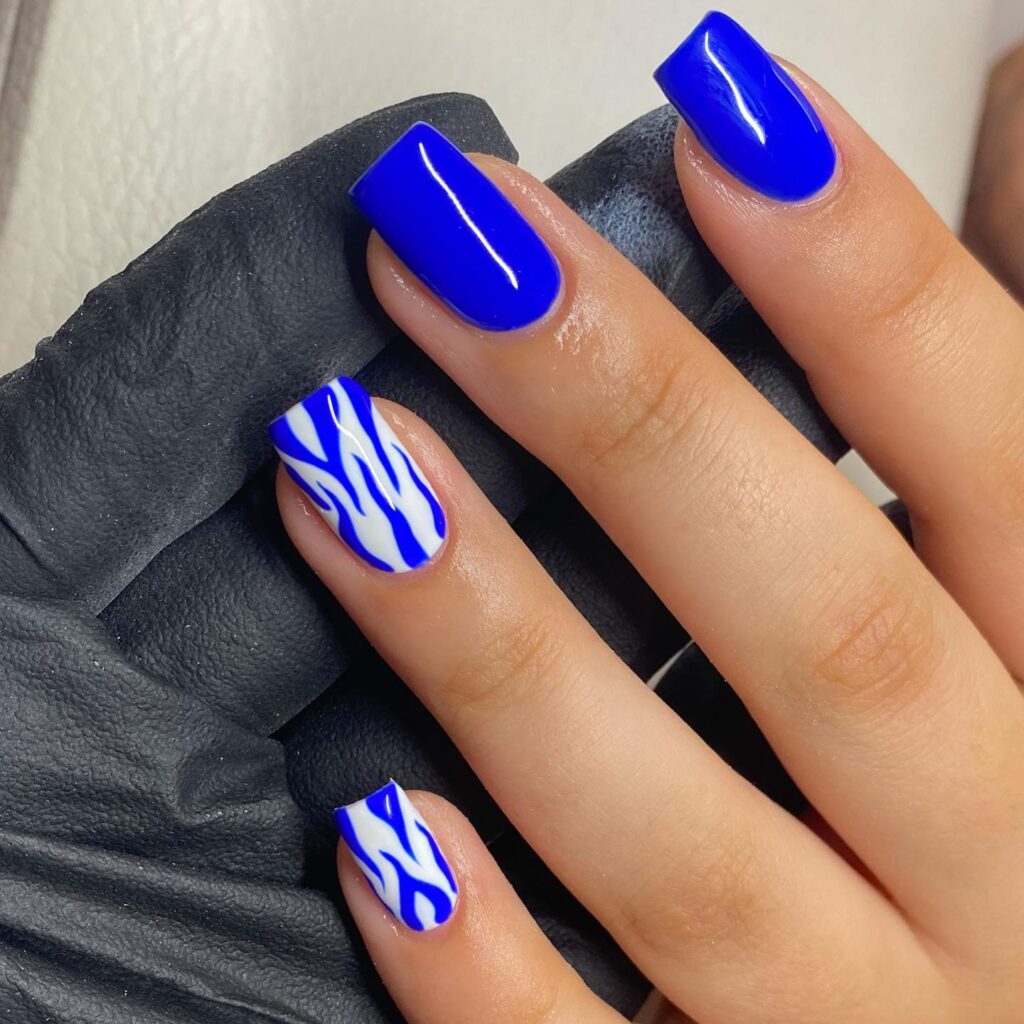 These blue zebra stripe nails are the perfect summer accessory for the adventurous and daring.
With their eye-catching pattern and bold blue hue, they're sure to make a statement and add a touch of wildness to your summer style.
21. Color Fade Summer Coral Nails
Create a unique and eye-catching gradient effect that transitions from one finger to the next with these coral fade nails that seamlessly blend.
22. Breathtaking Summer Butterfly Nails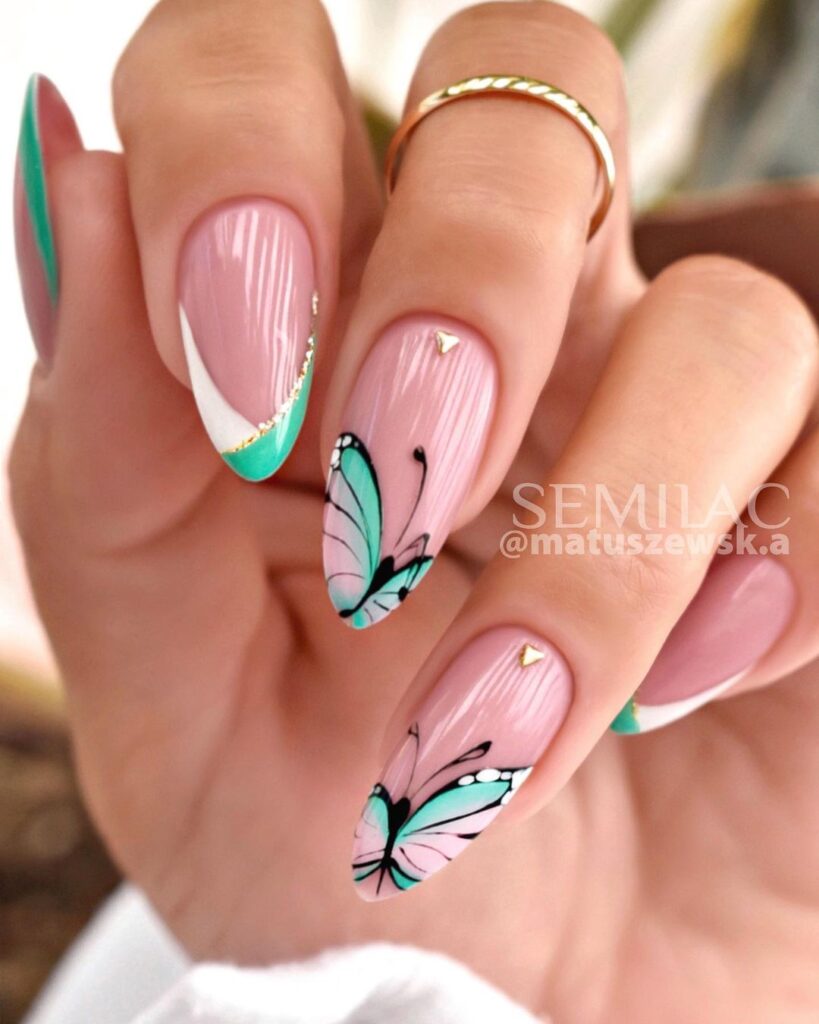 Flutter into summer with these classy butterfly nails featuring the most elegant hand-painted mint green butterflies. I'm in love!
23. Cool Summer Nails
Your nails will feel super cool with this colorful neon sunglasses nail art! What are you waiting for, get your mani on!
24. Simple Half Watermelon Nail Design
You don't need to go wild to make a bold statement with your nails. Just add a watermelon accent nail to your already perfectly manicured nails, and you'll take your simple nails to the next level of summer vibes!
Check out the tutorial below!
25. Neon Tie Dye Nails
Elevate your summer style with trendy tie-dye nails. Swirling together various nail polish shades, this fun and colorful trend adds personality to your look.
Opt for subtle pastel tones for a gentle tie-dye effect or make a bold statement with vibrant and bright hues.
26. Ice Cream Summer Nail Art
Ice scream for these adorable ice cream nails, complete with fun nail art and a cute lollipop charm! What more could you want?
27. Let's Flamingle Nails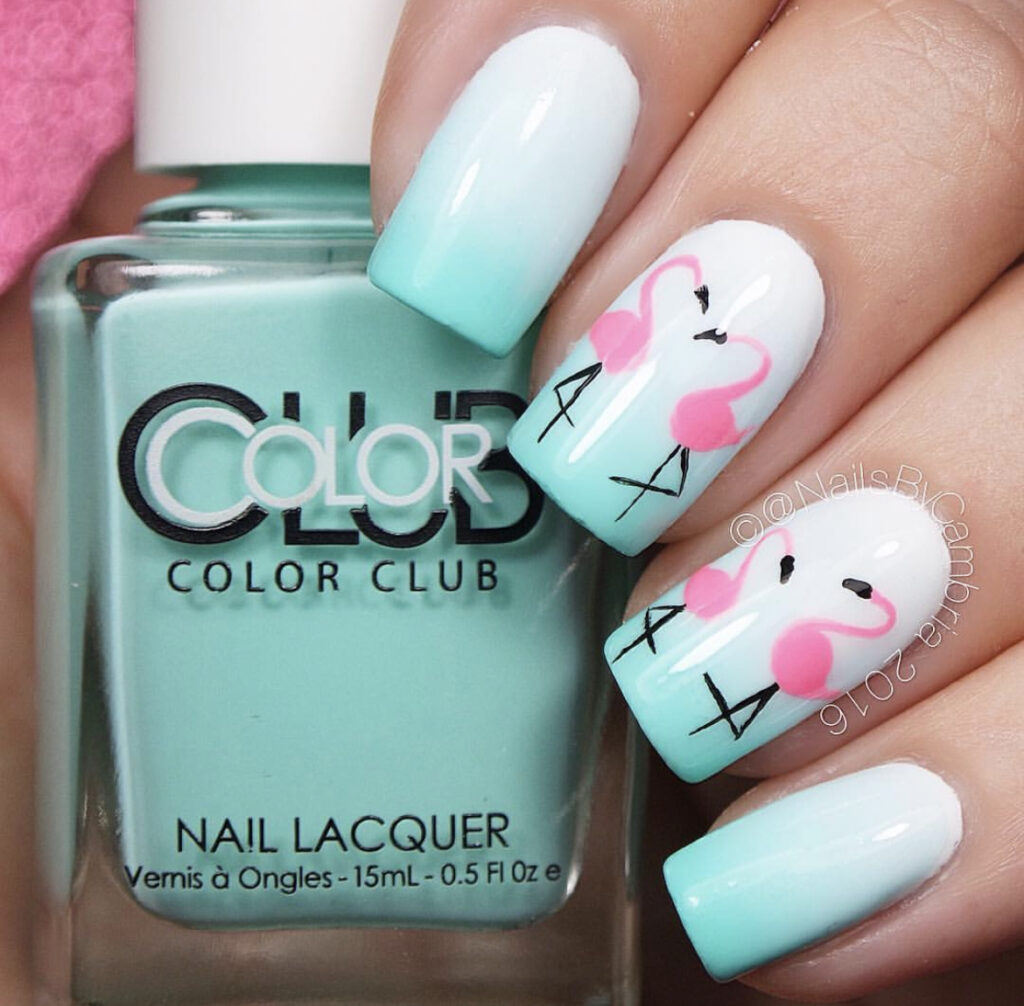 Get ready to flamingle with these refreshing mint blue and white ombré nails, featuring handprinted flamingos.
They're so cute and playful they'll make you feel like you're on a tropical island all year round!
28. Candy Swirl Summer Nails
With a perfect nail design that looks good enough to eat, these candy swirl nails will satisfy your sweet tooth without the calories!
Get ready to turn heads with these playful nails that look like they came straight out of a candy store.
29. Pink Happy Ombré Summer Nails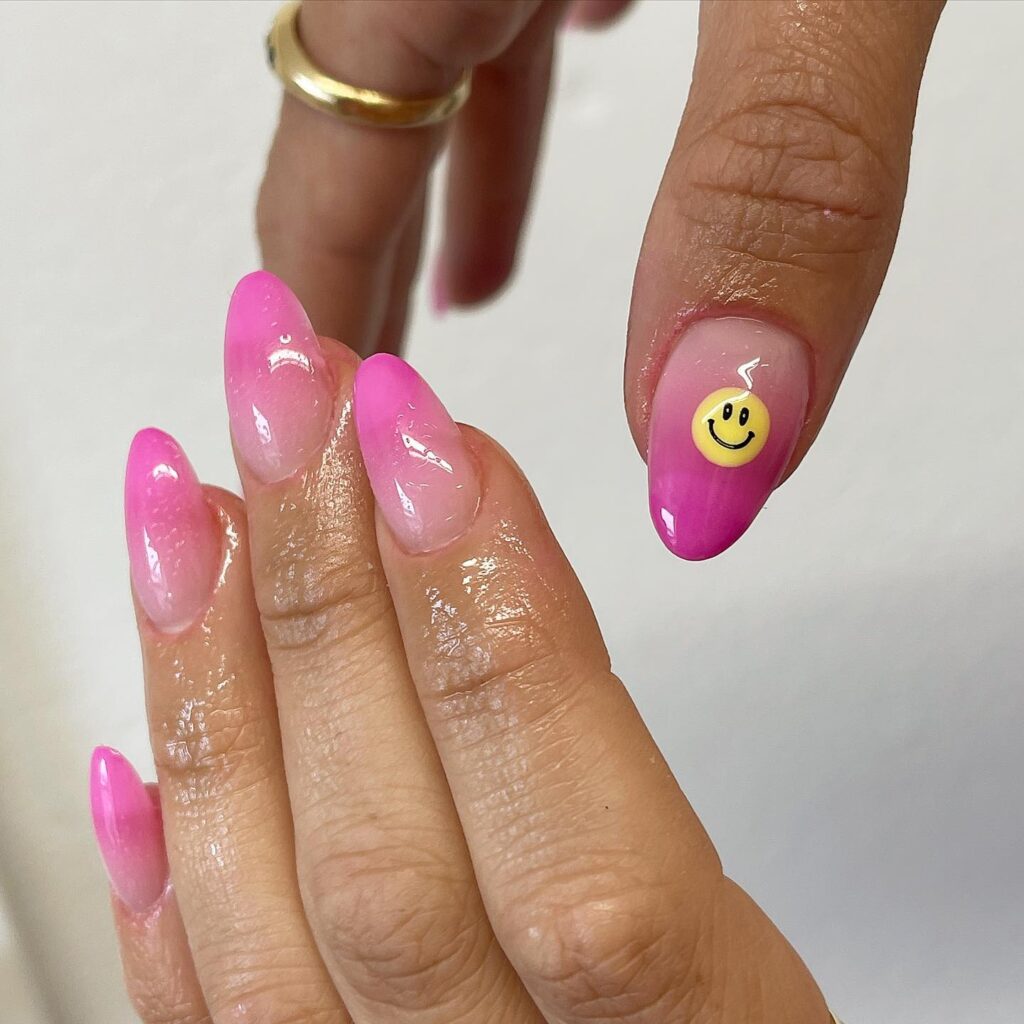 Show your fun side by adding an accent smiley face to perfectly manicured pink ombré nails! It's sure to put a smile on any face!
30. Pretty Summer Pineapples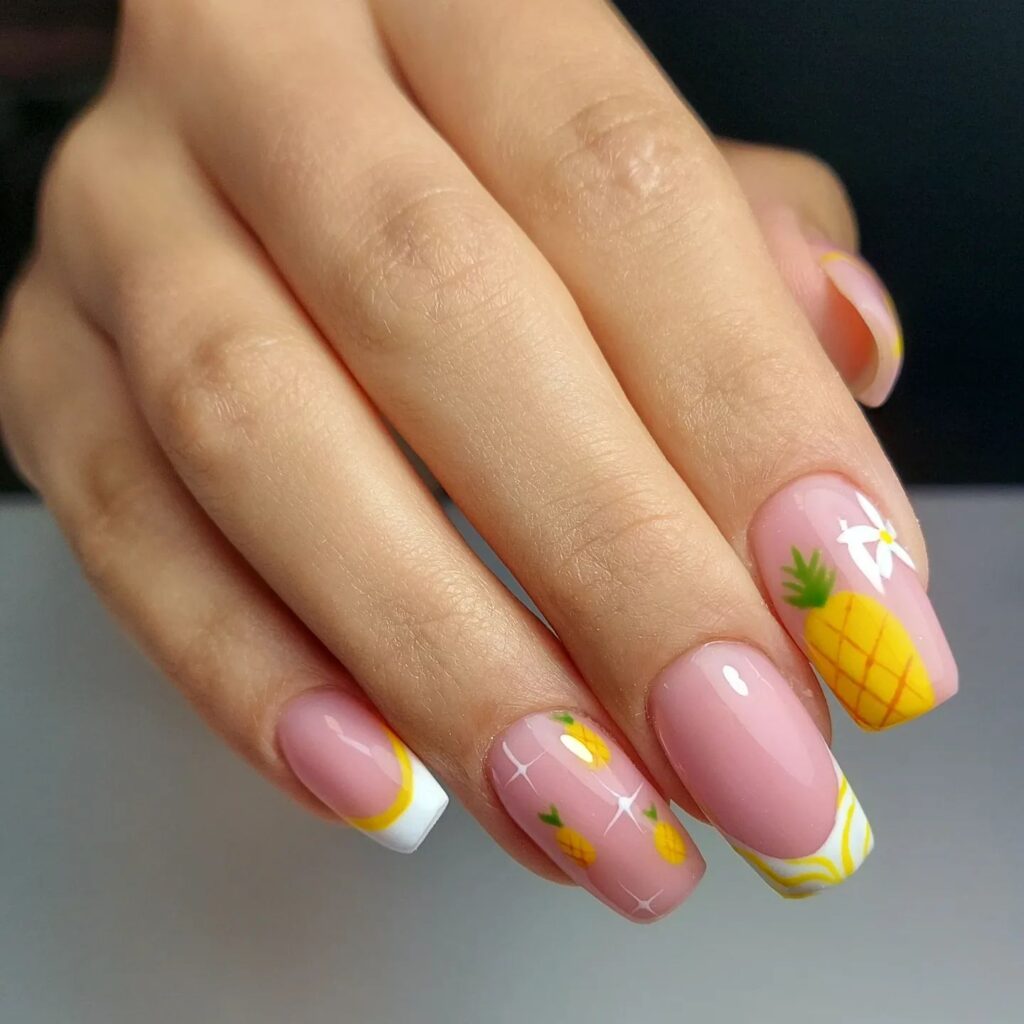 These fruity nails featuring a yellow and green pineapple design are perfect for a summer barbecue.
31. Mint Summer Ombre Nails
Create a cool mint ombre effect with this beautiful mint nail polish. A simple, but stunning design for summer!
32. Neon Chevron French Summer Nails
Get ready to make a bold statement with these chevron French tip nails in neon pink and green!
33. Lemon Summer Yellow Nails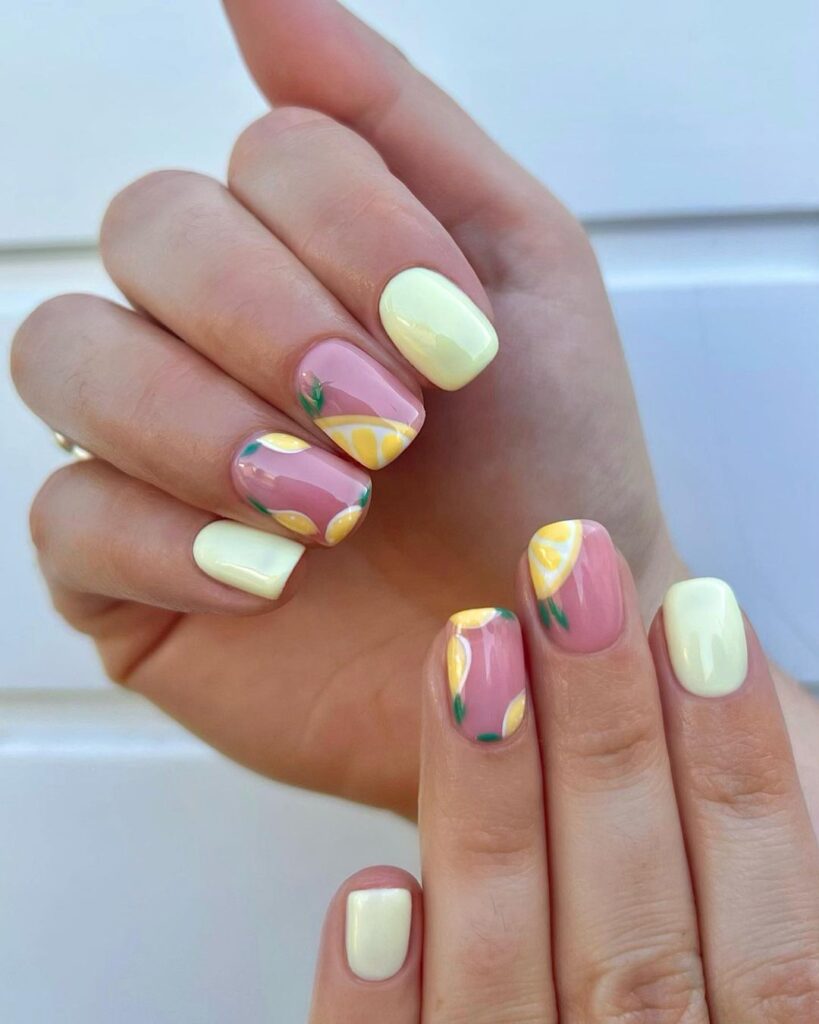 When life gives you lemons, turn them into a zesty manicure! I love how the pretty accent lemon nails pop against the soft yellow, making for a citrusy summer look that's sure to brighten up your day.
34. Black & Neon Pink Aloha Nail Design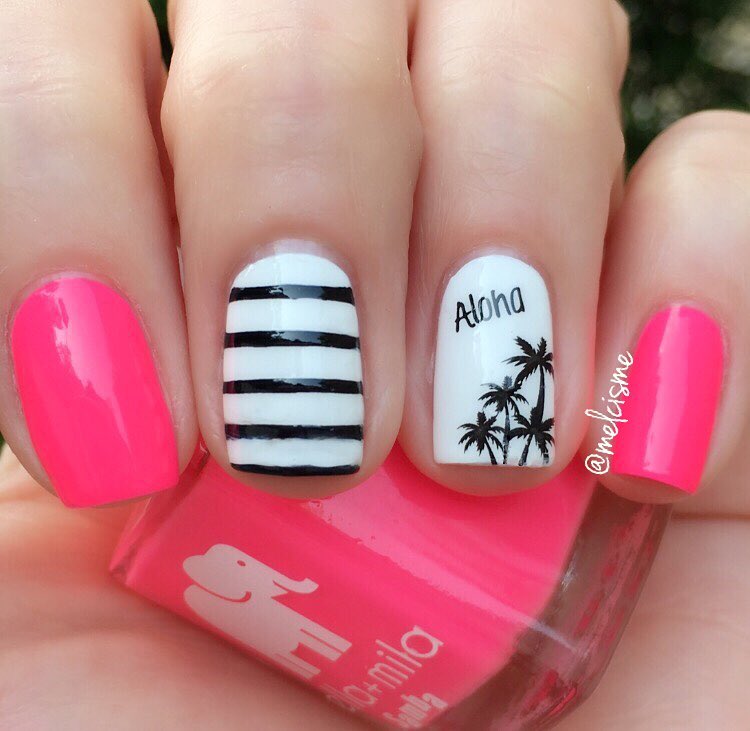 Get into a tropical state of mind with these cute black and pink palm tree nails that are perfect for a summer vacation.
35. Pink Summer Sunset Nails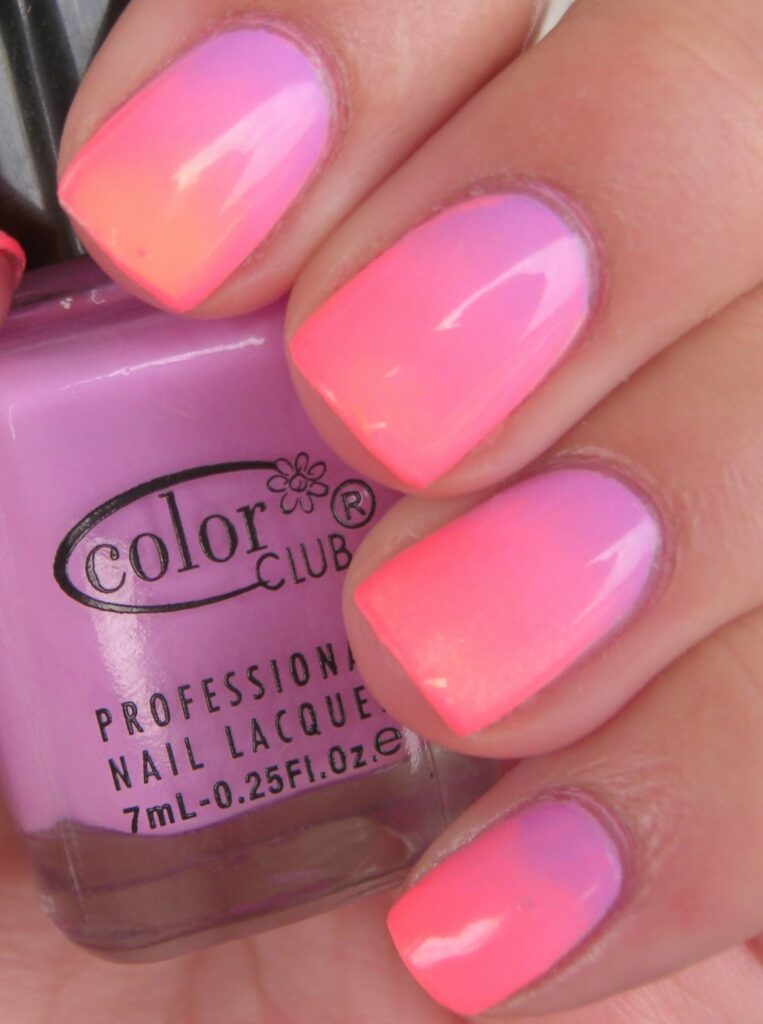 Capture the beauty of a summer sunset with these gorgeous gradient nails featuring shades of pink and purple.
36. Bright Summer Rainbow Nails
These neon rainbow nails are perfect for adding some serious color to your summer!
And all you need is a blend of pink, orange, and lime to create a vibrant rainbow masterpiece.
37. Blue Daisy Summer Nails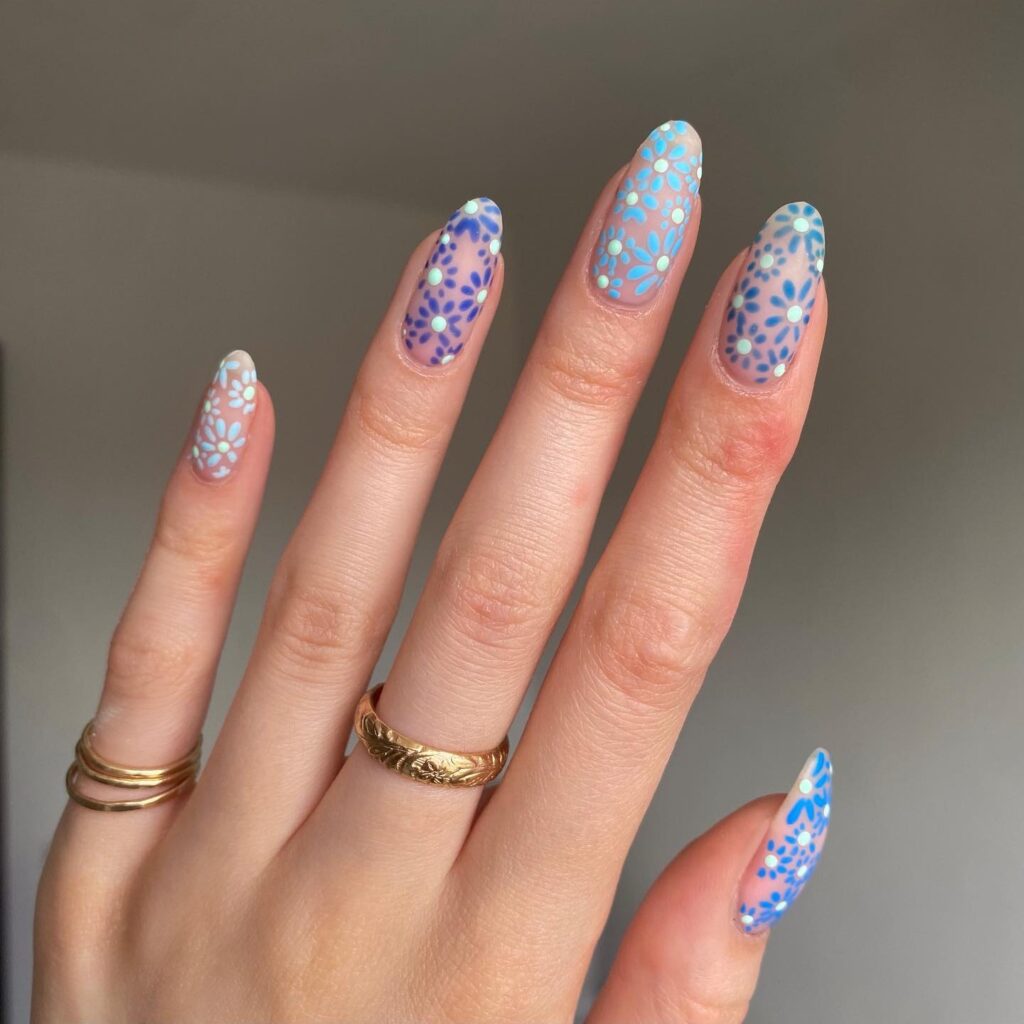 Make a bold summer statement with these blue daisy nails! Just grab your favorite blue polish and a dotting tool to create this floral look.
Show off your flower power wherever you go!
38. Fresh Summer Orange Nails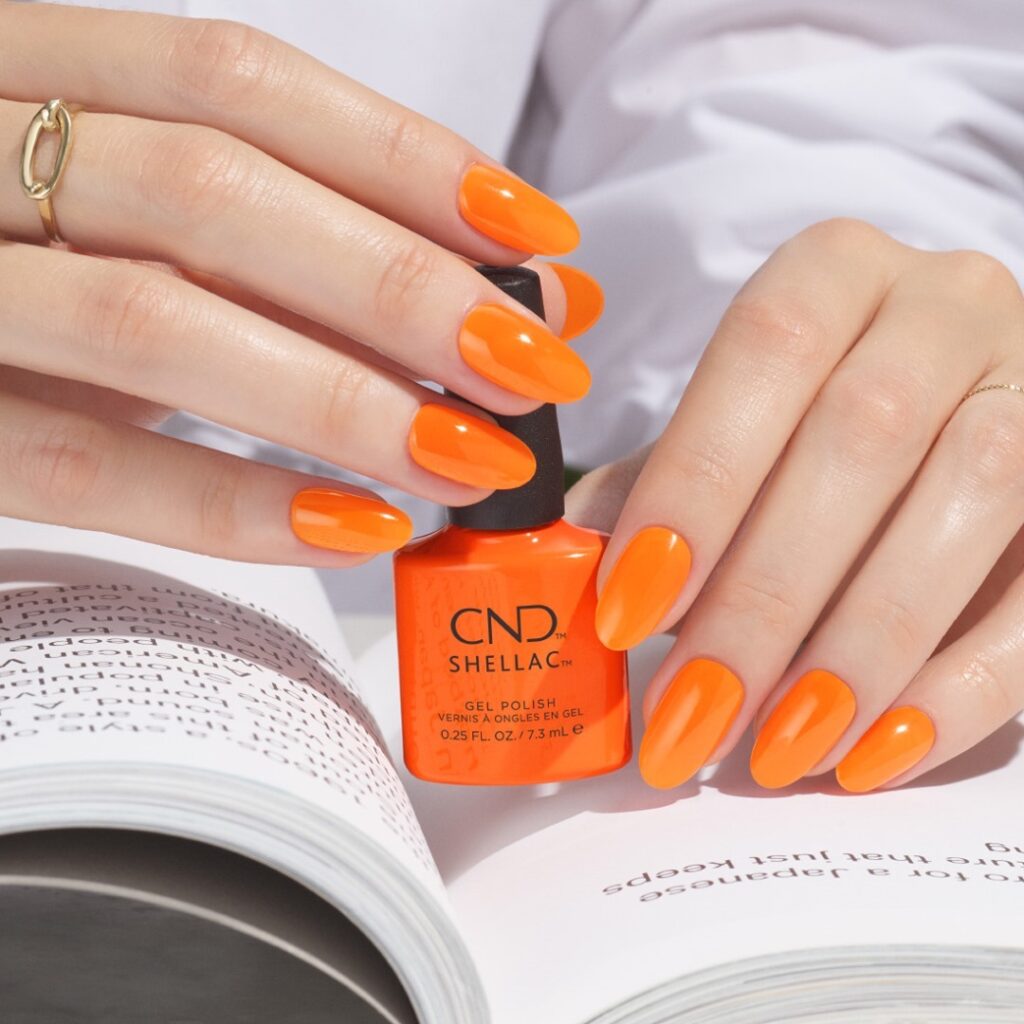 These stunning orange nails are perfect for summer, giving off all the summer vibes.
To make them last, don't forget to apply a topcoat so you can enjoy your beautiful nails throughout the entire season.
39. Pink Strawberry Summer Nail Tutorial
Get berrylicious with these strawberry nails! A simple tutorial shows you how to create this summer-ready look using pink and green polish and a dotting tool.
DIY your nails and enjoy the fruity vibes!
40. Citrus Fruits French Manicure Tutorial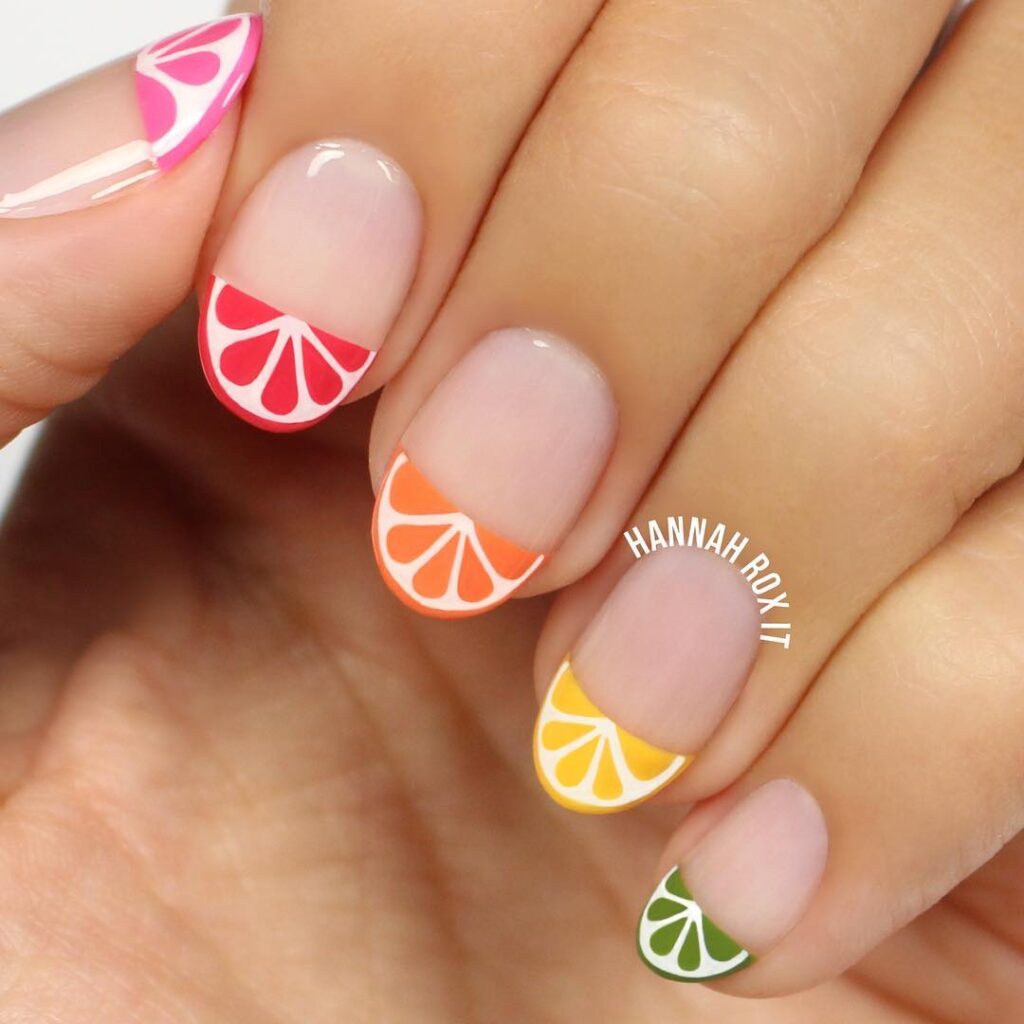 There's nothing better than a zesty and refreshing citrus fruit French manicure to add a pop of color to your nails and brighten up your day.
Indulge in a juicy burst of lemon yellow, lime green, and orange tangerine hues for a fresh and fruity twist on a classic look.
41. Pink Summer Gradient Nails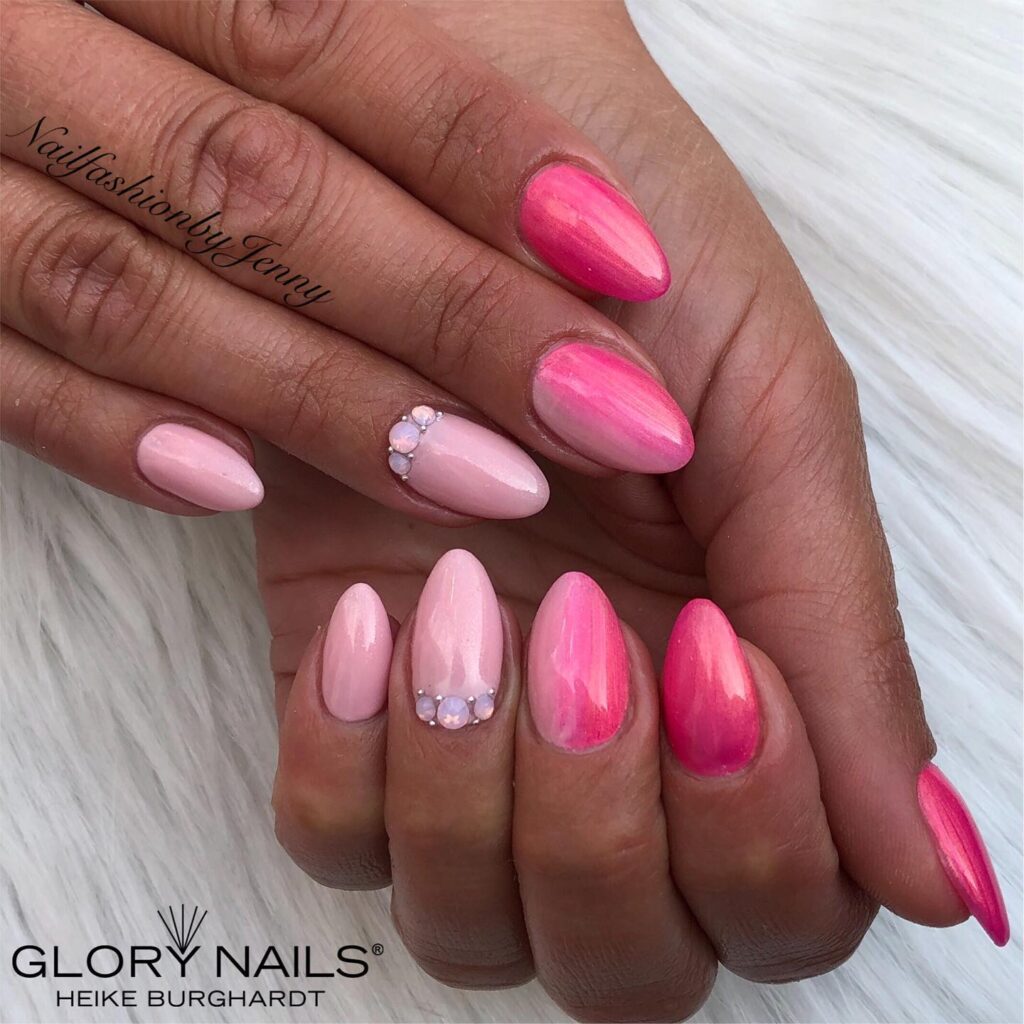 Adorn your nails with the perfect summer accessory – a stunning pink gradient with shimmering nail jewels.
42. Watermelon Nail Art Tutorial
Get summer-ready with pink watermelon nails! This easy DIY tutorial uses a few polishes to create a refreshing watermelon design.
Add seeds with a brush and flaunt your sweet and summery style!
43. Simple Lime Micro Tips
Make your nails the envy of all your friends with these pretty lime green micro-tip nails!
With small dot accents to add a touch of playfulness, you'll be ready to show off your bold and colorful style.
YOU MAY ALSO LIKE:
DON'T FORGET TO PIN THIS FOR LATER!