This post may contain affiliate links, which means I'll receive a commission if you purchase through my link. Please read full disclosure here.
Looking for easy holiday nail ideas? You're in the right place! We have lots of Christmas nail designs to inspire you.
In this blog post, we'll explore a wide range of Christmas nail designs, from acrylic masterpieces to simple and easy options for those short on time.
Whether you're getting ready for Christmas parties, decorating a Christmas tree, or just enjoying the holiday season after Halloween and Thanksgiving, we have something for you.
From classic red and green designs to whimsical snowflakes and festive ornaments, there's something for everyone to enjoy.
We'll get into the latest Christmas nail trends and provide you with plenty of Christmas nail inspiration to make your holiday season extra special.
So, get ready to deck the halls with the perfect set of festive Christmas nails that will leave you feeling joyful and fabulous all season long.
CHRISTMAS NAIL DESIGNS
1. Sparkly Red Christmas Nails
Short red Christmas nails are perfect for the festive season. You can take them up a notch by adding some glitter for extra sparkle.
2. Christmas Gift Almond Nail Design
Turn your nails into the perfect Christmas gift by adding a bow to an accent nail. Pair it with red French tips lined with gold glitter for a fabulous holiday look.
3. Christmas Nail Art
Check out this adorable peppermint nail art featuring a candy cane nail charm! For a cohesive look, think about including mint blue, red, and white nails to bring it all together.
4. Short Matte Candy Cane Nails
If love candy canes, you'll adore these red and white striped nails. They might not be edible, but they sure look sweet!
5. Red Scallop Nails Tutorial
For a charming Christmas nail idea, consider a simple nude base with a scalloped edge French tip. This looks lovely on short nails and pairs perfectly with gold jewelry.
6. Pink Peppermint Frenchies
These pink coffin Frenchies are stunning, especially with the vibrant pink peppermint accent nail! If you're all about a pink Christmas, these nails are definitely for you.
7. Cozy Christmas Sweater Nails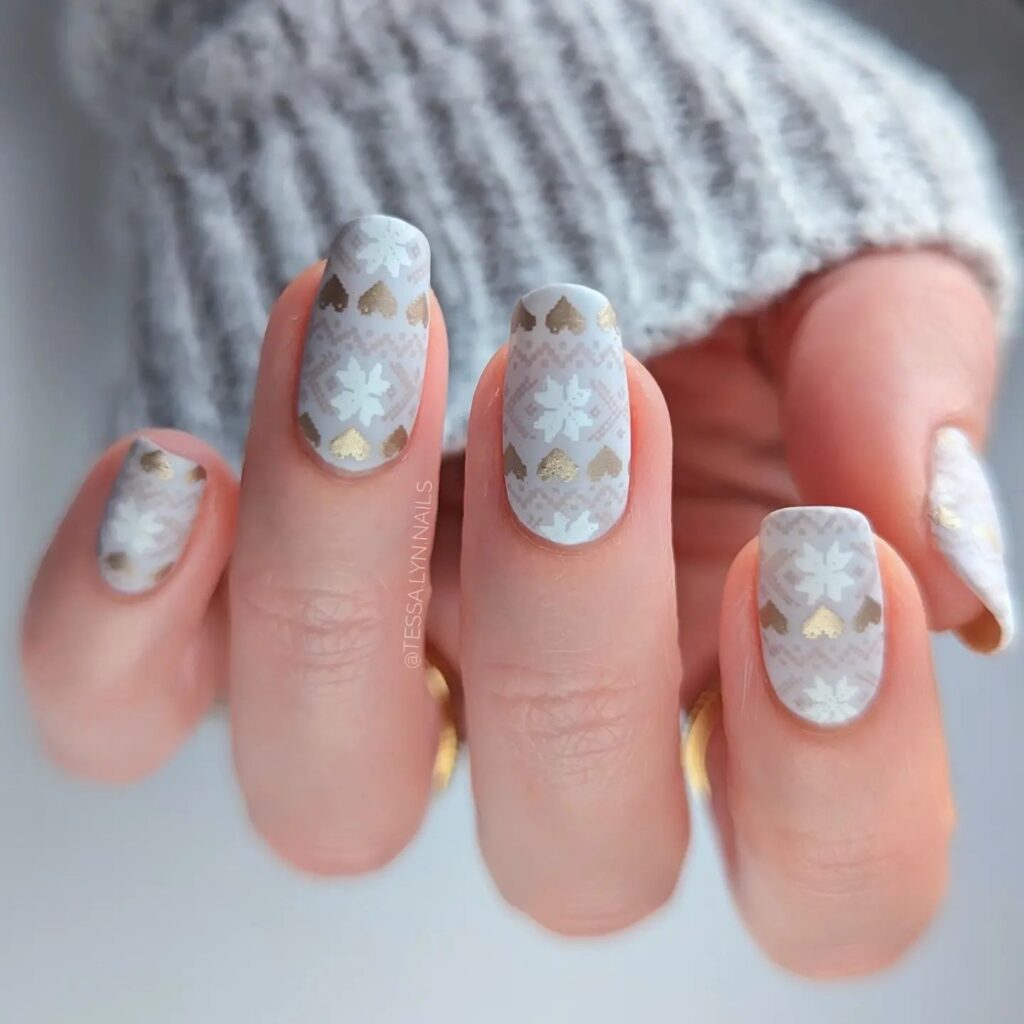 Get those cozy sweater vibes with these nails. A stamped sweater nail print in grey and gold adds a touch of warm festive flair. This nail art is super easy for anyone to achieve using a nail art stamp.
8. Cute Minimal Acrylic Christmas Nails
For a minimal vibe, think about opting for long square nude nails with hand-painted Christmas designs on the tips. It's a look your nail tech can easily create, and you'll absolutely love rocking this design.
9. Gorgeous Black Christmas Nails Tutorial
Break away from the traditional red and green Christmas theme and go bold with black and white nails. Infuse the festive spirit by incorporating peppermint swirls, glitter, and holly for a unique and stylish holiday look.
10. Glazed French Holiday Nails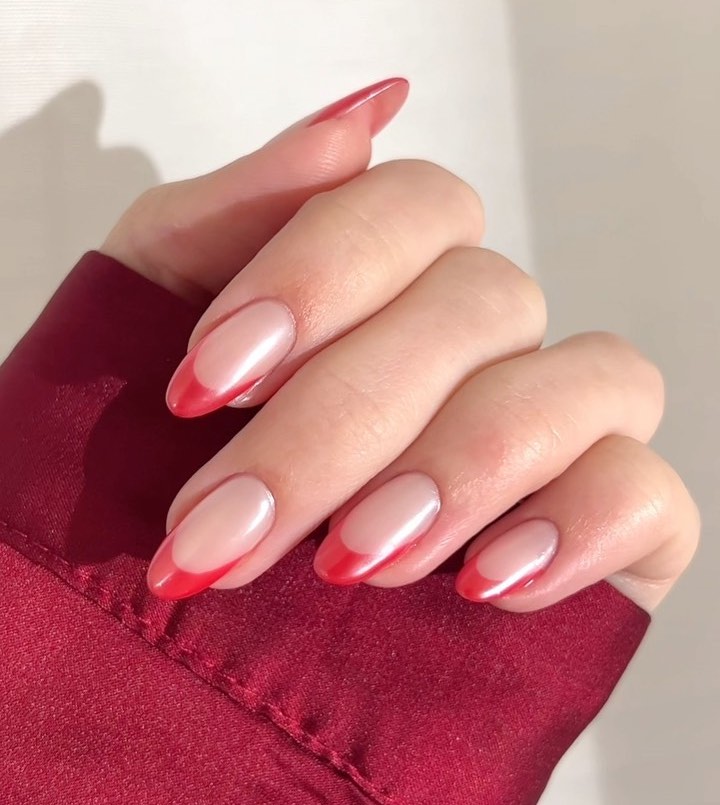 The glazed donut nail trend is here to stay for a while, and it's a classic. Popularized by Hailey Bieber, these nails suit anyone, especially if you prefer almond-shaped nails.
Elevate the design by adding red tips for an extra stylish touch.
11. Snow Globe Nails
Who needs a snow globe at home when you can have one painted on your nails! Embrace the holiday spirit with the cutest snow globe nails featuring a blend of red, green, and gold.
12. Festive Greenery Nail Art
Embrace the classy vibe with these simple neutral nails adorned with a touch of greenery and holly berries on each.
The finishing touch of white dots resembling snow adds a dreamy and festive flair, making these nails perfect for the season.
13. Christmas Stocking Nails
For a burst of color without going overboard, try the Christmas stocking-inspired nails. Start with a white base, then paint the top two-thirds of the nail in red.
It's a simple yet impactful design, perfect for the holidays.
14. Christmas Cookie Swirl Nails
Indulge in the festive spirit with Christmas cookie swirls on your nails, complete with sprinkle tips! These nail art delights are so tempting, they look good enough to eat!
15. Short Christmas Holly Berries
These mistletoe nails featuring red berries were inspired by a plate design, and they turned out absolutely darling.
The combination of greens, pops of red, and the finishing touch of black and white detailing makes this nail art stand out beautifully.
16. Emerald Green Pinecones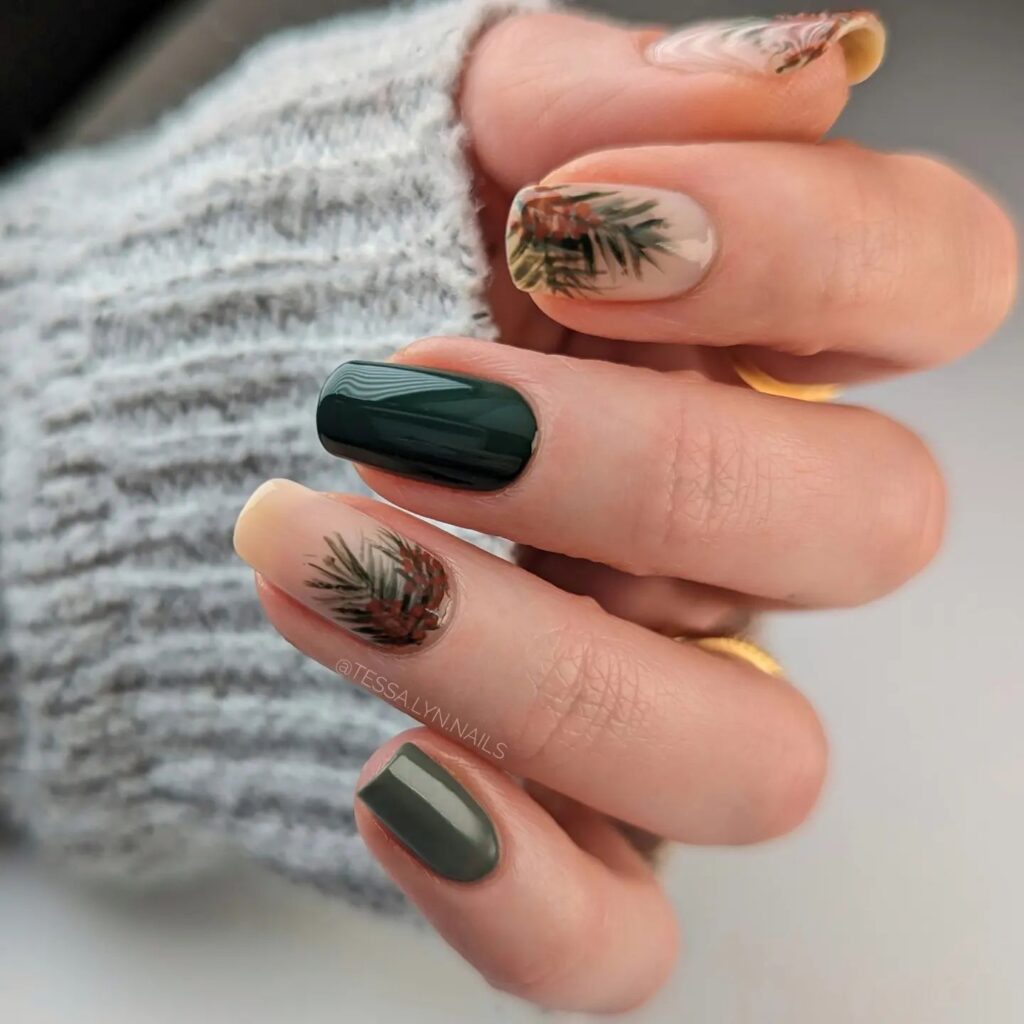 Keep it simple and stylish with this design featuring freehanded pinecones. Using a nail art brush, you can easily create a beautiful Christmas-inspired look with just a few strokes.
Add a pop of your favorite emerald and olive greens on two nails to complement the overall design.
17. Milky Pink Snowflake Nails
Opt for a soft pink nail polish on short square nails as the ideal canvas for hand-painted stars. Add touches of rose gold for a stunning finish, elevating your already perfectly manicured nails to a new level of elegance.
18. Asymmetric Cuffs Nail Design
This nail design brings to mind Santa's hat with its asymmetrical red tips and gold cuffs, creating the illusion of the iconic headwear.
The reflective gold chrome cuffs adds a touch of magic to this festive and enchanting look.
19. Santa Baby French Tips
Another Santa hat nail design, perfect for a DIY at home or a visit to your nail tech. Achieve the look with a simple yet charming combination of red and white for a whimsical and Christmassy vibe.
20. Simple Red Glitter French Tip Nails
Indulge in the beauty of these Christmas Frenchies. A short square nail with a neutral base is elevated by a deep red glitter tip, creating a perfect and elegant design for the holiday season.
21. Pretty In Plaid Christmas Nails
Plaid, red French tips and greenery combine to create a classy nail design for holidays. Pair it with bold jewelry to ensure your nails stand out at any holiday party.
22. Peppermint Candy Cane Nail Art
Make a bold statement by painting your nails with a red and pink peppermint design. Elevate the look by adding silver glitter, transforming your nail design into a festive and sugary treat we all love at Christmas.
23. Colorful Christmas Lights Nail Art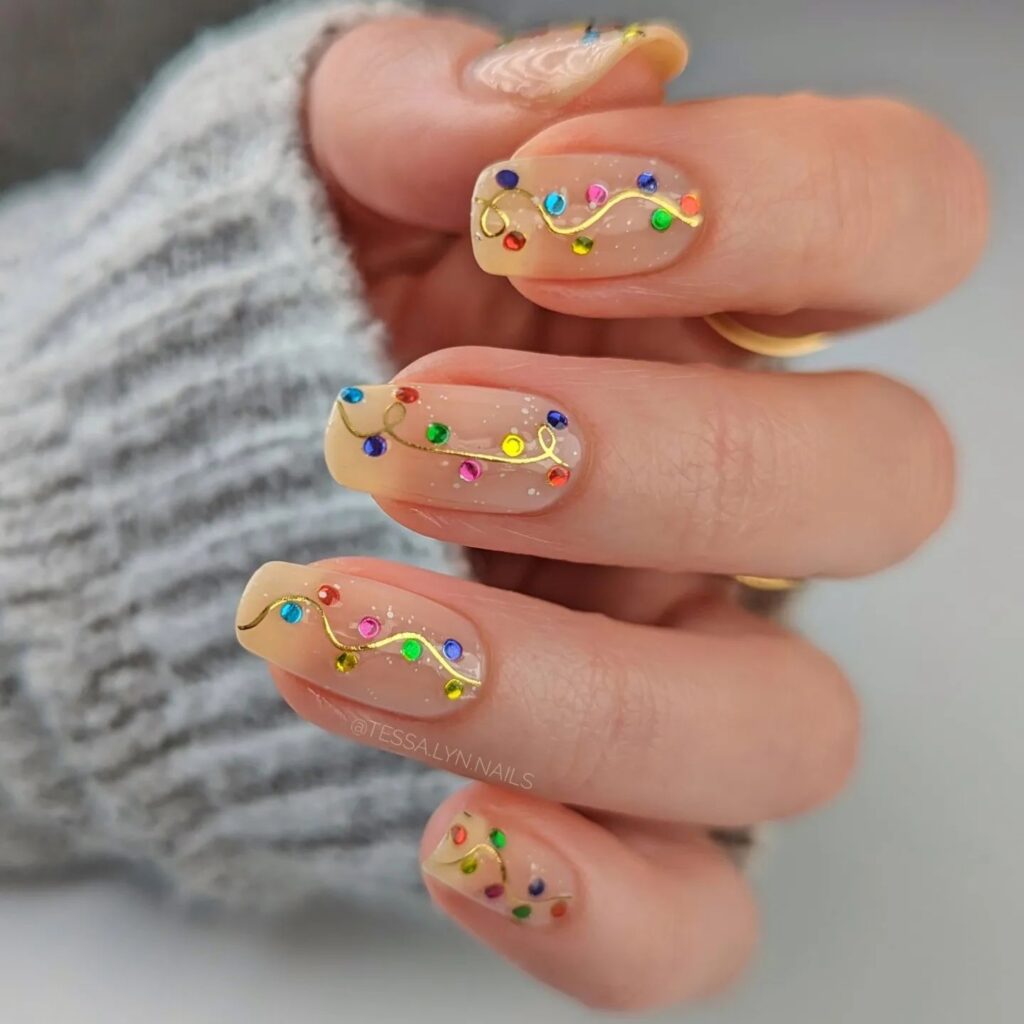 Show your love for colored Christmas lights by adding them to your nails. The best part? They're just nail stickers, making it a simple and hassle-free way to showcase your festive spirit.
24. Pink Christmas Mani
Have yourself a pink Christmas with this adorable gingerbread acrylic mani!
Featuring embossed sweater nails, a charming gingerbread man, glitter accents, and a pink French tip, it's a dream come true for anyone who loves a touch of pink in their holiday style.
25. Dark Christmas Nails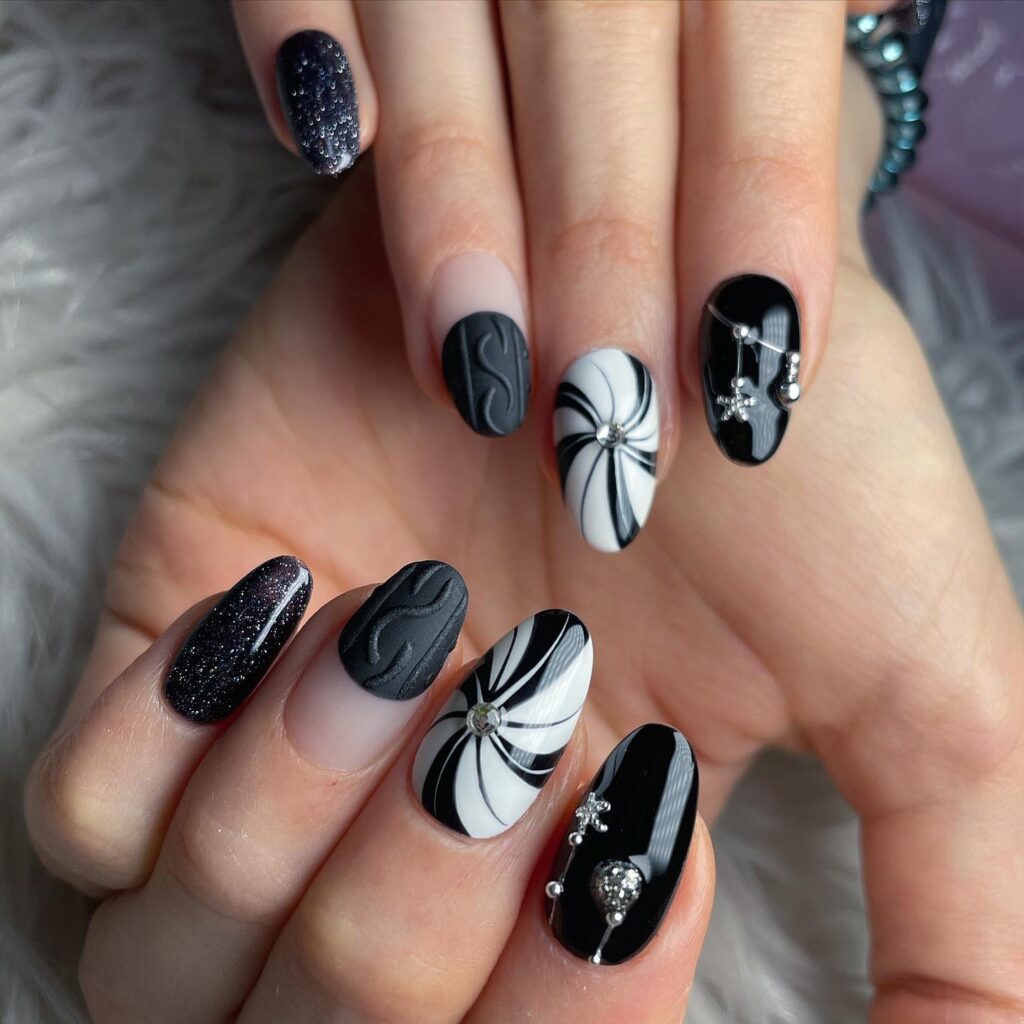 Embrace the beauty of variety with a nail design that showcases different holiday elements on each nail.
Dark Christmas nail enthusiasts will adore this customizable design—pick your favorite Christmas symbols and add them to your nails for a unique touch.
26. 'Tis The Season Manicure
Deck your nails in spruce green, ruby red, and gold glitter polish.
The enchanting side French accent nail design is particularly stunning on long square acrylics, creating a perfect and magical look for the Christmas season.
27. Burgundy w/ Glitter French Tips
Oh, my burgundy nail dreams! These nails are sure to be your go-to for the festive season. The burgundy base and gold glitter French tips not only look amazing but also exude elegance.
28. Blue Snowman Nail Art
Do you wanna build a snowman? For all the Frozen fans out there, here's a nail idea inspired by everyone's favorite snowman!
If you're into cute nails, try adding adorable snowmen to your light blue nails. It's a super fun and festive design that captures the spirit of the season.
29. Pink & Red Christmas Candy Canes
Go for a pink look with Barbie pink polish on your nails. Get creative by painting mini candy canes on two nails for a cute touch of red and white. Because, let's be honest, you can never have too much pink!
30. Berry Wreath Cuticles Nails
These short white milky nails feature the most elegant berry greenery on the cuffs. It's a simple, yet stunning design creating an effortlessly chic look.
31. White & Red Christmas Candy Stripes
Achieve amazing red and white nails with a candy stripe look that stands out beautifully. Opt for a glossy finish to make the accent nail appear realistic.
While the rest of the nails are finished in a red jelly polish to complete the festive and eye-catching look.
32. Plaid Christmas Nail Wraps
For an effortlessly stylish Christmas nail design, consider using plaid nail wraps. These easy-to-apply nail wraps offer a simple and convenient DIY option for achieving a chic and festive look.
You can't go wrong with a pink Christmas mani and this one is simply irresistible. A pink acrylic base adorned with a sugar effect design adds a touch of sweetness perfect for the season.
34. Peppermint Water Marble Frenchies
Creating peppermint water marble tips is a fun and easy nail design to try at home. Here's a simple tutorial to guide you through the process. 
35. Ho Ho Ho Red Acrylic Santa Nails
Say hello (or maybe "ho ho ho") to these festive acrylic Christmas nails! Imagine a red base with cute white stars, a candy stripe nail, another with
Santa's beard, and one featuring his famous saying. These whimsical nails would surely be Santa's favorite, bringing joy and holiday cheer wherever they go!
36. Frosted Peppermint Nails
Here's another delightful frosted peppermint nail design for those who can't get enough of the candy treat. Elevate the look by adding iridescent glitter, providing a magical finishing touch to your festive and sweet manicure.
37. Classy Rudolph Nail Art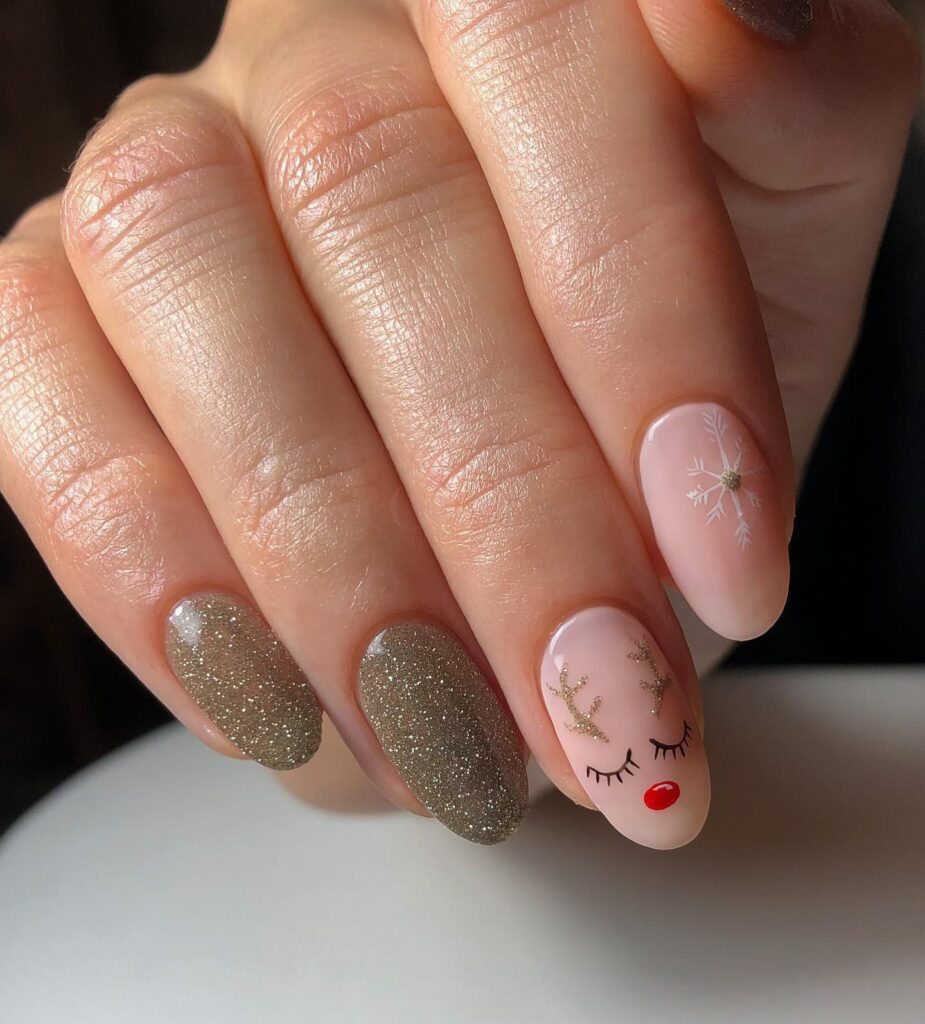 Dashing through the snow are these delightful Rudolph nails! Featuring glitter antlers and a cute red nose on the accent nail, it's not only adorable but also adds a touch of class.
Paint the remaining nails with the same gold glitter and add a star for the perfect finishing touch. These nails are perfect in every way!
38. Christmas Tree, Oh Christmas Tree
Christmas wouldn't be the same without a Christmas tree, and this nail design captures the festive spirit perfectly! The cute tree features a star on top and glittery ornaments.
The other nails shine with a lovely green glitter jelly polish, and one nail has the cutest red bow.
39. Santa Hat French Tips
Get into the holiday mood with red nails that have a white scalloped edge, resembling Santa's hat. This easy DIY design looks beautiful and can be made even more stylish with a matte top coat.
40. Blue Glitter Christmas Nails
Blue gives Christmas nails a wintry touch, and these blue glitter jelly nails with stars are stunning. The mix is festive and adds a bit of sophistication, especially when you wear them with blue and gold rings.
41. Festive Frenchies
French tip nails are always a classic choice. These red and silver side French nails are fantastic! The mix of red and silver gives a stylish and festive look, perfect for the holiday season.
42. Green & Gold Christmas Nails
If you love green for Christmas, ask your nail artist to paint green and gold Christmas trees on your nails. Add white dots for a snowy touch. It looks elegant and festive!
43. Winter Christmas Snowflake Nails
White Christmas nails bring glamour and are perfect if you're dreaming of a snowy holiday. This timeless look is the perfect nail design to conclude our Christmas nail roundup.
YOU MAY ALSO LIKE:
DON'T FORGET TO PIN THIS FOR LATER!