This post may contain affiliate links, which means I'll receive a commission if you purchase through my link. Please read full disclosure here.
Looking for delicious no-bake cake recipes to make for dessert or even your child's next birthday? Here are easy no-bake cake recipes to make and you don't need an oven.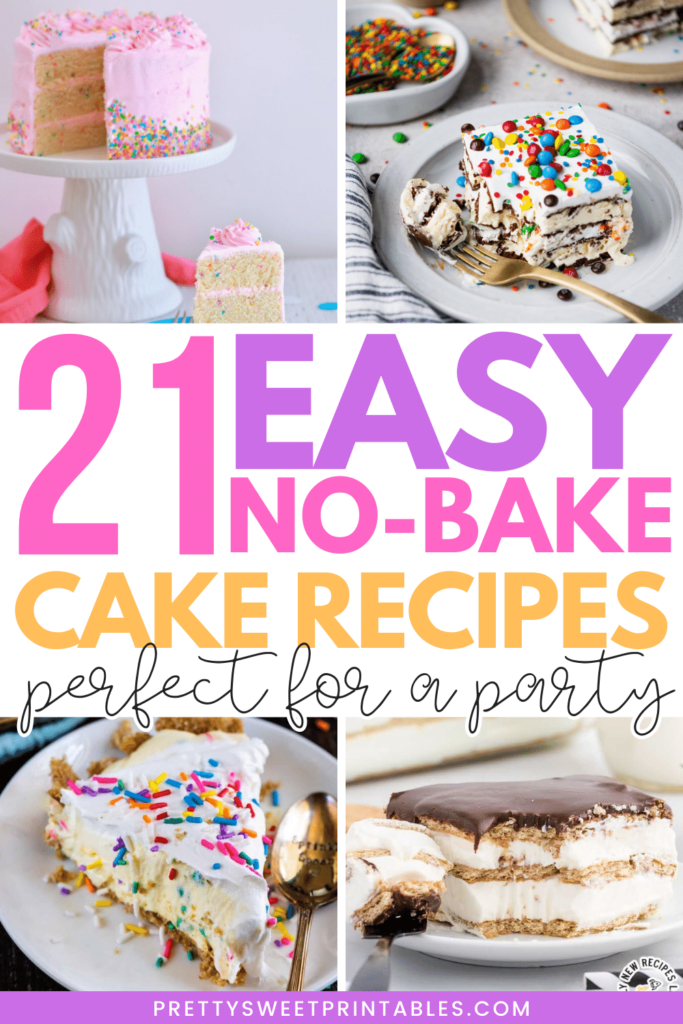 Calling all aspiring bakers who've had their fair share of cake mishaps! Don't toss in the oven mitt just yet because I have the perfect solution for you.
Get ready for a world of "no-bake cakes" – the magical way to create delicious treats without breaking a sweat!
All you need are some basic ingredients, and you're good to go. But don't let the name fool you – these cakes are not ordinary. They're special treats that can be enjoyed for any occasion.
Serve them after a delicious dinner, take them to events, or turn them into fantastic birthday cakes with sprinkles and candles.
So, why not give it a try and surprise your friends and family with a delicious no-bake dessert? It's an exciting adventure that will make you a baking superstar!
NO-BAKE CAKE RECIPES
1. Rice Krispies No-Bake Cake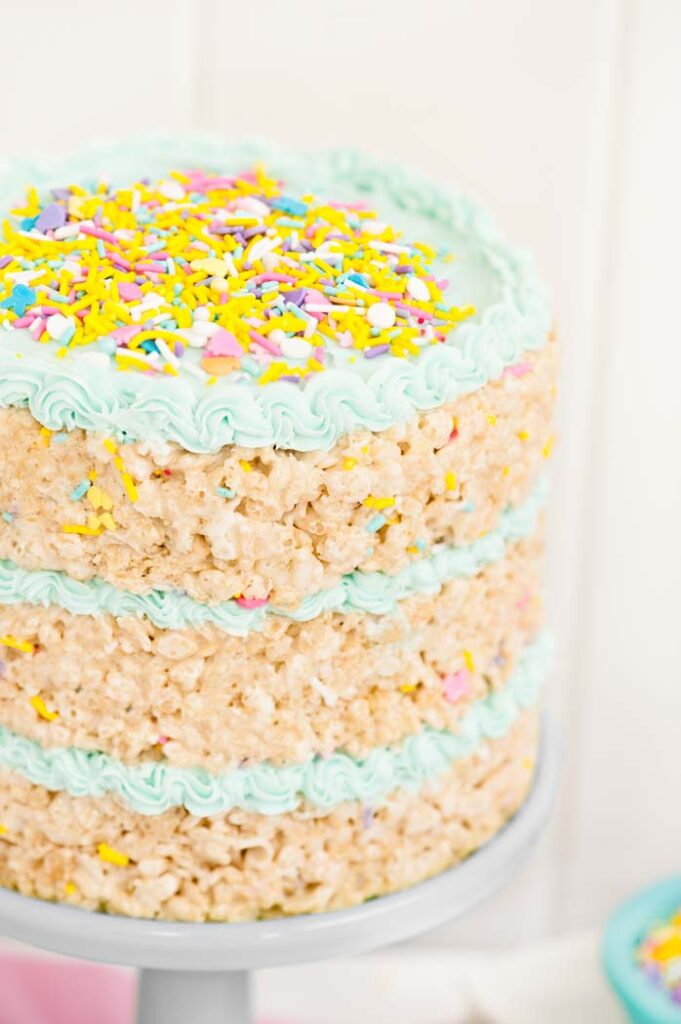 Love marshmallows, cereal, and sprinkles? Try this Rice Krispies no-bake cake! You can make this in a springform pan for easy removal. And if you have any leftovers, which I doubt, cut them into squares and store for a sweet lunchbox treat.
2. No-Bake Fruity Pebbles Cheesecake
from Beyond Frosting
I adore this creamy cheesecake adorned with colorful Fruity Pebbles. Customize the biscuit base and even try swapping Fruity Pebbles for Fruit Loops for a fun twist. Display it on a cute cake stand for added charm!
3. 3 Layer No-Bake Microwave Cake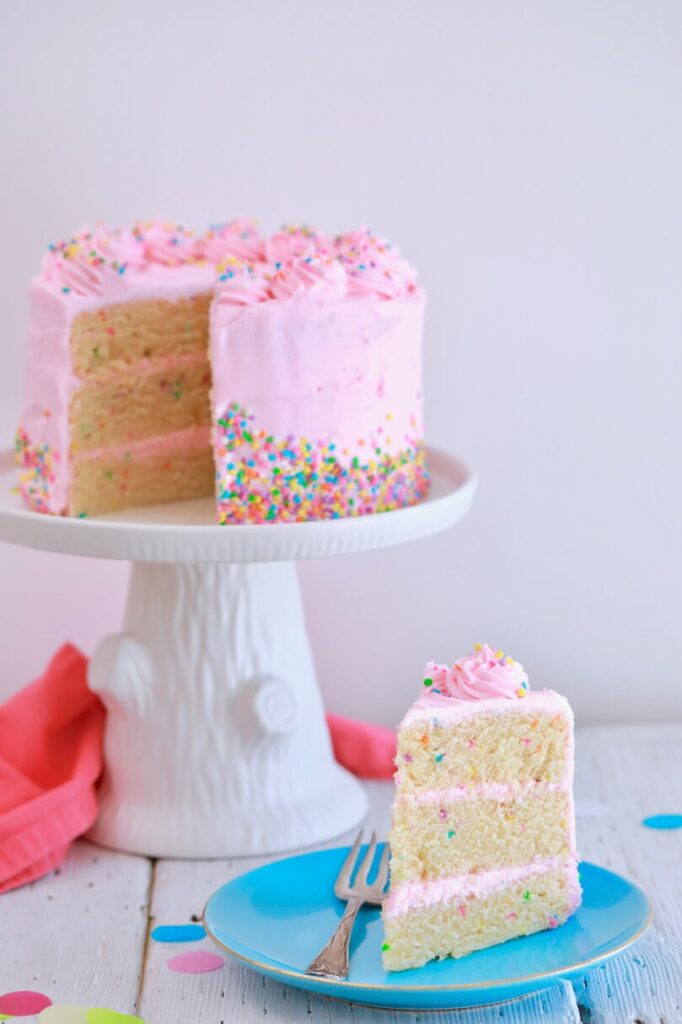 from Bigger Bolder Baking
Experience the magic of this three-layer microwave cake, enveloped in pink frosting and sprinkles. No need for an oven—just grab some microwave-safe cake pans and create this heavenly treat in your own kitchen!
4. Instant Pot Rainbow Bundt Cake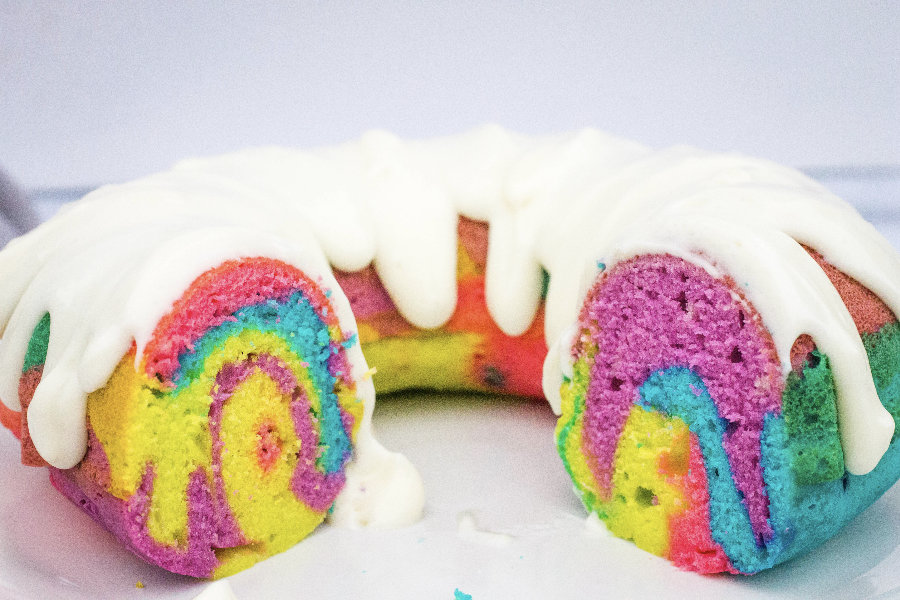 from Margin Making Mom
Don't think you can 'bake' in an instant pot? Think again! This magical rainbow Bundt cake, perfect for a unicorn or rainbow party, proves that you can create a stunning no-bake instant pot cake. Just grab your Bundt pan and prepare to be amazed!
5. Stovetop Steamed Chocolate Cake
from Yummy Kitchen TV
Indulge in the heavenly delight of this no-bake chocolate cake. With only 3 ingredients and a steamer or deep saucepan, this moist dessert is a breeze to make. Top it off with creamy chocolate ganache and chocolate shavings for pure bliss on your tastebuds!
6. Instant Pot Funfetti Cheesecake
from Tidbits
Another delicious no-bake cake made in the pressure cooker and how fun are the sprinkles inside? What an exciting surprise when cutting a slice!
7. Crockpot Chocolate Lava Cake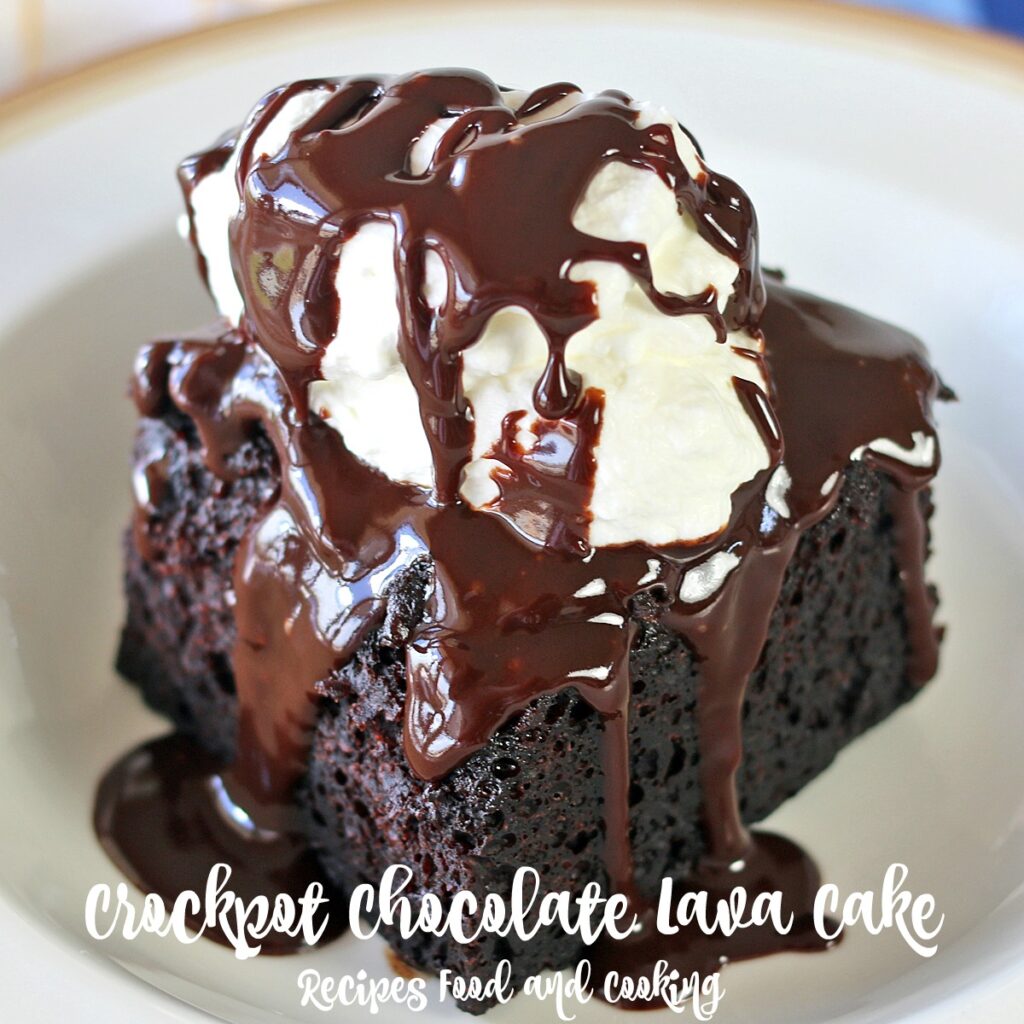 First, we had instant pots now we have Crock-Pots, either way, I'm loving all these fun baking ideas that don't need an oven. This lava cake looks delectable in all its melted chocolate glory.
8. Funfetti Rainbow Crepe Cake
from Luxe and the Lady
Who says crepes are only for breakfast? This funfetti crepe cake is a beautiful rainbow of sweet fluffy goodness and would be the perfect cake for a sleepover party. The best way to make a crepe is in a crepe pan and this one is perfect.
9. Chocolate Chip Cookie Dough Ice Cream Cake
from Queenslee Appetit
Why have one or the other when you can have the best of both worlds? Cookie dough and ice cream! And the best part is, it's safe to eat! Ice cream cake has always been a favourite of mine but adding cookie dough takes the cake.
10. Copycat Dairy Queen Ice Cream Cake
from Life, Love and Sugar
I couldn't resist adding this irresistible vanilla and chocolate ice cream cake to my collection. With fudgy ganache, Oreos in the middle, and adorable confetti sprinkles, it's pure perfection!
11. No-Bake Funfetti Oreo Icebox Cake
from The Domestic Rebel
Who doesn't love cookies and cream and what better way to eat it than in the form of a cake? This no-bake Oreo dessert is filled with layers of sweetness and crunch. Add the candles and let's have a party!
12. No-Bake Banana Split Cake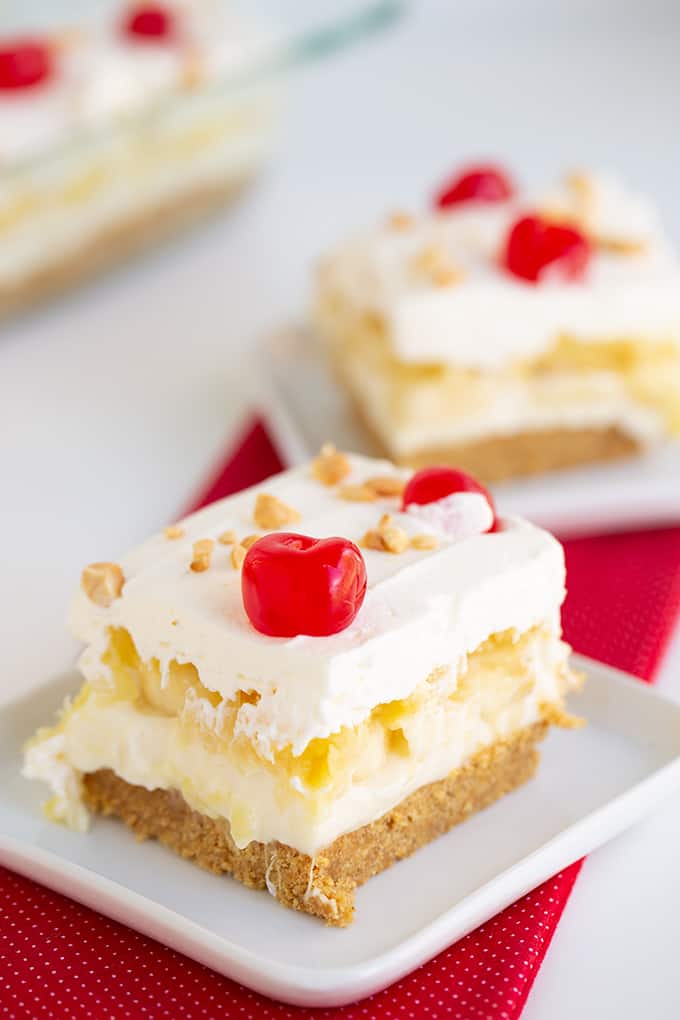 from Cookie Dough and Oven Mitt
Delight your tastebuds with a magical banana dessert! This creation blends graham crackers, cream cheese, bananas, pineapple, whipped cream, and a cherry on top. Embark on a delightful culinary adventure!
13. No-Bake Eclair Cake
from Spaceships and Laser Beams
Layers of graham crackers, vanilla pudding and luscious chocolate frosting make this rich eclair cake irresistible! If you haven't made this dessert yet, what are you waiting for?
14. No-Bake Twinkie Cake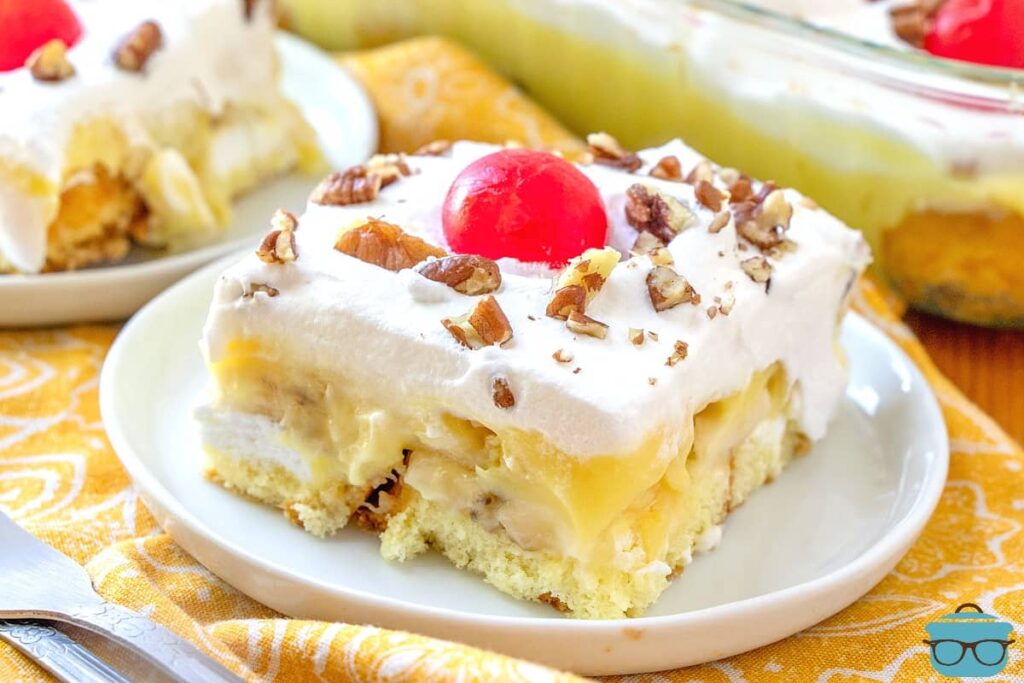 from The Country Cook
Experience the joy of Twinkie Delight, a twist on the classic Banana Split Cake. This scrumptious masterpiece will captivate your all your senses!
15. Chocolate Mousse Cake
from Sweetest Menu
Savor the bliss of this 5-minute, no-bake chocolate mousse cake. With an irresistible Oreo crust, topped with whipped cream and raspberries, this dessert is pure decadence.
16. No Bake Strawberry Icebox Cake
from Eating on a Dime
Satisfy your sweet tooth cravings with this easy 3-ingredient ice box cake. Made with graham crackers, Cool Whip, and strawberries, it's a no-stress, no-bake delight!
17. No-Bake Carrot Cake Cheesecake
from Addicted to Dates
This bunny-approved, no-bake cheesecake is a veggie lover's dream! Made with carrots, vegan cream cheese, and secret ingredients, it's a drool-worthy treat.
18. Funfetti Birthday Pie
from Crazy for Crust
Experience the ultimate fun-filled dessert with this dreamy birthday pie! Combining vanilla pudding, yellow cake mix, Cool Whip, and colorful sprinkles, it's a celebration in every bite.
19. Ice Cream Sandwich Cake
from The Seasoned Mom
Layer upon layer of delicious ice cream sandwiches awaits you, topped with luscious Cool Whip, and adorned with your preferred sauces and toppings. YUM!
20. No-Bake Caramel Cheesecake
from Recipes by Carina
Indulge in the perfection of a velvety cheesecake adorned with a luscious, handcrafted salted caramel sauce. Can you imagine a more heavenly combination?
21. No-Bake Lemon Cheesecake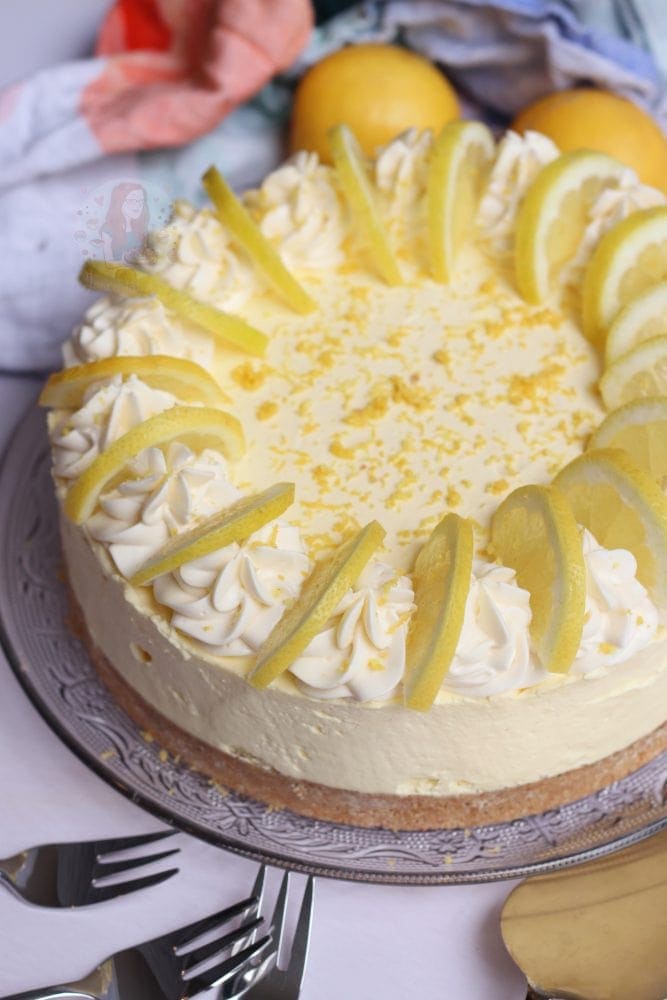 from Janes Patisserie
Experience the delight of a creamy lemon cheesecake, adorned with clouds of cream, lemon slices, and zesty zest. Pure citrus bliss!
YOU MAY ALSO LIKE:
DON'T FORGET TO PIN THIS FOR LATER!