This post may contain affiliate links, which means I'll receive a commission if you purchase through my link. Please read full disclosure here.
Looking for last-minute treats to make for a party, snack or to satisfy your sweet tooth craving? We have the best marshmallow cookie sandwiches recipe!
Marshmallow cookie sandwiches have always been a favorite in my house. I used to make them with Marie Biscuits (still the best option) for my kids, but since moving to Ireland, I've had to find a different kind of cookie to use, the kind I didn't have to bake.
I finally found one that was close enough in taste to the original…Rich Tea Biscuits!
These cookie sandwiches are a cheap and easy snack to make for a birthday. They only require 2 ingredients if you want to make them quickly or like to eat them plain.
Add icing and sprinkles for an extra touch of sweetness to take these already delicious treats to another level.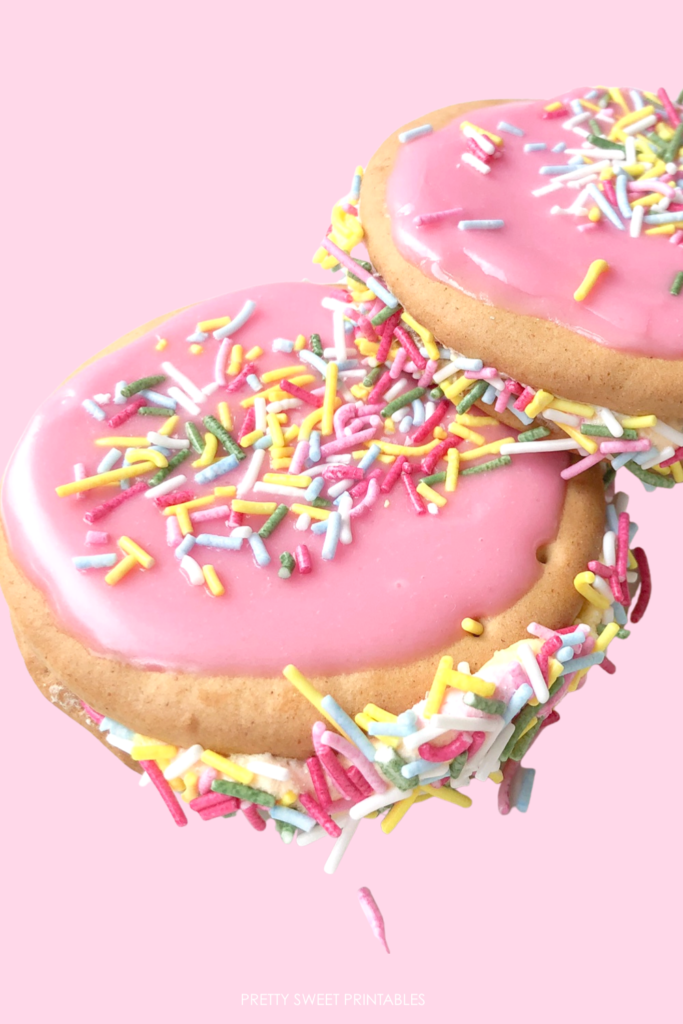 You can roll these cookie sandwiches in 100's & 1000's, sprinkles or dip them in chocolate. You can also make these match your party theme.
Once you start eating these delicious treats, you won't want to stop!
MARSHMALLOW COOKIE SANDWICHES
Have fun making these easy Marshmallow Cookie Sandwiches with the kids. They are perfect for a party, afternoon snack or sweet tooth craving!
INGREDIENTS
300 g Rich Tea Biscuits
150 g Marshmallows
1 cup Powdered Sugar
1/2 tsp Vanilla Extract
3 tbsp Milk / Water
Sprinkles
Food Coloring (Optional)
INSTRUCTIONS
Place 2-4 cookies on a microwavable plate and place one marshmallow upright on each cookie. Microwave for 20 seconds, or until melted.
Top each cookie with another cookie and press down to flatten the marshmallow.
Roll the sides in sprinkles and leave to set for a few minutes.
Place the powdered sugar, vanilla and 3 tablespoons of milk or water in a bowl and stir until smooth, but still fairly thick.
Once the marshmallow has set, spoon icing on top of each cookie. Add sprinkles on top to finish it off.
Repeat steps until the packet of cookies are finished. *Makes about 18 cookie sandwiches.
DON'T FORGET TO PIN THIS FOR LATER!