This post may contain affiliate links, which means I'll receive a commission if you purchase through my link. Please read full disclosure here.
Take your party planning skills to the next level with these amazing Minecraft party ideas!
Whether you're planning a birthday party or just a gathering of Minecraft enthusiasts, we've got you covered with the best ideas for throwing an unforgettable bash.
From decorations and games to delicious treats and party favors, you'll find inspiration to transform your event into a block-busting extravaganza.
So, get ready to embark on a journey through the pixelated world of Minecraft and create an epic party experience that will have everyone shouting, "Creeper, aw man! This is the best party ever!"
✔ Throw an awesome Minecraft Party with this popular Minecraft Party Kit!
MINECRAFT PARTY IDEAS
Elevate your Minecraft-themed celebration with our free Minecraft party printables! From invitations to food labels and cupcake toppers, our collection has everything you need to decorate your party space.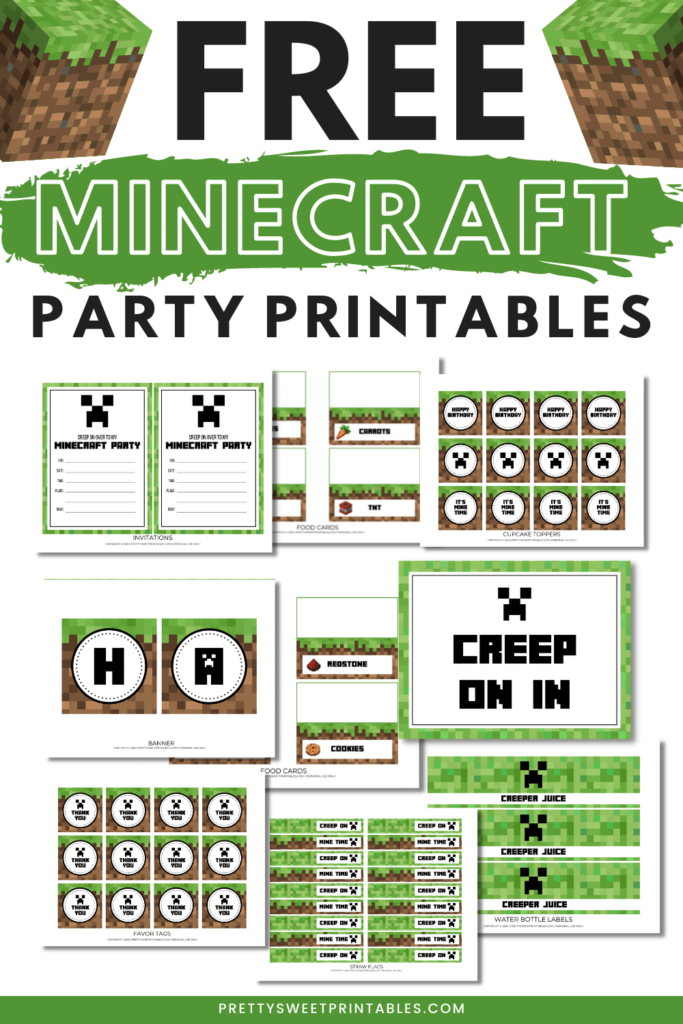 A dessert table is essential at your party, it creates the perfect focal point for the theme. Incorporate a selection of mini desserts such as cupcakes, macarons, and cake pops for bite-sized treats that guests can enjoy.
Serve a variety of Minecraft-themed snacks such as cookies, treats shaped like coal, carrots, and sticks. These tasty and imaginative snack choices will take everyone to the magical world of Minecraft.
Creating a Minecraft balloon arch is simple. You can use a black and green balloon arch kit and add some fun creeper balloons. For an additional celebratory touch, you can include a color foil number balloon.
Set up Minecraft-themed backdrop by using green or black plastic plates arranged to resemble the face of a Creeper. The blocky design of the plates will bring the iconic Creeper character to life.
Add a fun touch to your Minecraft party area by hanging Minecraft-themed balloons, featuring pixelated faces of popular Minecraft characters. You can easily decorate these balloons by downloading the free printables, designed specifically for this purpose.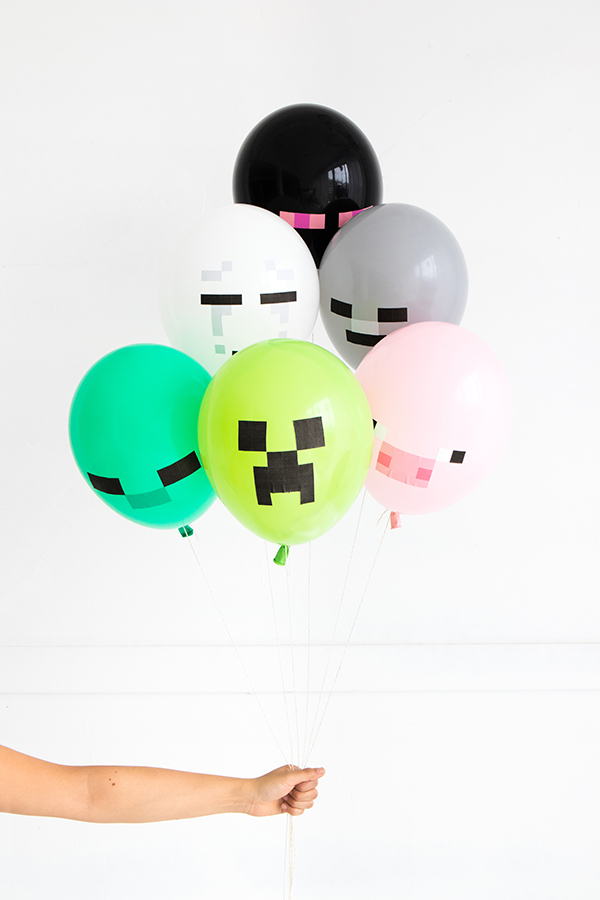 For the food and cake tables, use tablecloths, plates, cups, and napkins that have a Minecraft theme. You can also add decorations that match, such as tassel garlands and bunting inspired by Minecraft.
Get creative with square boxes and transform them into Minecraft-inspired props such as TNT blocks, grass blocks, or even creeper faces. With a little crafting, you can bring the Minecraft world to life!
These DIY Minecraft storage boxes are multi-purpose, serving as party decorations and functional organizers for bedrooms or playrooms. They provide a fun and organized way to store toys, books, and more, while adding a gaming-inspired touch to the space.
Guests can have an exciting entrance by walking through the Nether portal created with purple streamers, as if they are entering another dimension. This is such a fun idea!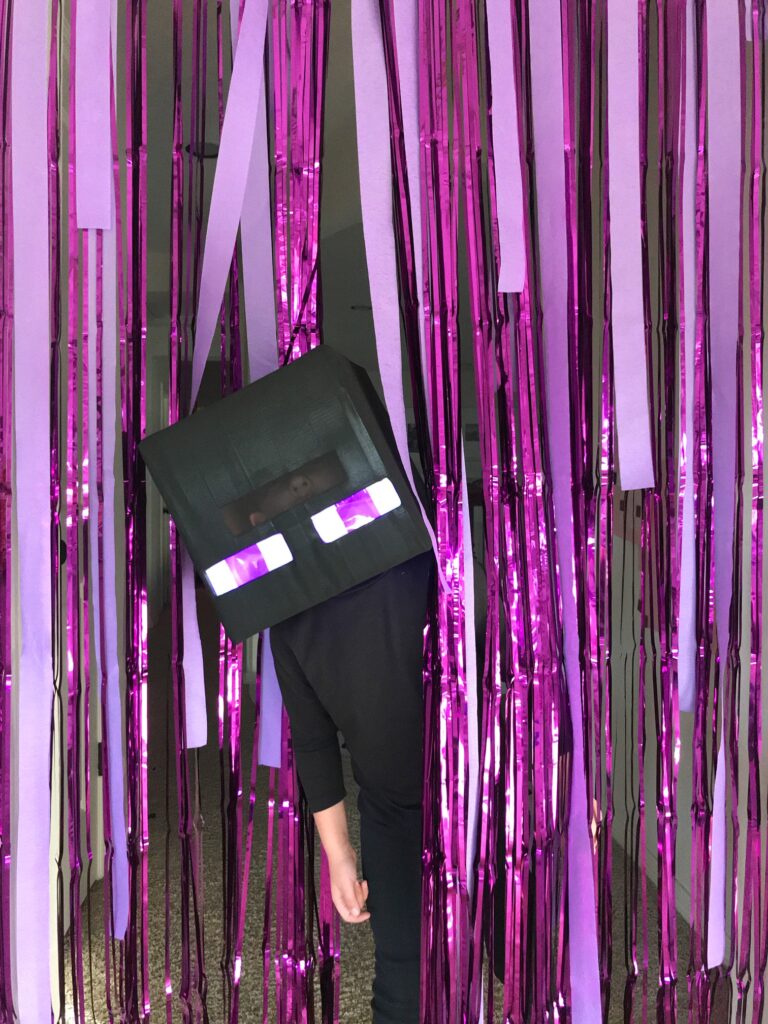 Create your own DIY Minecraft windsocks featuring the iconic Creeper and Steve characters. These fun and easy-to-make decorations will add a touch of Minecraft magic to your outdoor space.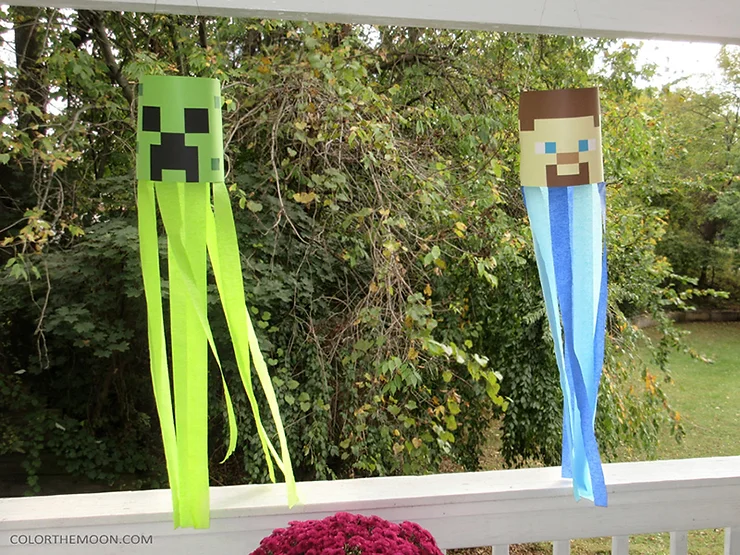 This stunning Minecraft cake looks like it comes straight out of the game. Covered in white and red fondant, this Minecraft block cake is perfection. Top it off with Minecraft TNT candles for an explosive touch.
This Minecraft cake perfectly captures the essence of the game, with all the characters expertly made using fondant.
You can easily elevate your party treats with these delicious cupcakes. Top them with green frosting to resemble grass and consider using Minecraft cupcake wrappers for added flair.
Craft cake pops that resemble popular game characters like Steve, Alex, or even the notorious Creeper. Alternatively, opt for blocks like dirt, grass, or diamond ore to capture the essence of the pixelated landscape.
At a party, you can never have enough cupcakes! Cupcake cakes, like this Diamond Sword one, are a genius invention. Every guest gets a tasty treat to enjoy, leaving no one empty-handed.
These marshmallow pops are the easiest treats to make. Simply dip a marshmallow in some candy melts and add a green M&M to the top. A fun and delicious treat for your Minecraft fan.
No party is complete without themed cookies! Follow the tutorial to make your own Minecraft cookies, or alternatively, you can order them from a bakery.
Macarons are so delicious, but they aren't the easiest to make. If you want to try your hand at making these cute Creeper, pig and TNT macrons then head over to watch the tutorial.
In Minecraft, the mushrooms can't be eaten, but these giant ones can! Make them using red candy melts and white chocolate chips for a delicious treat you can't resist.
These grass block brownies are the only ones I would want to eat! The combination of rich chocolatey goodness and the fun, grassy design makes them the perfect treat for any Minecraft enthusiast.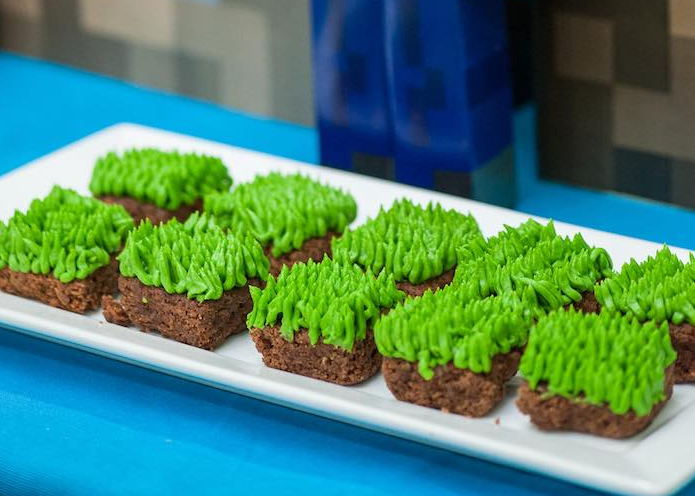 Indulge in the scrumptiousness of a green Creeper Rice Krispies treat block, bursting with marshmallow goodness. A treat that's guaranteed to be a crowd-pleaser!
I love how layers of green, brown, and cream cereal come together to create grass block Rice Krispies treats. They are not only the easiest treats to make but also incredibly delicious.
Let the kids have a blast building their very own Minecraft pig using wafers and fondant. It's not only a fun activity, but also a delicious treat for guests to enjoy at the party or take home as a sweet memento.
A Minecraft party isn't complete without TNT, and these Twizzlers create a big bang with the kids. For an extra effect, wrap them in printable labels.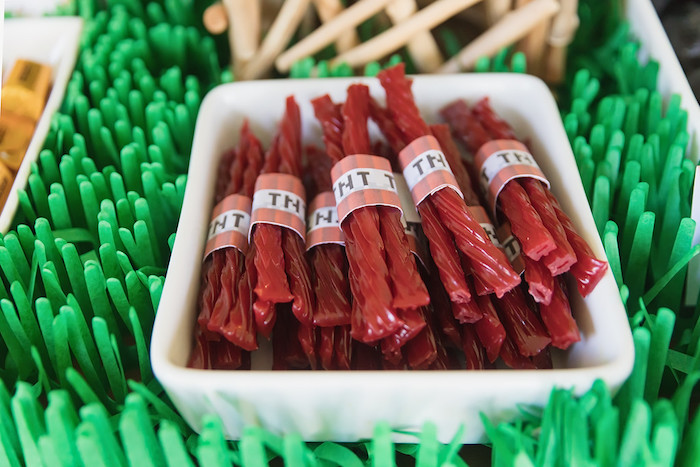 Pretzel rods double up as Minecraft torches with the help of white candy melts and sugar sprinkles. While they may not light the way, they're guaranteed to delight the tastebuds with their deliciousness!
You can never have too much chocolate at a party! If you're looking for a quick and easy Minecraft snack, then this candy bark is an absolute must-have.
This jello "water" looks so delicious, it's tempting to dive right in! It's another fantastic party food that perfectly matches the Minecraft theme.
Make a batch of crunchy Minecraft Creeper Munch using popcorn, candy melts, and M&M's. A creeper-licious treat for all your party guests!
Unleash your guests' "crafty" side with a DIY 'Make Your Own Minecraft Pizza' station. They can stack their favorite pepperoni and cheese toppings to create their own unique Creeper face masterpieces.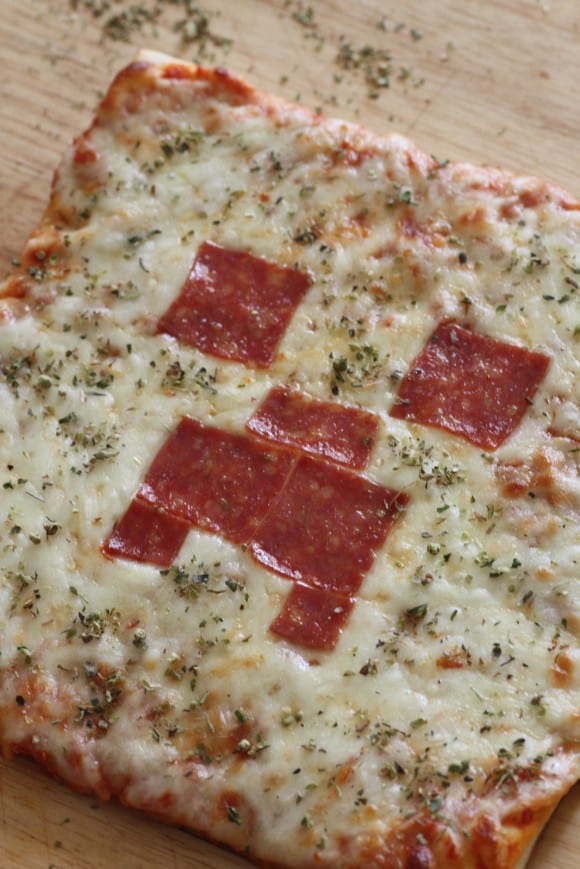 For those picky eaters, you can serve up some "cooked chicken" nuggets. Finger food is always a go-to option with little ones, ensuring they'll enjoy a tasty treat.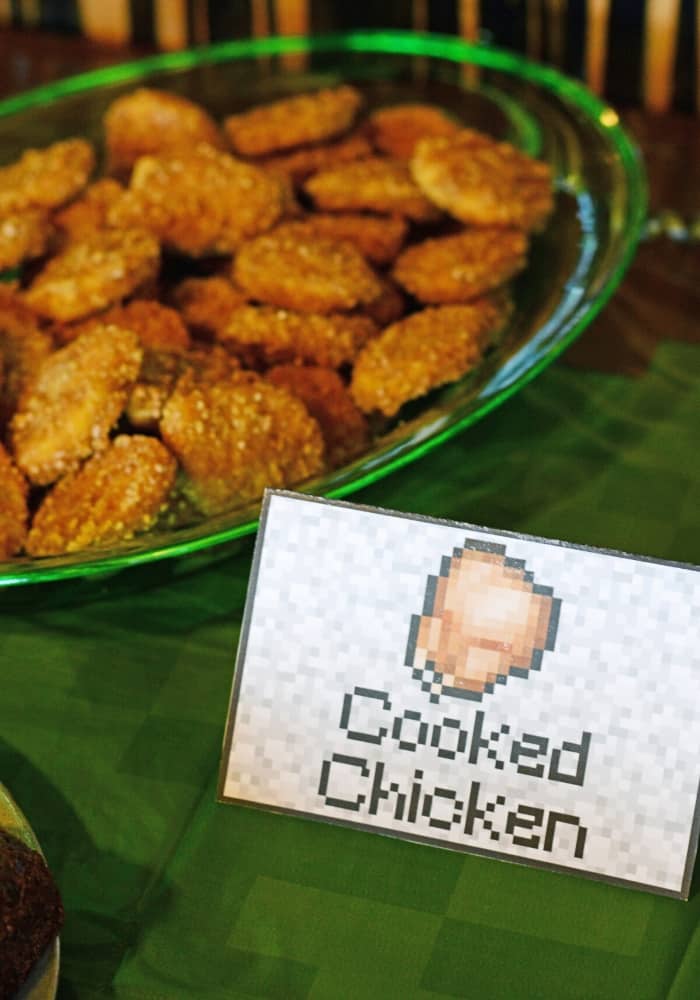 Alongside the chicken nuggets, serve up mini pigs in blankets made with Lil' Smokies, cleverly labeled as "Pork Chops." You can also offer dipping sauce as an optional choice.
33. Lava Punch | Southern Revivals
To ensure the Minecrafters at the party stay hydrated, serve up lava punch made with strawberry soda and vanilla orange sherbet. This creates a bubbly concoction that mimics Minecraft's fiery lava.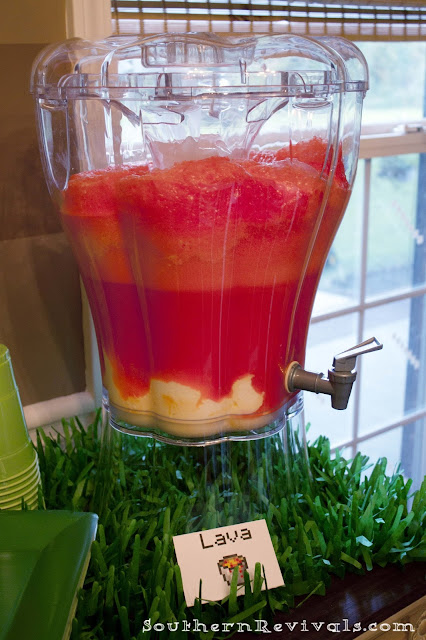 For another exciting beverage option, combine Sprite, lime sherbet, and lemon lime Kool-Aid to create a delicious punch. Serve in clear mason jars adorned with creeper face decals, and a striped straw.
Photos are a must-have at parties, so set up a photo booth area with Minecraft-inspired props such as swords, pickaxes, and masks. You can easily create your own masks by using the free printables available. It's a fun and interactive way to capture memories!
This Creeper pinata is incredibly easy to make. All you need is a square box, layers of green tissue paper, and black craft paper. Fill the pinata with goodies, and let the kids enjoy some exciting block-smashing fun!
Coloring pages are always a hit with kids, and it's no wonder they're highly searched online. They're a budget-friendly option to entertain children at your Minecraft party. With a variety of free designs to choose from, kids will have a blast coloring and enjoying themselves at your event!
Get ready to shout "Bingo!" as you dive into the Minecraft world with this free Minecraft-themed bingo game. Download and print the cards to enjoy an exciting and interactive gaming experience filled with familiar characters and elements.
This is a fantastic activity for party guests to enjoy! All you need is colored paper and the free printables to get started. Select your favorite character and let your imagination run wild as you customize your hat.
Have a blast with the exciting "Poke a Creeper" game! Fill cups with prizes and cover them in green and black tissue paper. Players take turns poking through the tissue paper to find their surprise prizes. It's a super fun activity that adds an extra level of excitement to your Minecraft-themed party!
Add a Minecraft twist to the classic game "Pin the Tail on the Pig" by swapping out the tail for the pig's nose. Get ready for some laughter and excitement as the kids try to pin the nose in the right spot! You can get the game here.
Create an awesome Minecraft-themed crafting station where guests can let their creativity shine by making their very own swords out of cardboard. Provide all the necessary supplies and watch as the kids have a blast designing and crafting their unique Minecraft swords.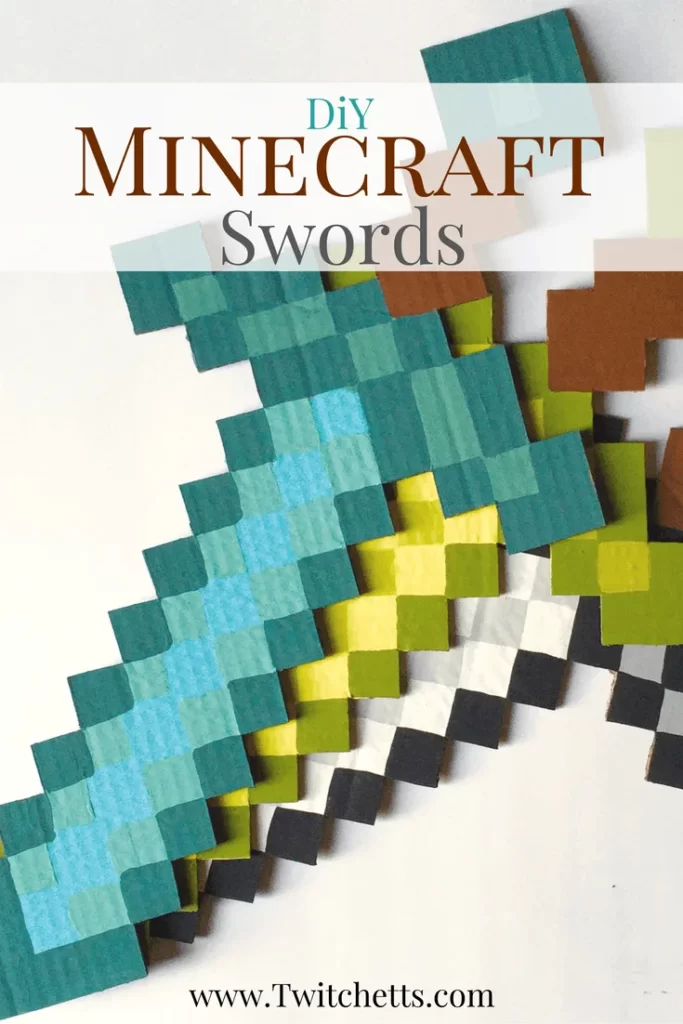 Kids absolutely love oozing gooey slime! Create this popular slime using just a few simple ingredients, and hand them out as party favors to make the celebration even more memorable.
Let your guests build their own characters with Minecraft Lego Steve favors, sparking hours of creative play at home!
Give each guest a Minecraft-themed goody bag filled with gifts like Minecraft-Themed Uno, glow in the dark wristbands and pixel sunglasses.
YOU MAY ALSO LIKE:
DON'T FORGET TO PIN THIS FOR LATER!