This post may contain affiliate links, which means I'll receive a commission if you purchase through my link. Please read full disclosure here.
If your child is a fan of the Pokemon cartoon or video games, they are going to love these Pokemon party ideas!
Pokemon is one of the most popular franchises in the world, so there's no doubt that many kids are obsessed with the creatures. If your child is one of these kids, then you're probably looking for some fun Pokemon birthday party ideas. 
Well, you've come to the right place! In this article, we'll share some of the coolest ideas for throwing the perfect Pokemon bash. From fun decorations to themed food to activities, your child's birthday is going to be a blast.
So get started planning your Pokemon party today with these fun ideas!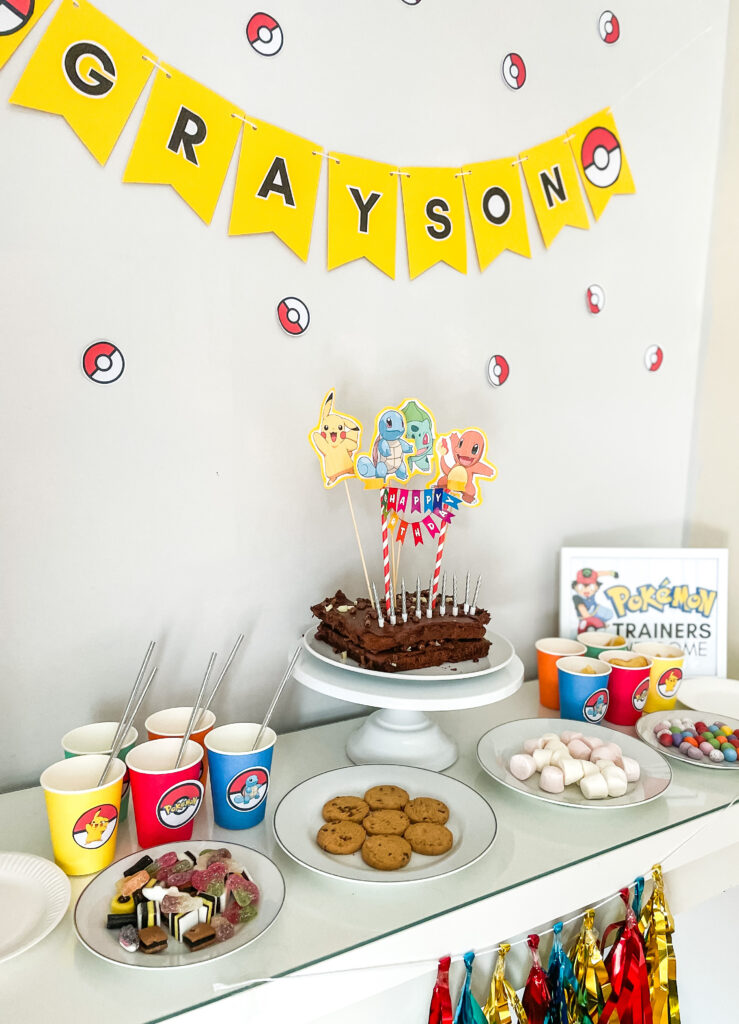 ✔ Throw an Epic Pokémon Party with this popular Pokemon Party Kit!
POKEMON PARTY IDEAS
Free Pokemon Printables
Use our free Pokemon invitations to invite your friends to your party, then level up your party decor with the rest of the Free Pokemon party printables.
Pokemon Dessert Table
How cool is this Pokemon birthday dessert table from Catch My Party? Add a fun Pokemon backdrop to bring it all together.
Pokemon Backdrop
This Pokemon party backdrop from Lemon Thistle is easy to make with paper plates, red paint and a black marker.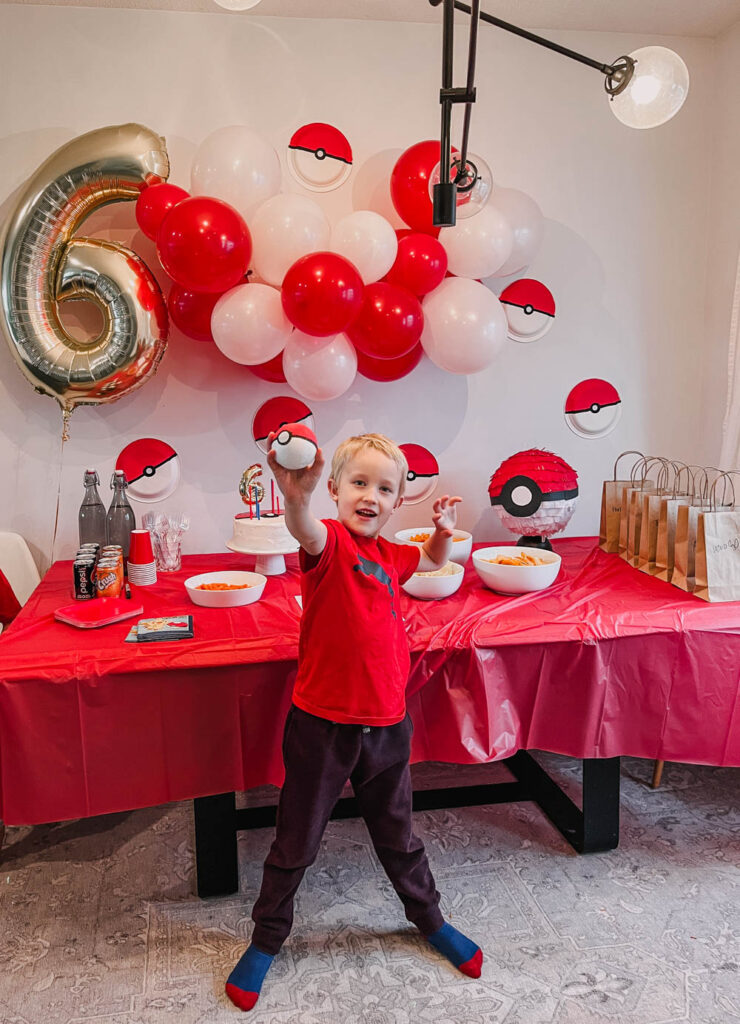 Pokemon Table Settings
To make your party theme cohesive add coordinating paper plates, cups and napkins like these pokemon table settings from Best Friends for Frosting.
Pokemon Centerpiece
You'll love how easy these DIY Pikachu centerpieces from The Homes I Have Made are to make. Use yellow party buckets and vinyl to recreate this for your party!
Pokemon Balloon Arch
And don't forget to add a balloon arch and some Pokemon balloons to frame your table. Just Add Confetti shows you how to do that here.
Pokemon Balloons
You can also make these DIY Pokemon balloons from WhimsyRoo, but if you don't want to make them you can buy them readymade.
Pokemon Lanterns
These decorative Pokeballs from Read Roses Notes are easy to make with Chinese lanterns so make sure to catch 'em for your party!
Pokemon Candy Buffet
Use our freebies to decorate a Pokemon candy bar from Soiree Event Design!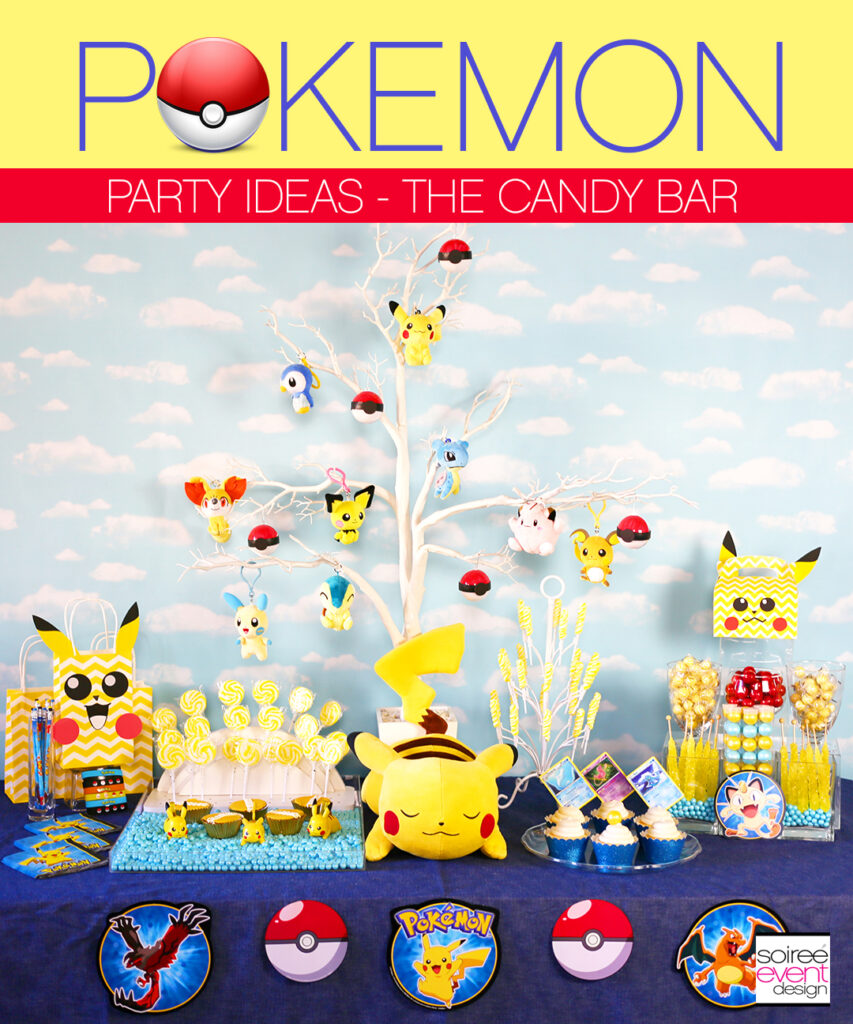 Pokemon Birthday Cake
How cute is this DIY Pikachu cake from Rosanna Pansino? I love that it's such a simple design but makes a bold statement.
Pokemon Pokeball Cake
And this easy Pokeball pinata cake from Cake Whiz is a fun surprise for all your party guests. Fill your cake with mini Pokemon figurines that your guests can keep.
Pokemon Oreo Pops
You'll also want to make these Pokemon chocolate covered Oreo pops from Just Add Confetti.
Pokemon Donuts
Grab one of these cute donut makers and make some mini Pokemon donuts from Kawaii Sweet World.
Pokemon Cookies
If you have a lot of time on your hands, you might want to try your hand at Pokemon Go cookies from What Should I Make For. Alternatively, have them made for you!
Pokemon Cupcakes
But these Pikachu cupcakes from Midwestern Moms look pretty easy to make and I bet you'll have loads of fun baking with the kids.
Pokemon Cupcake Wrappers
You could also fake Pikachu cupcakes with yellow frosting and these free Pikachu cupcake wrappers from Popcorner Reviews.
Pokemon Pokeball Cupcakes
But you have the option to make these easy Pokeball cupcakes too! Let Carri Elle show you how to make them!
Pokemon Cake Pops
And I just love these Pokeball cake pops from Rosanna Pansino!
Pokemon Marshmallows
If you're like me, you'll love making these giant Pokemon marshmallows from Campfire Marshmallows! You don't even have to know how to bake to make them! Just add candy melts, frosting and mini marshmallows.
Pokemon Peep Pops
And how adorable are these Peep-achu Pops from Bakerella?
Pokemon Krispie Treats
You can also make some Pokeball Rice Krispie treats from Mommyhood Life, they're always a crowd favorite at parties.
Pokemon Pizza
And this Pokeball pizza from Fab Everyday has to be the best Pokemon party food for the kids! I mean, who doesn't like pizza?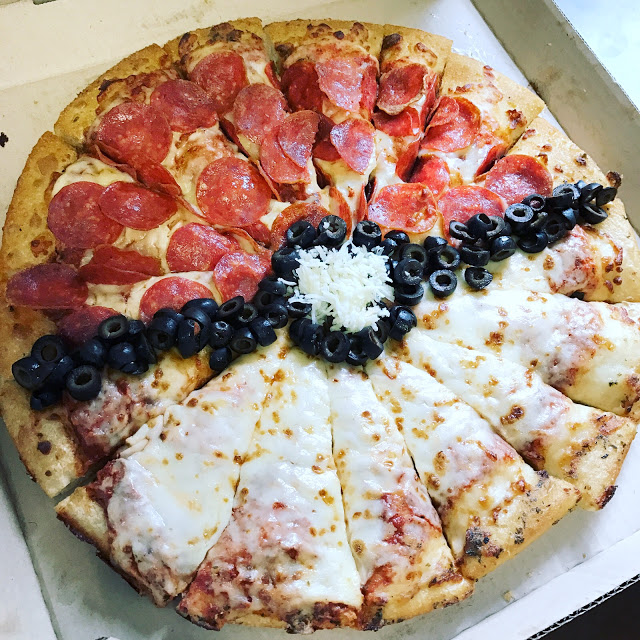 Pokemon Charcuterie Board
But if you want to get creative, try your hand at making a Pokemon snack board. It looks fairly easy and the kids will love it too!
Pokemon Cheese Ball
Make this easy Pokeball cheese snack from Ruffles & Rainboots for all the cheese lovers at your party.
Pokemon Party Cups
Serve drinks in these DIY Pikachu party cups from Ruffles and Rainboots. Just grabs some markers and turn plain yellow cups into Pikachu cuteness.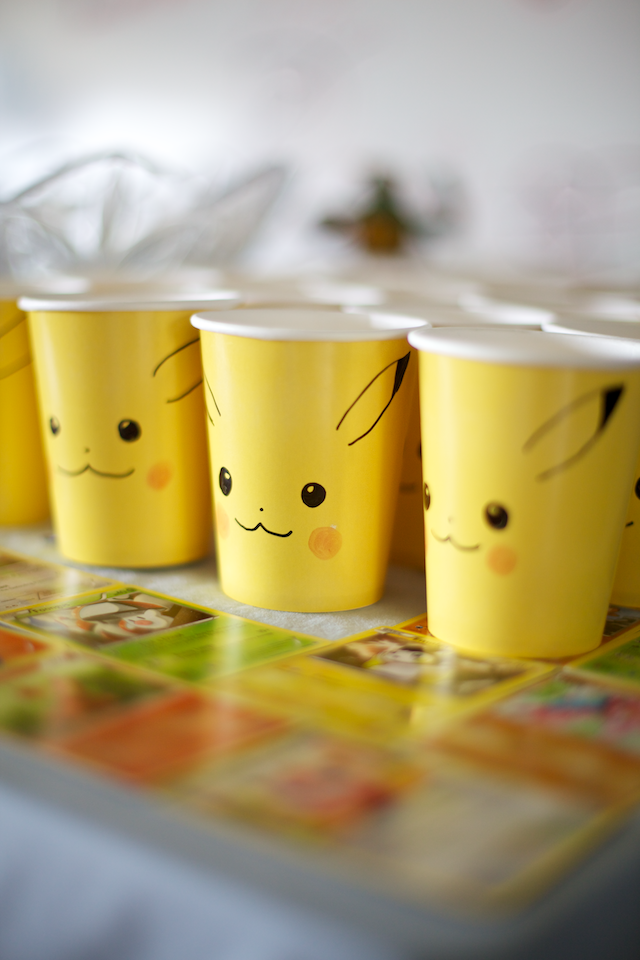 Pokemon Pinata
If you love easy projects, you'll love this easy paper mache DIY Pokeball Pinata from And Next Come L. Don't have time to make one? Then this Pokeball pinata would be the perfect for your party.
Pokemon Photobooth Props
Set up a photo booth with Pokemon props from Soiree Event Design for guests to take pictures with. What a fun party idea!
Pokemon Pin The Tail Game
Download the free printable from Cutesy Crafts and have fun trying to see who can Pin the tail on Pikachu. The perfect game for a Pokemon party!
Pokemon Punch Game
How fun is this Pokemon punch game from Carefree Crafts? It's also so easy to make with red plastic cups filled with tattoos, erasers and cards. Wrap with tissue paper and rubber bands and have a blast punching the cups.
Pokemon Bingo
Get the kids to play a round of bingo with these free Pokebingo cards from The Eco Friendly Family.
Pokemon Bean Bag Toss
Make your own pokeball bean bags and have fun playing Pikachu bean bag toss from Tonerose Design.
Pokemon Headband
You'll also have fun making this DIY Pikachu hat from Kids Activities.
Pokemon Party Favors
Jennifer Maker shows you how to DIY Pokeball party favors that you can fill with the cutest Pokemon goodies and hand out to your party guests.
Pokemon Favor Bags
These Pikachu party bags from Neli Design are also easy to make with yellow goody bags and the free printable.
Pokemon Pokeball Party Bags
Or make Pokeball favor bags from Buggy and Buddy then fill them with some fun Pokemon favors for all your friends!
Pokemon Ash Ketchum Hats
These Ash Ketchum hats from Delia Creates are also a great way to add party favors that your friends can wear at the party.
YOU MAY ALSO LIKE:
DON'T FORGET TO PIN THIS FOR LATER!