This post may contain affiliate links, which means I'll receive a commission if you purchase through my link. Please read full disclosure here.
Calling all Harry Potter fans! If you're looking for a delicious and magical treat, look no further than these Harry Potter cupcakes.
Whether you're a die-hard Gryffindor, a loyal Hufflepuff, a wise Ravenclaw, or a cunning Slytherin, these cupcakes are sure to satisfy your sweet tooth and your love for all things Hogwarts.
From Golden Snitch cupcakes to Sorting Hat cupcakes, these treats are sure to delight any Potterhead. They're perfect for your Harry Potter party or if you just want to add some wizarding world flair to your dessert table.
So, grab your wand (or spatula) and get ready to bake up some magic!
HARRY POTTER CUPCAKE iDEAS
Experience Harry Potter's enchantment with these delicious cupcakes! With chocolate buttercream icing and a cute lightning bolt drawn on top, these treats bring a magical touch to your taste buds.
These sorting hat cupcakes will take you on a magical wizarding adventure. Indulge in the scrumptious butterscotch flavor and reveal your Hogwarts house by biting into the sorting hat on top. Will it be Gryffindor, Slytherin, Ravenclaw, or Hufflepuff? The choice is yours to discover!
These charming cupcakes perfectly resemble Hagrid's iconic birthday cake for Harry Potter. Follow the step-by-step tutorial for a delightful baking experience that brings the magic to your kitchen.
Another sorting hat cupcake idea but this time the house colors are a delicious buttercream filling inside the cupcake. Take a bite to reveal which Hogwarts house you belong to!
Inspired by the whimsical plant from Harry Potter, these Mandrake cupcakes are baked in a mini flower pots and feature adorable fondant Mandrake creations. You'll love these screechingly delicious cupcakes!
Celebrate Hufflepuff with blackberry and vanilla cupcakes topped with yellow and black frosting, showcasing the house colors. Add a cute badger design using black and white icing to bring Hogwarts magic to your gathering.
If you're a Harry Potter fan, you know that butterbeer is a beloved drink in the wizarding world. These butterbeer cupcakes are a delicious way to bring that magical flavor to your next party. Finish off your cupcakes with an adorable candy lightning bolt.
No Harry Potter party is complete without golden snitch cupcakes. These magical treats with their shimmering wings and sweet vanilla flavor bring a touch of wizarding wonder to your celebration.
These owl cupcakes are a hoot to make! You'll need chocolate and vanilla frosting, Oreo cookies, and Reese's Pieces to create these adorable owl designs. Even Hedwig would be proud!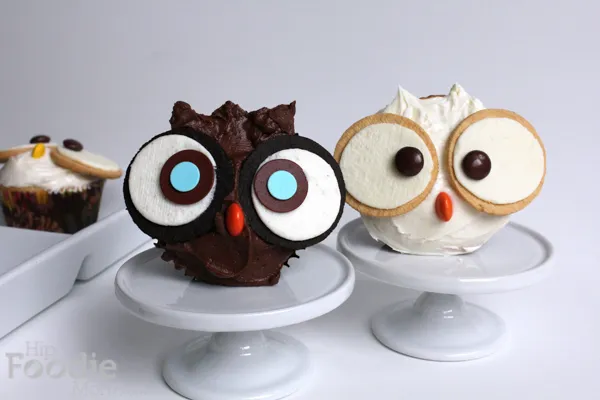 Celebrate the Hogwarts house sorting with these charming cupcakes. Each cupcake is frosted in the colors of the different houses and topped with a matching scarf design. Show your house spirit and enjoy these delicious treats!
The wizarding world will come to life with these chocolate frog cupcakes! To make them, fill a frog-shaped mold with chocolate and place them on top of a peanut butter-frosted cupcake. Don't worry, they won't start hopping away but your taste buds will be jumping for joy!
If you're feeling mischievous, try making Sleeping Draught cupcakes, inspired by the potion Hermoine brewed in Harry Potter and the Half-Blood Prince. These cupcakes are sure to be a hit with any Potterhead!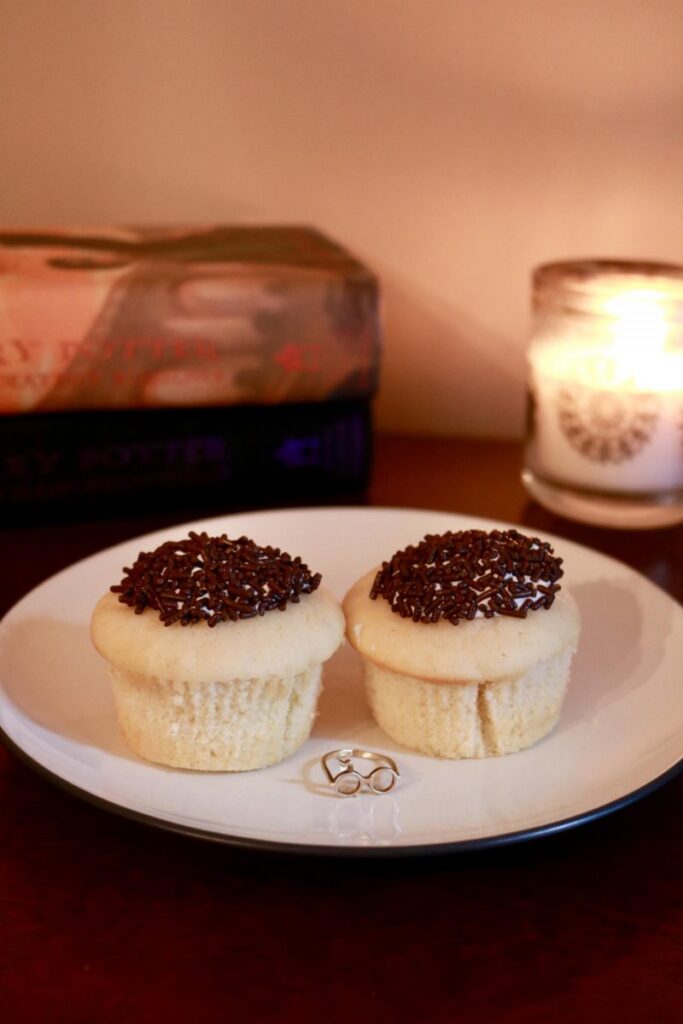 Make your cupcakes look extra special with a Hogwarts envelope seal! These delightful treats have our stamp of approval and will add a touch of magic to your baking endeavors.
To make these terrifying creatures, you'll need green frosting, candy corn teeth, and M&M accents for the Basilik. While the giant spider cupcakes boast chocolate frosting, Oreos, candy eyes, candy corn, and licorice Twizzler legs. Brace yourself for a thrilling taste experience!
Show your Gryffindor pride with these Gryffindor scarf cupcakes, a tribute to The Boy Who Lived. Enjoy the bold colors and delicious flavors as you embrace your inner Gryffindor!
Whether you're a proud Hufflepuff, cunning Slytherin, brave Gryffindor, or wise Ravenclaw, this Hogwarts Crest cupcake cake will show off your house pride. Use colored frosting to create the iconic crests of each house and serve them at your next Harry Potter-themed party.
Unicorns and Harry Potter, a match made in magical heaven! Topped with a Gryffindor unicorn horn and Harry Potter glasses, these cupcakes bring together the enchantment of unicorns with the beloved wizarding realm.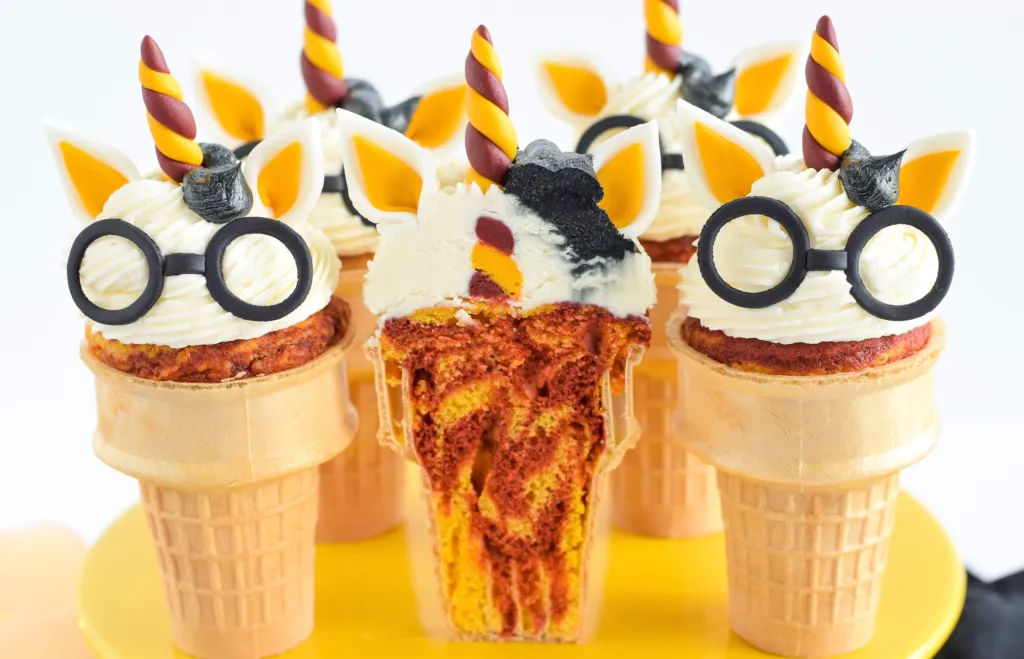 These cupcakes are a whimsical tribute to Luna Lovegood's iconic glasses. With sweet fondant frames and a delightful swirl of frosting, they capture the essence of Luna's world. Embrace your inner Luna and enjoy these magical treats!
If you're a Slytherin at heart, these green velvet cupcakes are perfect for you. With a sprinkle of confectioner's sugar, they embody the sneaky and ambitious nature of the house. Indulge in these delicious treats and embrace your inner serpent!
Butterbeer cupcakes with a twist! A crunchy caramel popcorn topping to take your butterscotch flavor to the next level! Bake these beauties in gold cupcake liners and add Harry Potter glasses as a party favor your guests can take home.
Transform simple cake mix into Golden Snitch cupcakes with just a few easy steps! Add a Ferrero Rocher chocolate on top of a frosted cupcake for the snitch's body. Attach wings made from plain white paper using toothpicks, and voila! You have a cupcake fit for a Quidditch match!
YOU MAY ALSO LIKE:
DON'T FORGET TO PIN THIS FOR LATER!