This post may contain affiliate links, which means I'll receive a commission if you purchase through my link. Please read full disclosure here.
If you want to throw the party of little girl's dreams, then you need to see these magical Mermaid Party Ideas.
We have everything you need to plan the perfect shellebration. From free mermaid party printables to mermaid decorations, mermaid party snack ideas and a whole lot more.
Whether you're planning a small party or an over-the-top magical day, we have mermaid party ideas for you. Choose the ones you love the most and throw a mermazing party!
✔ Throw a Magical Mermaid Party with this popular Mermaid Party Kit!
MERMAID PARTY IDEAS
Our free mermaid party printables are the perfect color combination to add to your party decor and will take your party to the next level.
The party collection includes a welcome sign, mermaid cupcakes toppers, invitations, water bottle labels, mermaid food labels, straw flags, party favor tags, and a pretty mermaid banner.
How beautiful is this mermaid dessert table featuring an amazing wall of pastel balloons? Add a personalized shell to complete the look.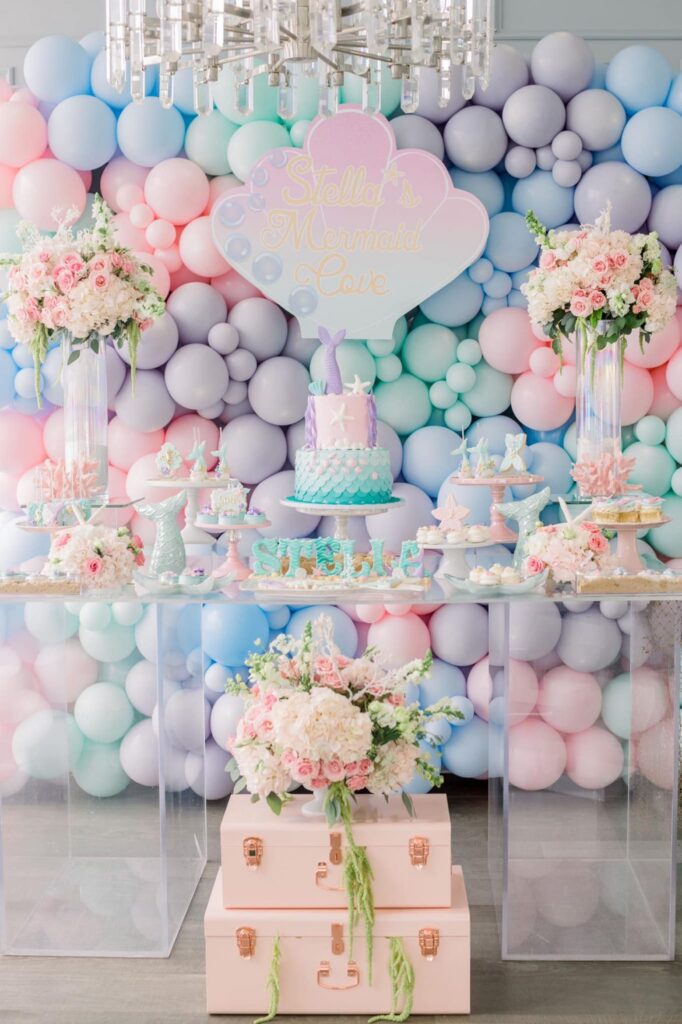 Picnics are so fun, but if you can have a picnic party on the beach, even better! Use a gazebo for shade and decorate it to create an elegant atmosphere for your guests.
Nothing screams mermaid party more than a mermaid pool party. Add lots of clear balloons, shells, and pool floaties, then have a splash of a bash!
5. Mermaid Backdrop from Hostess with the Mostess
Use pastel paper plates to create a stunning scalloped backdrop, so simple, yet so effective! I love how the pastel shades create an ombre look.
If you're looking for a simple and effortless way to make a backdrop, cover your mermaid balloons with a fish net for a seaside look.
Balloon arches are all the rage now, and this mermaid balloon arch is simply stunning. I love the pops of gold and silver balloons and the shiny mermaid tail brings it all together!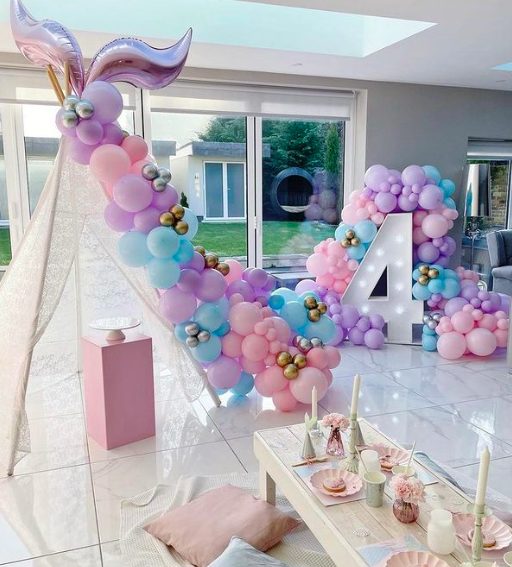 Jellyfish lanterns add a special "under the sea" touch to your mermaid party. They're so easy to pop up and they come in an array of colors. So, get creative with these jelly-rrific decorations.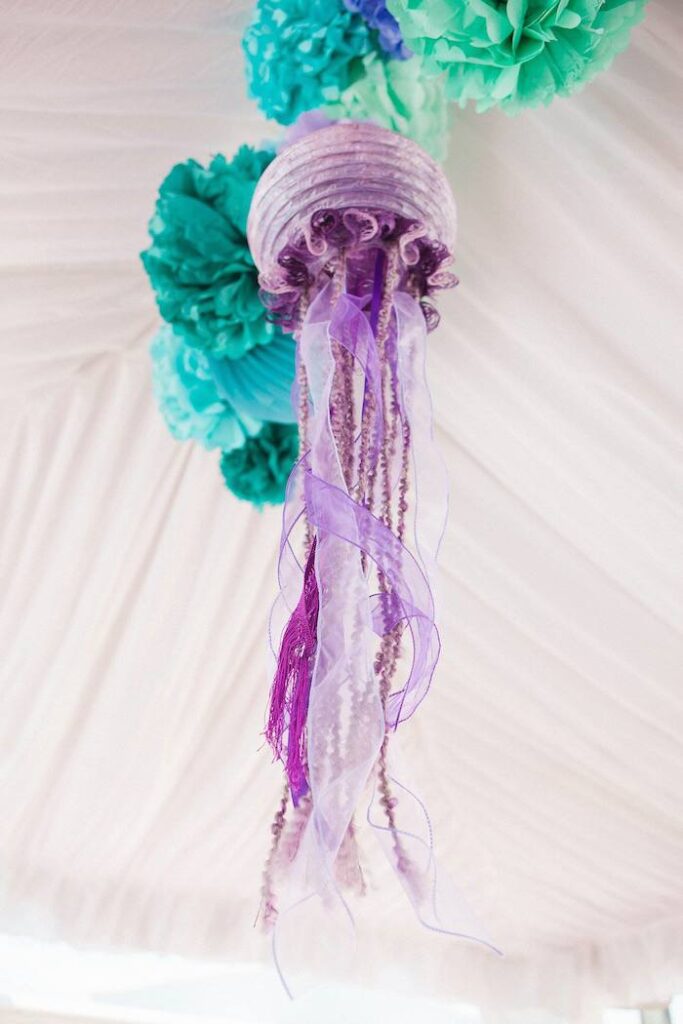 This starfish salt dough garland is easy to make with a simple recipe but can also be recreated with some string and a few resin starfish ornaments.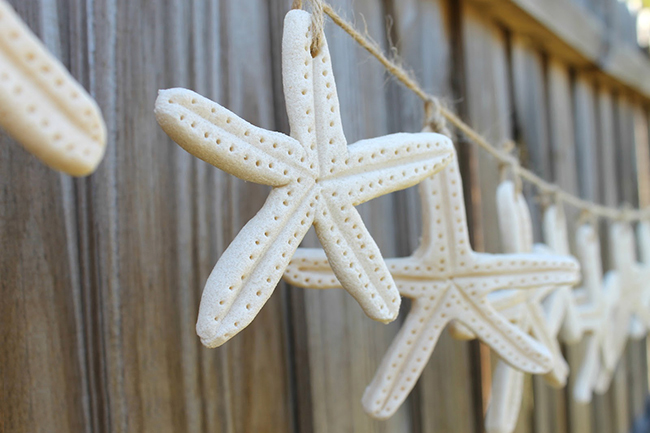 How cute are these mermaid signs? Use them to welcome your guests and direct them to different party stations. Such a fun idea! You can make your own with these wooden arrow signs.
These tiered fishbowls are a lovely way to add centerpieces to your party table. Fill them with sand and shells or water and real fish for an exciting surprise.
Themed table settings help to pull all the party decor together and there's nothing more darling than having shell paper plates at a mermaid party. Layer them with some pastel paper plates and add wooden cutlery for an eco-friendly idea.
Decorate some mason jars with a few pieces of fabric or ribbon then attach a starfish or shell to your cutlery holders to create a coastal vibe. Pop in your cutlery and add to the dessert table.
You don't need to hire a candy cart to create your own candy bar, you only need some glass jars and colorful candy. And I'm sure your guests will love it too!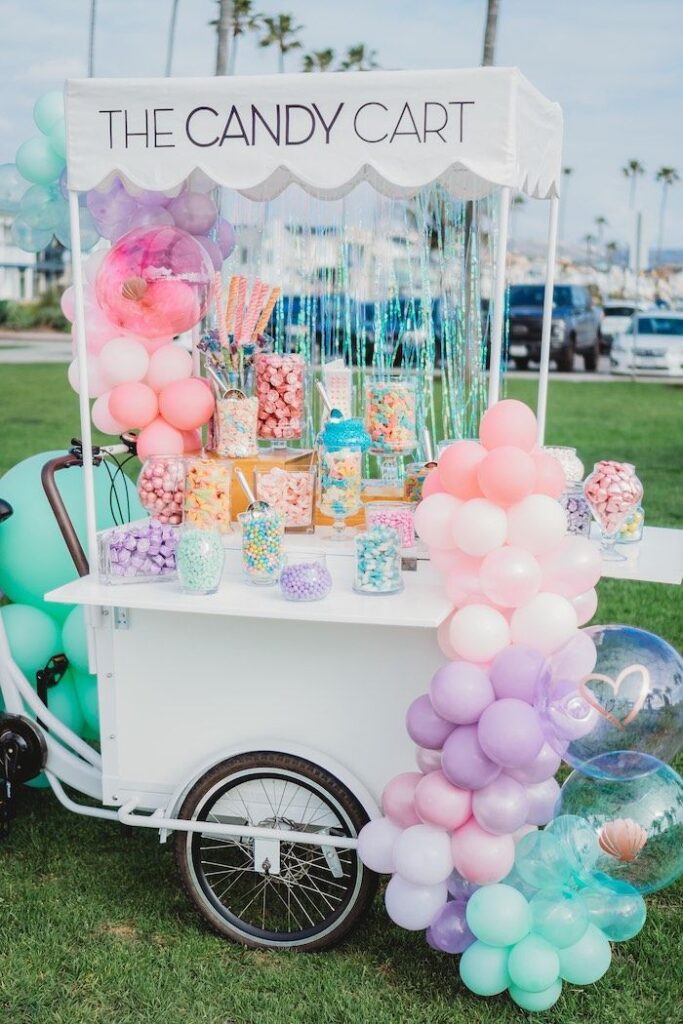 15. Mermaid Cake from Little Miss Charlie
Make a statement with a whimsical under the sea-themed cake. Featuring waves of blue, mermaid tails above the water of icing and crumbs of sand on a pretty cake stand, this elegant cake would be the perfect focal point for your dessert table.
These cupcakes look so delicious, and I love the blue frills of icing. Add some chocolate mermaid tails and shells to finish off the look. The perfect treat for your guests!
These irresistible bite-sized treats of deliciousness are just what your party needs. A simple mermaid tail and shell take these from ordinary to extraordinary.
18. Mermaid Cookies from Happily Ever After Children
These mermaid tail and shell cookies are an effortless way to add touches of underwater elements to the dessert table. They're so easy to make with cute cookie cutters and are also a great option to be given as a party favor to your mermaid friends.
Another delicious dessert option are these darling mermaid cakesicles. It's a popsicle made with cake, covered in melted candy, and adorned with edible ocean-themed gems.
Serve them on a tray of graham cracker sand for a beach look!
Who doesn't love a good Rice Krispy treat, but with a mermazing twist? Add some sparkly lollipop sticks for a luxury look! Plus, this is a fun way to get the little ones involved.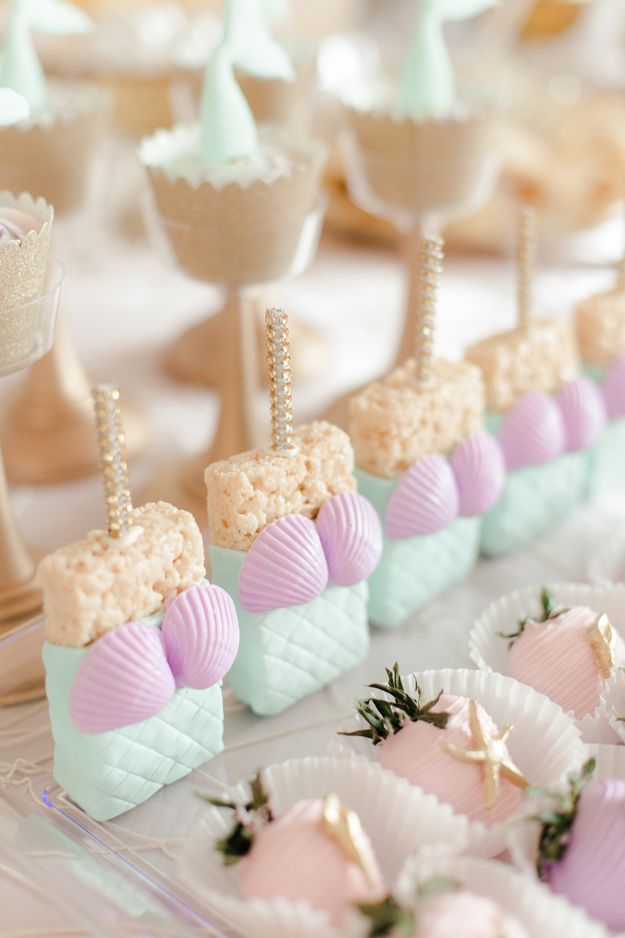 These jello cups look like a work of art, but they aren't that difficult to make. Line your glasses with graham crackers, then add your jello and let it set.
Once it's ready, swirl purple and blue frosting on top then finish off your single serving treat with candy shells, mermaid tails and sprinkles.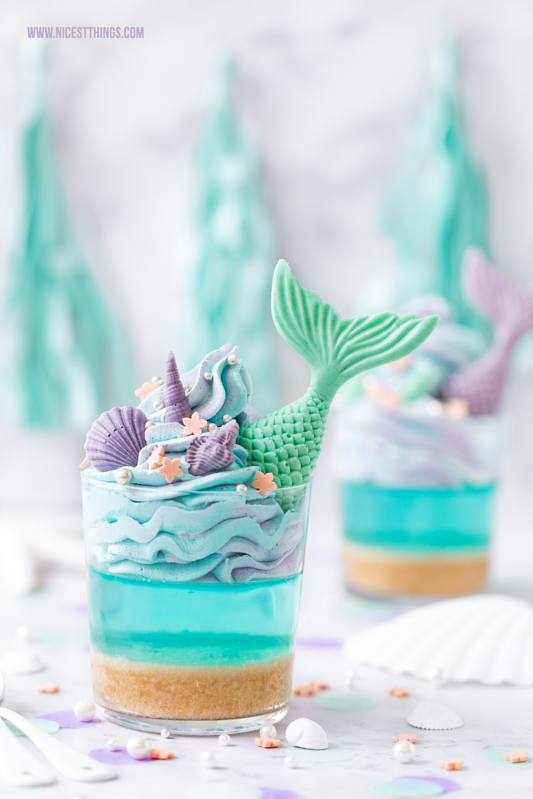 You don't need to do much to make coral decor. Just add ocean colored rock candy to a fishbowl or apothecary jar and you have delicious decor your guests can eat!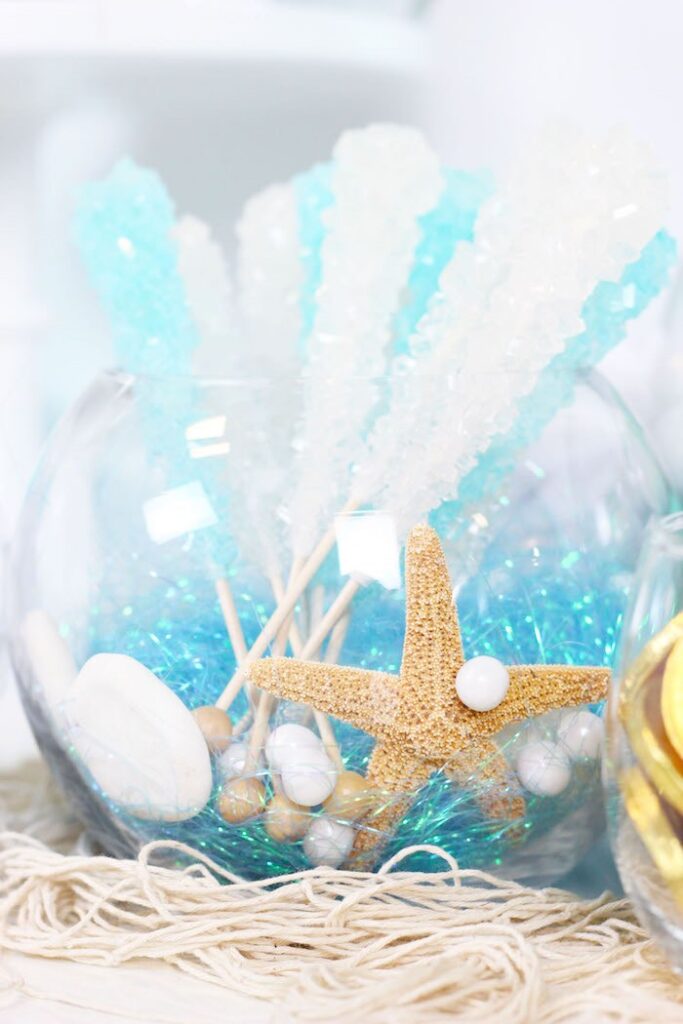 I love simple party treats, so I had to include these amazing mermaid marshmallows. The graham cracker sand looks like gold dust against the turquoise candy. Such an effective idea!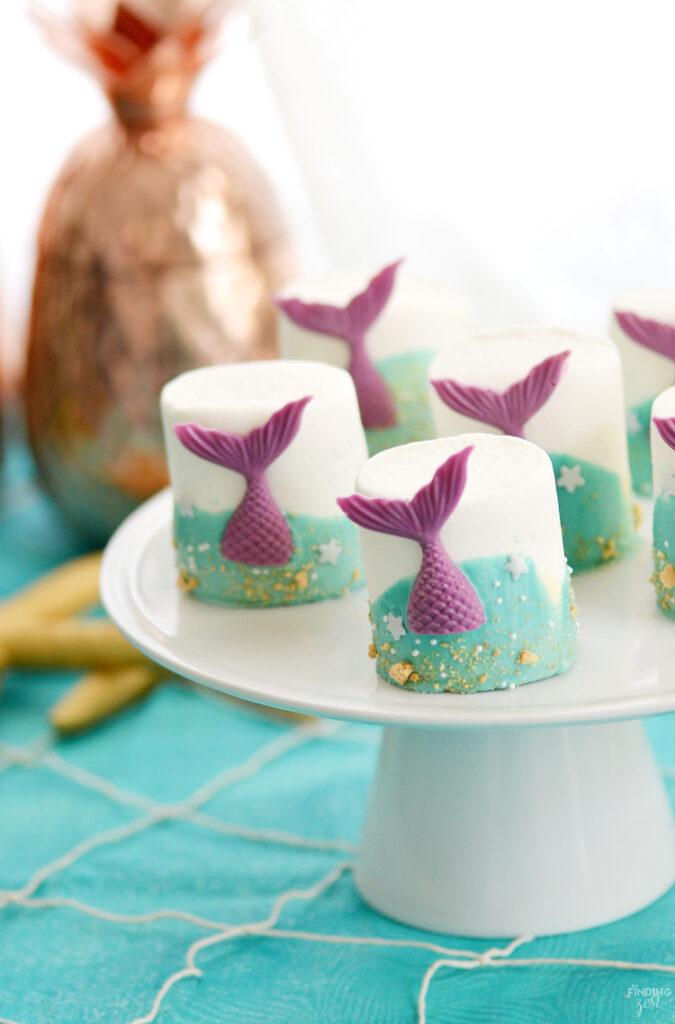 These cute little clam shell macarons add an extra touch of ocean goodness. Sandwich a gumball or Sixlets candy between two chewy macaron clams to create a delicious treat!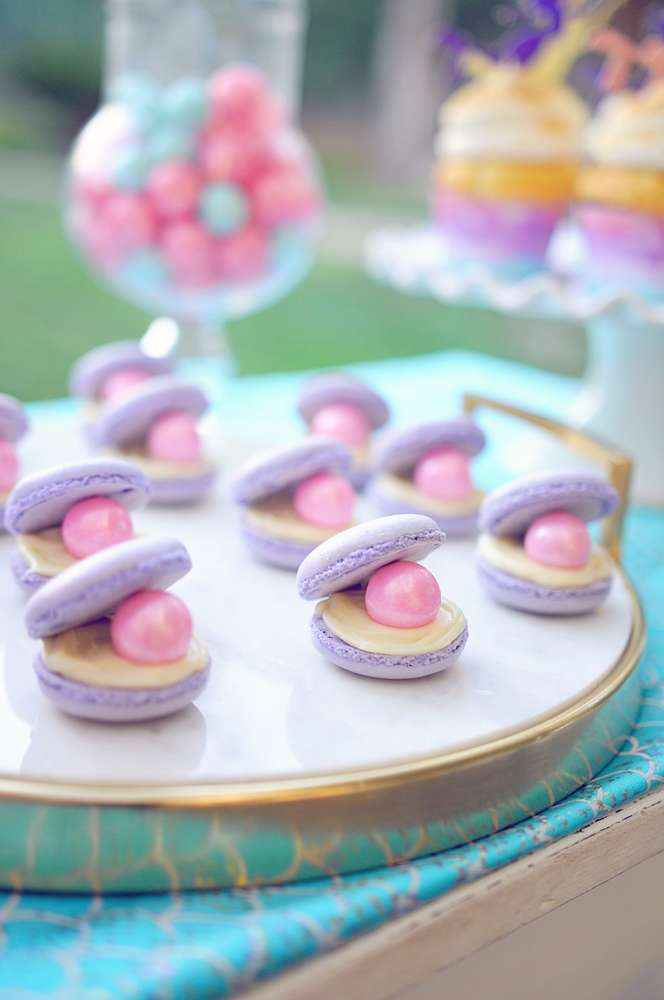 25. Mermaid Fudge from How to Make Easy Fudge
Fudge is one of my favorite treats, like chocolate bark, this dessert is made with chocolate, but also condensed milk. Which adds to the sweetness! This snack can be made in the microwave and is the perfect quick treat for your mermaid party!
26. Mermaid Bark from Bread Bacon Booze
Speaking of bark, this mermaid bark looks good enough to eat in all its shimmering glory!
Here's another sweet treat that can be easily made with just a few pretzels and candy melts. Pop on an edible star and your dessert is ready to be eaten by hungry mermaids.
This snack is POPPING and super quick to make! Drizzle colorful melted candy over your popcorn then mix in some M&M's for a sweet and salty party snack.
29. Crabwiches from Occasions by Shakira
Simple googly eyes and toothpicks transform croissants into delicious crabwiches! These will be a hit with your guests for sure!
30. Starwiches from Keeping up with She
Add more eyes to sandwiches to transform them into starwiches, only this time they're edible eyes! The kids will love these sandwiches and they're easy to make with a starfish cookie cutter!
I love charcuterie boards, but when I saw these charcuterie cups, I knew they would be the perfect finger food to have at a mermaid party. Add these mermaid tails to your favorite eats and treats and let your guests' snack and mingle.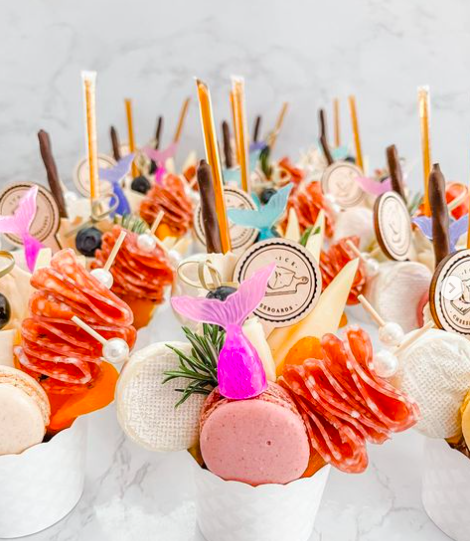 This mermaid punch is only 2 ingredients and looks so delicious! Serve your purple and blue punch in a shell for extra pizzazz! Your guests will love how it fizzes and bubbles just like sea foam.
33. Sea Water from Kara's Party Ideas
Serve your friends some ocean punch in glass milk bottles then pop in a cute straw. You only need Lemon-Lime Soda, Pineapple Juice, and Blue Hawaiian Punch to make this delicious drink!
What better way to document your mer-mories than in a clamshell with all your besties! Grab the camera and photo props and take a shell-fie for the memory book!
If you're feeling creative, DIY some mermaid party hats for your guests to use as photo props. They can also be used as popcorn, treat or cotton candy holders.
A magical wand is a must-have at a mermaid party, so make sure all the little mermaids have one! These DIY starfish wands are so easy to make with starfish and ribbon wands, and they look gorgeous too!
37. Mermaid Tails from Pink Peppermint Design
You can't have a mermaid party without some mermaid tails. Either spoil the birthday girl with her own mermaid tail costume or splash out and get all the little mermaids their own tails too!
Face painting is a fun party activity, and what little girl wouldn't want to be a mermaid? Either hire a face painter or buy some face paint and show your artistic skills.
How cute is this "Cookies mer-made by you" sign? Make your own and display it at a cookie decorating station for your little merbakers!
Kids love painting parties; they get to mess and decorate and have loads of fun! And these cute treasure boxes are a great keepsake to display in your little mermaid's room.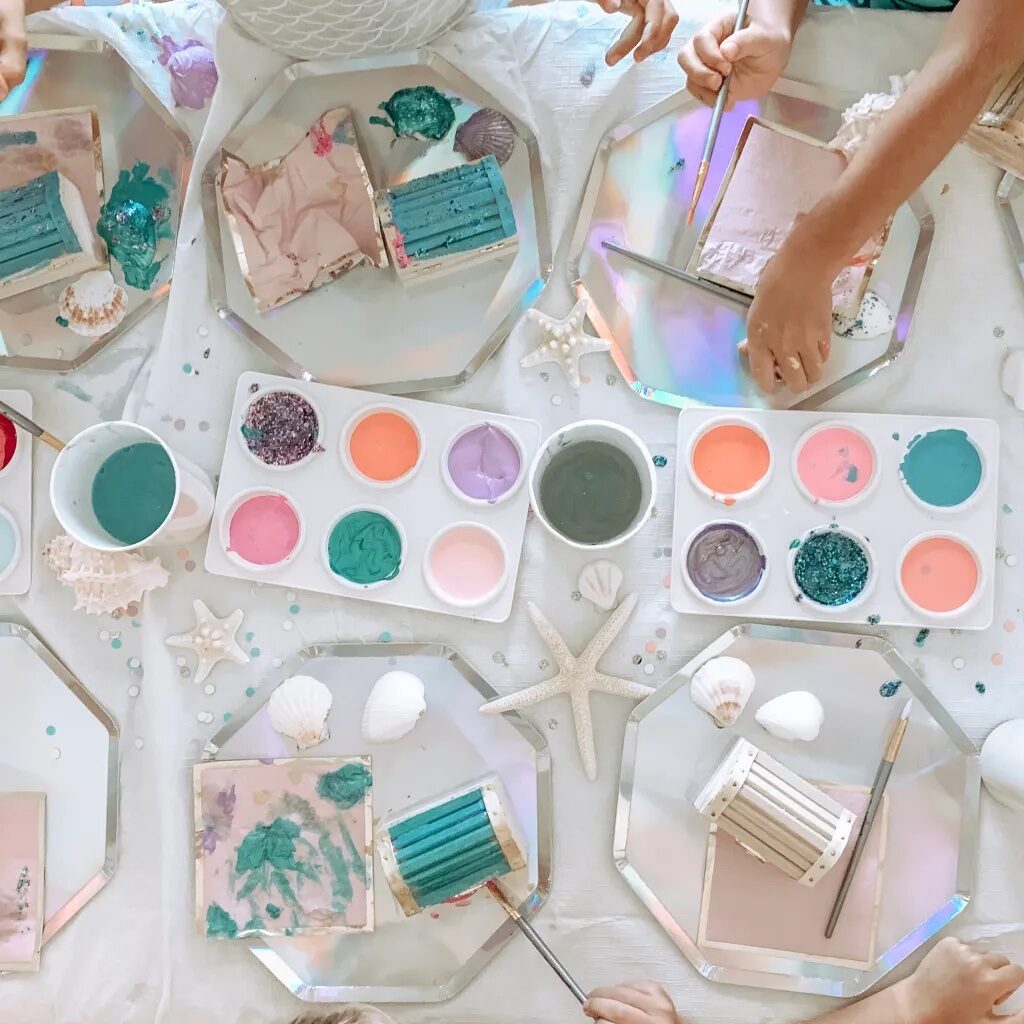 Use this free name game to give your friends their own mermaid name that they can use throughout the party, or just for a fun activity!
Hire some real-life mermaids to entertain the kids. They could play fun games, do face painting, or add temporary tattoos.
If you're having a pool party, the mermaids could splash about in the pool and teach the girls how to swim with tails!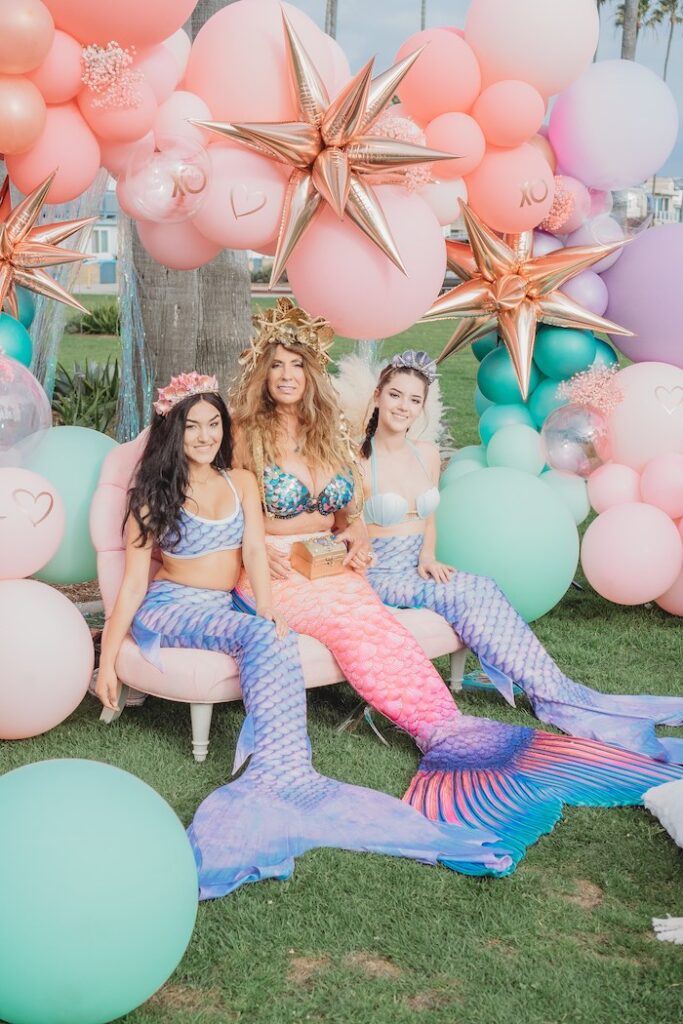 It's always a polite gesture to thank your guests for celebrating with you and sending them home with a bag full of goodies. A simple mermaid favor bag with thank you tag is perfect.
Alternatively, fill galvanized party buckets with mermaid goodies and send your guests home with a gift they can reuse.
What a fun surprise to receive a secret message in a bottle filled with magical mermaid dust. All you need is a pack of mini mason jars, glitter, and pink sand.
Bubbles are a great idea for party favors, they resemble the bubbles in the ocean and frankly, kids can't get enough of them! Download the free printable favor tags and thank your friends for swimming by!
Send each little mermaid home with their own shell bath bomb so they can enjoy a fizzing, foaming bath and be reminded of all the fun they had at your party!
Make your own or get ones with a surprise inside.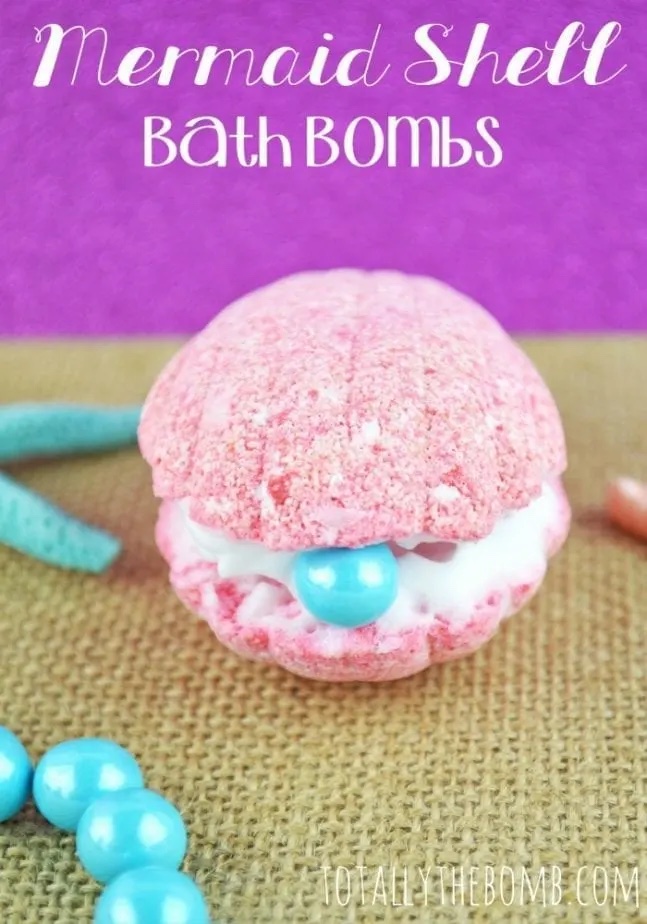 Finally, we have a simple DIY to make for or with your friends, and with only a few ingredients you'll have yourself some dazzling slime fit for a mermaid!
YOU MAY ALSO LIKE:
DON'T FORGET TO PIN THIS FOR LATER!