This post may contain affiliate links, which means I'll receive a commission if you purchase through my link. Please read full disclosure here.
If you're throwing a Minecraft party and want to DIY a cake, look no further! These Minecraft cake ideas are easy enough for anyone to make.

Learn how to make a Minecraft birthday cake with these easy Minecraft cake ideas. With over twenty cakes to choose from, you're sure to find the perfect Minecraft cake recipe for you.
There are Minecraft cake recipes for a Minecraft Creeper, Dirt Block, TNT and so much more. From buttercream cakes to fondant cakes, box mix cakes and Rice Krispies cakes.
Not only are these Minecraft cakes easy to copy but they'll suit anyone's budget!
So, no matter which one you make, I'm sure the birthday child will be proud of your handmade creation!
MINECRAFT CAKE IDEAS
You don't need to be the best baker to make a cake your child will love. Bake a vanilla cake, frost it to look like grass, and decorate with TNT Twizzlers and Minecraft figurines for a simple and fun cake your child will love. No expertise required!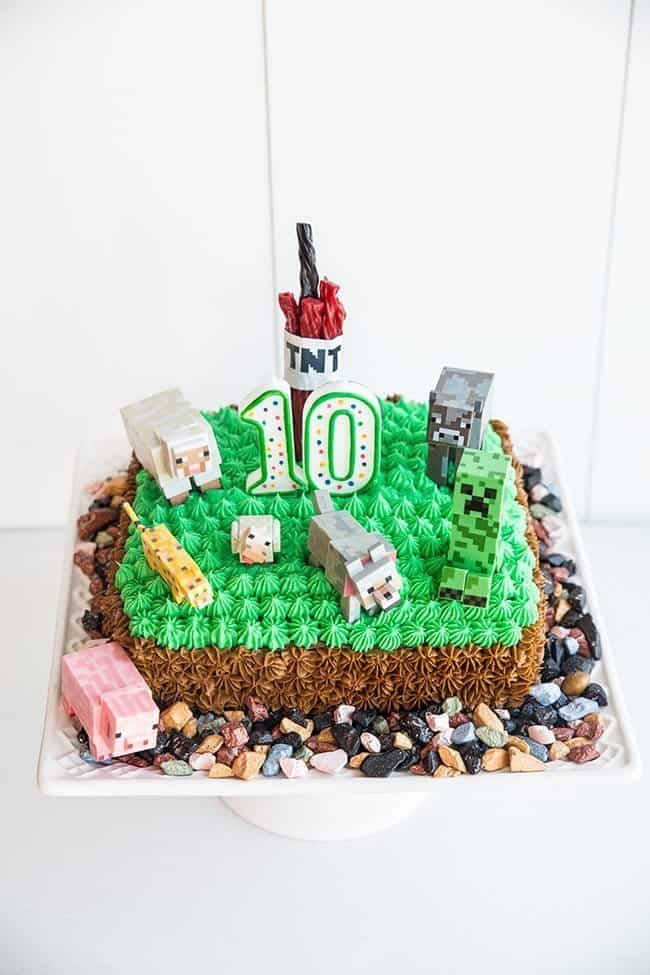 Impress your friends at your Minecraft party with this DIY TNT Rice Krispies cake! Made entirely with Rice Krispies and topped with a sparkler, this explosive treat is not only delicious but also super fun to make.
This cake is super easy to make and perfect for any Minecraft fan! Simply create a block-shaped cake and cover it with fondant to create your favorite Minecraft cake block.
I love this homemade Minecraft pig cake! It's a pink square vanilla cake with pink buttercream icing, fondant eyes, and a wafer nose. A cute addition to any Minecraft-themed party.
This Minecraft brownie creeper cake is the easiest and most delicious dessert for a Minecraft-themed party. Made with brownie mix, and green and black frosting for the creeper face, it's sure to be a hit with all the gamers!
Here's another cute Minecraft cake. Covered in fondant icing and topped with edible decorations of the Creeper, Enderman, and Steve this cake is the ultimate treat for Minecraft lovers.
Here's another buttercream frosted Minecraft creeper cake. This easy to make cake is perfect for any Minecraft themed party or event. Watch the video tutorial below to learn how to make this delicious cake.
This perfect Minecraft sword cake is covered in fondant squares to look exactly like the Minecraft Diamond Sword. An impressive and delicious centerpiece for any Minecraft party or event.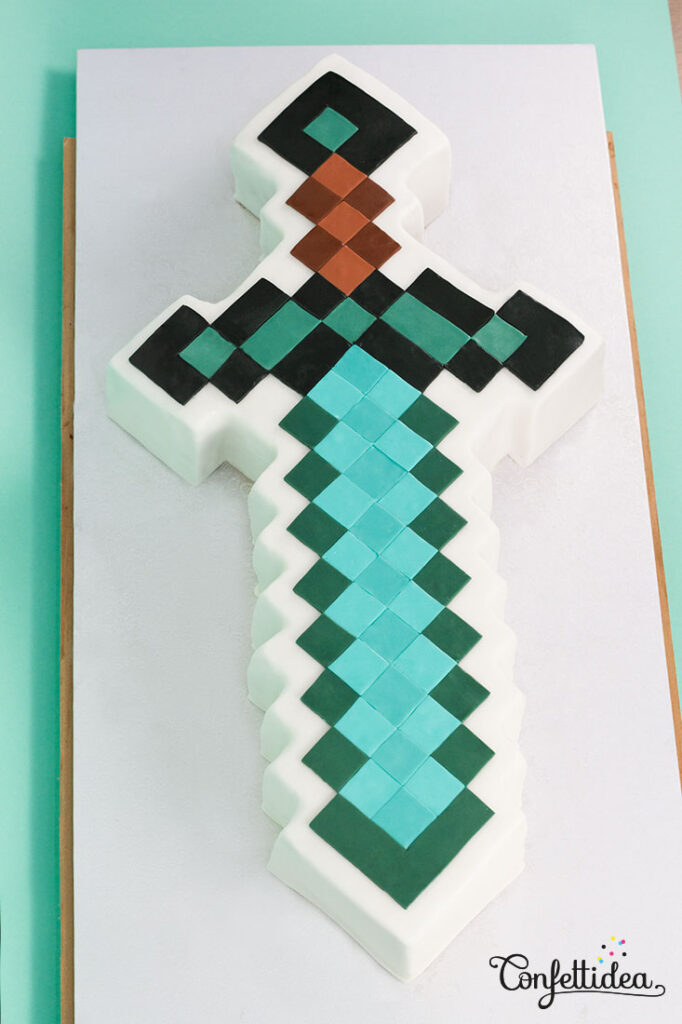 9. Minecraft Drip Cake | Rozeya's Sweet Delights by Ayesha
Another amazing Minecraft cake, just for you! This chocolate drip cake looks very professional, but you can make it too! Just add some printed character toppers, and a "Happy Birthday" cake topper! You'll look like a real baker in no time!
This delicious cake is super fun and easy to make! It's made with three layers of chocolate and vanilla cake, then covered with buttercream petals for a rustic feel! Top off your masterpiece with cool figurines straight out of the game.
How cool is this checkered dirt block Minecraft cake? Just alternate chocolate and vanilla cake layers to create a fun checkerboard look. Then top off you cake with delicious fondant Minecraft characters.
This amazing Minecraft Grass Block Cake is another easy one to make for your gamer kid! Topped with all sorts of treats straight from the game, including Rice Krispies treats and fondant icing decorations. This cake is the perfect centerpiece for the dessert table!
Try your hand at making something a little more intricate with this Minecraft Pig & Watermelon Cake. Featuring a 3D pig standing beside a juicy watermelon slice, this cake is a Minecraft masterpiece.
This cake is the cake of Minecraft dreams! If you're feeling adventurous, you'll love making this incredible Minecraft Village Cake, complete with a fun village scene featuring houses, trees, and even blue water.
OMG, I just love how cute this Minecraft Steve cake is and it's so easy to make, you won't believe it! All you need is some fondant squares to create Steve's face and you're good to go.
For all my gluten-free friends out there, I have this amazing Funfetti Minecraft Cake that you've got to try! This simple yet delightful purple cake is completely gluten-free and topped with an awesome Ender Dragon figurine.
Here's another clever Minecraft cake design that you just need to see! It's a delicious vanilla cake with fondant squares on each side perfectly formed into the faces of your favorite Minecraft characters, and even has those iconic Rice Krispies grass dirt blocks on top.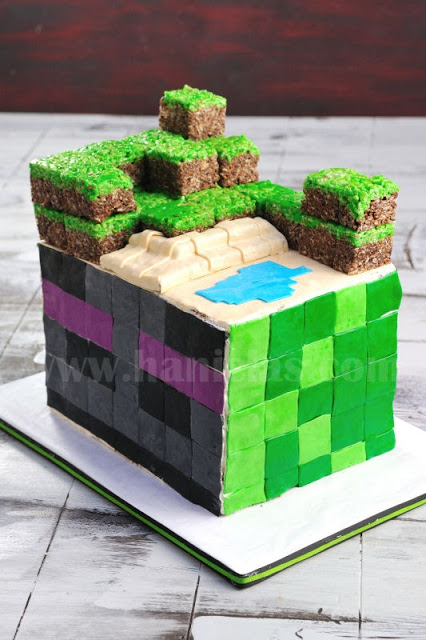 If you're a cupcake lover, then you won't be able to resist this amazing Minecraft Creeper Cupcake Cake! With delicious green and black frosting formed into the much-loved Creeper face, this cupcake cake is sure to be a hit at any Minecraft-themed party.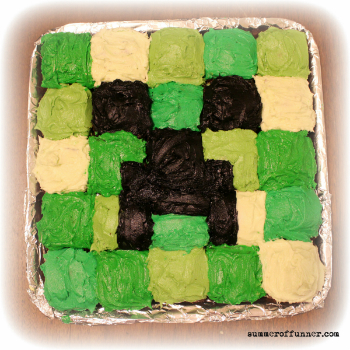 If you prefer a more minimalist style, then this Minecraft Wolf Cake is perfect for you! With a simple, round gray cake topped with fondant icing designed to look just like the Minecraft wolf.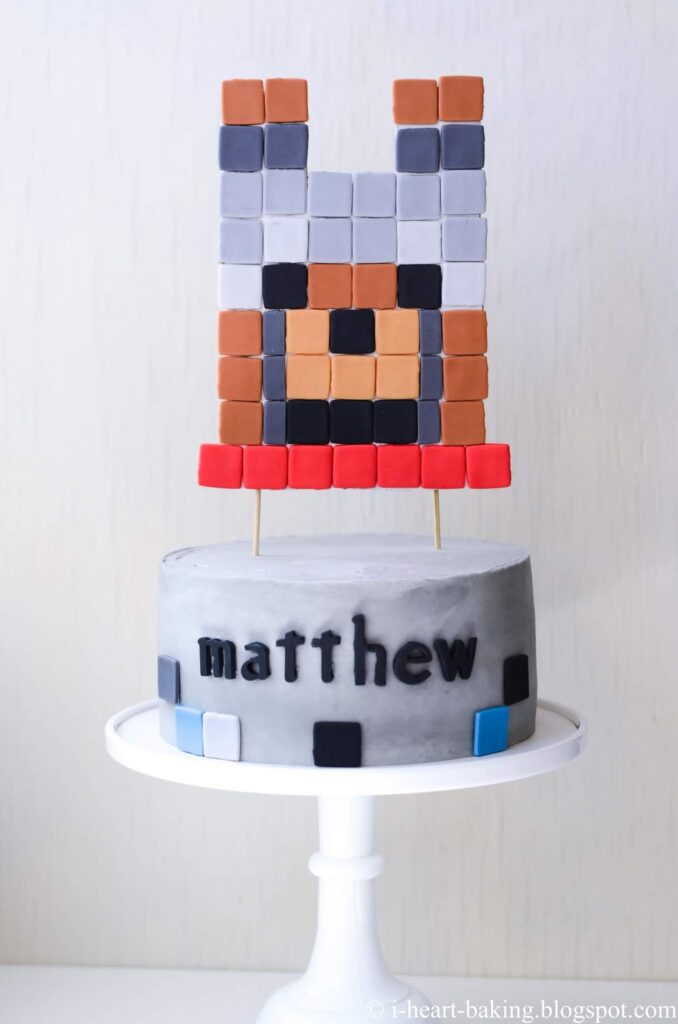 This fun Minecraft Birthday Cake is an easy one for any mom! Made with cake squares decorated to look like Minecraft water, dirt, and grass blocks, and topped with your favorite Minecraft figurines. It's a simple DIY project!
Last, but not least, check out this Minecraft building blocks birthday cake! I love the pool of "water" surrounded by delicious Rice Krispies Treats and the tiered "dirt block" cake pieces. Such a fun way to end off this gaming-themed cake roundup!
YOU MAY ALSO LIKE:
DON'T FORGET TO PIN THIS FOR LATER!