This post may contain affiliate links, which means I'll receive a commission if you purchase through my link. Please read full disclosure here.
Are you looking for the sweetest treats to make for St Patrick's Day? We've got you covered with our favorite Lucky Charms desserts.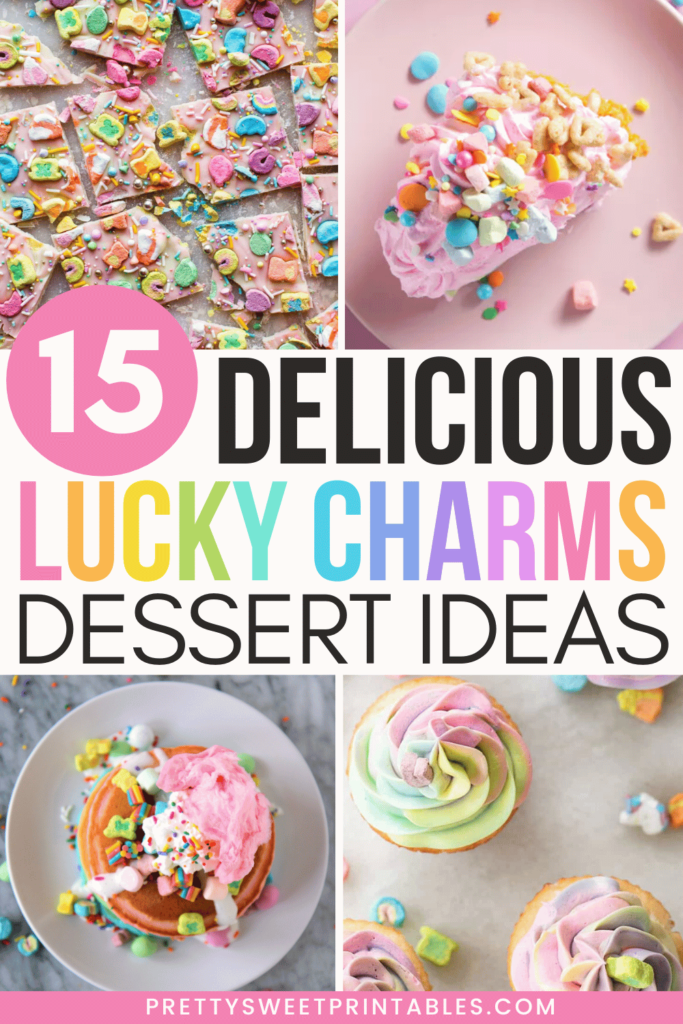 We all know 2020 wasn't the best year to celebrate St Patrick's Day. Lockdown made us feel anything but lucky!
There was no green and gold or shamrock parades, but not again! We're bringing the luck of the Irish to you!
If you're feeling a little Irish-ish this year, you'll want to get your hands on some Lucky Charms desserts.
Finding the pot of gold at the end of the rainbow has never been easier. It's just a jig and a scroll to the marshmallow magic!
With all our favorite Lucky Charms dessert ideas in one place, you can satisfy your sweet cravings quicker than you can say, 'Leprechaun'.
So, look no further, here are the most delicious and easy Lucky Charms recipes to satisfy all your sweet tooth needs!
LUCKY CHARMS DESSERTS
1. Lucky Charms Fudge
from Smart School House
Did someone say fudge again?
We're kicking this roundup off with my all-time favorite dessert and I'm sure you'll also feel extra lucky if you make these!
2. Lucky Charms Ice Cream Pie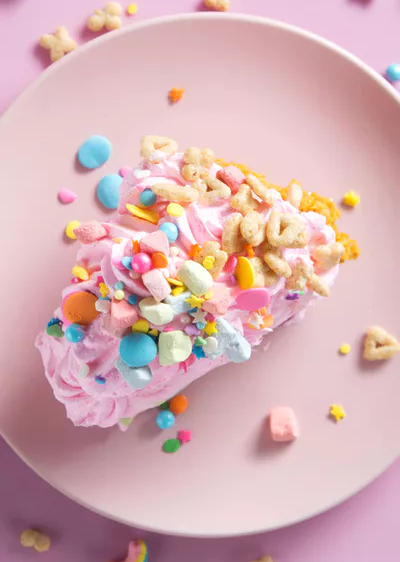 from Tastemade
This ice cream pie recipe offers the best of both worlds with two types of cereal.
Made with Cornflake infused ice cream and Lucky Charms cereal, this delightful dessert will leave you wanting more.
3. Lucky Charms Rainbow Cake
from Best Friends for Frosting
If you're still looking for your pot of gold, I think I may have found it!
Encased with all the colors of the rainbow, this pastel Lucky Charms cake is just heavenly!
4. Lucky Charms Cookie Dough Bars
from We are not Martha
An explosion of crumbs, cookie dough and cream, that's what you get when you bite into these.
The layers of cookie dough sweetness will leave an explosion of fun in your mouth.
5. Lucky Charms Marshmallow Ice Cream
from Beyond Frosting
Whatever the reason or the season, ice cream is always the answer.
Mix in your favorite Lucky Charms cereal and you have a dessert fit for a unicorn!
6. Mini Lucky Charms Cheesecakes
from Tastemade
If you love cheese (um cream cheese) and you love cake, you'll love these mini cheesecakes!
The melt-in-your-mouth layers of fluff will dance on your tongue like soft clouds.
7. Marshmallow Charms Cannolis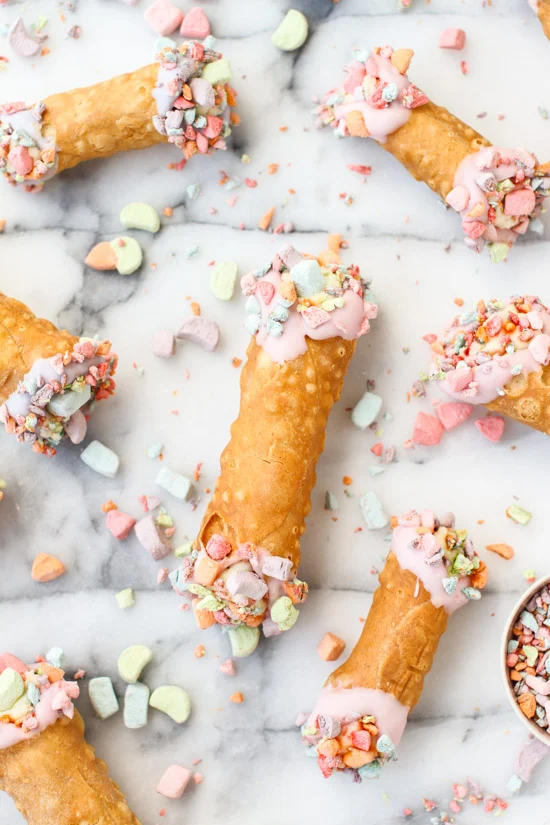 from Paper & Snitch
These marshmallow charms cannolis aren't made with the original Lucky Charms cereal, but I bet they're just as delicious.
If you want to, you can switch out the faux mallows with the branded version.
8. Lucky Charms Pancakes
from Kojo Designs
These Lucky Charms pancakes are topped with a mound of delicious candy!
Frosting, marshmallows, sprinkles, and candyfloss, what more could pancakes need?
9. Lucky Charms Cookies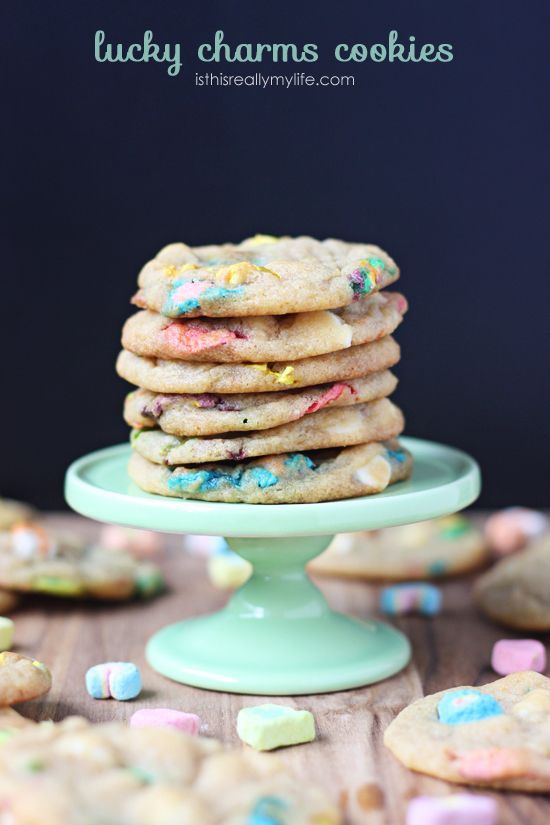 from Half Scratched
If you love cookies, you'll love these.
A gooey bite of marshmallow and cookie crunch make the perfect combination when you want something magical to snack on.
10. Lucky Charms Donuts
from Savvy Saving Couple
Dessert or breakfast you decide, donut worry if you choose both because we would too! We love the swirls of frosting and sparkly star sprinkles.
Add some Lucky Charms marshmallows to make your donuts even dreamier!
11. Lucky Charms Marshmallow Bars
If you didn't believe in unicorns, you will after eating these!
Topped with colorful shades of sugary goodness, these marshmallow and Rice Krispies treats are enough to make anyone a believer.
12. Lucky Charms Cotton Candy Parfaits
from Homemade Hooplah
What a fun dessert to celebrate St. Paddy's Day with!
Layers of crushed Oreos and cotton candy whipped cream would make anyone happy, especially after you add confetti sprinkles and Lucky Charms on top!
13. Lucky Charms Oreo Truffles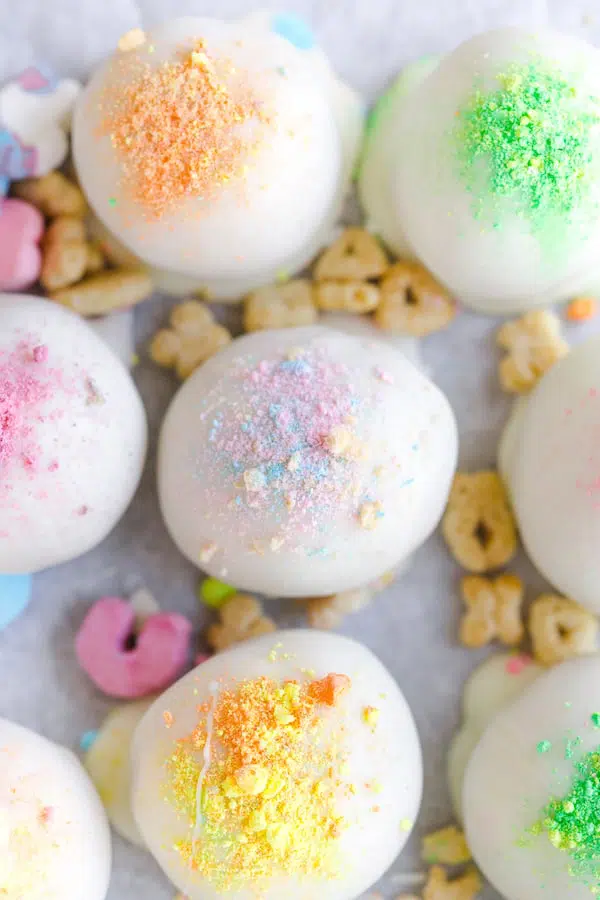 from Greens & Chocolate
Don't be intimidated by the intricacy of these little balls of delight.
These Oreo truffles are made just like you would a cake pop, but you can replace the cake with cookies and Lucky Charms instead. Hooray!
14. Lucky Charms Cupcakes
from Sugar & Charm
If you want to know what a rainbow would taste like, I bet these Lucky Charms cupcakes would be pretty close!
The swirls of frosting and pillows of marshmallows are enough to make anyone want to go to Leprechaun Land, wherever that may be!
15. Lucky Charms Bark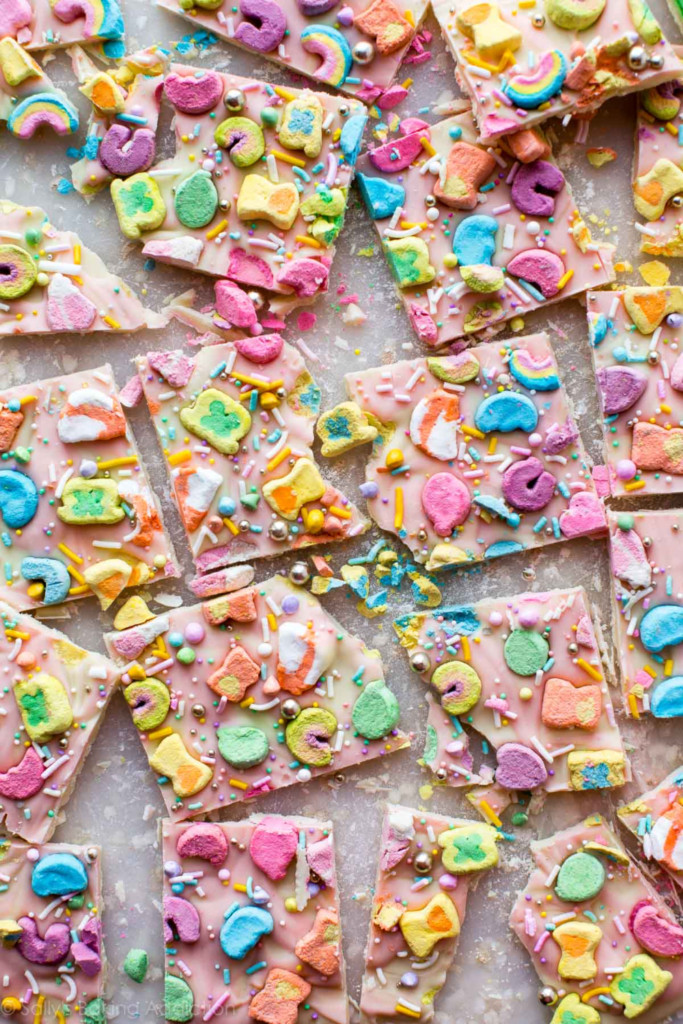 Chocolate makes everything better and when you mix in Lucky Charms marshmallows, you have a dessert made in heaven.
Grab some food coloring and splash in a few colors to make some more chocolate bark magic.
YOU MAY ALSO LIKE:
DON'T FORGET TO PIN THIS FOR LATER!