This post may contain affiliate links, which means I'll receive a commission if you purchase through my link. Please read full disclosure here.
Are you planning a construction birthday party? Look no further than these amazing construction cake ideas!
If you have a little one who loves diggers, dump trucks, and excavators, then a construction-themed cake is the perfect way to celebrate their special day.
From simple sheet cakes to elaborate fondant masterpieces, there are endless possibilities when it comes to construction cakes.
In this blog post, we'll explore some fun construction cake ideas that are sure to inspire you.
And don't worry if you're new to cake decorating – we've also included tutorials and homemade cake recipes so you can learn how to make your own construction cakes at home.
Whether you're planning a first birthday party or a third birthday construction cake extravaganza, there's a cake idea for every skill level and taste.
So put on your hard hat and get ready to build some delicious and creative cakes!
CONSTRUCTION CAKE IDEAS
Dive into a construction-themed extravaganza with this homemade birthday cake: two tiers of chocolate goodness, Oreos, and toy trucks.
It's a dream for kids and adults, visually striking and easy to make.
Create a Paw Patrol-themed construction cake with store-bought chocolate cakes and a Rubble figurine as a topper.
This fun buttercream cake, surrounded by KitKats and topped with honeycomb rocks is fun and easy to DIY!
Making it perfect for any Paw Patrol fan's birthday celebration.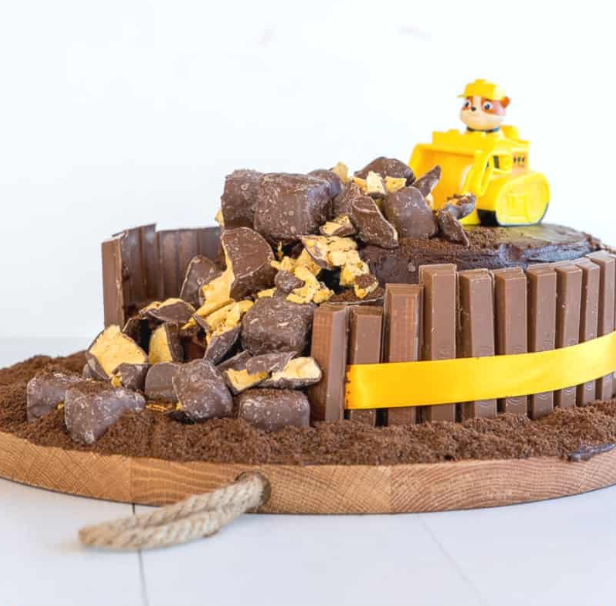 Lego is a popular toy enjoyed by kids of all ages, so what better way to celebrate a birthday than with a Lego construction cake?
This amazing cake features layers of delicious cake mix, KitKat bars, and Lego blocks, creating a delightful treat for Lego fans of any age.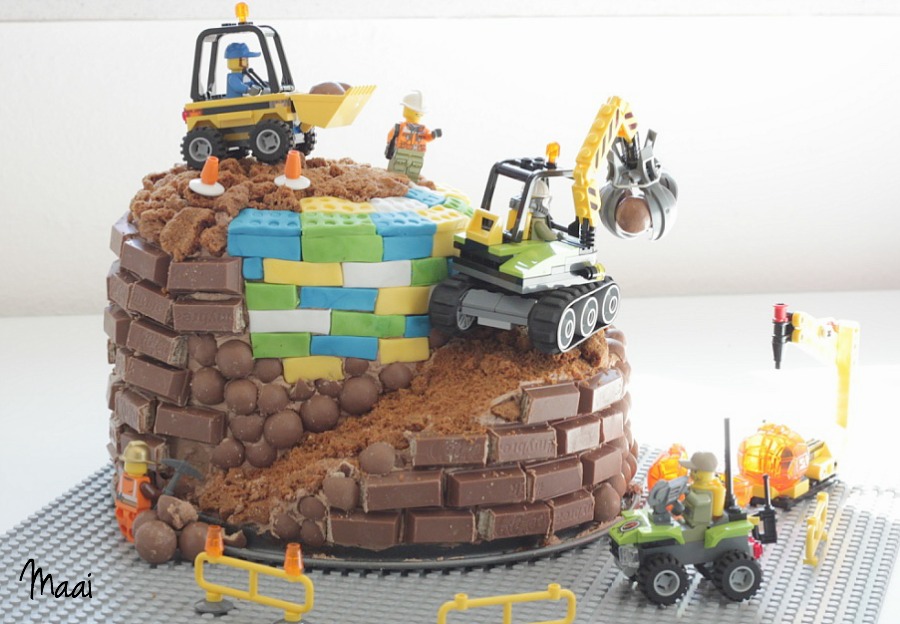 In this video, you'll discover the fun process of making a Blippi Construction Cake.
You'll learn how to make fondant construction-themed decorations such as dump trucks, crane trucks, cones, and even a customized name topper.
I can't wait for you to see this rich chocolate cake! Once you've created your masterpiece, it's time to let your creativity shine with the decorations.
Picture construction cones, a playful dirt mound, and adorable trucks carrying rock-shaped candies.
Get ready for serious sweetness with the number cupcake cake! It's easy to make and ensures each guest gets their own delicious piece hassle-free.
You can customize it with any number and even send them home as awesome party favors.
This 3D dump truck cake is a sweet treat filled with candy and made with Rice Krispie treat tires. It's a fun and easy cake to make that will impress everyone!
This amazing construction-themed cake resembles diggers moving dirt to form the number 2, but you can easily customize it with any number you desire.
Let your imagination run wild and create a unique construction cake for any special occasion.
Get ready for a whimsical adventure with this delightful one-tier blue fondant cake.
Adorned with a charming fondant tractor and fluffy floating clouds, it's the perfect sweet treat for any child's birthday!
A simple and delightful cake that's perfect for any construction-loving kid!
With construction vehicles and candy decorations, this cake is not only delicious but easy to make.
The creative use of Oreo crumbs, candy, and pretzel rods add a fun touch to the cake.
Create an easy construction-themed dinosaur cake by adding construction trucks into the scene.
Then dig holes into the chocolate cake layers and add fondant dinosaur skeletons (or dinosaur skeleton toys).
What a fun idea for a construction cake!
It's clear why this cake is a hit at construction parties.
By using some black fondant, you can easily make it look like a tire. And let's not forget the awesome hard hat cake on top!
Celebrate a milestone with this vibrant orange traffic cone cake adorned with fondant number one and road-like lines.
Whether it's for a first birthday or any age, this unique and playful dessert is sure to be a hit.
It's easy to make this impressive cake with a full step-by-step tutorial.
The yellow buttercream, licorice straps, and Crunchie bars, capture the essence of a digger, making it perfect for any construction-themed celebration.
This cute and fun DIY cake is perfect for all ages. Scoop any number out of a chocolate cake and fill it with Oreos and Graham Crackers for a gravel effect.
Decorate with Reese's Pieces, mini construction trucks, and candy. A fantastic cake for any little builder!
Making a dirt cake is incredibly easy.
Simply spread brown or chocolate buttercream on a cake and sprinkle crushed Oreos and graham crackers over a number cutout placed on top.
It's a fun and unique way to create a deliciously "dirty" dessert.
Get your construction hat on and create a KitKat digger cake!
With chocolate-coated wafer bars, toy diggers, and a crater of crumbled cake "soil," it's a tasty and impressive birthday treat that guarantees hours of construction-themed fun!
Indulge in the deliciousness of an Oreo dirt cake transformed into a tractor excavation site.
Crushed Oreo cookies mimic the dirt, complemented by chocolate rocks and mini tractors for the perfect finishing touch.
It's a simple yet outstanding cake creation!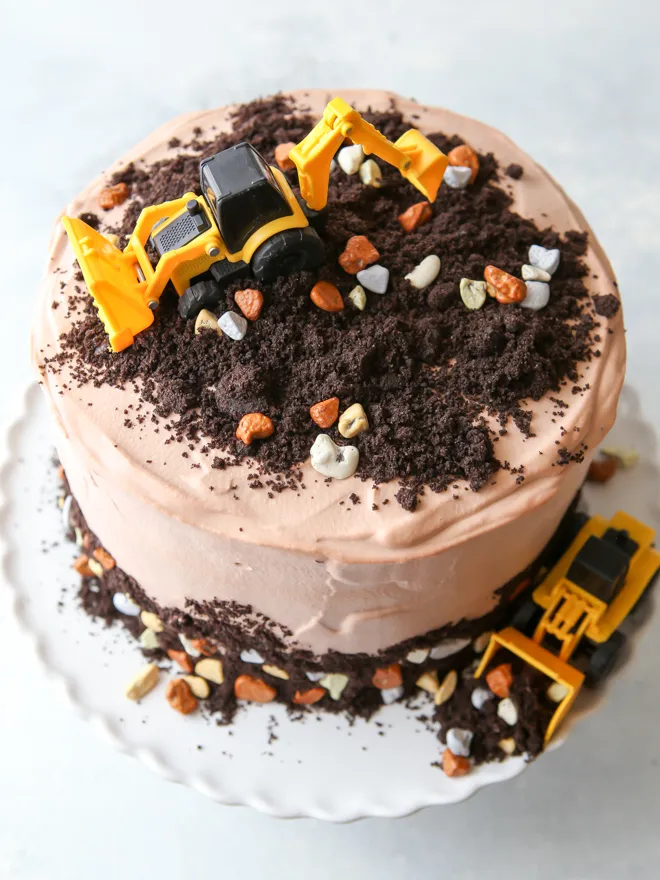 Behold the coolest cake ever!
This construction site cake is pure awesomeness with sponge cake, chocolate buttercream, and construction-themed chocolates and toys.
It's an awe-inspiring treat for an unforgettable birthday!
Finally, this super fun road construction cake! This two-tier marvel is covered in smooth fondant, featuring a twisty road connecting the tiers.
Complete with construction signs and a cute fondant builder figurine, it's the perfect centerpiece for your construction-themed party!
YOU MAY ALSO LIKE:
DON'T FORGET TO PIN THIS FOR LATER!