This post may contain affiliate links, which means I'll receive a commission if you purchase through my link. Please read full disclosure here.
Celebrate Valentine's Day by spoiling your sweetheart with some delicious heart-shaped desserts.
Valentine's Day is a special day to celebrate love and affection. For many people, it is a day to express their love for one another. It can also be a day for exchanging gifts, such as chocolates, flowers, or jewelry.
If you're looking for a quick and easy gift idea, these treats are perfect. They're delicious and can be wrapped in pretty packaging.
So surprise your significant other or your best gal pals with sweet treats, even if you're not a great baker! Because there's no better way to show your loved ones how much you care than with some delicious desserts.
You can also display your Valentine's Day desserts on a sweet charcuterie board. Arrange your Valentine's Day eats on a platter or board, and enjoy with your loved ones. What a fun and easy way to show off your holiday treats, and a great way to spend time with your family or friends.
So get your apron on and your sweet tooth ready, because it's time to get baking!
HEART-SHAPED DESSERTS
Heart-Shaped Valentine Macarons | Passion for Baking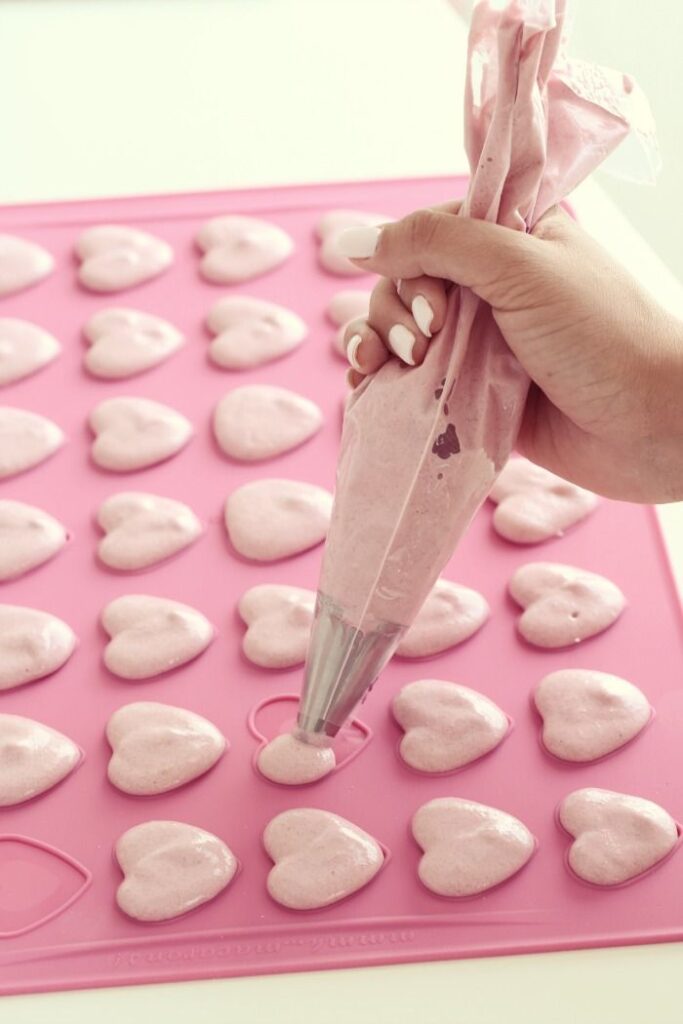 Originating from the city of love, these cute pink heart-shaped macarons would be perfect for a Galentine's Day get together or to pop into the picnic basket for a romantic afternoon with your loved one. Use this macaron baking mat to create the perfect bite sized delicacies!
Heart Shaped Chocolate Chip Pancakes | Adventures of Mel
Make a batch of these heart-shaped pancakes loaded with chocolate chips and drizzled with maple syrup, then top your love cakes off with your favorite fruit and maybe even some whipped cream.
Chocolate Covered Strawberry Hearts | California Strawberries
Nothing says, 'I love you' like chocolate-dipped strawberries but cutting your strawberries into hearts first is even better! Take your fruit to the next level and add some watermelon hearts by using cookie cutters.
Valentine's Day Heart Cake Pops | Bakerella
These heart cake pops are absolutely adorable and would be perfect for a Valentine's Day party treat. Plus, they are so easy to make with a heart cake pop mold. They are definitely on my "must try" list!
Strawberry Heart-Shaped Hand Pies | Alice & Lois
Make your Valentine's Day extra special with these delicious strawberry heart-shaped hand pies and send them to someone you love! Package in a box and attach a pretty ribbon or note.
Heart-Shaped Chocolate Fudge | Sweet & Savory Meals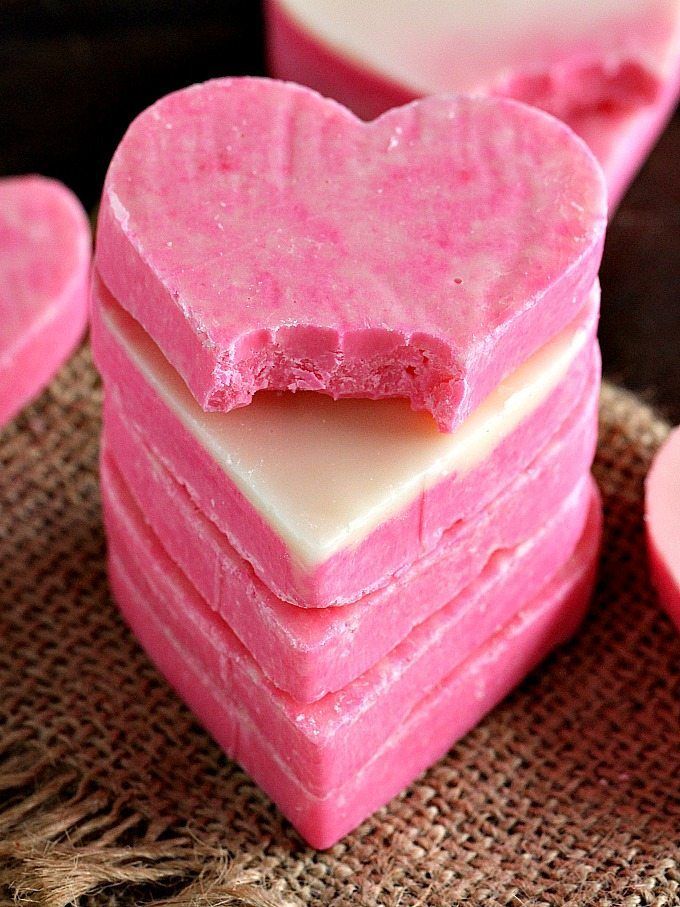 You can never have too much chocolate on Valentine's Day. So why not make this 3-ingredient heart-shaped chocolate fudge? It's so easy with a candy mold! And if you love fudge as much as I do, you'll want to try these fudge recipes too!
Heart-Shaped Cookies Valentines Day Dessert Ideas | Girl &
How adorable are these ombre heart-shaped cookies? They would be perfect for a Valentine's party or a special gift. I mean, 'Who wouldn't like pink heart cookies?'
Marshmallow Hearts | Monika Hibbs
Melt-in-your-mouth marshmallow hearts would be perfect to add to your hot cocoa, especially if you're sharing Valentine's with someone special. These mini cookie cutters make it easy to cut out your marshmallows!
Heart-Shaped Rice Krispie Treats | Eighteen25
I love how quick and easy these heart-shaped Rice Krispie treats are to make. Waiting for them to set takes longer than actually making them, but once you have a bite, you might not stop with only one, so make sure to save some for your other half.
Heart Waffles Valentines Day Dessert | Lisbeths
Make a batch of these amazing heart-shaped waffles with the cutest waffle maker you've ever seen, and you'll have his or her heart for sure!
Pink Heart Donuts | Sally's Baking Addiction
Pink heart donuts are delicious to give as Valentine's gifts. Make them or buy them, either way, make sure they're fresh because there's nothing yummier than biting into a just-made donut!
Strawberry Conversation Heart Cake | A Cozy Kitchen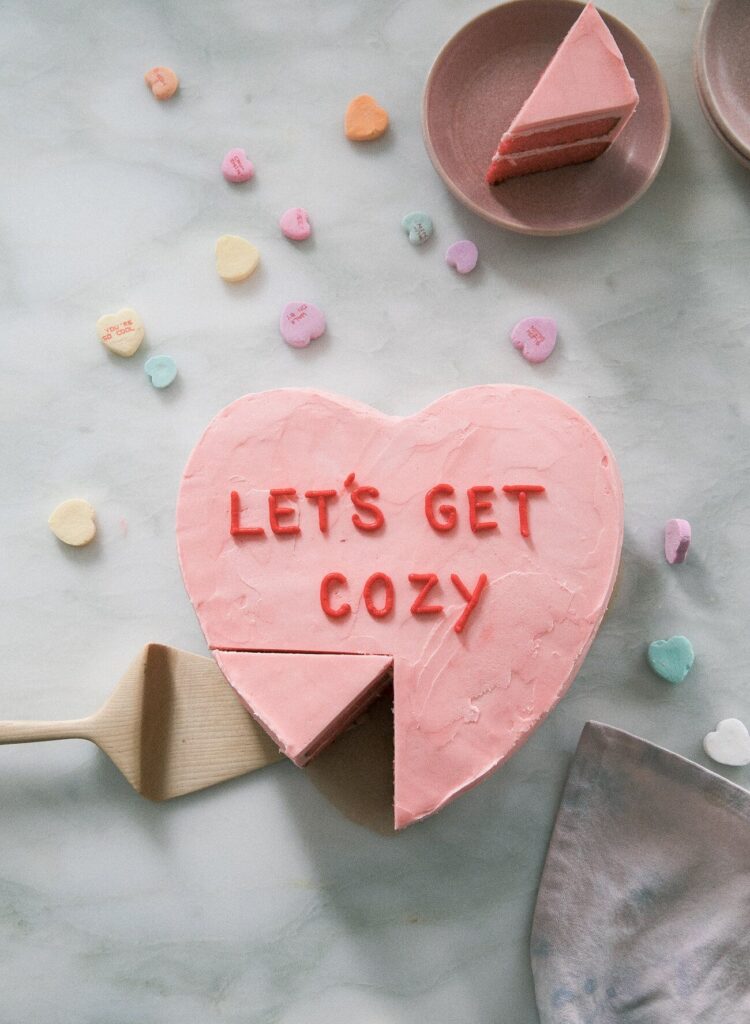 Conversation Hearts are in this year and would make the best theme for a Valentine's Day party. Add your own words of endearment to your heart cake and celebrate the day of love with your teacher, loved one or friends.
Heart Cupcakes Valentines Day Dessert Recipes | Baking with Blondie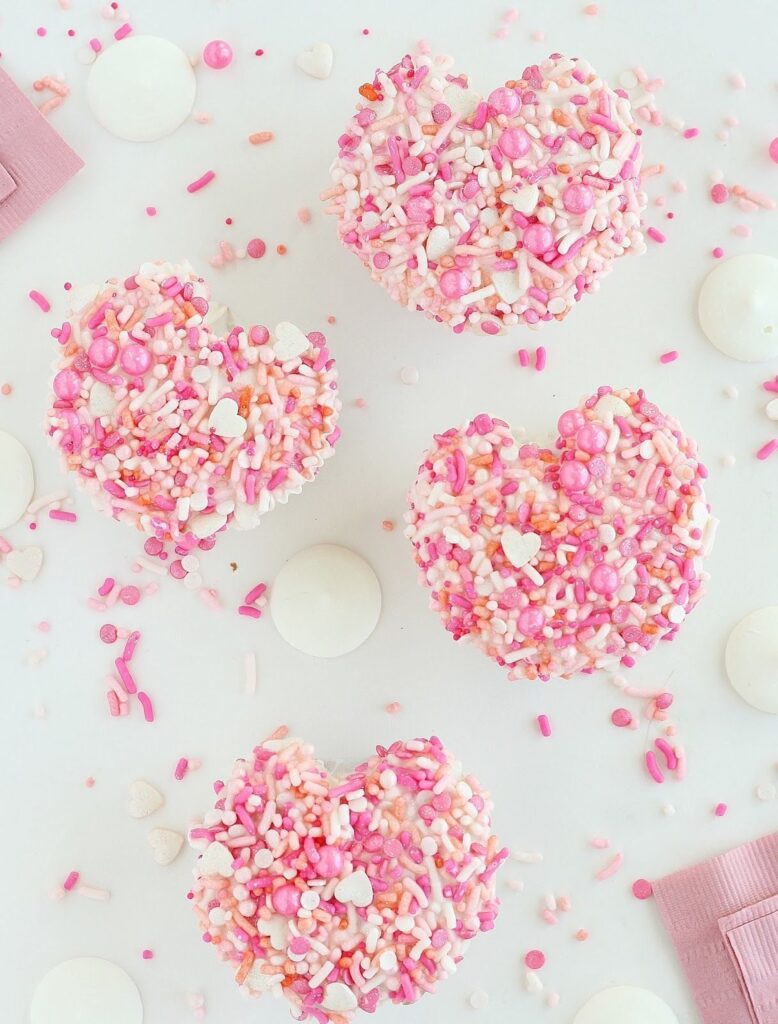 These heart-shaped cupcakes are absolutely adorable and would be a lovely surprise for the one you love. Make them easily with silicone heart cupcake liners, then top with your favorite pink sprinkles and enjoy the deliciousness.
DON'T FORGET TO PIN FOR LATER!