This post may contain affiliate links, which means I'll receive a commission if you purchase through my link. Please read full disclosure here.
Get ready to unleash your inner Barbie and dive into the glamtastic world of Barbie nails! From bright pinks to glittery accents, these Barbie nail ideas will make you feel like a real-life doll.
It's time to paint the town pink and let your fingertips do the talking.
Because today, we're bringing you jaw-droppingly fabulous Barbie nail designs that will have you saying, "I'm a Barbie girl in a Barbie world!"
Whether you're a glamazon who loves sparkles and rhinestones or a trendsetter who adores geometric patterns and bold hues, we've got you covered.
Because let's face it, life's too short for boring nails, so let's get this Barbie nail party started and make a dazzling statement!
So, grab your favorite polishes and get ready to unleash your inner Barbie and paint the world pink, one fabulous nail at a time!
✔ Create the perfect Barbie manicure with this starter kit: UV LED Nail Lamp, Gel Nail Polish Set & Manicure Set!
BARBIE NAIL SUPPLIES:
BARBIE NAILS
1. Glam Pink Gel Nails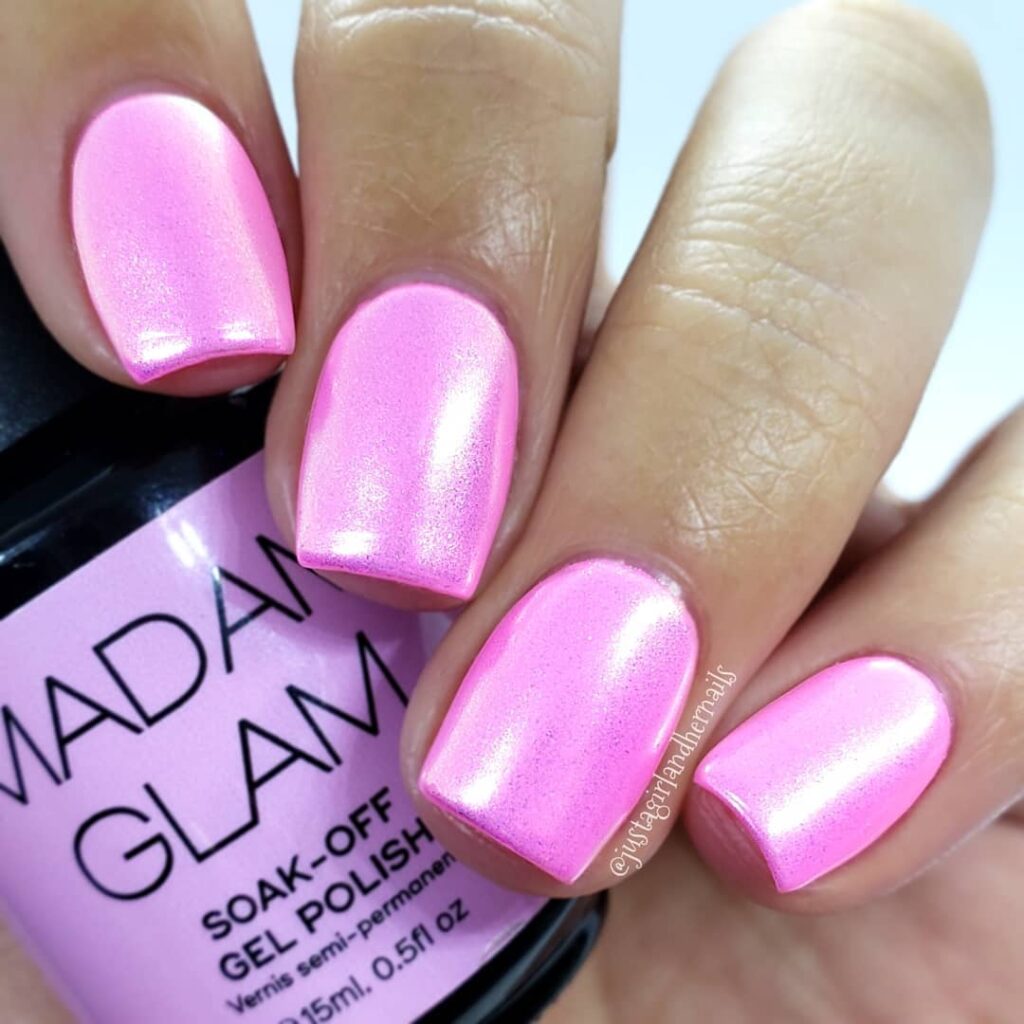 You can easily make simple pink nails look amazing by adding a powder overlay. The shiny design looks elegant on both long and short nails.
2. Chrome Stiletto Barbie Frenchies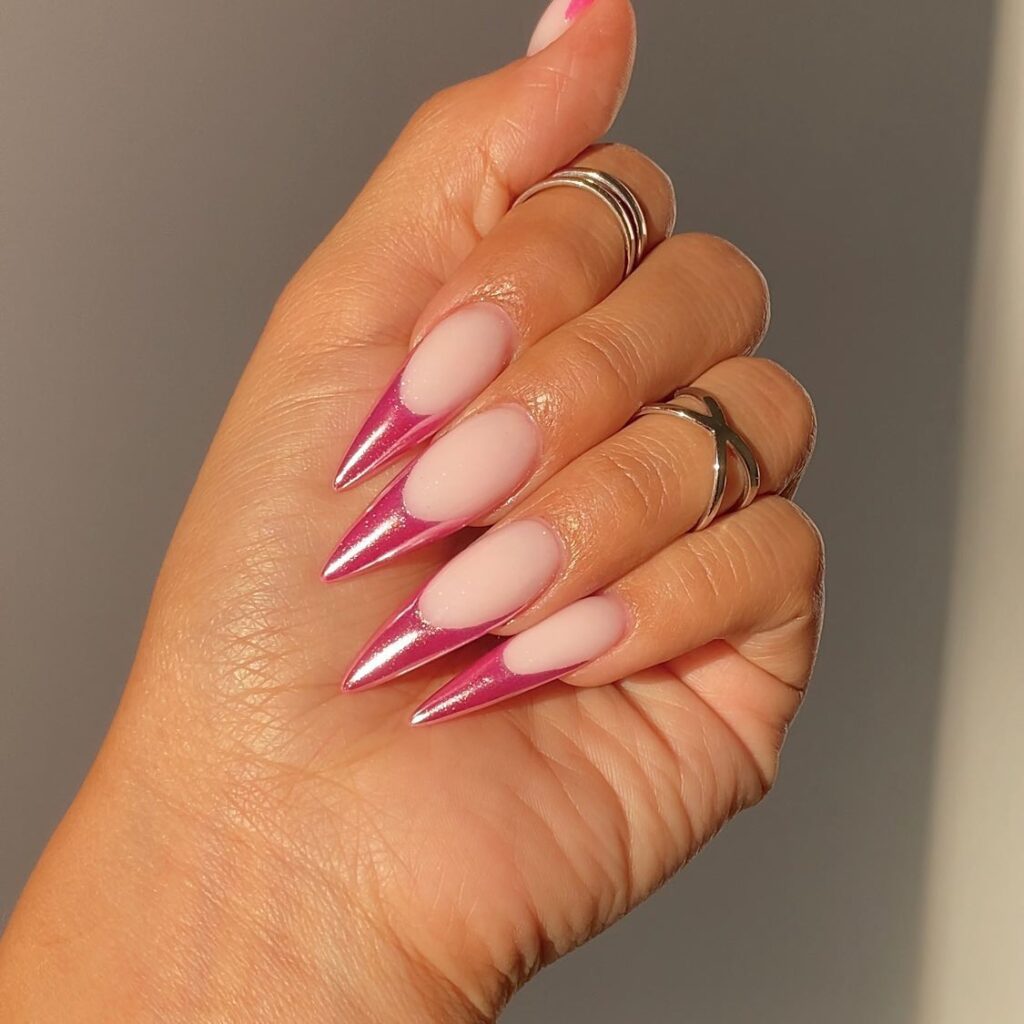 These pink chrome stiletto nails create a bold and stylish look that is sure to turn heads and make a statement.
3. Barbie Pink Heart Cutouts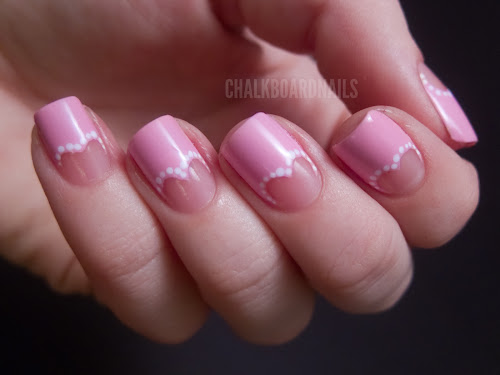 I love the delicate heart cutouts on these pink nails. They perfectly mirror Barbie's gentle and caring nature.
To achieve this look, use a dotting tool to create the perfect heart shape around the cuticles.
4. Ballet Barbie Girl
These coffin nails are perfect for anyone. They feature the Barbie logo on three nails, along with YSL nail art and shiny rhinestone gems.
They look great on any nail length, including natural nails.
5. Lightning Bolt Nails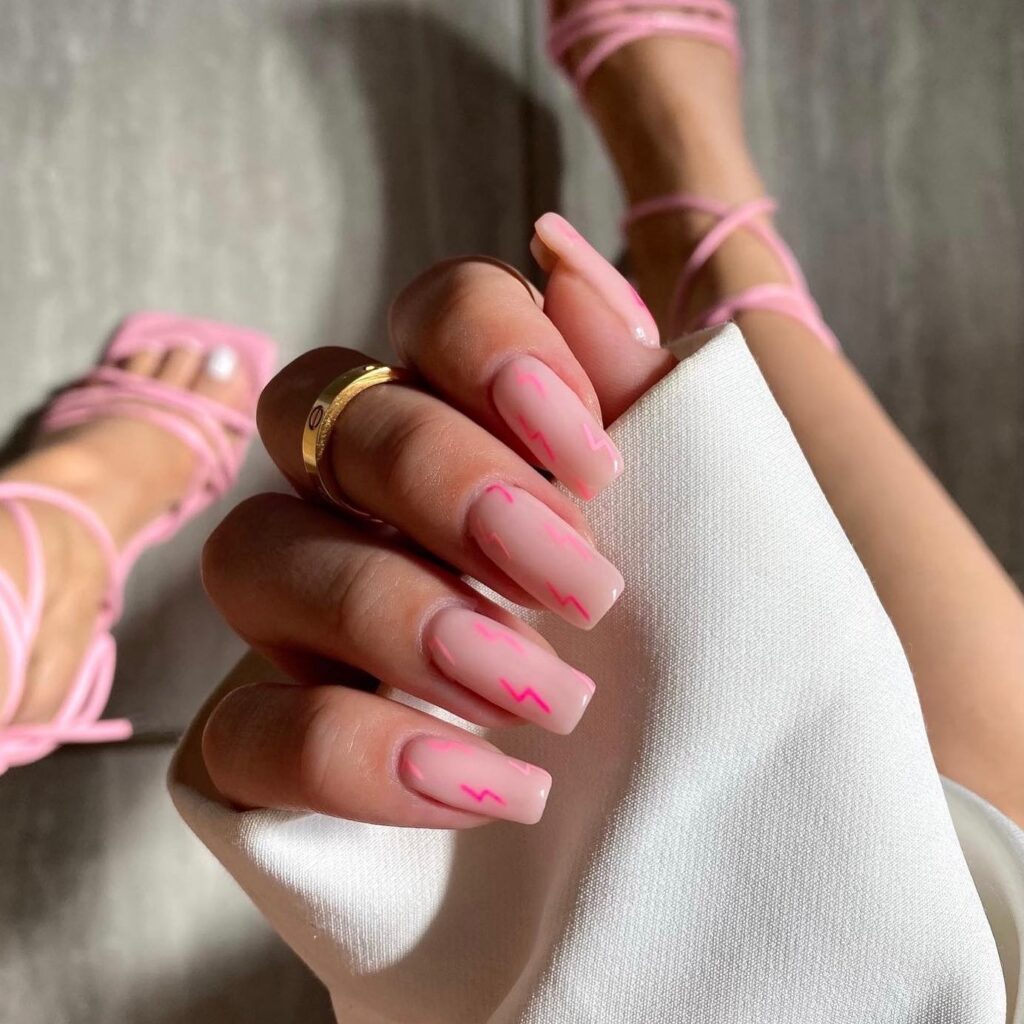 By adding bright pink lightning bolts to nude pink nails, you can electrify your look.
This design is perfect for those with bold personalities, adding a striking spark to your style.
6. Pink & Nude Ombre
This beautiful nail design seamlessly blends pink and nude shades, creating chic and classy nails perfect for any Barbie girl.
7. Floral Frenchies
If you adore French tips, you'll absolutely fall in love with this floral Barbie-inspired nail look.
These square-shaped nails flaunt two nails with floral French tips, combined with a gradient blend of pink polished nails.
8. Pink Zebra Mani
Taking inspiration from the very first Barbie doll, these zebra stripe nails are undeniably wild and amazing.
The pink stripe manicure is a perfect match for Barbie's swimsuit, and it exudes a fun and playful vibe just like her iconic style.
9. Glazed Swirl Nails
These glazed donut nails adorned with beautiful white swirls perfectly embody the essence of Barbiecore.
As popularized by Hailey Bieber, they look so delectable that you might mistake them for real donuts!
10. Barbie Inspired Nails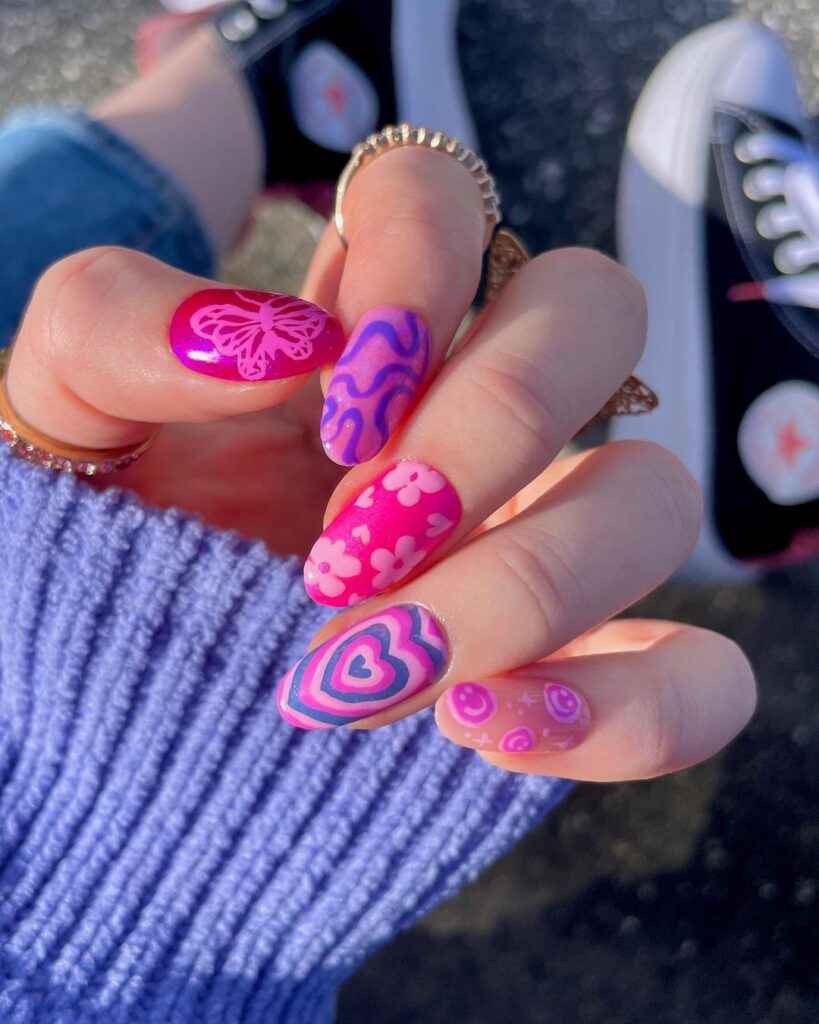 These nails with playful butterflies, flowers, and smiley faces in retro pink and purple patterns perfectly scream 90's Barbie vibes.
They bring back the fun and fashionable spirit of that era when Barbie was at her peak popularity.
11. Malibu Barbie Vibes
To make a splash with your manicure this summer, go for the iconic pink and blue Malibu nails.
These playful nails exude a sunny vibe with their holographic shimmer, making you the ultimate beach babe!
12. Long Hot Pink Barbie Logo
When it comes to Barbie, nothing says it better than hot pink nails! Whether your nails are long or short, this stunning color is the perfect choice.
For an extra touch of Barbie magic, consider adding the Barbie logo on an accent nail to truly embrace that Barbie-esque style.
13. Short Pink Abstract Barbie
The soft pink hue of these Barbie-inspired nails radiates sweetness, while an abstract nail feature adds a playful touch.
Subtle hints of gold elevate these nails to a new level of sophistication.
14. Double French Gradient Swirls
Add a twist to the classic French manicure by incorporating double French swirls in gradient pink shades.
This is the perfect Barbie-inspired look for a modern fashionista.
15. Barbie Nails Tutorial
Show off your true Barbie fandom with these long nails adorned with Barbie faces, the iconic Barbie logo, and heart accents.
Let everyone know you're a true Barbie fan with this fabulous nail design!
16. Pink Gradient Tips With Pearls
French tips have always been popular, but adding a twist by using different shades of pink and accent pearls creates the must-have Barbie nails every girl needs!
17. Matte Pink Barbie Nail Art
Creating a classy Barbie nail doesn't require going all out. Embrace the trend with matte pink on short nails and add a silver hand-painted Barbie logo on two nails, plus a Barbie shoe on an accent nail.
These nails are the perfect look, and they'd look fabulous on any nail length.
18. Pink & Milky White Barbie Girl
Instead of painting all your nails a solid pink color, opt for a mix of solid and milky white nails, accentuated with a fun pink French tip.
Get creative with your favorite shades of pink to bring this dreamy Barbie-inspired look to life.
19. Barbie Pink Flames
Here's another French manicure design with soft pink nail polish. This time, add a twist by featuring Barbie pink flames blending from the French tip on two nails.
It's a trendy look that adds a touch of sizzle to the classic French style.
20. Pink Glitter Barbie Dreams
For a minimalist touch, these nude almond-shape nails with a glittery French tip are the stuff Barbie dreams are made of.
21. Long Hologram Barbie Nails
Barbie may be a good girl, but she knows how to have fun! Embrace your wild Barbie side with long glittery holographic nails.
Add Barbie's face on one nail and showcase the iconic logo on another, and you'll be ready to shine in style!
22. Pink Double French Almond
Double pink French tips on an almond-shaped nail create the perfect manicure to match Barbie's style.
The darker pink lined with a light pink makes your nails pop, adding a touch of Barbie magic to your fingertips.
23. Barbie Silhouette Nails
There's nothing more iconic than the Barbie silhouette.
Embrace it on your nails with a burst of glitter and Barbie nail wraps to complete your Barbie-inspired look.
24. Pink Nails With Gold Hearts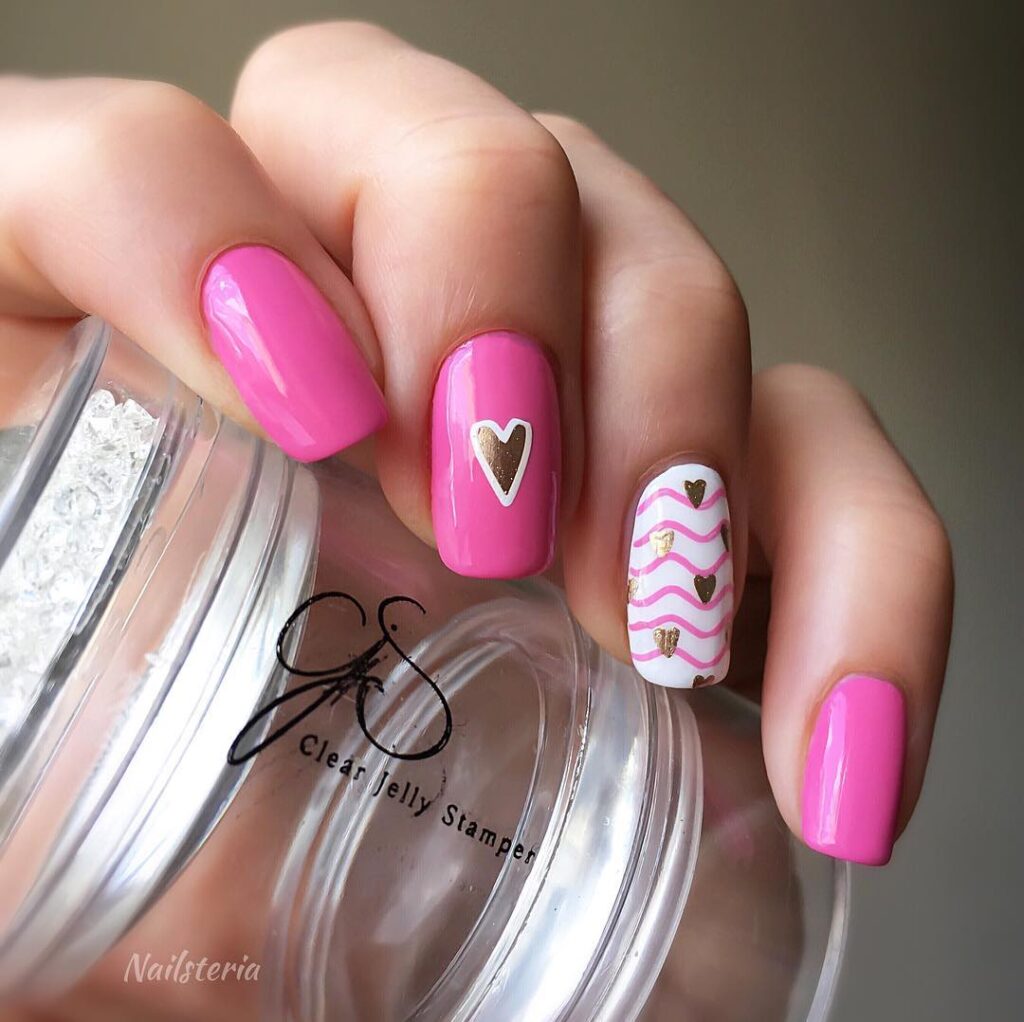 Pink, gold, and hearts scream Barbie pageant queen. With a crown and a sash, you too can walk the runway and embrace your inner Barbie glam!
25. Acrylic Barbie Land Mani
When it comes to Barbie nails, you can never have too much pink, and these nails are no exception.
A pale pink base with a hand-painted logo, glittery pink, and a hot ombre pink blend together to create a manicure fit for Barbie.
26. Barbie Pink Mani
Sometimes, less is more, but that doesn't mean boring.
These gorgeous Barbie pink nails look classy on short nails. You honestly don't need to add anything more!
27. Rose Quartz Nail Tutorial
Want nails that look like a million dollars? Choose rose quartz nails!
They're stunning and easy to recreate, even though they may seem complicated. Achieve a luxurious look with minimal effort!
28. Oval Pink Ombre Nails
Here's another fabulously pink nail design. Achieve this pretty ombre look effortlessly using the sponge technique.
29. Barbie Nail Art
These long nails beautifully channel the spirit of Mattel's 1994 Hot Skatin' Barbie.
With the exact neon colors and patterns, these vibrant acrylic nails will make you want to shout, "C'mon Barbie, let's go party!"
30. Pink Chrome With Pearl Hearts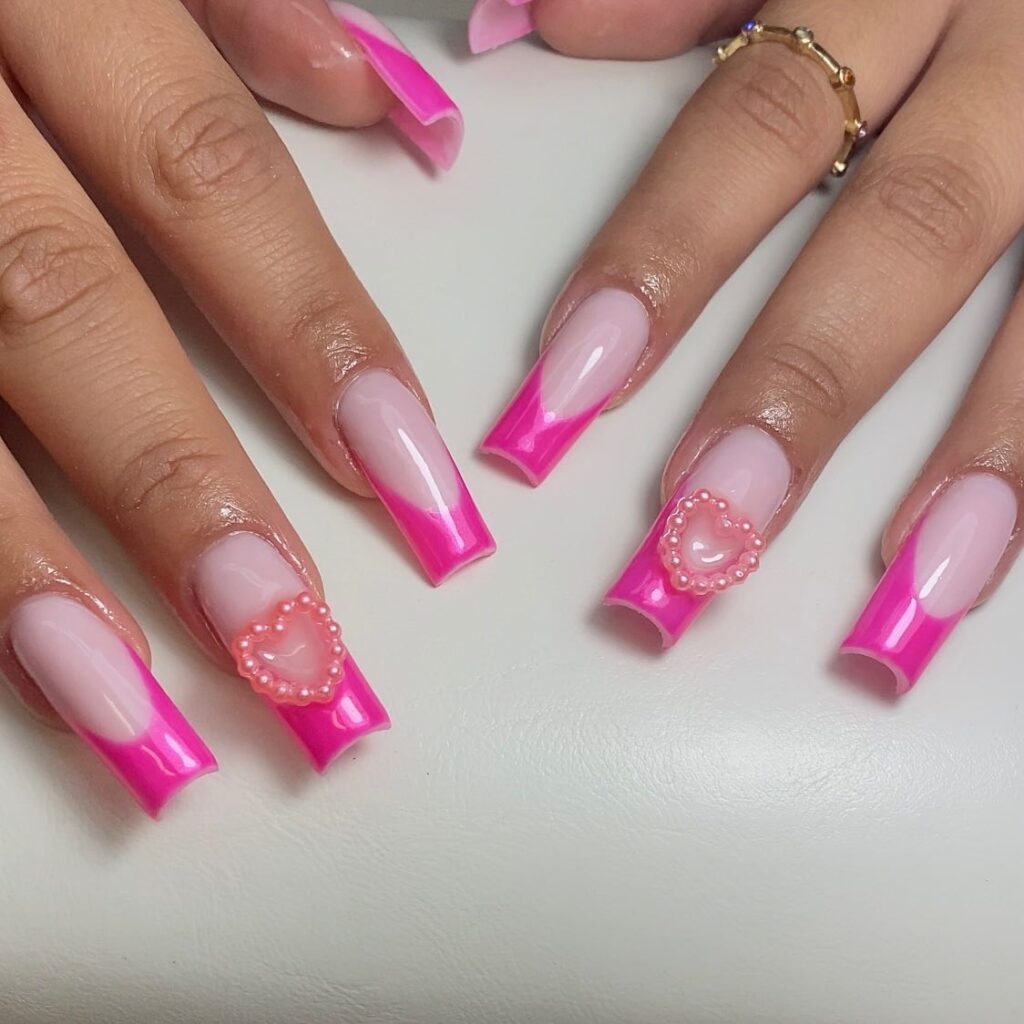 Adding pearl hearts to square pink chrome French nails brings timeless beauty to an already perfect Barbie manicure.
31. Barbie Bling Nail Art
To take a perfect Barbie manicure up a notch, add some bling for that extra sparkle.
This nail design is perfect for the more daring Barbie girls who love to embrace their fun and playful side.
32. Barbie Logo Nail Art
Here's another set of stunning Barbie logo nails. This time, a bright pink hand-painted logo graces the pale pink polish, extending over all the gel extensions.
33. Chrome Barbie Nail Design
Light pink chrome nails with hot pink jewels make your manicure even more glamorous.
The combination of soft and bold pinks creates a stunning contrast that adds a touch of elegance to your nails.
34. Pink Swirls & Sparkles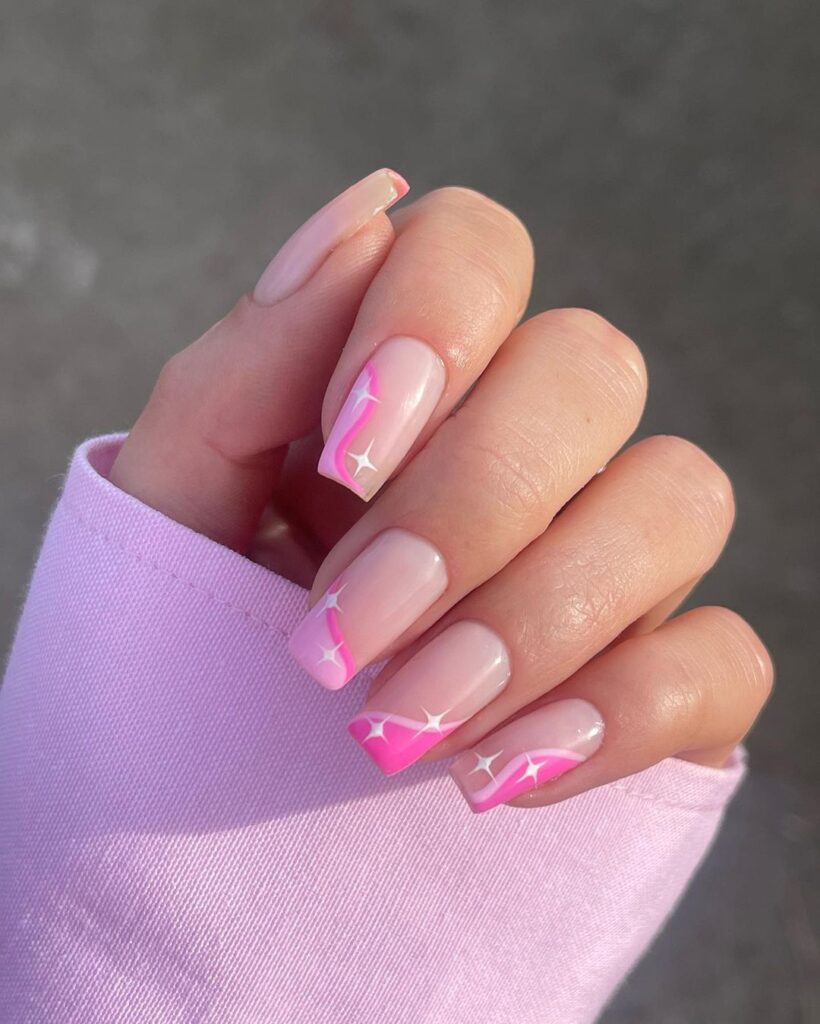 I can't get enough of these chic side-swirly nails! They feature double-lined, alternating light and hot pink swirls that resemble French tips but with a unique twist.
Crisp white stars add a sparkling touch, making them the perfect nails for the Barbie movie premiere.
35. Powder Pink Nails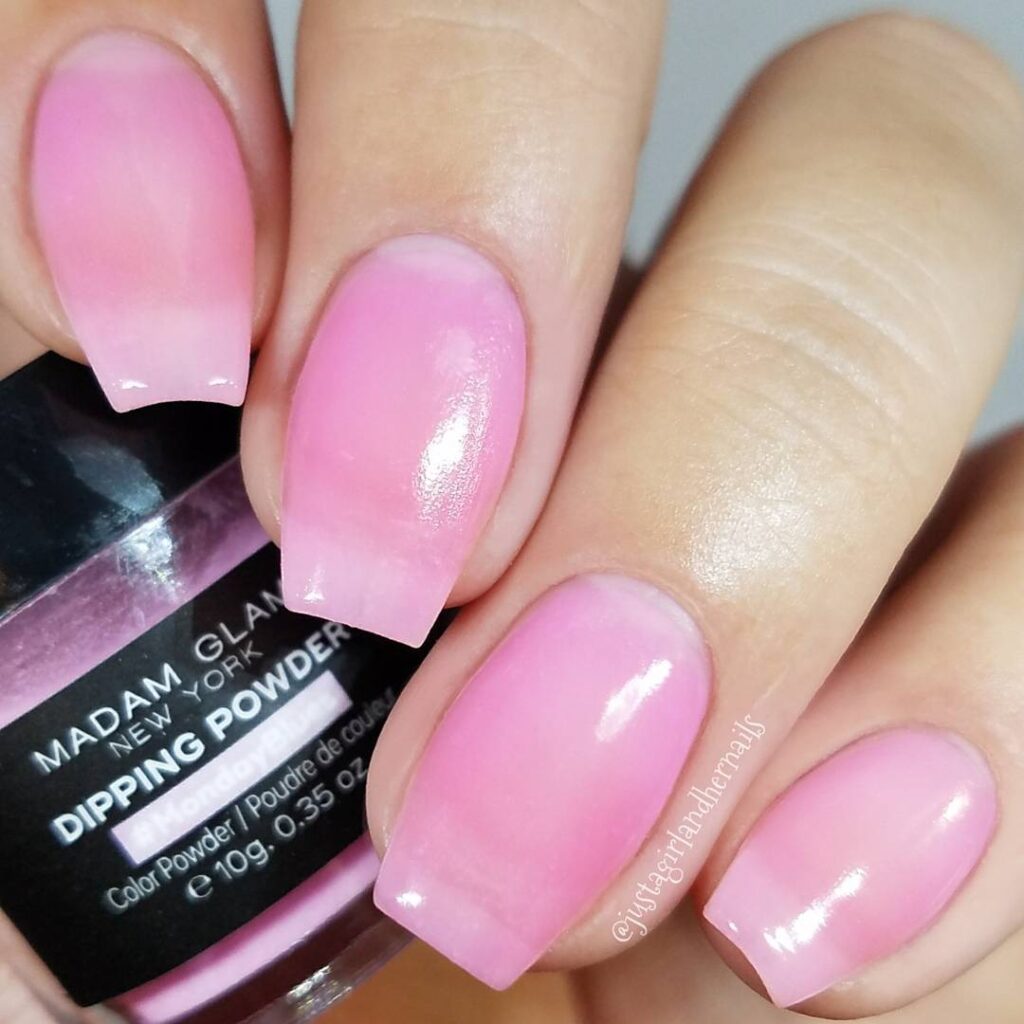 These powder pink nails have a lovely, almost translucent appearance. They are a beautiful nail design suitable for wearing all year round.
36. Pink Glitter French Mani
A bright pink French manicure, paired with a soft nude base and glitter that appears to come from your cuticles, creates a fabulous Barbie-inspired look that you'll definitely want to copy!
37. Barbie Doll
These darling pink nails give you the best of both worlds. Three and a half nails are painted a light pink, while the other one and a half are painted a darker pink.
They are separated by a curved line of nail sequins, adding a touch of glam to this charming nail design.
38. Pink Bling Barbie
Hot pink nails are a classic Barbie girl go-to, but if you add an accent nail covered in bling, you'll have nails that everyone will want to copy!
39. Barbie Pink Two-Tone French
This two-tone pink design is simply wow! Instead of a nude or clear base, go for a light pink base and add a hot pink French tip to elevate it to the next level.
40. Short Pink Lipgloss Nails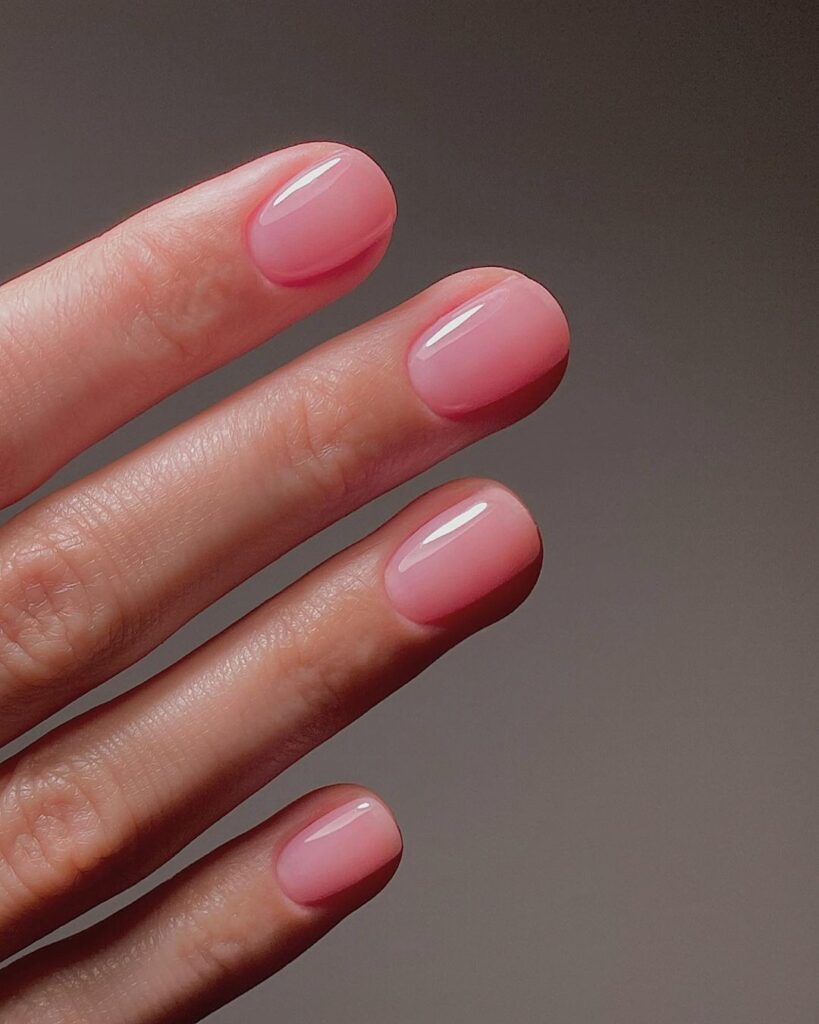 Channeling Margot Robbie's subtle pink manicure, these rose water pink lip gloss nails are the perfect match for any Barbie outfit.
41. Solid Gradient Pink Barbie Dreams
A pink gradient color palette on square nails will transport you to Barbie dreamland. Pick your favorite pinks to create this dreamy and enchanting look.
42. Glitter Jelly Barbie
Glitter jelly nails will take you back to a time when you had jelly sandals.
Just like a Barbie girl in a Barbie world, you'll feel the same fun and excitement with these playful nails!
43. Pink on Pink Barbie Nail Design
Pink on pink? Absolutely! It's a thing now!
The seamless transition from deep pink tips to a slightly lighter pink jelly base nail color creates an effortlessly bold statement.
Get ready to rock the pink-on-pink look with confidence!
44. Hot Pink Tips With Stars
Featuring a chrome pink French tip on almond nails, each nail is accented with stars, giving this French mani a fun Barbie-inspired twist.
The perfect nails for a cowgirl Barbie!
45. Layered French Tips
This French nail design is a delightful twist on the classic style.
It features double layers of pink, with a surprising light pink cuff and a rose-pink tip, making it a French manicure fit for Barbie.
YOU MAY ALSO LIKE:
DON'T FORGET TO PIN THIS FOR LATER!