This post may contain affiliate links, which means I'll receive a commission if you purchase through my link. Please read full disclosure here.
Looking for some inspiration for your 4th of July nails? Look no further! These designs will help you show off your American pride in a fun and festive way.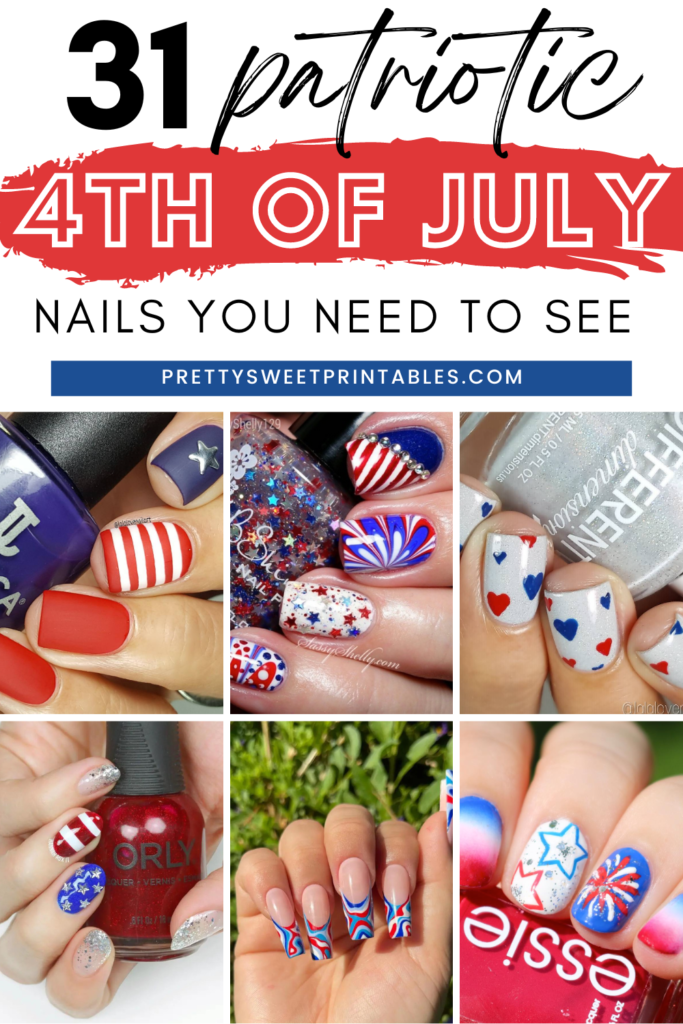 Summer is in the air and it's time to celebrate the 4th of July with style and patriotism!
What better way to show your love for the country than with some creative nail art designs?
Whether you're heading to a parade or a barbecue with family and friends, 4th of July nails are the perfect accessory for your look.
From American flag designs to sparkly glitter nails, there's a nail art style for every celebration.
So, grab your favorite nail polish and get ready to celebrate in style!
✔ Create the perfect 4th of July manicure with this starter kit: UV LED Nail Lamp, Gel Nail Polish Set & Manicure Set!
4TH OF JULY NAIL SUPPLIES:
4TH OF JULY NAILS
1. American Flag Nail Design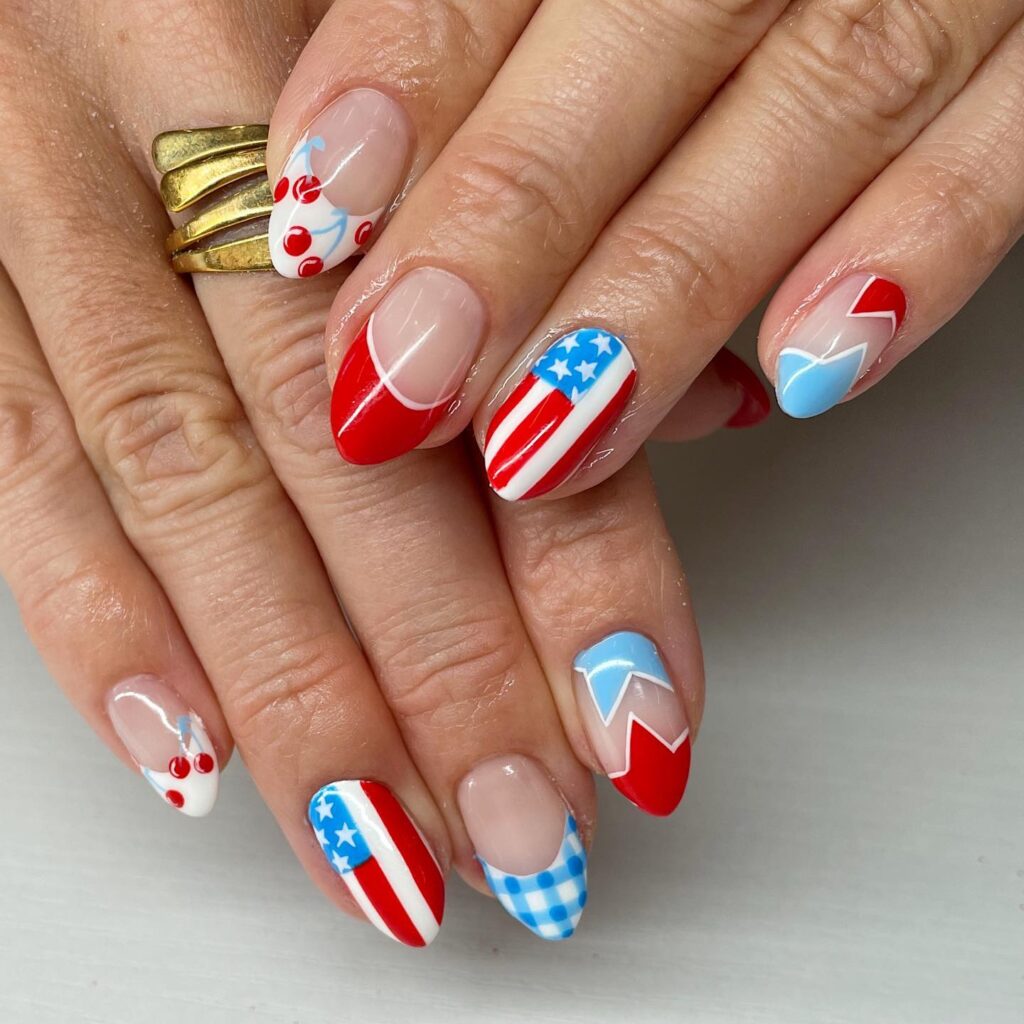 The perfect patriotic picnic nails complete with red, white and blue cherries, plaid, and American flag.
2. Cute 4th of July Dip Nails
Adding glitter confetti to festive dip nails creates a vibrant patriotic look that's perfect for the Fourth.
3. United States Flag Nails
Design a unique American flag by replacing stars with dots and painting the stripes diagonally for an unconventional twist.
4. Stars and Stripes Nail Art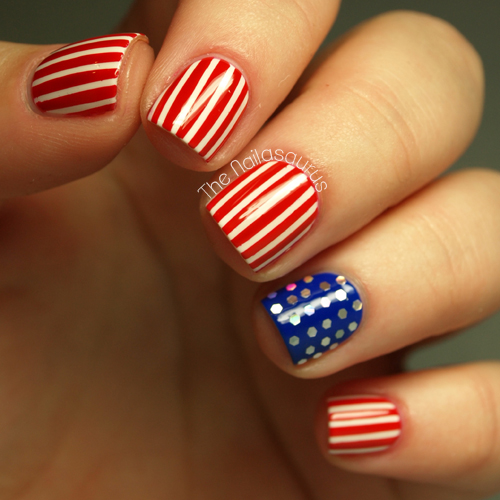 You'll have so much fun getting ready for 'Merica's birthday with these classic Stars and Stripes nails!
Add adorable star sequins to a blue accent nail to finish off your look.
5. Red, White and Blue Nail Art
Red, white and blue star stickers pop on a bright white mani.
6. Wave Your Flag Nails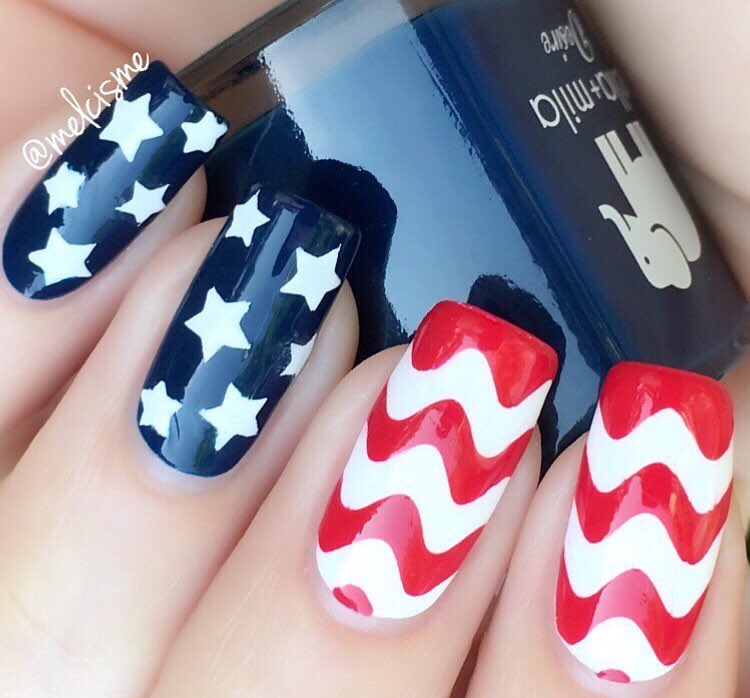 Wave your fashion flag high with an America flag design on your nails because nothing says, "I'm proud to be stylishly patriotic!" quite like rockin' the stars and stripes.
7. Patriotic Dots Nail Design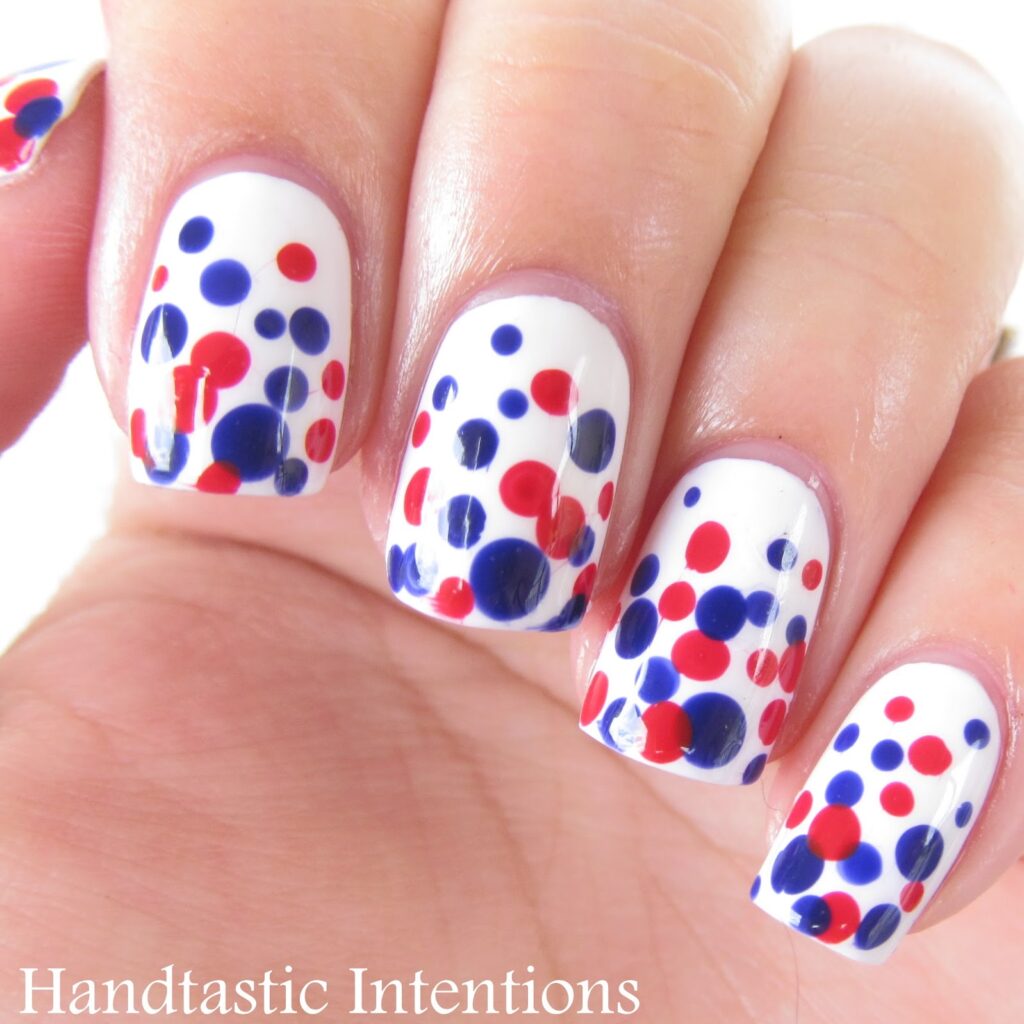 Get into the festive spirit of the 4th of July by applying dots on your white nails, giving your manicure a playful vibe.
8. Heart for America Nails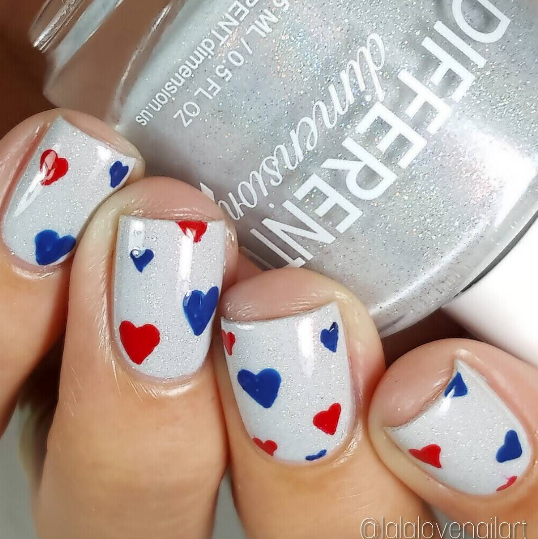 Switch up your nail design for the 4th of July by using red and blue hearts instead of stars.
And make your white nails sparkle with silver glitter for a festive touch.
9. 4th of July Daisy Nails
Get in the hippie spirit for Independence Day with a stylish manicure.
Red French tips and white daisies, offer the perfect combo of trendy and patriotic vibes.
10. Fourth of July Fireworks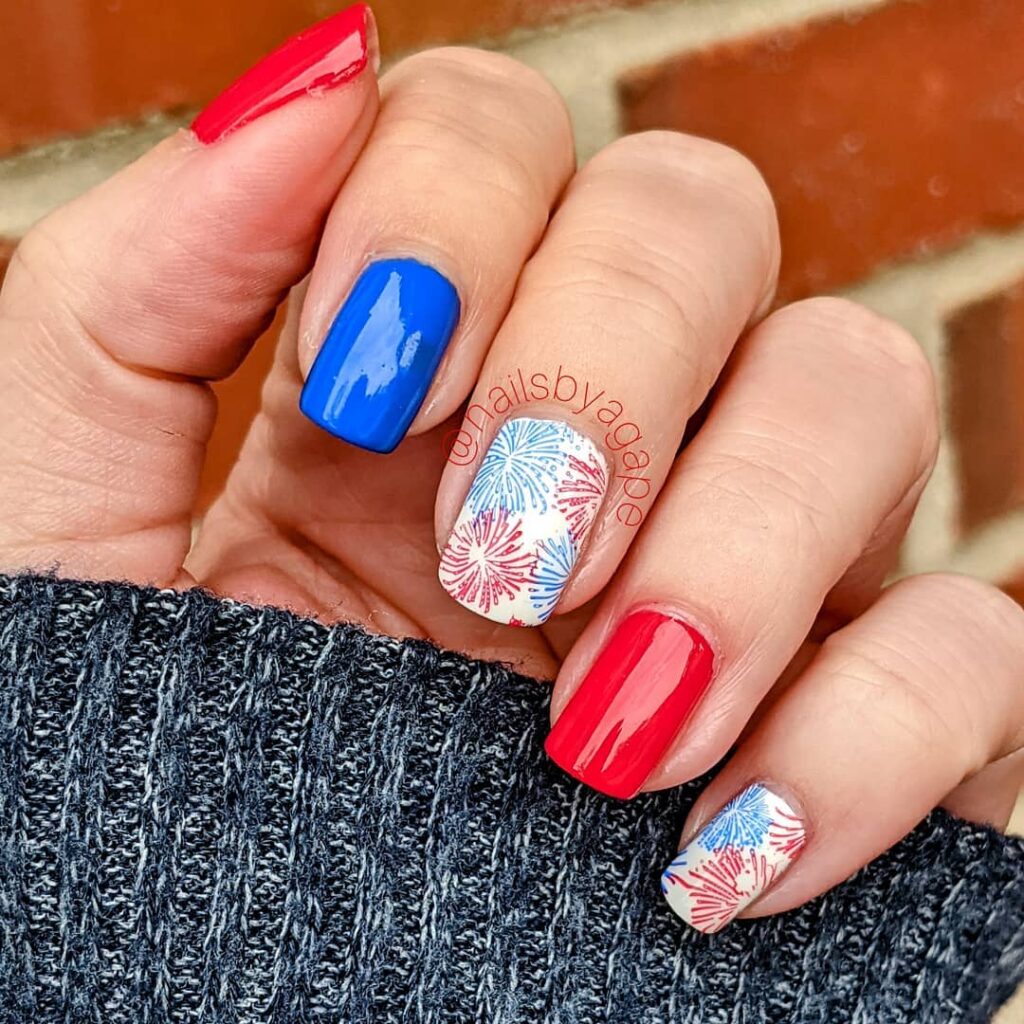 Get ready to light up the room with your firework-inspired nails!
Add a playful touch to your manicure by using nail stickers to create a burst of colorful fireworks.
11. Ice Cream Drip Nails
Cool down this 4th of July with a delicious patriotic manicure. Blue drips over stripe nails, creates a mani that will have everyone craving a scoop.
12. Wonder Woman Nail Design
These Wonder Woman-inspired nails will help you unleash your inner superhero this 4th of July!
13. Patriotic 4th of July Summer Nails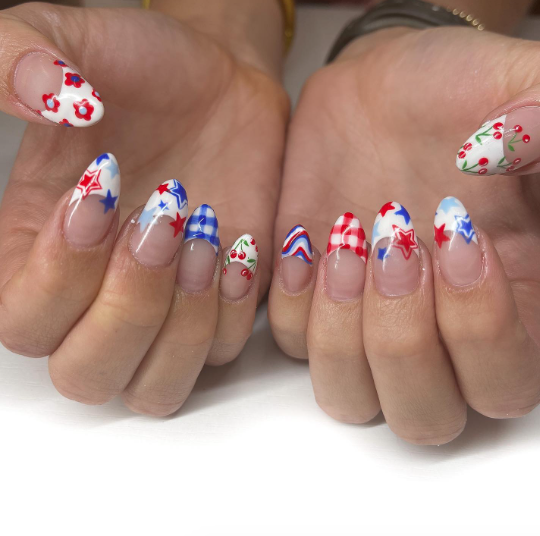 Celebrate your love for your country with festive nail colors that can be worn all summer long.
14. Ombré Popsicle Nails
These ombre nails look just like an ice pop, with a blend of red, white, and blue shades that create a fun and playful look, perfect for summer vibes.
Add some glitter stars to an accent nail to make your nails sparkle!
15. Patriotic Roses 4th of July Nails
Roses are red, stripes are blue, these patriotic nails are perfect for you!
16. DIY Coffin 4th of July Nails
Follow this easy tutorial to transform your coffin acrylic nails into a stunning patriotic masterpiece, perfect for celebrating the 4th of July in style.
17. Fourth of July Glitter Nails
What's hotter than a fireworks display? Your nails, of course!
An ombre glitter explosion that will make everyone go "ooh" and "ahh" as your fingertips light up the night!
18. Classy Fourth of July Nails
For a bit of sophistication in your nail game, opt for a nautical look with matte nails.
Classic and timeless nails that are perfect for your Fourth of July celebrations!
19. Striped Gradient Nails
Try out this hand-painted stripe design with red and blue tips for a fun and unique look, embracing the beauty of imperfect lines.
20. Star Spangled Mani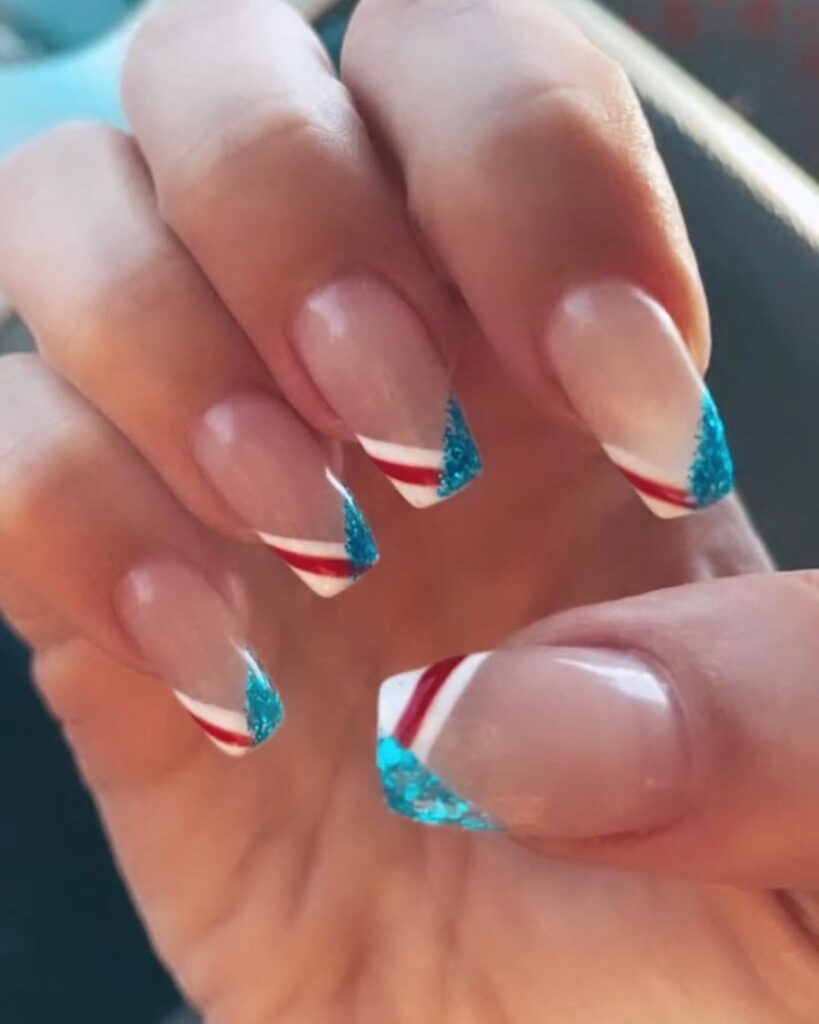 Combine classic chevron French tips with the colors of the American flag to show your national pride.
But trade your royal blue for turquoise for an extra pop!
21. Independence Shimmer Nails
Shimmer and shine on the 4th of July with these easy DIY nails.
By blending glitter, stars, and stripes in festive colors, you'll create a manicure that's ready for the BBQ season!
22. 4th of July Splatter Nails
Transform your nails into a creative canvas with patriotic splatter nails.
Throw festive colors together in a vibrant and playful mix for a unique and eye-catching manicure.
23. Water Marble Nail Design
Water marble nails are an absolute blast to create.
Whether you go for a full set or an accent nail, add some nail jewels and stars for a patriotic mix and match.
24. Tie Dye July 4th Nail Art
Rock the 4th of July with groovy tie-dye nails, turning your fingertips into a vibrant canvas of swirling colors that perfectly blend tie-dye fashion with patriotic celebration.
25. Independence Day Nails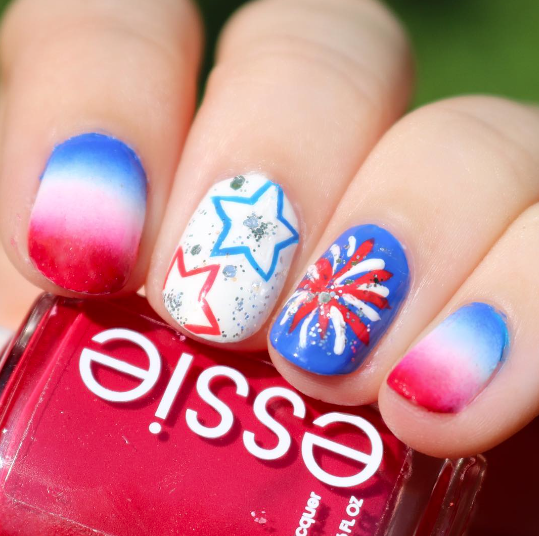 Celebrate your love for your country in style with stunning patriotic nails featuring a hand-painted firework accent, because baby, you're a firework!
Now own the night like the Fourth of July!
26. Simple 4th of July Nails Tutorial
Stunning red nails and a trendy accent stripe, looks equally gorgeous on almond nails as it does on short square nails. Classy and stylish!
27. Ombre Patriotic Stars Tutorial
Learn how to create stunning ombre star nails with this fun and easy tutorial.
Simply create a star stencil using blue painter's tape, a small star punch, wax paper, and a makeup sponge!
28. Patriotic Swirls Manicure
Be mesmerized by the beauty of patriotic swirl Frenchies. Follow this tutorial to DIY these gorgeous acrylic nails.
29. Captain America Nail Art
If there was a Mrs Captain America, I bet she'd rock these classy nails featuring red French tips and a patriotic accent nail.
The perfect nails for a superheroine!
30. Vintage Flag Nails
Add a touch of vintage flair to your nails with this retro American-flag inspired nail art.
31. Patriotic Glitter Nails
Complete your 4th of July nail collection in style with glitter French tips and stars and stripes nails.
You can create these designs using nail polish or opt for the convenience of nail wraps.
YOU MAY ALSO LIKE:
DON'T FORGET TO PIN THIS FOR LATER!