This post may contain affiliate links, which means I'll receive a commission if you purchase through my link. Please read full disclosure here.
Get ready to add a touch of autumnal magic to your fingertips with our enchanting collection of Thanksgiving nail designs.
As Halloween fades and fall's crisp air settles in, it's time to welcome the warmth and comfort of Thanksgiving. This holiday, famous for family gatherings and feasts, is also a chance to showcase your nail art creativity.
Say goodbye to skeletons and ghosts and say hello to Thanksgiving nails that are cute and super easy. In this post, we'll explore a treasure trove of Thanksgiving nail ideas that capture the essence of fall.
From colorful leaves to adorable turkeys and pumpkin-inspired designs, these nail ideas will make you the star of your Thanksgiving celebration. Whether you're a pro at nail art or just starting out and want something simple yet stunning, we've got you covered.
So, let's embrace the spirit of thankfulness and the harvest season with these charming Thanksgiving nail art ideas.
✔ Create the perfect Thanksgiving manicure with this starter kit: UV LED Nail Lamp, Gel Nail Polish Set & Manicure Set!
THANKSGIVING NAIL SUPPLIES:
THANKSGIVING NAIL DESIGNS
1. Short Skittle Pumpkin French Tips
How gorgeous are these autumnal pumpkins painted in the prettiest fall hues? They make for the perfect French tips for a Thanksgiving celebration!
2. Glitter Thanksgiving Nails
These copper-glittered nails with a leaf accent nail exudes cozy fall vibes! If you love short nails this look is perfect for you!
3. Thanksgiving Pop Art Nails
If you're a fan of the pop art nail trend, these long nails featuring a gradient of brown shades are a perfect match for Thanksgiving.
The colors blend seamlessly with the fall theme, making it a great choice for a joyous Turkey Day!
4. Pumpkin Spice Latte nails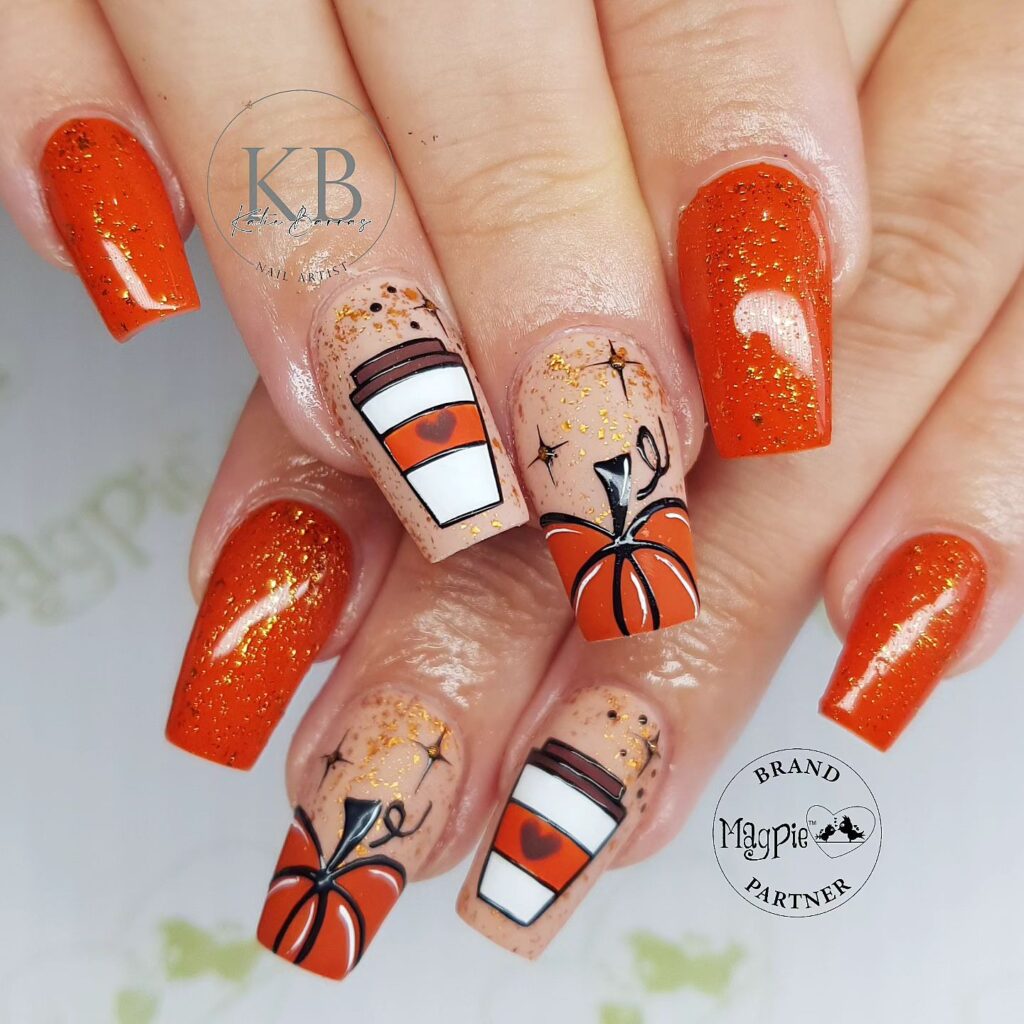 Picture a spiced latte design on one nail and a pumpkin French tip on another. Then add a sprinkle of gold glitter to the remaining orange nails for a spiced latte-inspired look.
You'll have the perfect Thanksgiving nail look!
5. Fox & Pumpkin Thanksgiving Nails
If you love fox-themed nails, the fall season is the ideal time to try them out.
The beautiful orange hue of the fox, combined with autumnal leaves and glittery pumpkins, creates a delightful manicure that's perfect for Thanksgiving.
6. Metallic Floral Fall Nails
Long almond nails provide the perfect canvas for these fall-inspired florals.
They're beautifully adorned in shades of burgundy and purple on a nude base, with an accent nail to enhance the autumnal charm.
7. Burnt Orange and Tortie Nails
If you want to rock animal print for Thanksgiving, tortoiseshell nails are an excellent choice.
Their warm brown pattern stands out beautifully against burnt orange nails.
8. Pumpkin Pie Thanksgiving Nail Designs
I'm loving these trendy Thanksgiving nails! The combination of pumpkins, plaid, and pumpkin nail art blends seamlessly to create a cozy and dreamy manicure that you can proudly wear throughout the entire season.
9. Autumnal Vibes
Create a soft and dreamy vibe this fall with a color palette featuring caramel, navy blue, white, and gold flecks.
To add a touch of contrast, consider incorporating a pop of blue. It's a subtle yet elegant way to elevate your fall style.
10. Sage & Gold Thanksgiving Nails
Sage and nude nails with delicate touches of gold leaf bring a touch of chic elegance to these Thanksgiving nails.
It's the perfect fusion of style and the autumn season.
11. Half Moon Harvest Nails
If you're looking for that wow factor this fall, consider these beautiful half-moon nails.
Adorning long almond-shaped nails, the gradient brown design is autumnal heaven!
12. Turkey Thanksgiving Nail Art
What's Thanksgiving without a turkey, right?
If you're ready to embrace a bird-inspired nail design, stamp a pattern and layer it with pumpkins and a turkey for some festive flair. Gobble, gobble!
13. Mickey Mouse Pumpkins
Disney-themed nails are always a hit, so why not invite Mickey to the Thanksgiving festivities and give him a pumpkin twist?
Your nail design will surely be a crowd-pleaser!
14. Fall Foliage Thanksgiving Nails
These orange and gold fall leaves are undeniably stunning.
To create a classy autumn nail design, consider adding a green-blue accent nail and outlining it with a gold band for a truly elegant effect.
15. Accent Turkey Nail Art
Here's another turkey-themed nail design: a beautifully hand-painted accent nail accompanied by the rest of the nails adorned with a golden glitter polish.
These nails make for the cutest Thanksgiving manicure!
16. Gradient Acrylic Sweater French Mani
These stunning acrylic nails showcase a textured sweater French tip, and they're elegantly finished with a gold jewel near the cuticle.
It's a subtle yet chic design that perfectly captures the essence of fall!
17. Mauve Brown Coffin Nails
How beautiful are these mauve coffin nails, accented with sparkly rhinestones?
They make the perfect pairing with a cozy sweater, inviting you to snuggle up by the fireplace!
18. Caramel Apple Thanksgiving Nail Art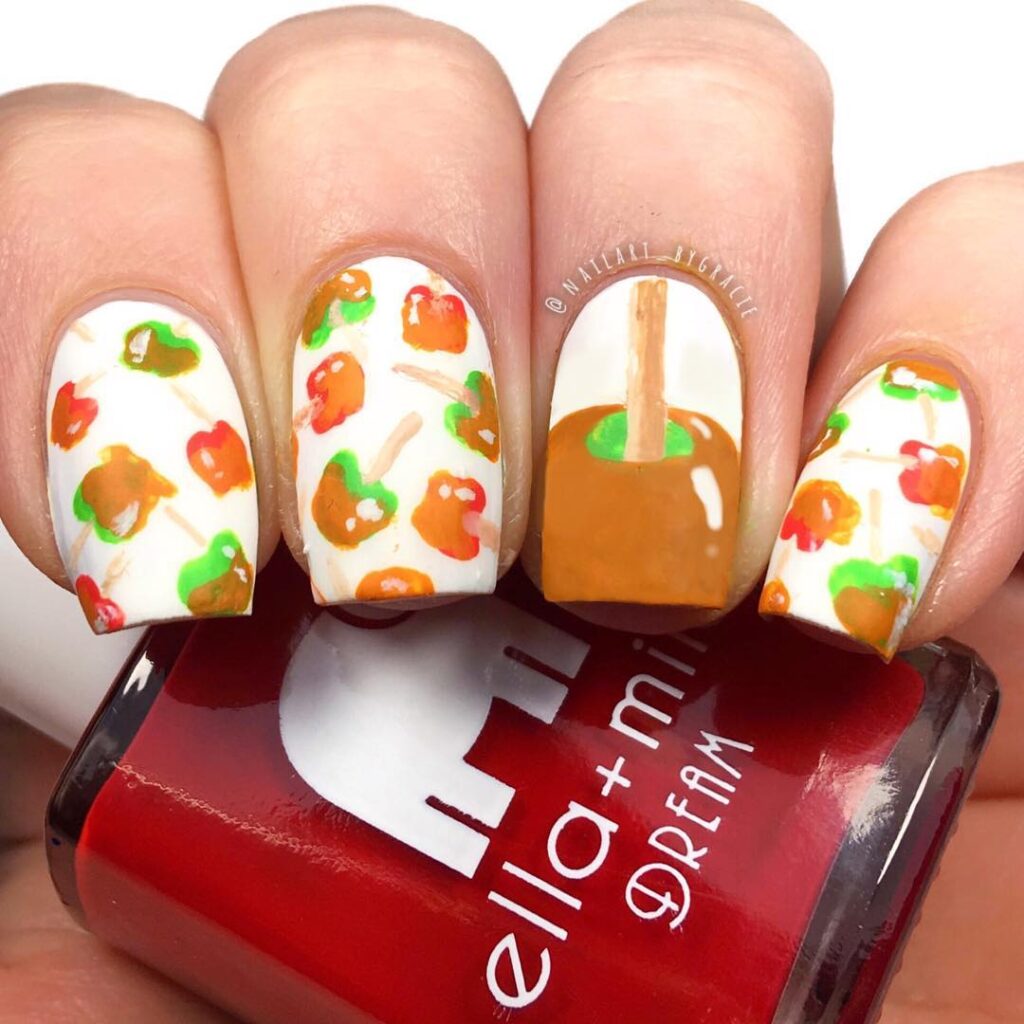 Here's a super fun nail design for Thanksgiving. If you love cute nails, why not add some caramel apple nail art?
They look so delicious, you might just want to take a bite!
19. Gradient Fall Nail Colors
Can't decide on a single color? Choose a few of your favorite fall shades, like nudes, mauves, and burgundy, and opt for a skittle design.
It's a great way to add some excitement to your everyday look!
20. Plaid Pumpkins Thanksgiving Nail Design
I love the combo of matte and glossy elements in this nail design.
The yellow plaid accent and plaid pumpkin French tip create a stunning Thanksgiving vibe.
Adding a burnt orange and gold glitter nail gives it that extra touch of pizzazz!
21. Candy Corn Nails
Candy corn isn't just for Halloween; it can be a fun Thanksgiving nail design, especially when you add some glitter texture to the top. This elevates the nail to a classy level.
Forget the 'boo,' here's the 'yum'!
22. Maroon & Gold French Tip nails
OMG! These garnet and gold nails make for the perfect color duo for fall.
Instead of the classic white French manicure, these deep burgundy nails with metallic gold tips are absolutely perfect!
23. Fall Accents Thanksgiving Nails
For a unique Thanksgiving nail look, consider accenting your nails with vibrant fall leaves against a backdrop of teal and burnt orange.
Complement these with the other nails painted in a beautiful olive green. It's a stunning blend of patterns and colors!
24. Teal Matte Leaves
Here's more matte nail inspiration, because we just can't get enough of them!
These stunning teal nails are adorned with splashes of fall leaves, creating a cozy yet vibrant feel.
25. Fall Vibes Thanksgiving Nail Design
If you prefer a glossier finish, you'll adore these elegant November nails.
The dreamy chestnut nail colors, along with the accent fall leaf, create a truly chic look.
26. Natural Pumpkin Nails
Natural nails are a popular choice, and this short creamy nail design provides the perfect canvas for black fall foliage and pumpkins created with a stamping plate.
The touches of orange and yellow spots add an extra pop to the design, making it even more fun.
27. Floral French Tip Thanksgiving Nails
I'm absolutely obsessed with this nail design. The almond shape complements the floral French tip design beautifully.
To recreate this look, you'll need some nail brushes and a steady hand. Finish it off with a matte top coat, and you'll be thrilled with the results!
28. Oval Burnt Orange Bliss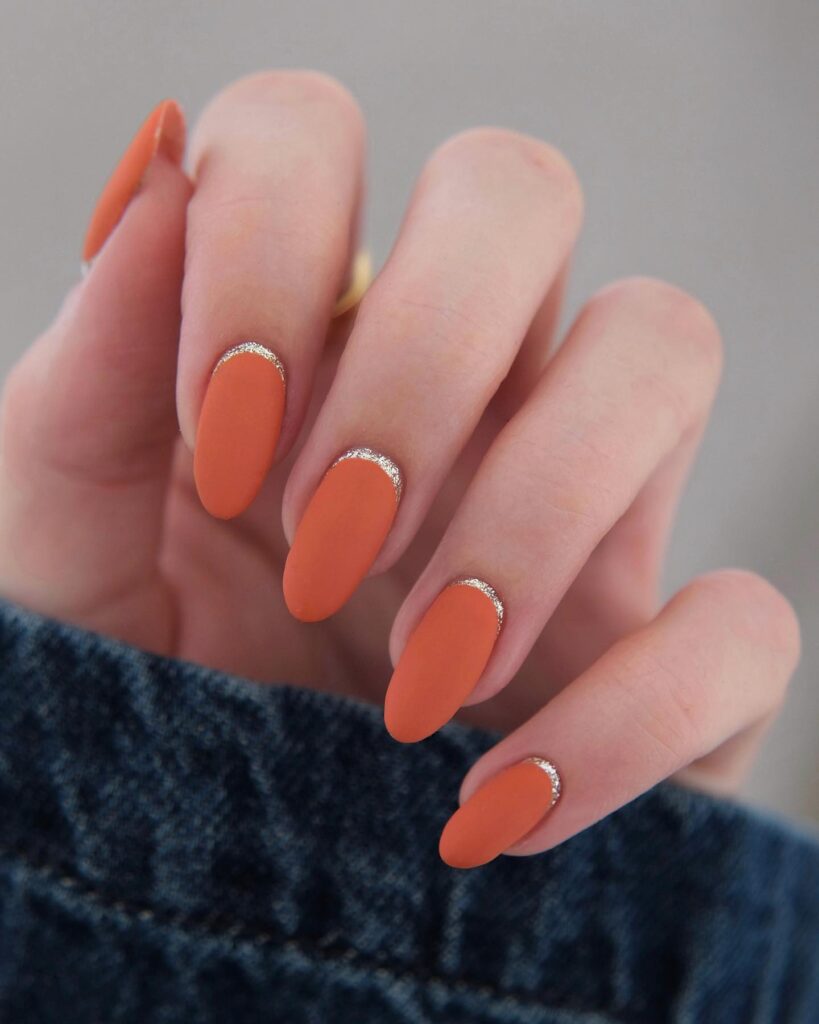 Oh my, it's another nail design that's truly dreamy! The burnt orange shade alone is stunning.
Add to that the accent of gold glitter cuticles and a matte top coat, and you've taken this nail look to the next level. It's absolutely heavenly!
29. Mocha Marble Nail Design
Mocha marble swirls create pure perfection in this nail design, offering a classic look just in time for Thanksgiving.
You can enhance it with another mocha accent nail featuring a gold-lined French tip, while painting the rest of your nails in the same mocha shade.
This design looks amazing on square nails, but it's versatile enough to work with other nail shapes as well.
30. Terracotta Vibes Thanksgiving Nails
Let's add some spice to the mix with terracotta nails – a color as pretty as the fall foliage itself.
This unique nail design is unlike any I've seen before, and I'd highly recommend taking this look to your nail technician to replicate it for Thanksgiving!
31. Pumpkins & Turkey Nails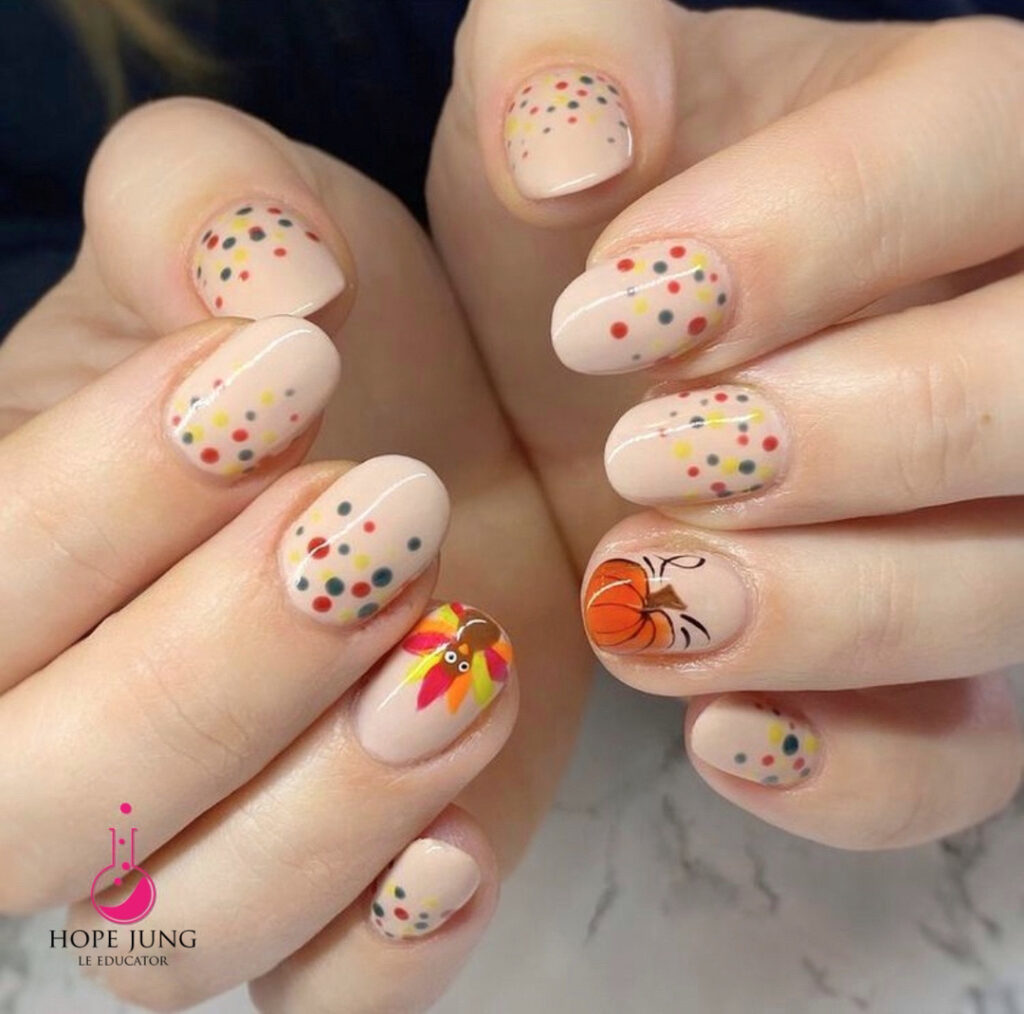 Pumpkins, turkeys, and polka dots create a fun and playful design for Thanksgiving.
Hand-painted on a nude base color, these nails look super cute and whimsical.
32. Matte & Glossy Chocolate Brown Nails
Are these nails real, or are they made of chocolate? They look so delicious that you could almost take a bite!
The combination of glossy tips and matte finish in a dark chocolate shade is utterly tempting and simply mouthwatering.
33. Falling Leaves Glitter Dip Nails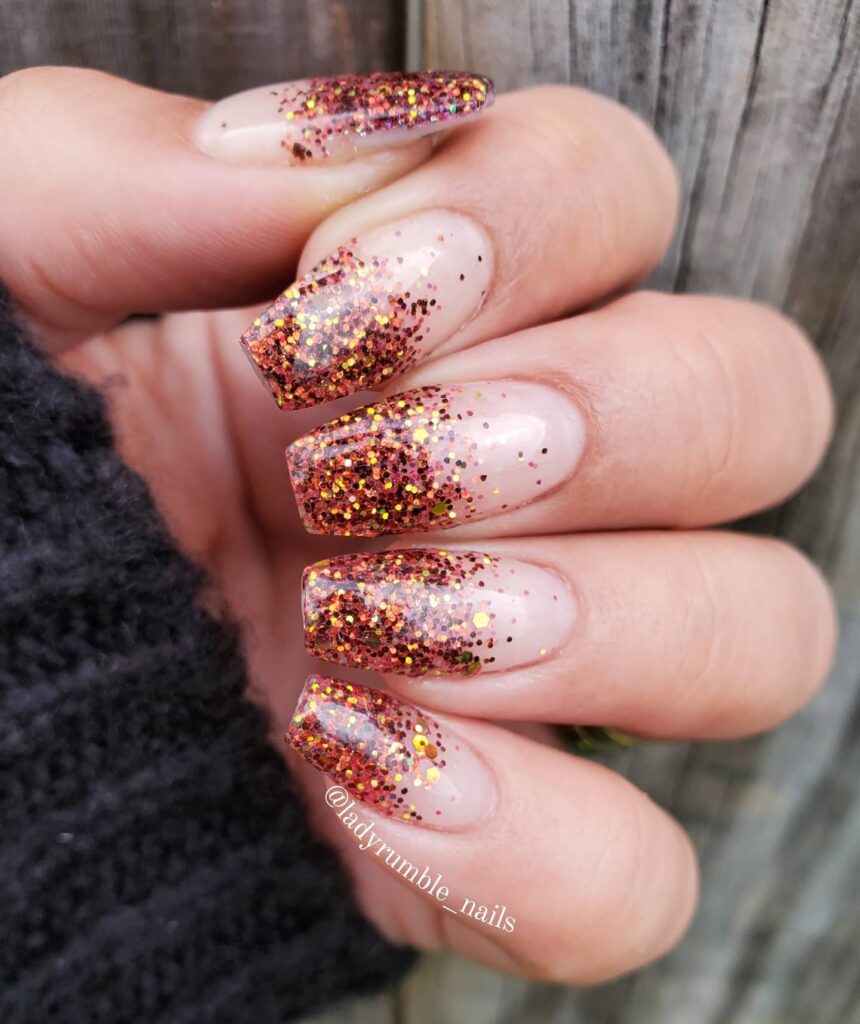 These nails will certainly make you feel grateful. Simple nude nails with a douse of glitter create the illusion of falling leaves.
It's a vibe, and I'm here for it!
34. Almond Turkey Day Nails
More turkey nails and pie, but this time the nail art is so realistic, I can almost imagine cranberries oozing from the pie.
These truly are the best turkey nails I've ever seen!
35. Fall Leaf Nail Art
These nails, with their gold glitter, falling leaves, and burgundy plaid, are a must-try for the autumn season, especially leading up to Thanksgiving!
36. Long Chocolate Swirl Design Nails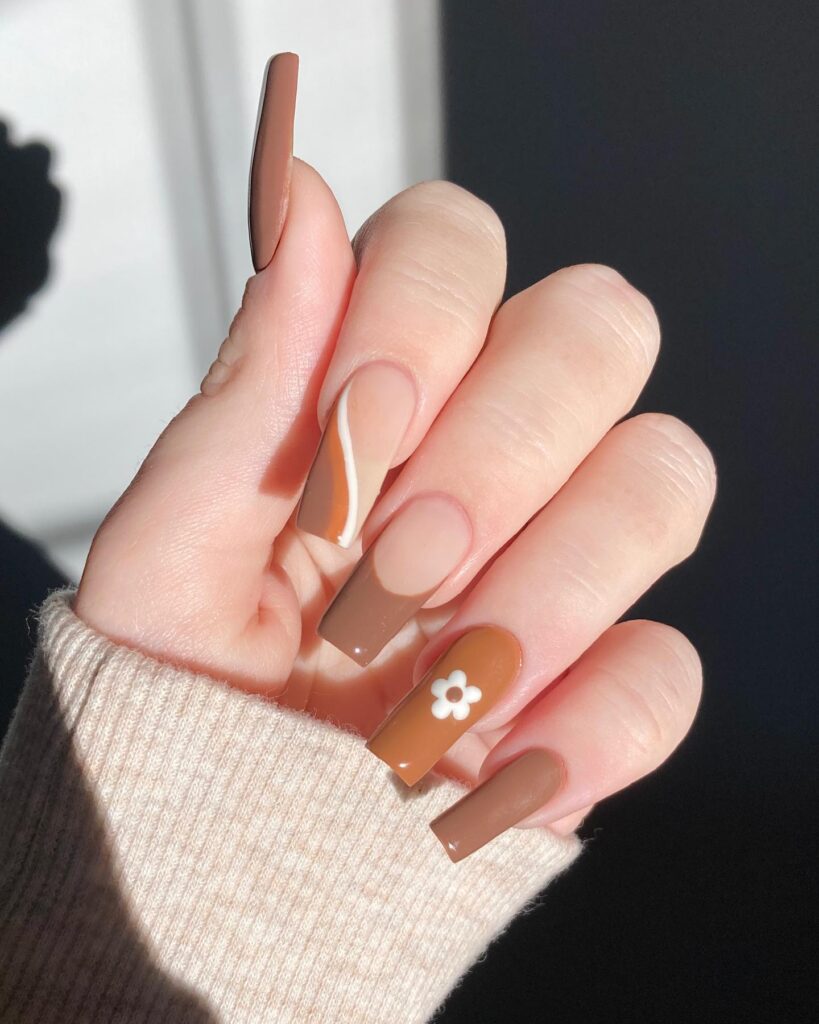 I love how these nails bring back those '70s vibes. Swirl nails, French tips, and a cute little daisy finish off this neutral nail look, perfectly capturing the essence of the fall season.
37. Indian Harvest Corn Nails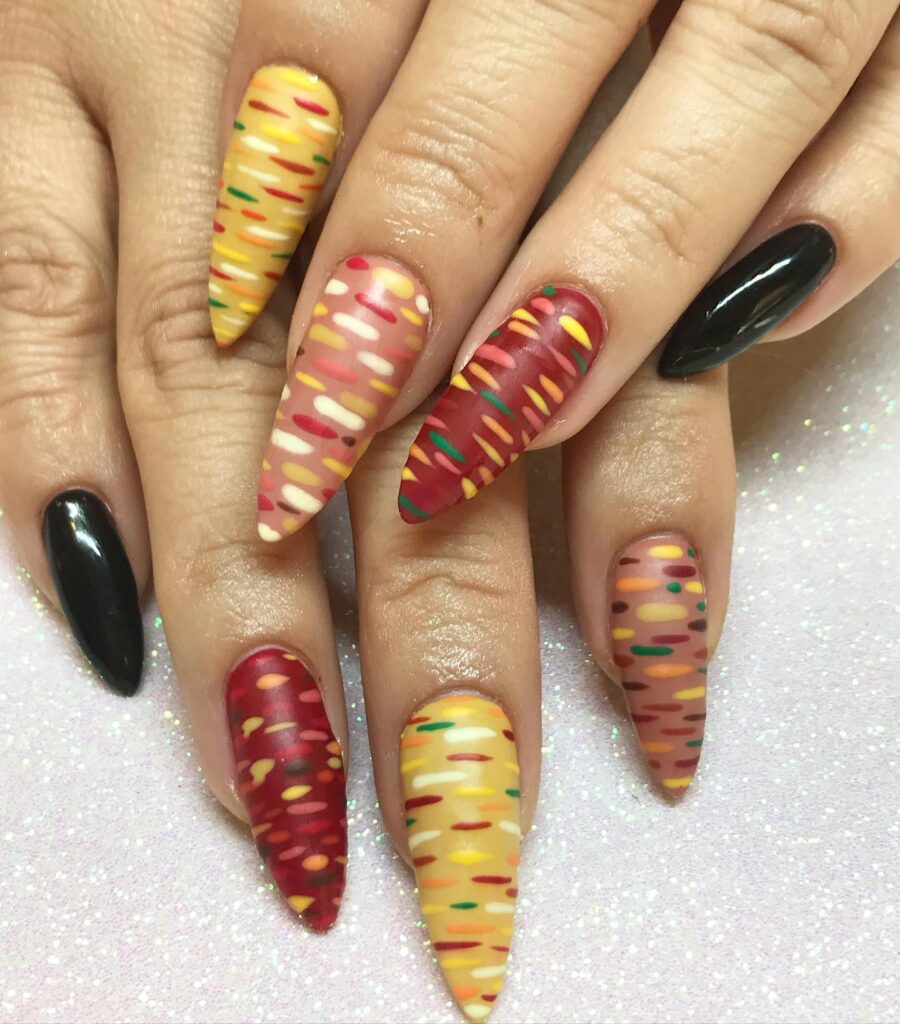 Did someone say Indian corn?
This amazing nail design, showcasing the majestic red, yellow, and brown colors of the corn, along with the actual corn design, is perfect for long almond-shaped nails.
It's such a cool and unique design!
38. Square Sweater Weather Thanksgiving Nails
This abstract sweater French tip mani is truly beautiful.
The cable knit effect in a spiced orange shade creates a magical contrast against the full orange and glitter nails.
39. Long Sage Swirls Nail Design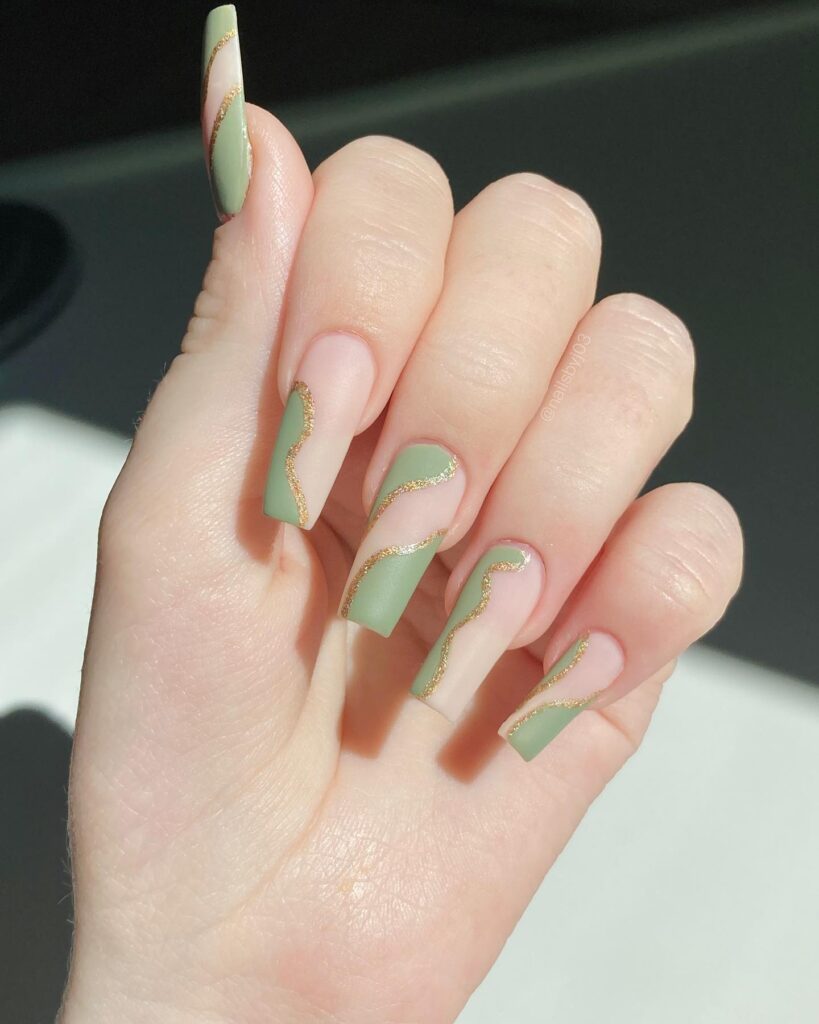 We adore swirl nails, especially sage green abstract swirls with a touch of gold lining. It just embodies the cozy season, and we can't get enough of it!
40. Autumn Leaves Thanksgiving Nail Design
Here's another fall nail design that might require your nail technician's expertise.
The gilded autumn leaf design looks truly gorgeous on short nude nails, just in time for Thanksgiving.
41. Cozy plaid Thanksgiving Nails
To create a cozy plaid nail, start with a deep eggplant shade and a Thanksgiving stamping plate.
On the remaining two nails, layer fall leaves, acorns, and pumpkins to design an autumnal French tip.
The result is an elegant and classy nail design perfect for Thanksgiving festivities.
42. Short Autumn Jellies
If you're a fan of jelly nails, you'll love these skittle colors! Mulberry, sage, saffron, marigold, and cranberry all scream 'turkey time,' and we absolutely love it!
43. Chocolate Swirls Design Nails
Chocolate swirls, yes please! Who can resist chocolate nails? Especially on almond-shaped nails for a classy look.
44. Thanksgiving Two-Tone Orange Frenchies
Two-tone orange Frenchies are pure fall magic. The contrasting shades of orange create a beautiful look, and nothing more is needed!
45. Burgundy & Glitter Nails
I like to save the best for last, so enjoy these elegant burgundy nails. The full glitter nail and subtle gold stripe down one burgundy center make these nails super glam for Thanksgiving.
YOU MAY ALSO LIKE:
DON'T FORGET TO PIN THIS FOR LATER!