This post may contain affiliate links, which means I'll receive a commission if you purchase through my link. Please read full disclosure here.
Get ready to celebrate America's independence day in style with these scrumptious 4th of July cake ideas!
If you're hosting a summer party or attending a BBQ, nothing says 'Merica quite like a patriotic red, white, and blue cake decorated with stars and stripes.
Don't worry, making a 4th of July cake is a piece of cake! With easy-to-follow recipes and a sprinkle of creativity, you can whip up a cake that will have your guests feeling more patriotic than a bald eagle wearing a stars-and-stripes cape.
From simple sheet cakes to more elaborate designs, there are plenty of options to choose from.
Whether you're celebrating with friends, family, or just enjoying the day off, these cakes are sure to be the centerpiece of any 4th of July birthday party, barbecue, or summer shindig.
Here are creative 4th of July cake decorating ideas to help you bake an amazing patriotic cake!
✔ To help you get started with your baking, this 230-piece cake decorating kit is just what you need!
>> But don't forget to sign up for a FREE 30 day trial of Amazon Prime and get FREE 2-day shipping on your baking supplies!<<
4TH OF JULY CAKE
Let's start with this delicious cake made with M&M's. With the combination of fluffy cake, creamy frosting, and crunchy candy it's simply irresistible! Making it the perfect treat for celebrating Independence Day!
Just wait until you cut into this cake – it may look plain but the layers inside are a patriotic surprise! And the candy and star lollipops on top add an extra burst of fun."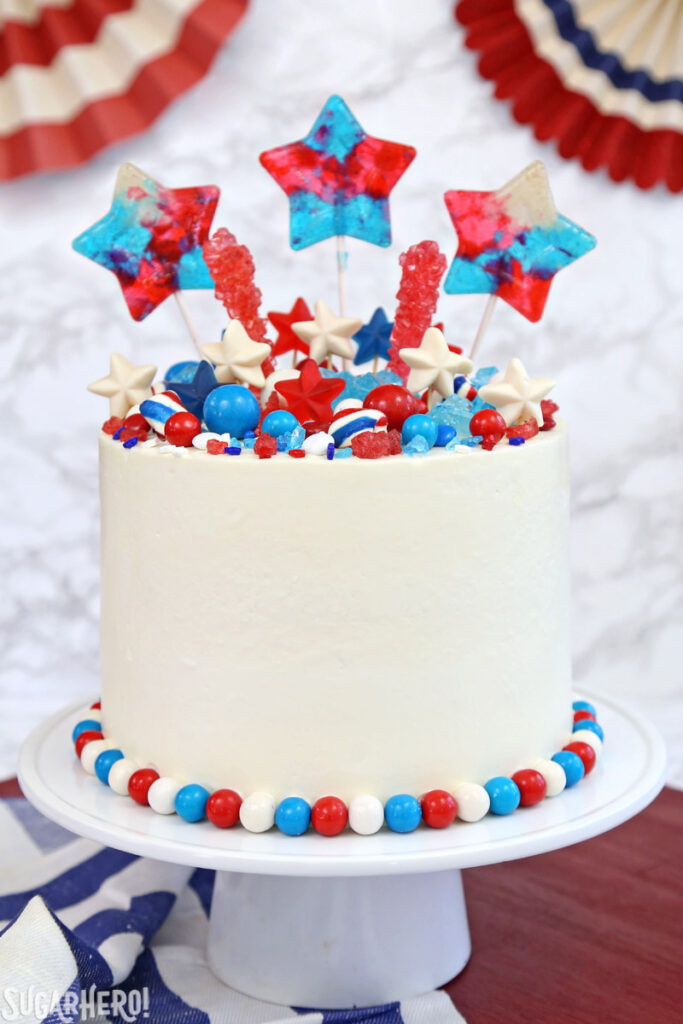 Cupcake cakes are so easy to make and this American flag cupcake cake is no exception! With its red, white, and blue frosting and cupcake "stars" and "stripes," it's a festive and fun way to celebrate America's birthday.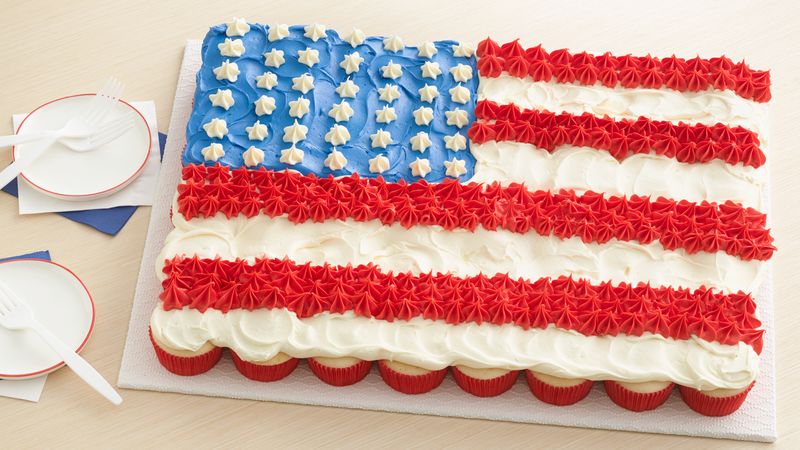 I love how the colors blend in this delicious poke cake, with the bright red, white, and blue layers inviting you to take a bite. The creamy whipped topping and juicy berries make every forkful a burst of refreshing sweetness, perfect for cooling off on a hot 4th of July afternoon.
How perfect is this cake with the strawberries and blueberries arranged so beautifully! It's sure to impress your guests and add a pop of color to the dessert table.
Oh my, have you seen this Angel food cake? The layers look so soft and fluffy, and the addition of fresh berries on top makes it irresistible!
Gooey brownie goodness arranged in a flag shape – this cake is the perfect combination of fudgy and festive!
I love how classy this cake looks, it's made to perfection with rosettes of buttercream cascading down a beautiful drip cake. And the cherry on top? A fun, colorful popsicle that adds a touch of whimsy to the whole design.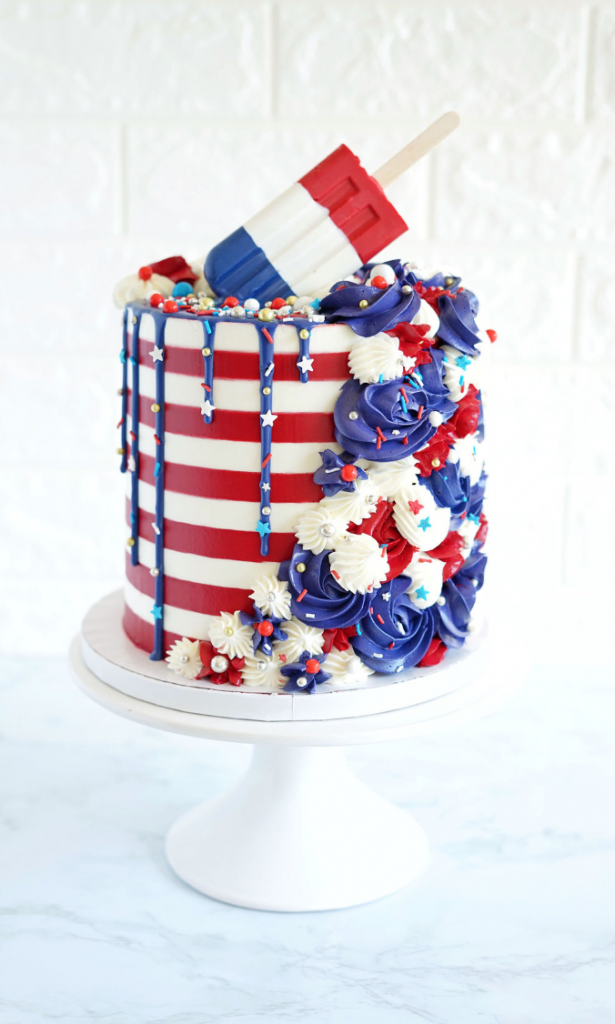 Who knew a cookie could be a cake? I love this American Flag cookie cake – it's perfect for any Fourth of July celebration, and the cookie base looks simply delicious!
Who said cookies were just for snacking? This fun and festive pizza-shaped sugar cookie cake is topped with colorful M&M's, making it the perfect treat to satisfy your sweet tooth and your playful spirit at the same time!
Layers of fluffy cake, oozing with creamy buttercream and showered with patriotic sprinkles. It's the ultimate firework for your taste buds!
Behold, this yummy Bundt cake with a dazzling red, white, and blue glaze on top! It's so patriotic, Uncle Sam would be proud. Plus, it's shaped like a giant donut, so you can feel like a kid again while indulging in this delicious treat.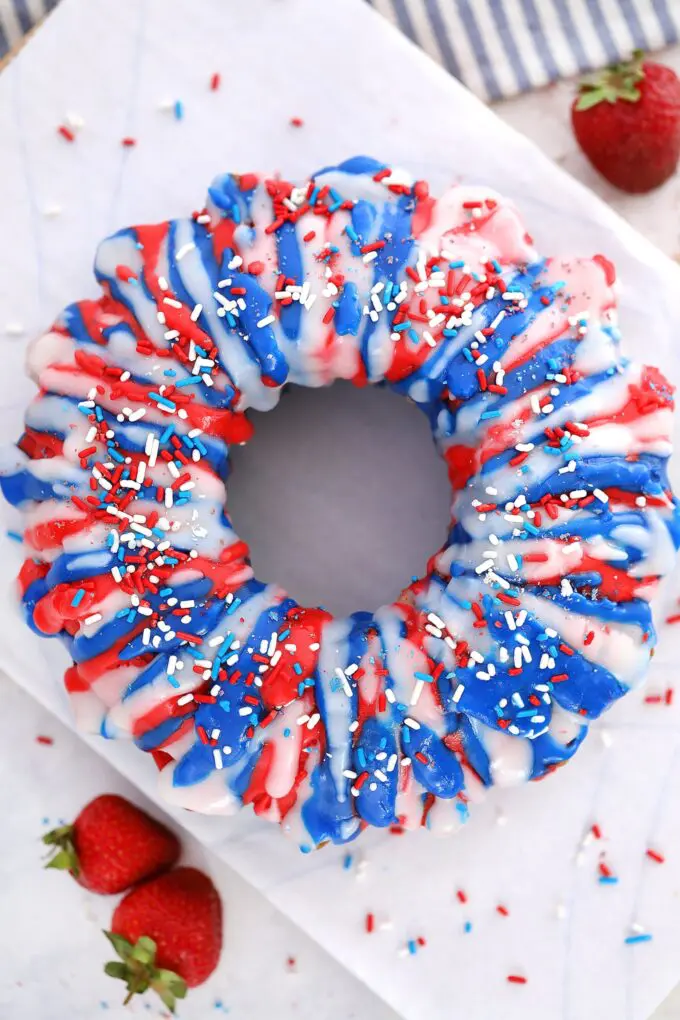 If you're a lazy baker like me and love no-bake cakes, you'll fall head over heels for this no bake dessert! With its creamy and tangy cheesecake filling and its festive red, white, and blue toppings, it's the perfect way to show off your patriotism without breaking a sweat!
If you want a cake that's as fun as fireworks, you'll love this cake! The batter is packed with sprinkles, and the cake is covered in even more red, white, and blue sprinkles. To top it all off, there are festive firework picks to make your cake explode with excitement!
Who needs fireworks when you have this cake? A red and white striped buttercream cake that's fit for a July 4th parade. Top it off with blue fondant stars and the pièce de résistance: star sparklers that are just waiting to light up the party!
This cake is the perfect treat for beating the heat on Independence Day! Layers of red, white, and blue ice cream covered in a blanket of festive sprinkles.
This Bundt treat cake is sure to snap, crackle, and pop your taste buds! Drizzled with patriotic candy melts, it's a fun twist on the classic Rice Krispies treat.
Move over hotdogs and burgers, there's a new star of the Fourth of July BBQ – this decadent buttermilk chocolate cake with a surprise peach filling that will have your taste buds doing a patriotic dance. And don't forget the crowning jewel, a marzipan cow, because who said celebrating America couldn't be delicious and adorable?
This cake is not just a hat, it's a delicious surprise! The fun and festive design will make your guests smile with delight as they dig in to reveal the colorful stars inside.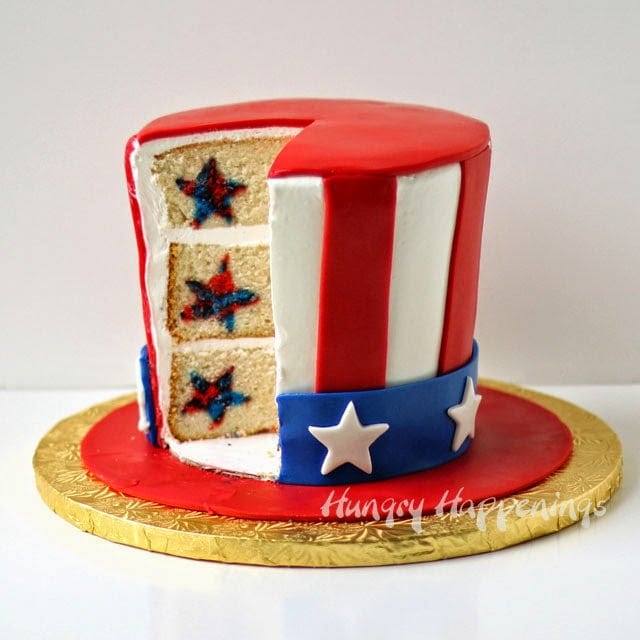 Who doesn't love cheesecake? This cake takes it up a notch by layering creamy cheesecake between fluffy vanilla cake. And the subtle decorations on top make it perfect for celebrating America's birthday.
A work of art! The fondant design is intricate and detailed, featuring stars, stripes, and firework stars to boot. It's almost too pretty to eat… almost.
This cake is a true champion! The layers of moist cake and fluffy frosting are decorated with a beautiful American flag design, perfect for showing off your patriotic spirit. It's the gold medal of 4th of July desserts.
If you want a cake that really shows your love for the good ole USA, this "We Heart America" cake is perfect for you! The centerpiece of this cake is a fondant American flag heart on the front that will make your heart swell with patriotism.
This gorgeous cake is the epitome of patriotic perfection. Three layers of soft, spongy cake, each a different color, are stacked high and smothered in a cloud of white buttercream. Simple yet elegant sprinkles decorate this cake, giving it just the right amount of festive flair.
This cake is the perfect choice for superhero fans, especially Captain America enthusiasts! Shaped like his iconic shield, it's decorated with red, white, and blue M&M's, making it a patriotic treat. The best part is that it's easy to make, so any mom can become a cake-making superhero!
YOU MAY ALSO LIKE:
DON'T FORGET TO PIN THIS FOR LATER!