This post may contain affiliate links, which means I'll receive a commission if you purchase through my link. Please read full disclosure here.
If you're getting ready for the most wonderful time of the year and aiming to look fabulous, you'll adore these holiday hairstyles.
As we transition from Thanksgiving feasts and Halloween spookiness to the holiday season, it's the perfect time to get your holiday hair covered.
From Christmas parties to cozy family gatherings, we've got a list of creative holiday hair ideas that will help you shine as bright as the star on top of the tree.
Whether you prefer bauble hair, braided hairstyles or snowflake designs we've got the perfect holiday hairstyles to make sure you shine at every Christmas celebration!
We've also got Christmas nails and Christmas makeup ideas, to help you shine as bright as the star on top of the tree.
So, let's unwrap the magic of holiday hair and get ready to turn heads at every yuletide celebration!
HOLIDAY HAIRSTYLES
1. Easy Christmas Bauble Hairstyle
Transform your long, wavy hair into a dazzling Christmas tree by "decking the hair with Christmas baubles." It will look fantastic!
2. Ice Queen Holiday Hairstyle
If you like the idea of a winter wonderland, you'll adore the concept of a wavy mid ponytail adorned with delicate snowflakes to capture that majestic snow queen look.
3. Blue Holiday Hairstyle
Enhancing your stunning blue locks with a sparkling wreath and a red poinsettia infuses a festive charm into your already flawless hair.
4. Cindy Lou Who Hair
When it comes to Christmas hairstyles, Cindy Lou Who's iconic look from Dr. Seuss is a top favorite among girls. With its adorable charm, who wouldn't want to sport such a cute and beloved style!
5. Holiday Fishtail Bun
Here's another timeless holiday hairstyle: the fishtail braid bun, which is graceful and adorned with a sprig of holly, adds an extra touch of festivity to your overall look.
6. Christmas Tree Ponytail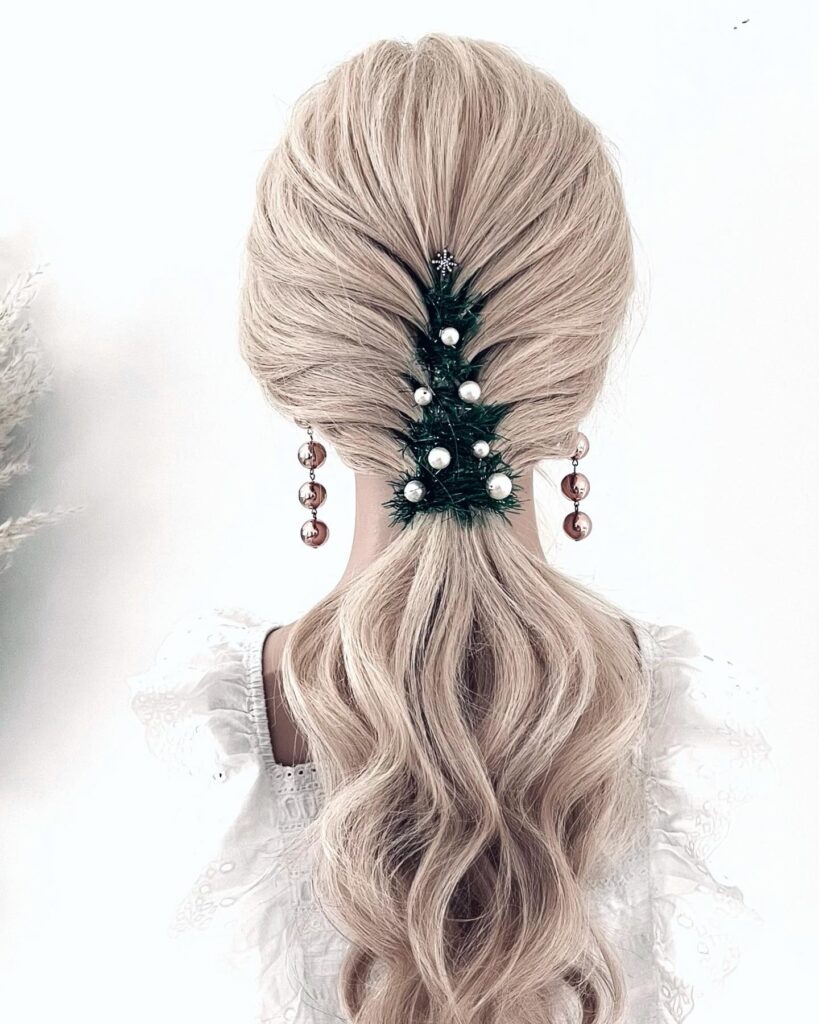 If you appreciate an elegant hairstyle, you'll adore this braided ponytail for Christmas. Weave green tinsel into your braid and accentuate it with pearl hair pins, creating a charming bauble-like effect. Finish off your "tree" with a star or snowflake hair pin for that perfect festive touch.
7. Red & Green Christmas Tree Braid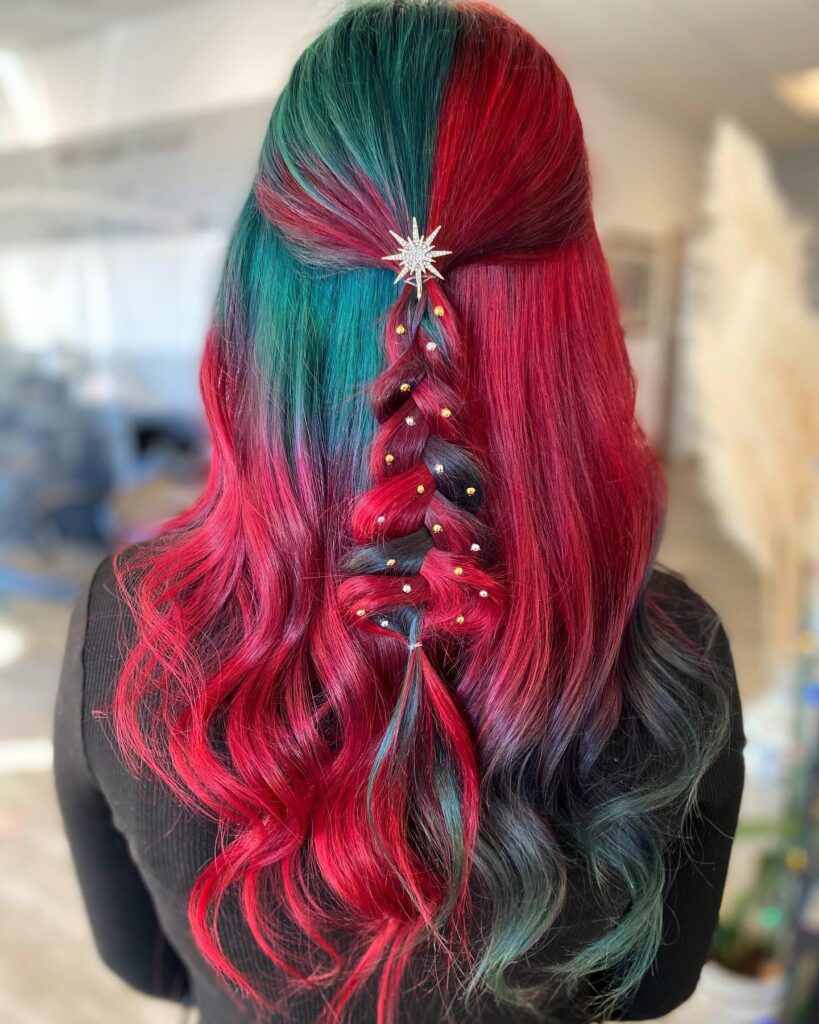 Red and green are the perfect Christmas colors for your hair, especially when you braid it to resemble a Christmas tree. This hairstyle is simple to achieve and can be beautifully complemented with festive hair sequins and a star hair pin for that extra holiday flair.
8. Pin Up Christmas Bow Hairstyle
Complete your wavy red pin-up hairstyle with the addition of gift bows, and you'll become the embodiment of the perfect Christmas present.
9. Holiday Hair Bow
The upstyle hair bow hairstyle is an ideal choice for a holiday look. Add a touch of gold glitter, and you'll have a present fit for a princess, with your hair being the star of the show.
10. Pretty Holly Day Hair
The Dutch braid crown is a perfect Christmas hairstyle, especially for longer hair that can wrap around your head. To finish your look, add small holly berries and leaves for a sweet hair wreath.
11. Half-up Wavy Holiday Hairdo
You can easily achieve this stylish half-up, half-down wavy hairstyle using a hair iron. Finish it off by tying your hair with a maroon scrunchie to add a festive touch to your hairdo.
12. Snowflake Hair Design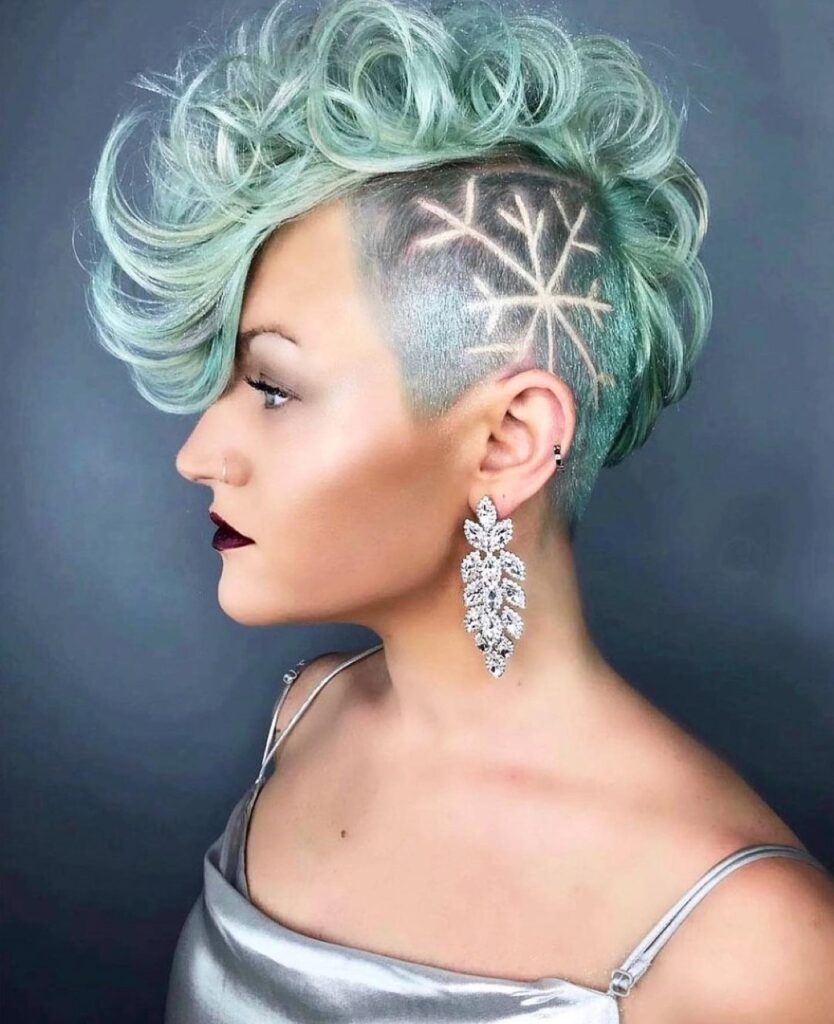 If you're feeling daring enough to try a mohawk hairstyle, consider adding a shaved snowflake design to the undercut. This look can be truly enchanting, especially if your hair is a minty color.
13. Festive Christmas Braid & Bow
This stunning hairstyle features a twisted hair crown that transitions into a braid, completed with a tartan hair bow. If this isn't the perfect Christmas hairstyle, then what is?
14. Red & Green Bubble Pigtails
If you're feeling extra jolly, this Christmas hairstyle is just for you. Follow the tutorial to learn how to achieve this adorable red and green braid that transforms into bubble pigtails.
15. Pink Bow Holiday Hair
Strawberry pink ombre hair color sets the perfect stage for a Christmas hair bow. This half-up, half-down hairstyle looks absolutely stunning on medium-length hair, with the bow centered to steal the show.
16. Short Christmas Hairstyle
This short wavy hairdo is both simple and chic for the holidays. To achieve this style, create a deep side part, introduce some beautiful waves, and finish the look by adding some festive clips for that extra touch of dazzle.
17. Christmas Bauble Knotted Braid Hair
I adore this exquisite, twisted ponytail. It serves as the perfect canvas to elegantly display baubles, making it an ideal choice for holidays.
18. Star of Bethlehem Looped Ponytail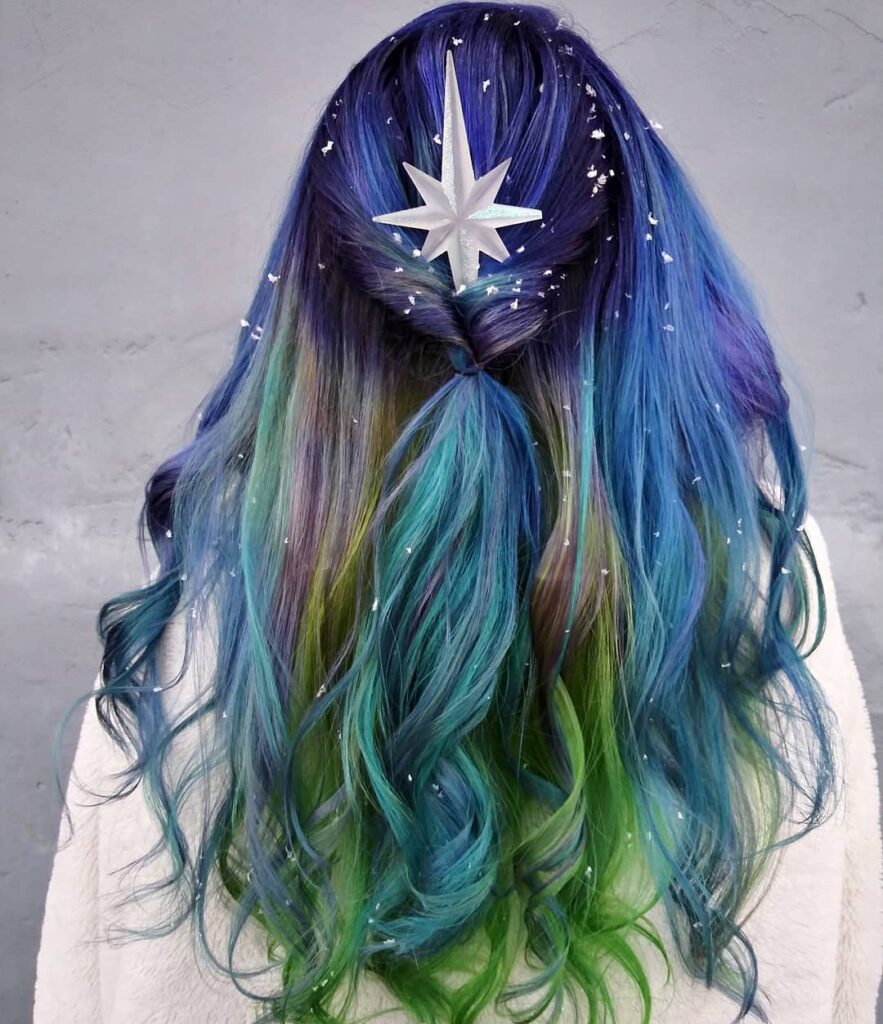 Let the star of Bethlehem shine brightly in your looped ponytail hairstyle. This beautiful look complements any colors, but the combination of purple, blues, and green is perfect for a wintry night. Complete your style by adding a touch of faux snow for that extra festive flair.
19. Braided Half Up Holiday Hairstyle
I adore elegant hairstyles during the Christmas season, and this one is truly breathtaking. This half-up textured braid is beautifully finished with a holiday hair wreath, adding an extra touch of festive charm to your look.
20. Merry Grinchmas Tree Hair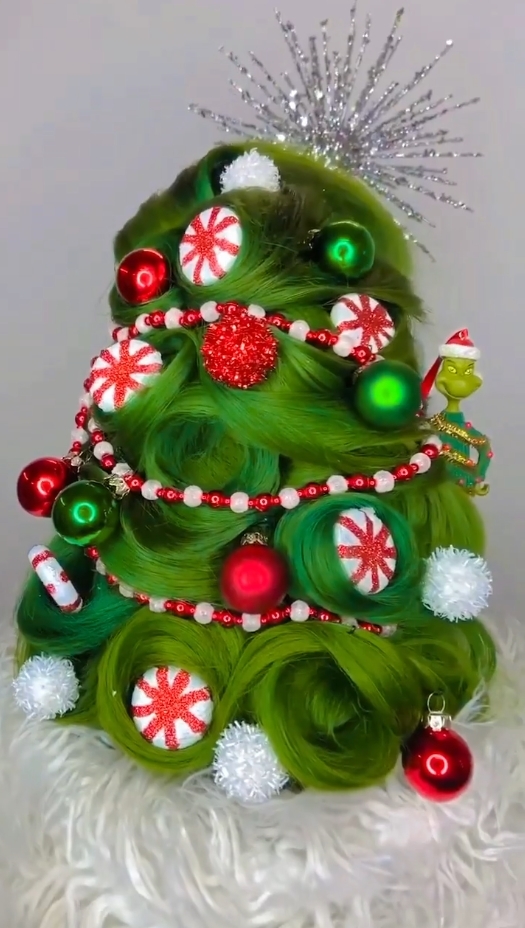 "How The Grinch Stole Christmas" is a beloved Christmas movie for many. If it's your favorite, tap into your inner Grinch and transform your hair into a Christmas tree that will leave everyone in Whoville in awe.
21. Half Up Snowflake Braided Hair
I'm absolutely obsessed with this holiday hairstyle. If you have long hair and a bit of patience, you can achieve this stunning braided look. To complete the style, add some snowflake clips for that extra festive touch.
22. Holiday Half Up Hair Bow
Here's another delightful half-up hair bow style, this time designed for long hair but adaptable to medium length as well. Watch the tutorial to craft the perfect Christmas-ready hairdo.
23. Rainbow Christmas Bauble Bun
If you adore a colorful Christmas and rock the rainbow hair, then this holiday hairstyle is tailor-made for you. Add your favorite color baubles to a low bun, and you'll light up the night with a holly-jolly Christmas vibe.
24. Festive Tinsel Christmas Hair
This crown twist braid intertwined with tinsel is exceptionally beautiful, and it's giving off those sweet candy cane hair vibes.
25. Ginger Spice & Everything Nice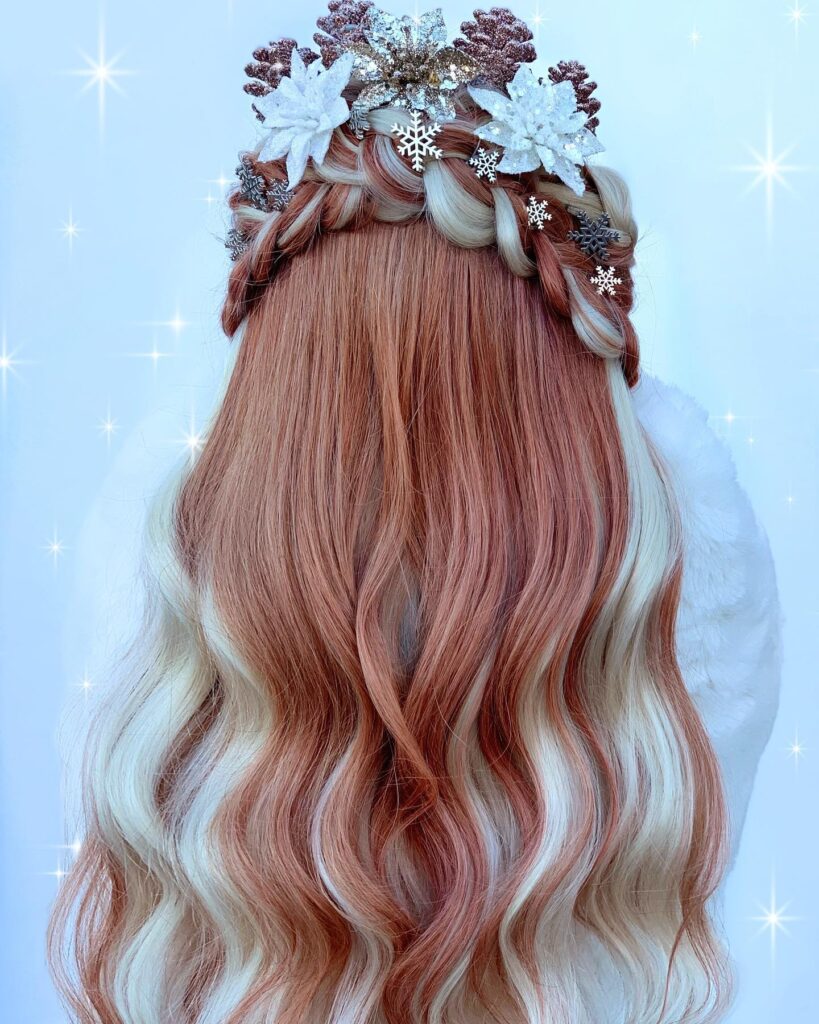 Ginger and white make for a wonderful hair color choice for the holidays. You can transition seamlessly from fall to Thanksgiving and Christmas with this warm hair color, just by changing out your festive hair accessories. Incorporate these accessories into a half-up braid for that dreamy Christmas vibe.
26. Candy Cane Holiday Hairstyles
Let's take a stroll down to Candy Cane Lane with a playful red and white undercut hairstyle. It's charming on the top and daringly cute underneath.
27. Tinsel & Bows Holiday Hairstyles
Tinsel, bows, and braids combine to create the most adorable Christmas hairstyle. Braid your hair with the tinsel and use lovely red bows to tie off sections, forming mini Christmas trees down the braid.
YOU MAY ALSO LIKE:
DON'T FORGET TO PIN THIS FOR LATER!