This post may contain affiliate links, which means I'll receive a commission if you purchase through my link. Please read full disclosure here.
Are you a fan of Barbie dolls and want to show your love for them in a permanent way? These amazing Barbie tattoo ideas will spark your ink imagination.
Barbie excitement is taking over! People all around are diving into the pink-tinted nostalgia, with Barbie parties, yummy cakes, cool nail art, and even tattoos – yes, tattoos!
Whether you've loved Barbie forever or admire her timeless beauty, these Barbie tattoos will take you back to cherished childhood moments.
From Barbie to Ken and even their cool stuff, there's something for every Barbie lover in this collection.
But don't worry, you don't have to go all out if you're not ready. You can choose something simple like the Barbie logo or even the keys to her dream house!
So, let's explore these awesome Barbie tattoo designs that'll make you smile.
BARBIE TATTOO IDEAS
Barbie Doll Tattoo
If you're a Barbie girl in a Barbie world, add a splash of whimsy to your style with this tattoo featuring a happy cloud and rainbow.
Barbie Logo Tattoo Design
Adorn your arm with a dazzling Barbie logo, accompanied by a shining star that radiates the magic of childhood dreams.
Vintage Pinup Barbie Tattoo
With a pink streak in her hair, this Barbie exudes nostalgia. A closer look reveals Ken's name tattooed cheekily on her cheek, a playful tribute to their love story.
Toy Barbie Doll Tattoo
Life in plastic becomes even more fantastic with a Barbie Doll adorning your arm. Showcase Barbie with a big 'B' proudly displayed on her swimwear.
Pink Barbie Logo Tattoo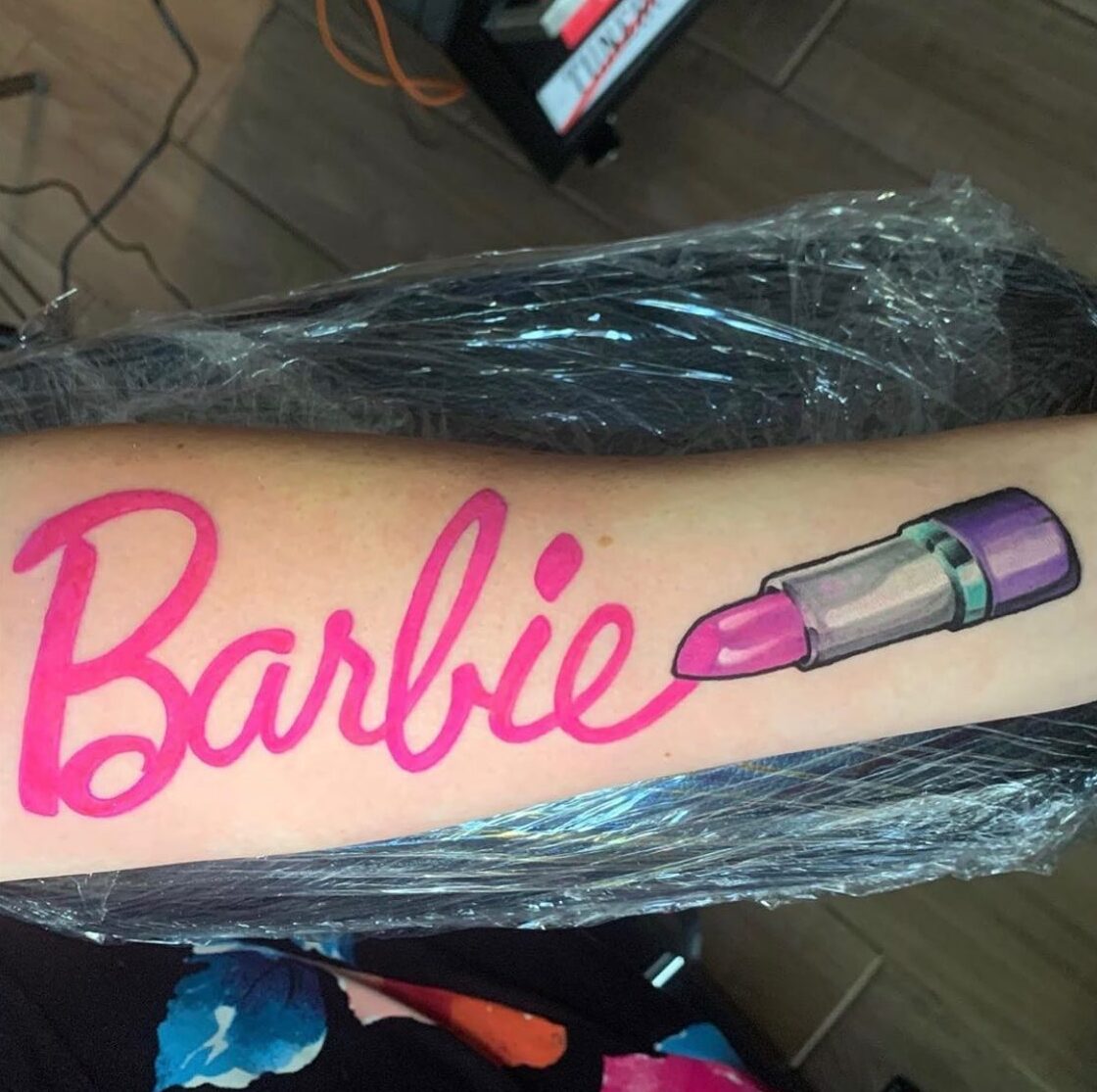 Make a bold statement with a large Barbie logo featuring a lipstick at the end, giving the illusion of being drawn with vibrant lipstick strokes.
Barbie Dreamhouse Tattoo
Step into a world of nostalgia with this colorful tattoo, a whimsical blend of purple, pink, and blue hues.
Barbie Silhouette Outline Tattoo
For a timeless and elegant choice, opt for a classic pink or black Barbie silhouette outline. This small tattoo is minimalistic, capturing the iconic essence of Barbie in a clean and stylish form.
Mona Lisa Meets Barbie Tattoo
A creative blend of two timeless enigmas in one artistic tattoo.
Fit & Fabulous tattoo
It's fun to see Barbie with muscles! Embrace the playful energy with a tattoo that flexes both strength and style.
Glamour Barbie Tattoo
If you're all about glam, get ready for a tattoo that's as big on style as it is on pink and fabulous hair!
Barbie Wrist Tattoo
Keep it cute and creative with a simple wrist tattoo featuring a simple flower – a playful nod to Barbie's charm!
Capturing Barbie's Emotions
A 'Smile Now, Cry Later' tattoo with a twist. Discover both sides of Barbie's world – a cheerful smile in one heart and a tearful expression in the other.
Flaming Lighter
Roll with style and sass by sporting a Barbie silhouette on a lighter with vibrant pink flames, setting the world ablaze with iconic charm!
Glitter Barbie Tattoo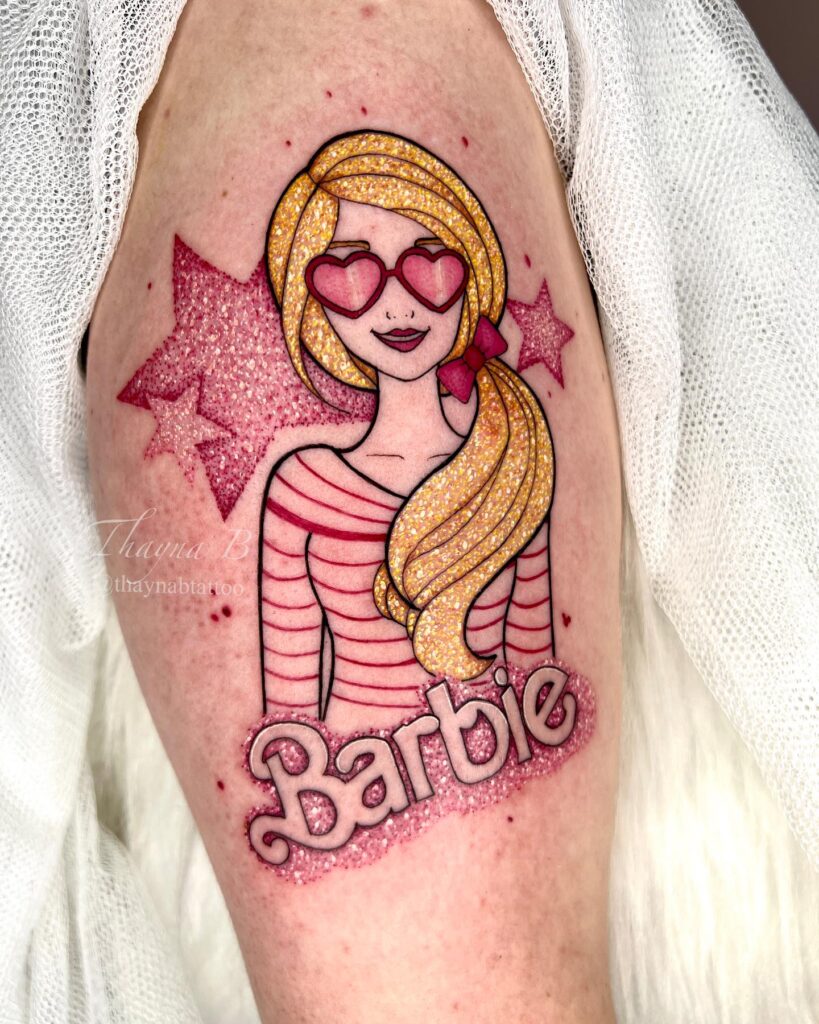 This glittering masterpiece shines brighter than gold. Barbie's hair dazzles with stardust while surrounded by shimmering stars.
Barbie and Ken tattoo
Capture the romance with a tattoo that celebrates a timeless bond.
Tattooed Barbie
Discover a new side of Barbie with tattoos that add a touch of edgy elegance to her iconic charm.
Love in Ink Tattoo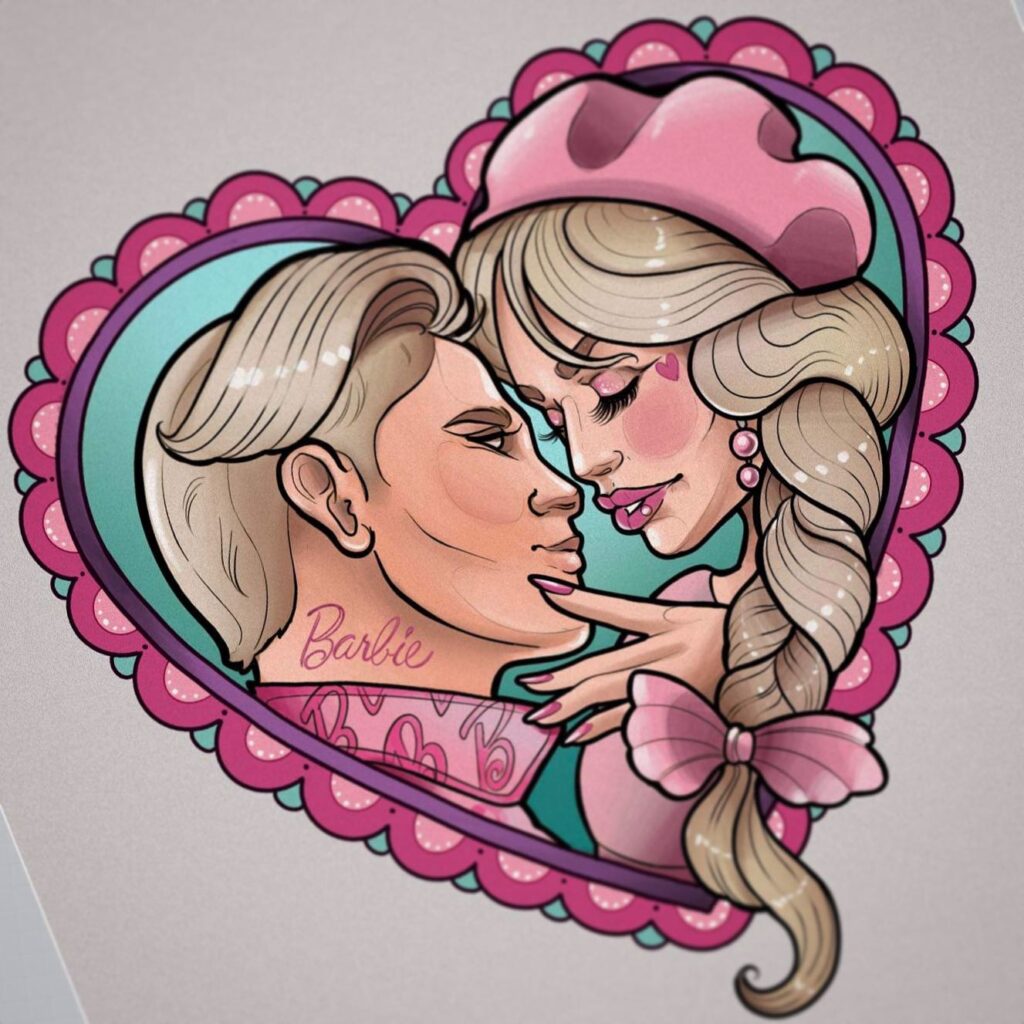 Barbie and Ken gaze at each other in a heartwarming exchange of affection, with Ken proudly showcasing the Barbie logo on his neck. How romantic?
Barbie Mirror Magic
"Mirror, mirror on the wall, who's the fairest of them all?" Well, it's Barbie of course, the epitome of beauty and charm.
vintage Barbie
Pay homage to the origins with a vintage tattoo, immortalizing the first doll that started it all in a chic and classic design.
Fine Line Barbie
Capture the essence of Barbie's spirit with a minimalist fine line tattoo of her face, accompanied by the mantra 'Life is a Performance'
Barbie's Workout Tattoo
Transport yourself to the '80s with a workout-themed Barbie tattoo, featuring retro workout clothes that epitomize the era's vibrant fitness culture.
Polaroid Camera Tattoo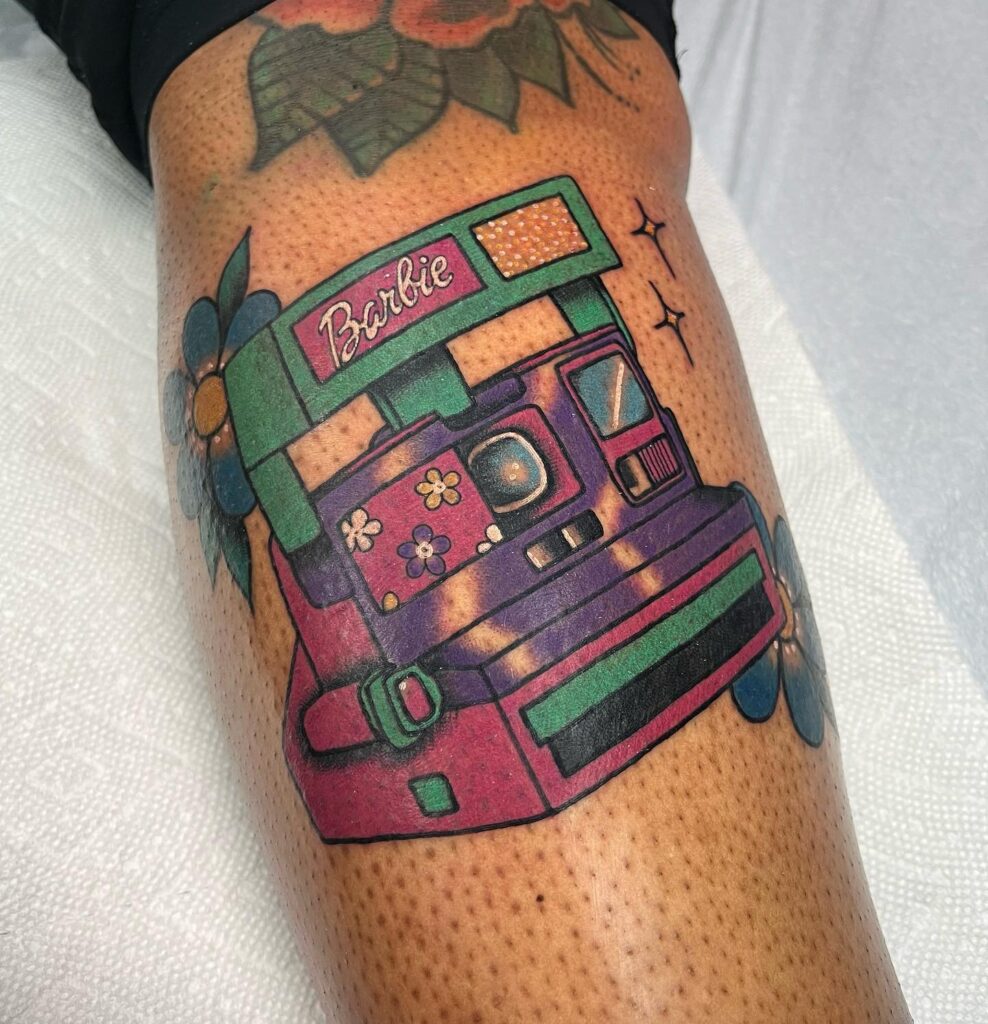 This design brings together the timeless allure of a Polaroid camera and the playful spirit of Barbie, creating an inked memory frozen in time.
Barbie Cowgirl Boot
Barbie wears many hats, but our favorite is the cowgirl hat. If you're drawn to a hint of Western flair, you'll adore this cowgirl boot tattoo.
Dripping Barbie Logo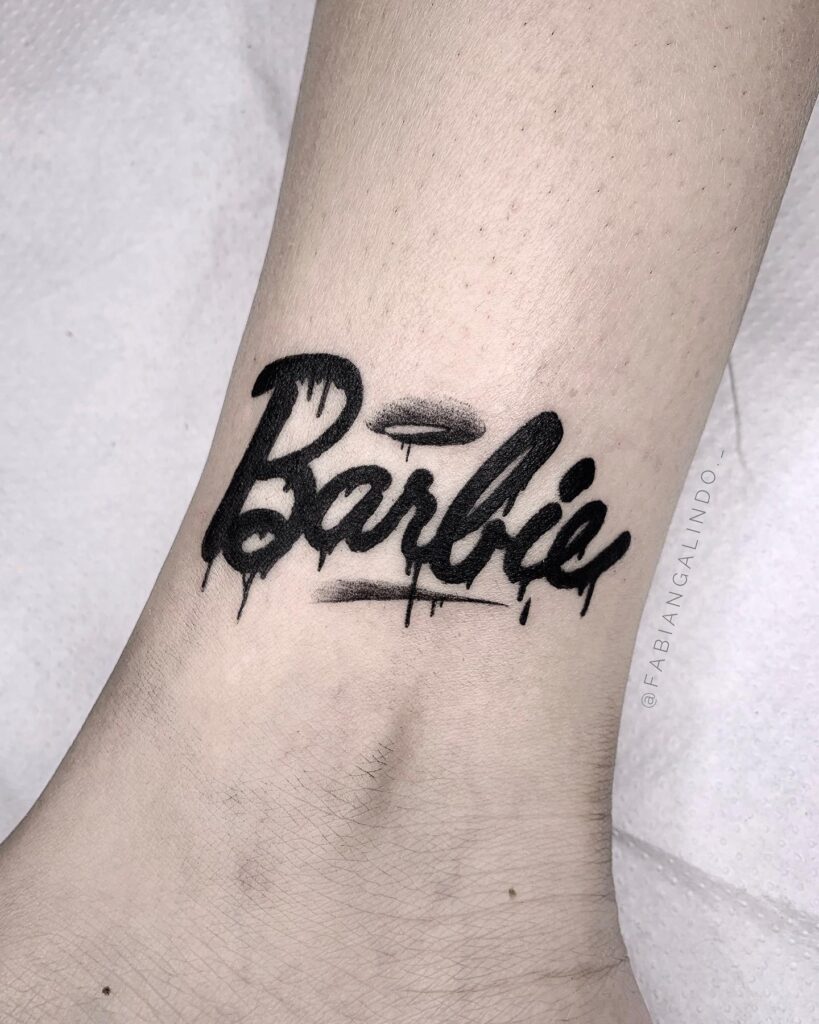 This black ink creation brings the Barbie logo to life, as if it's flowing and dripping with artistic energy, adding an edgy and dynamic twist to a classic symbol.
Behind Ear Tattoo
Wear your Barbie pride loud and clear with a logo tattoo behind your ear. Let your devotion shine as this inked emblem showcases your fandom for all to see.
Barbie Sticker
Take sticker love to a whole new level with a Barbie sticker on your arm. Now, you can wear that iconic Barbie sticker as a permanent mark of style and nostalgia on your skin.
Hi Barbie
Imagine a tattoo that greets Barbie herself – a lifelike face portrait with her iconic logo below.
princess Barbie outline tattoo
Just like Barbie, a true princess in her own right, if you share that royal spirit, consider adorning yourself with this stunning princess Barbie silhouette.
3D Barbie Logo Tattoo
Decorate your wrist with the classic Barbie logo, shining in a lovely pink color.
Vibrant Expression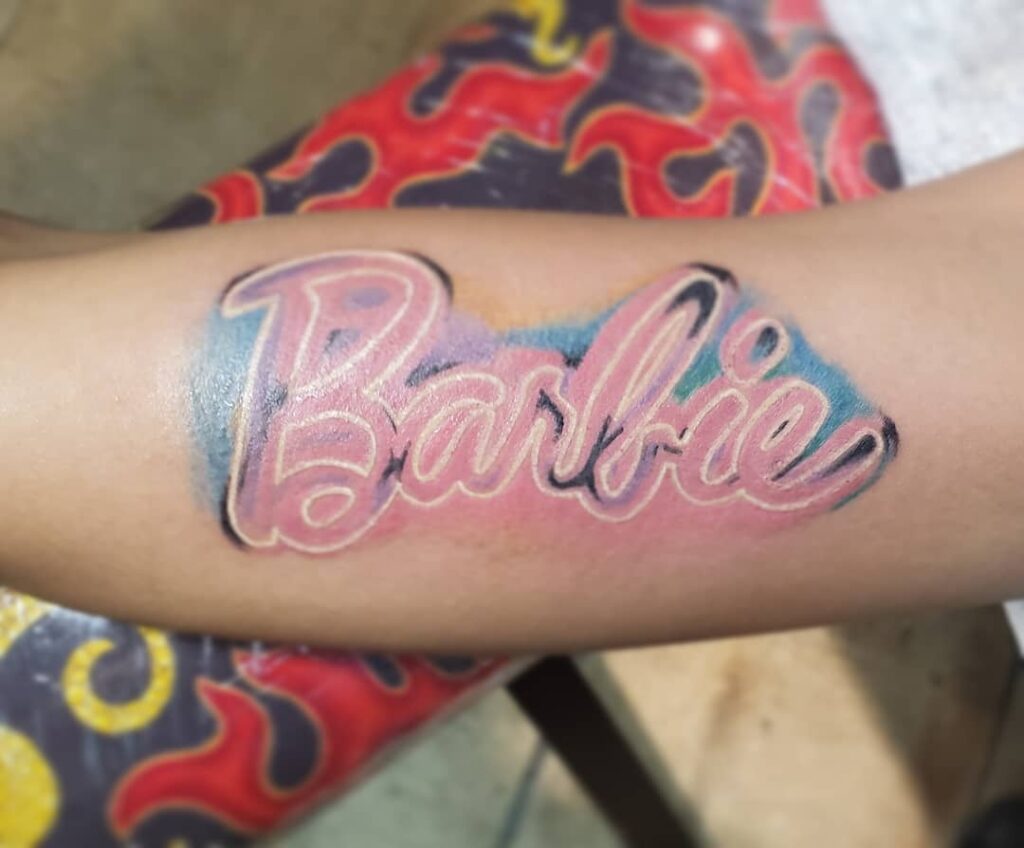 Picture a lettering tattoo, where pink and blue shading infuse life into the ink, making it pop off your skin with vibrancy and flair.
Barbie & Ken Love Hearts
A sweet tribute to Barbie and Ken's love story!
Animal Print Barbie Logo
Elevate the iconic Barbie logo with an animal print twist, showcasing your fierce and fashionable side in ink.
Lipstick and Blooms tattoo
A chic lipstick tattoo adorned with delicate flowers, blending beauty and elegance in one inked masterpiece.
Girl Power Barbie Pinup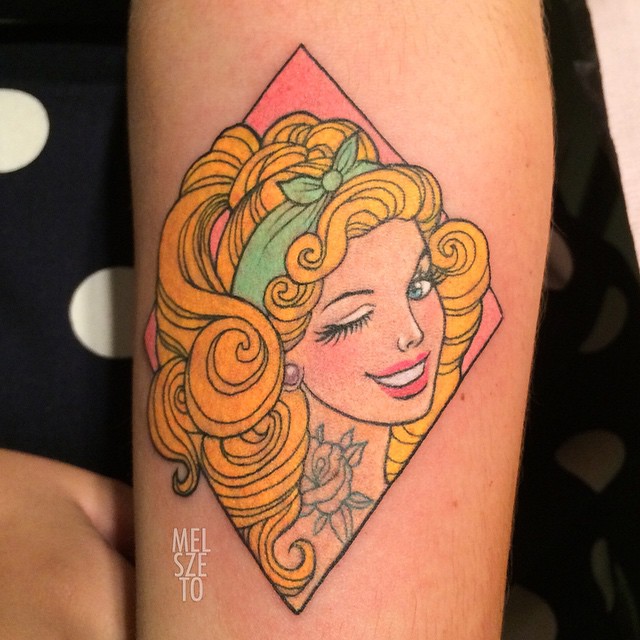 This tattoo embodies the essence of girl power, a vibrant celebration of strength and confidence in the form of a charming pinup girl design.
Barbie Power Tattoo
"Not Your Barbie Girl" – a straightforward yet impactful statement that speaks volumes about asserting your identity and defying expectations.
Ken's Mark Tattoo
The Kenergy tattoo, an inked emblem that pays homage to Ken, capturing his essence and energy in a single, dynamic symbol.
Rolling Back to the 80s Tattoo
Flashback to the 80's with an upbeat Barbie Tattoo featuring rollerblades.
Nineties Barbie Tattoo
Embrace the charm of the 90's with a glamorous tattoo, featuring big hair and stylish earrings. Relive the iconic era in inked style.
Barbie Butterflies Tattoo
These fluttering butterflies resemble Barbie's necklace, symbolizing a sense of freedom.
Barbie's Dreamhouse Keys
Grab your keys and open a world of imagination with a tattoo featuring the keys to Barbie's Dreamhouse.
YOU MAY ALSO LIKE:
DON'T FORGET TO PIN THIS FOR LATER!