This post may contain affiliate links, which means I'll receive a commission if you purchase through my link. Please read full disclosure here.
Looking for stylish and meaningful small tattoos for women? We've the best petite yet powerful tattoo designs to help you get started on your ink journey.
Whether you prefer delicate flowers, meaningful symbols, or minimalist designs, you'll find the perfect small tattoo to express yourself.
Getting a tattoo is a big decision, and if you're uncertain about the size, starting with a small tattoo can be a great choice.
Let's explore these captivating small tattoo ideas and discover the stories they tell.
SMALL TATTOOS FOR WOMEN
Small Flower Tattoos
1. Pretty Little Rose Tattoo
A rose tattoo is a symbol of love and beauty. It shows feelings of passion, purity, and being feminine. If you love flowers this body art is perfect for you.
2. Small Sunflower Tattoo
Placed under your collarbone, a sunflower tattoo brings positivity and good vibes. You'll carry sunshine wherever you go!
3. Lotus Flower Tattoo
A lotus flower tattoo symbolizes spiritual growth, inner beauty, and minimalistic style. Adorn your wrist with it for graceful, meaningful elegance.
This tiny tulip is like a mini fashion statement that screams elegance, grace, and love! If you're considering getting a finger tattoo this is a feminine choice.
5. Ginko Leaf
I love how dainty this Ginkgo leaf tattoo is, and its location is perfect. It's a reminder of your inner strength and resilience.
Small Animal Tattoos
6. Small Butterfly Tattoo
Symbolizing change and freedom, these butterfly buddies cheer you on as you soar to new heights! The bicep is the perfect location for this artwork!
7. Cute Small Dragon Tattoo
Fantasy fan? A cute dragon tattoo is your magical ticket! It symbolizes strength and adds enchantment to your style. Ready for a cool fantasy adventure on your skin?
8. Mini Panda Finger Tattoo
Panda lovers, here's your chance to proudly wear your love! This tiny panda tattoo isn't just cute, it's a fun declaration of your panda passion.
9. Music Note Wrist Tattoo
Music lovers, wear your passion on your sleeve—literally! This tiny symbol flaunts your musical spirit with style.
10. Forearm Tiny Fox Tattoo
This fox tattoo can represent quick thinking or simply embrace your playful, foxy charm!
Nature-Inspired Tattoos
11. Crescent Moon and Flower Ankle Tattoo
Representing femininity and change, a crescent moon tattoo with the beauty of flowers is like a touch of magic dancing on your ankle.
12. Small Sun Tattoo
A sun tattoo with an arrow is a symbol of determination, your personal guiding light for brighter days.
13. Tiny Waves Tattoo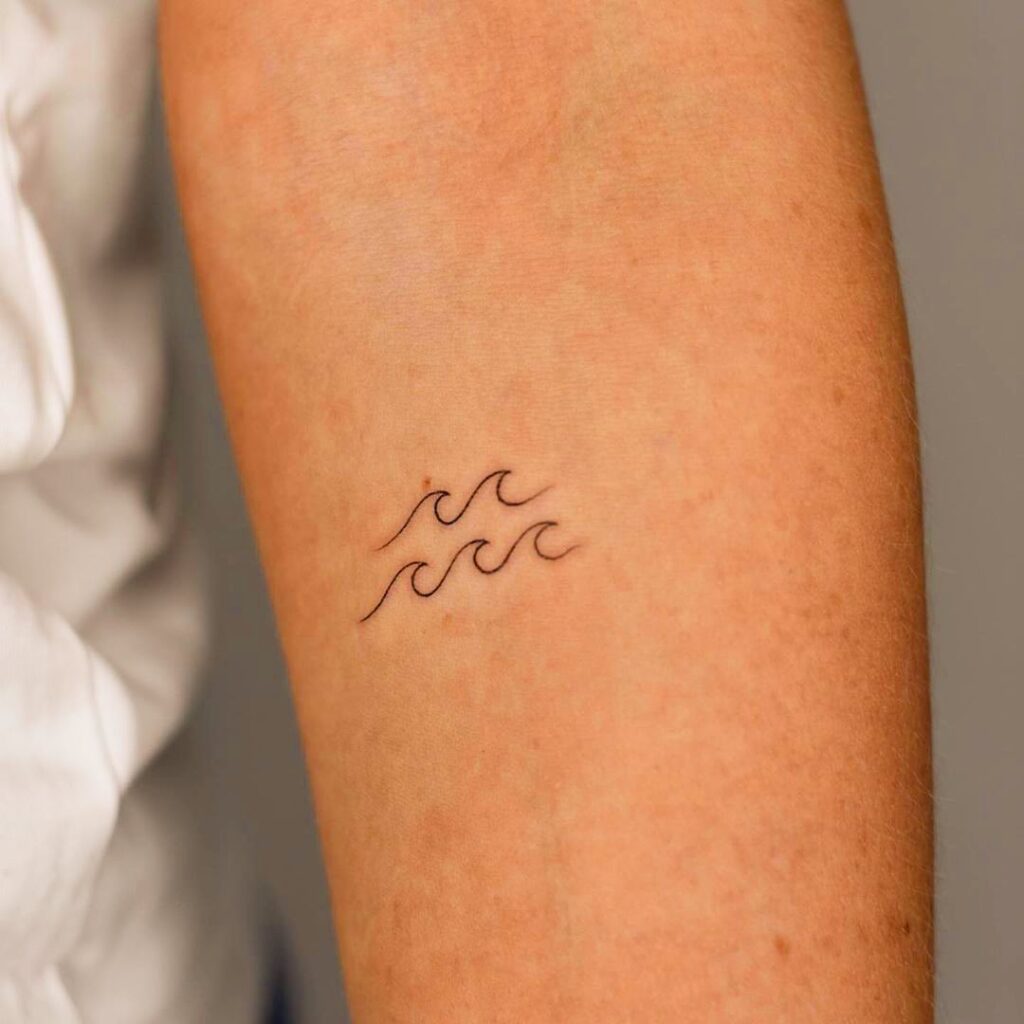 Quoting Jill Davis, 'The sea's waves help me get back to me.' If you seek rejuvenation, this tiny wave tattoo is a calming reminder to be your true self.
14. Fine Line Shell Tattoo
Another ocean-inspired tattoo to consider is a little seashell tattoo. This tiny artwork, with its detailed lines, evokes beach vibes and sunny days, symbolizing your love for the sea, travel, or beach life serenity.
15. Minimal Starburst Tattoo
This starburst tattoo reminds you that even small sparks of creativity can brighten your world. Simple and stylish, it adds a touch of celestial charm, making each day more enchanting.
Symbolic Tattoos
16. Small Anchor Ankle Tattoo
Add nautical charm with an anchor tattoo, symbolizing strength and stability, keeping you grounded in life's changes
17. Shooting Star Tattoo
Like a shooting star on your skin, this tattoo embodies the magic of reaching for your dreams. It's your reminder that wishes can come true!
18. Mini Infinity Symbol With Hearts Tattoo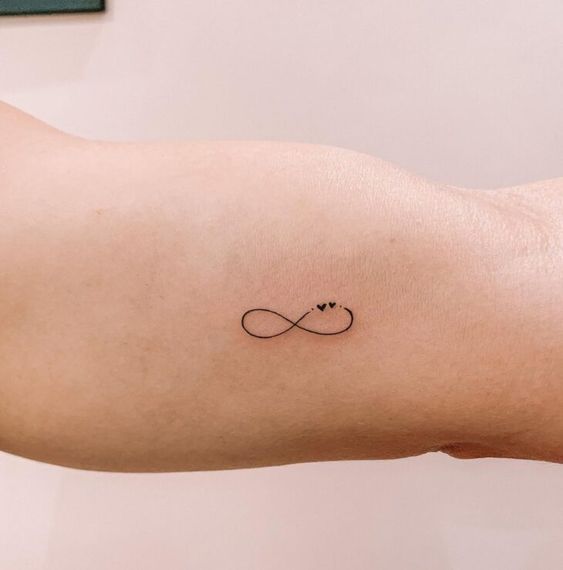 This quaint tattoo symbolizes never-ending love and boundless possibilities. It's your daily love note, reminding you of limitless potential!
19. Small Heart Tattoo
From E.E. Cummings' beautiful words, 'I carry your heart, I carry it in my heart,' this heart tattoo symbolizes deep love, like a love note on your skin.
20. Minimal Cross Behind Ear Tattoo
A small cross tattoo behind your ear is a secret symbol of faith and spirituality, a stylish reminder of your spiritual journey.
Text Tattoos
21. "Beautiful" Forearm Tattoo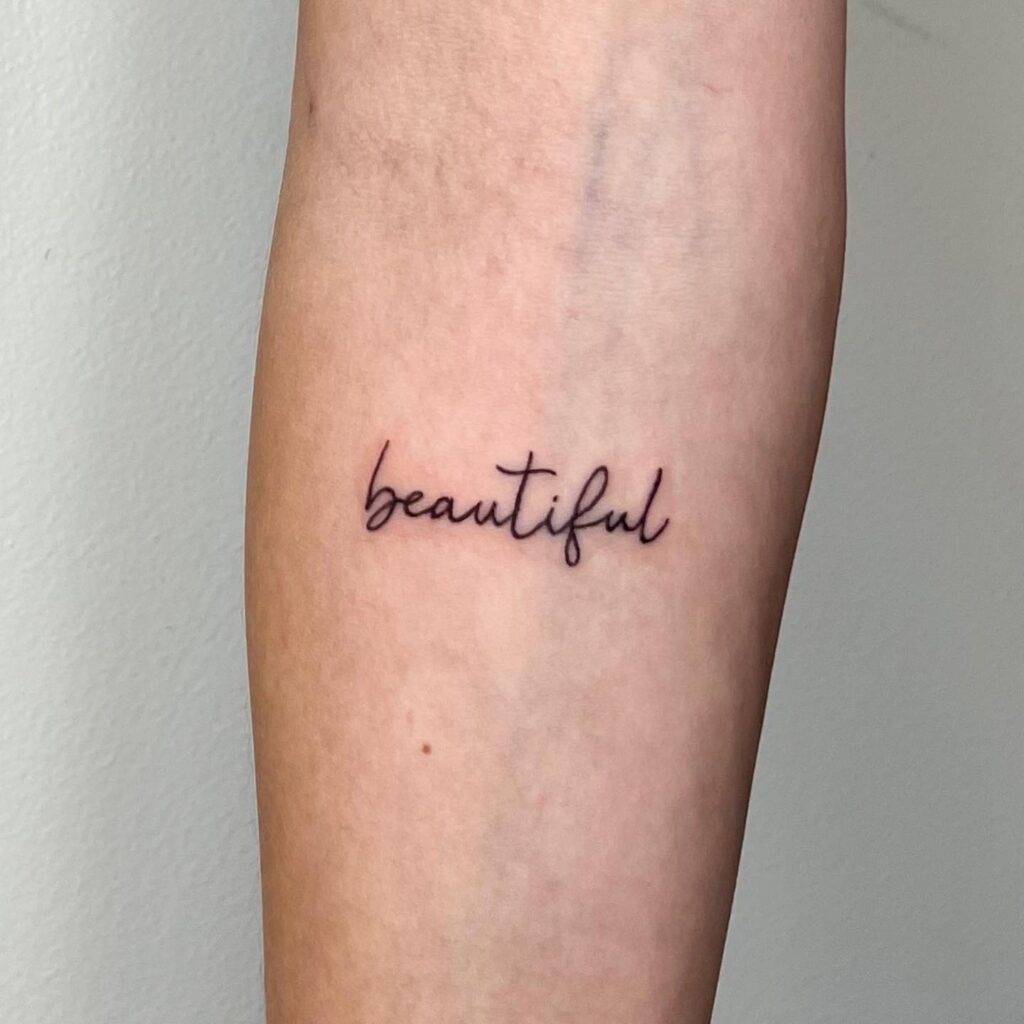 A script font "beautiful" on your forearm is a simple yet elegant expression of beauty and self-confidence.
22. "Love" Wrist Tattoo
"All you need is love," and a wrist tattoo that simply reads "love" embodies this timeless message as a heartfelt symbol of affection and compassion.
23. "Forever" Hand Tattoo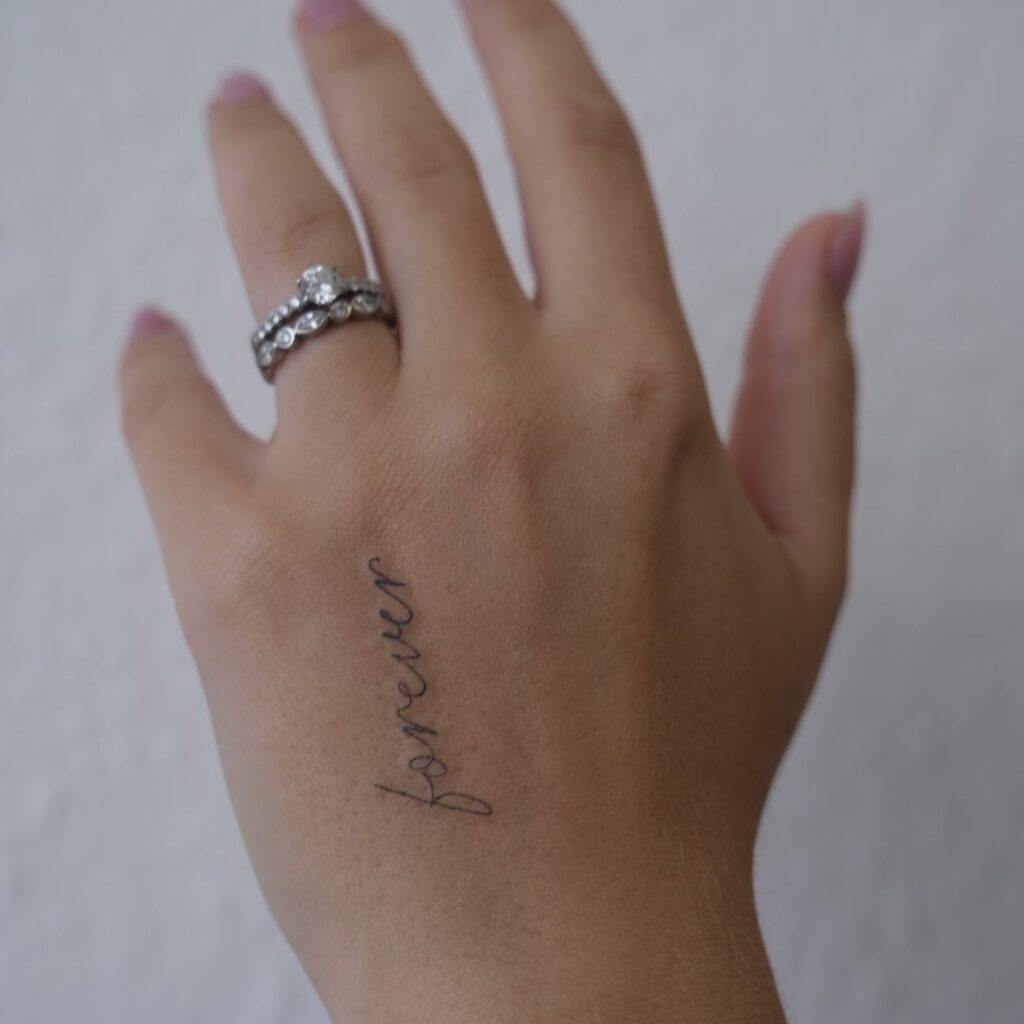 I love how elegant this hand tattoo is. It's a stylish and enduring declaration of lasting commitment and love.
YOU MAY ALSO LIKE:
DON'T FORGET TO PIN THIS FOR LATER!