This post may contain affiliate links, which means I'll receive a commission if you purchase through my link. Please read full disclosure here.
The time has come for pumpkin spice and all things nice. So, if you love to DIY your pumpkins here are the best no carve pumpkin decorating ideas you need to try this year!
It's pumpkin season and there's a no-carve pumpkin trend happening.
Pumpkin carving seems to be everyone's favourite activity over autumn and Halloween, but there's just something so fun about painting or decorating pumpkins.
And you won't need sharp tools for the kids, so no chance anyone's getting hurt. 
These no-carve pumpkin decorations are perfect to decorate your party, porch, mantel, or dining table and can be used for many occasions.
NO CARVE PUMPKIN DECORATING IDEAS
1. Rainbow Pumpkins
Somewhere over the rainbow are these adorable painted pumpkins by A Bubbly Life.
To think that a few simple paintbrush strokes can make such a bold statement.
2. Pastel Pumpkins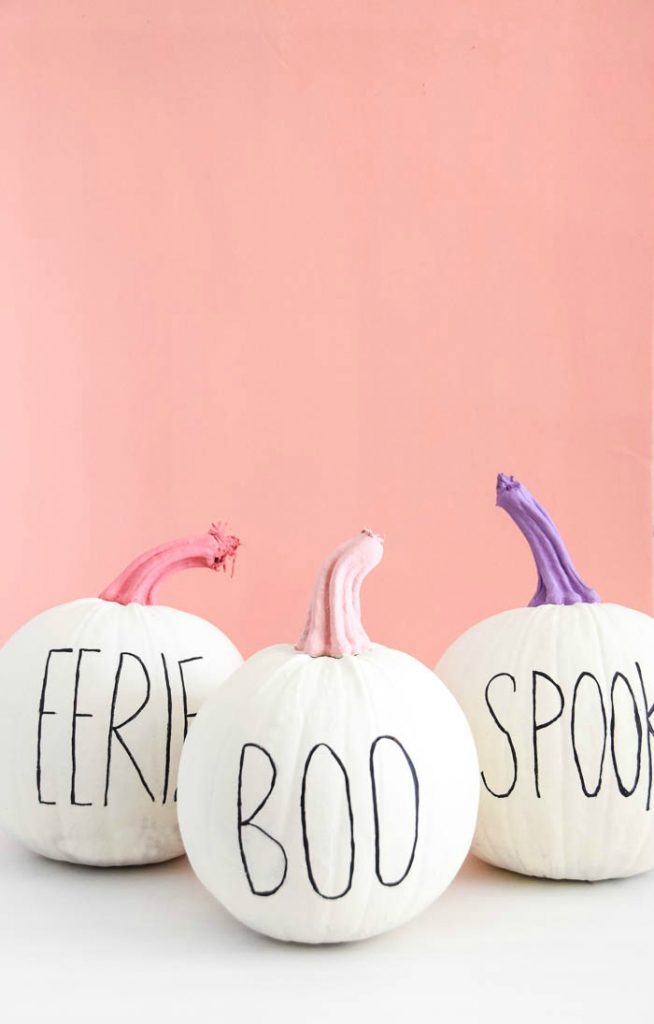 All you need are some pastel paints and markers to take your pumpkins from boring to boo-tiful! See the tutorial at The Sweetest Digs.
3. Cactus Pumpkin Decorating
This gorgeous cactus from Craft Create Cook might be tickly, but it won't be prickly and that's what matters when crafting with little ones.
4. Scary Cute No Carve Pumpkins
I love the pops of pastel pink, black and gold in these super fabulous pumpkins from Fab Fit Fun, they really are scary cute!
5. Unicorn No Carve Pumpkin Decorations
'Unicorns are a girl's best friend', or so I think the saying should go. I love unicorns and their ability to make everything feel magical. 
Best Friends for Frosting knows how to make a pumpkin look dreamy.
6. Ice Cream Cone Pumpkin
This ice cream pumpkin from Frugal Coupon Living looks good enough to eat, but I wouldn't advise it. Just place it somewhere for all to admire.
7. Monster Face Pumpkins
The cutest monster faces I've ever seen, and Aubree Originals shows you how to paint each face. So, grab your paint palette and get mixing.
8. Plaid No Carve Pumpkins
These pumpkins from Vintage Meets Glam sure look quite sophisticated in all their plaid glory.
9. Glitter Pumpkins
If you look close enough, you'll see the glitter sparkle on these pumpkins. The Inspiration Board has a wicked way of sprucing up pumpkins.
10. Watercolour Pumpkins Decorating
These pretty watercolor splashed pumpkins from Lines Across are so darling, and easy to DIY.
11. Fingerprint Art Pumpkins
How cute are these pumpkins from Handmade Charlotte? You can turn your little one's fingerprints into any fun character with some kid-friendly paint.
12. Donut Pumpkins
These pumpkins from Studio DIY make me want to take a bite. Create these donut pumpkins and colorful sprinkles with your favourite color acrylic paints. 
13. Dripping Paint No Carve Pumpkin Idea
If you have a Cricut Joy, making these will be a piece of (pumpkin) pie alternatively, these vinyl alphabet stickers will do the trick.
House of Joyful Noise shows you how to spookify your pumpkins. 
14. Space Pumpkins
Get starry-eyed with this space pumpkin DIY from Adventure in a Box. These pumpkins would be fun for learning about space in the homeschool classroom.
15. Candy Corn Sprinkle Pumpkins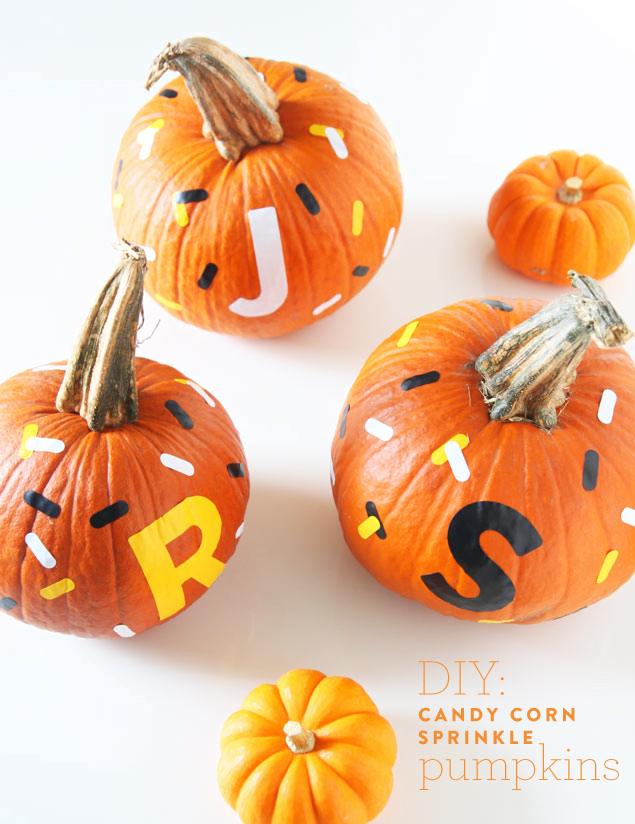 Candy corn is a Halloween staple, so it's no surprise that these DIY pumpkins from Pencil Shavings Studio fit right in with the season. This is another job for the Cricut machine, but if you don't own one, cut out sprinkles from some vinyl adhesive stickers.
16. Sticker Decorated Pumpkins
How easy are these sticker decorated pumpkins to make? A Subtle Revelry makes these ordinary pumpkins shine with these fun patterns.
Now, create your own sparkly design.
17. Candy Covered Pumpkin
This candy pumpkin from Brie Brie Blooms wouldn't last long in my house, because my kids would eat all the sweets!
I love the seasonal colours of the candy pattern, it brings the plain orange pumpkin to life, and how cute is the free printable?
Grab some candy and add even more fun to your Halloween!
18. Party Animal Pumpkins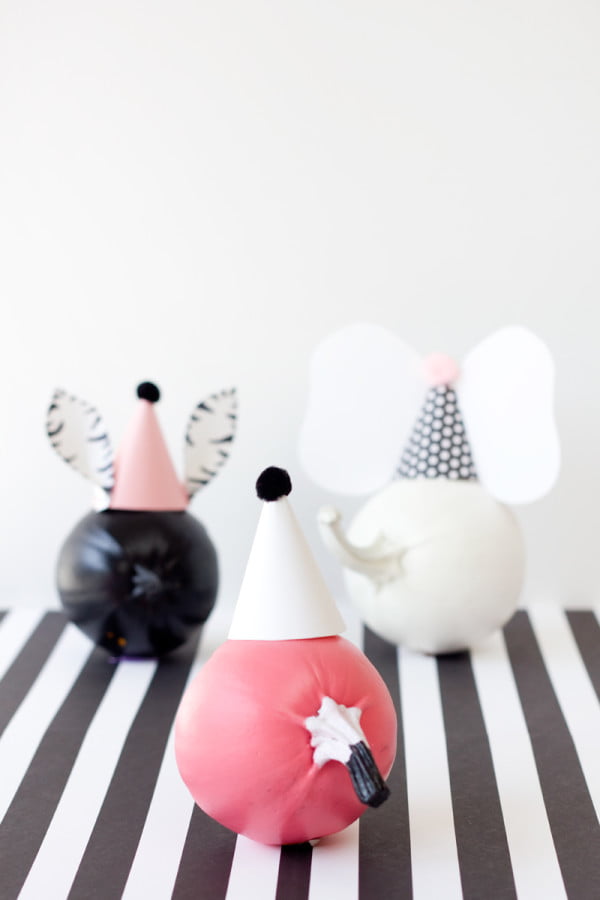 Studio DIY shows you how to turn your pumpkins into adorable party animals, but make sure you choose a pumpkin with a long enough stem for the nose.
19. Party Pumpkins
Here are some party pumpkins from Cloudy Day Gray to add a little fun to your celebration!
Half dipped, confetti, dots and a little boo to brighten up your pumpkins!
20. Melted Crayon Pumpkin
The kids will love this idea from Color Made Happy. Melting crayons on a pumpkin is a fun and exciting way to DIY your pumpkin with ease.
21. Woodland Creature Pumpkins
22. Caramel Apple Pumpkins
23. Halloween Pumpkins
24. Minnie Mouse Pumpkin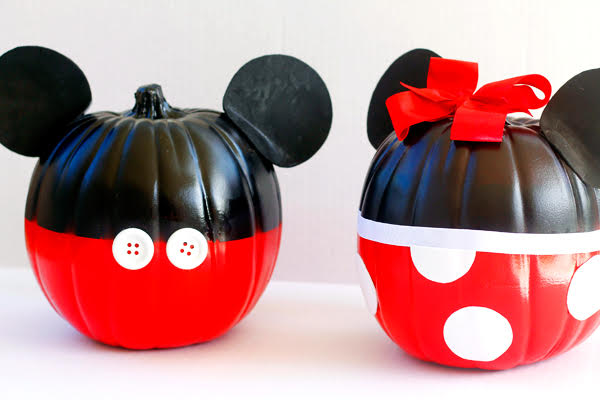 25. Winnie The Pooh Pumpkin
26. Buzz And Woody Toy Story Pumpkins
27. Frozen Elsa Pumpkin
28. Belle Beauty And The Beast Pumpkin
29. Unicorn Pumpkins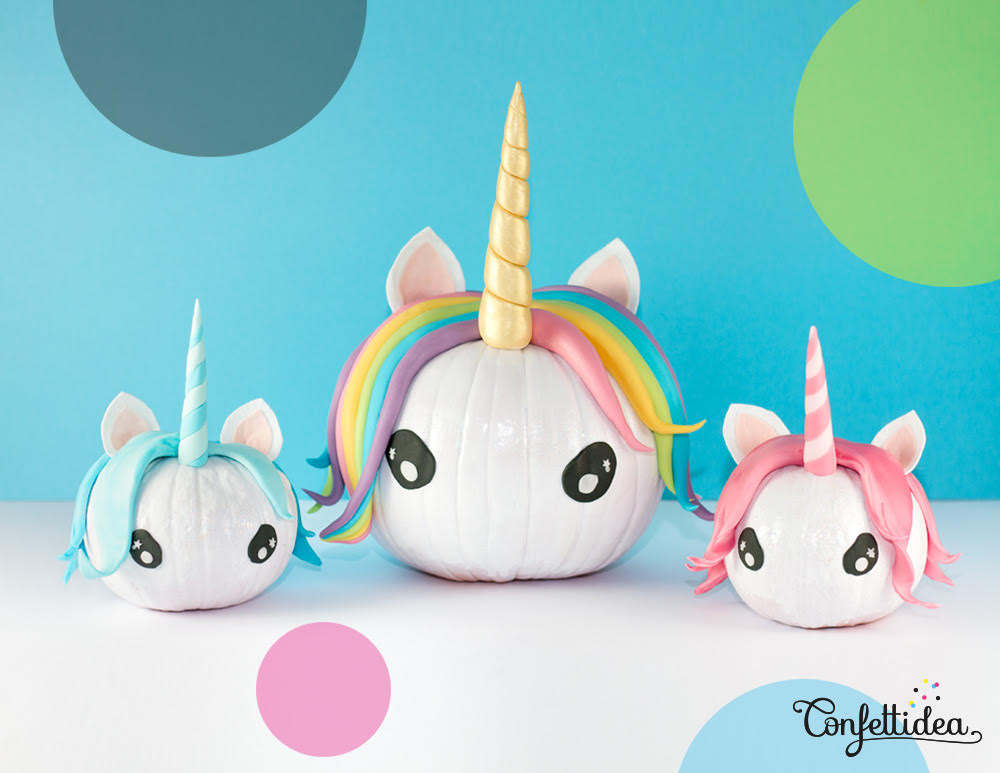 30. Pokémon Pumpkins
31. Mickey Mouse Pumpkins
32. Forky Pumpkin
33. Sally Skellington
34. Googly Eye Pumpkin
35. Jack Skellington Pumpkin
YOU MAY ALSO LIKE:
DON'T FORGET TO PIN THIS FOR LATER!
This post was all about no carve pumpkin decorating ideas.