This post may contain affiliate links, which means I'll receive a commission if you purchase through my link. Please read full disclosure here.
If you're looking for a way to transform a basic IKEA kitchen into a fun and functional play kitchen, you're in luck! We have some great IKEA play kitchen hacks for you that will take this already great toy to the next level.
With a few simple modifications, you can easily turn an IKEA kid's kitchen into a masterpiece. All you need is a little imagination and a few supplies, such as spray paint, chalk paint, and contact paper. Then add your own personal touch to the kitchen.
And, to help you create the perfect kitchen for your little chef, we've listed so many IKEA kitchen hacks for you. From natural boho play kitchens to kids play cafe's there are plenty of DIY ideas for you to try!
So, what are you waiting for? Get started today!
IKEA PLAY KITCHEN HACKS
Farmhouse Style Ikea Play Kitchen Makeover | Hannah Joy Home
Blue Farm Shop IKEA Kitchen DIY | Tiffanie Anne
Simple IKEA Kitchen Hack with Round Sink | Farah Pro
Ice Cream Stand IKEA Play Kitchen Hack | There's A Shoe For That
Neutral IKEA Kids Kitchen Cafe | Priscilla Choi
Monochrome IKEA Play Kitchen Hack for Boys | Oh My Goody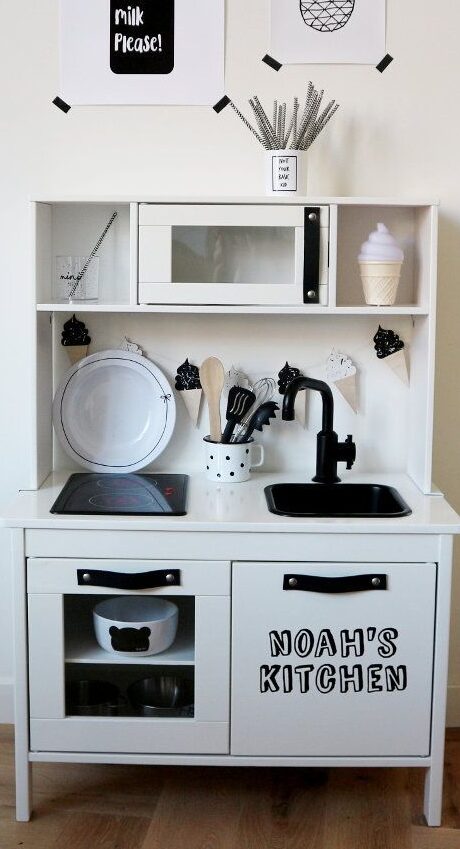 Floral IKEA Toy Kitchen Remodel | This Haus of Ours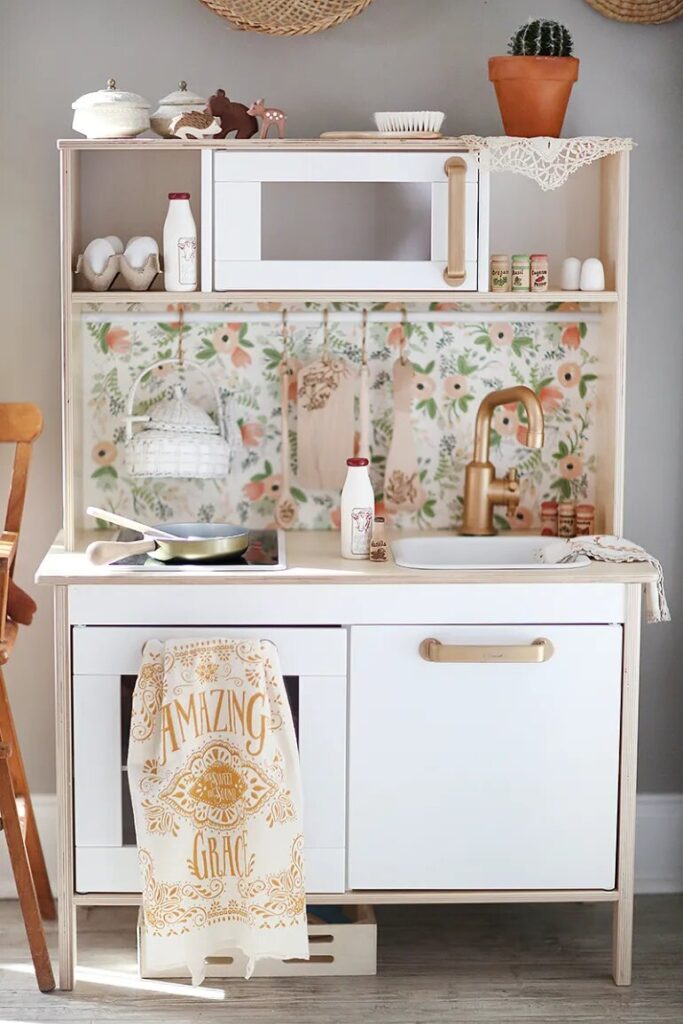 Jungle Scandinavian-Inspired IKEA Play Kitchen | Kids Interiors
Pink & Gold IKEA Kids Kitchen DIY | Dainty Dress Diaries
Running Water IKEA Play Kitchen Hack | Drift Design Co.
Fairy Lights IKEA Play Kitchen Hack | New Mamas World
Floating Microwave IKEA Play Kitchen DIY | Inspired By This
Coffee Cart IKEA Duktig Play Kitchen Hack | Gray House Studio
Pink IKEA Kitchen with Hexagon Tile Stickers | The Rosewood Home
Boho Rattan Backsplash IKEA Kids Kitchen Hack | A Beautiful Mess
IKEA Duktig Kitchen Hack with Shelf | The Elle in Love Restaurant
Extra Storage IKEA Play Kitchen Hack | Bageglad
Kids Cafe IKEA Play Kitchen DIY Makeover | Emily Sliv
Modern Dark Gray & Champagne IKEA Play Kitchen DIY | Rebecca Lamb
IKEA Kitchen Play Fridge Hack | Jamie Leigh Miller
Terrazzo Countertop IKEA Kids Kitchen Makeover | Liz Eidelman
Dotty Backsplash Wallpaper IKEA Kitchen Hack | Kansas Michalke
Green IKEA Play Kitchen with Phone | ND Interior Design
Montessori Inspired Play Kitchen IKEA Makeover | Whirly Bobble
Easy IKEA Kitchen Vet Clinic Makeover | My Mom Can
YOU MAY ALSO LIKE:
DON'T FORGET TO PIN THIS FOR LATER!