This post may contain affiliate links, which means I'll receive a commission if you purchase through my link. Please read full disclosure here.
Looking for last minute DIY Halloween costumes for kids? We've got the best DIY Halloween costumes that you'll want to copy!
These homemade Halloween costume ideas are freakishly cute and easy to make, just in time for fright night!
After you see these awesome ideas, you'll be able to transform your child into their favourite furry animal or spooktacular character. From doe-eyed deer to skeleton bones and donut costumes, there are awesome Halloween costume ideas for everyone.
But don't worry if you don't have a DIY bone, we have costume ideas that you can easily purchase!
So, get ready for jack-o'-lanterns and trick-or-treating with some boo-tiful Halloween face paint, then grab your treat buckets and head on out for a night of spooky fun!
And don't forget to make some of these easy finger foods for a fun Halloween party celebration!
Pssst, sign up for a FREE 30-day trial of Amazon Prime and get FREE 2-day shipping on your Halloween costume and party supplies!
DIY HALLOWEEN COSTUMES
Oh, deer! This darling fawn Halloween costume will make your little one look like they've stepped out of a dreamy forest filled with woodland animals. Complete the enchanting look with this doe-eyed makeup tutorial.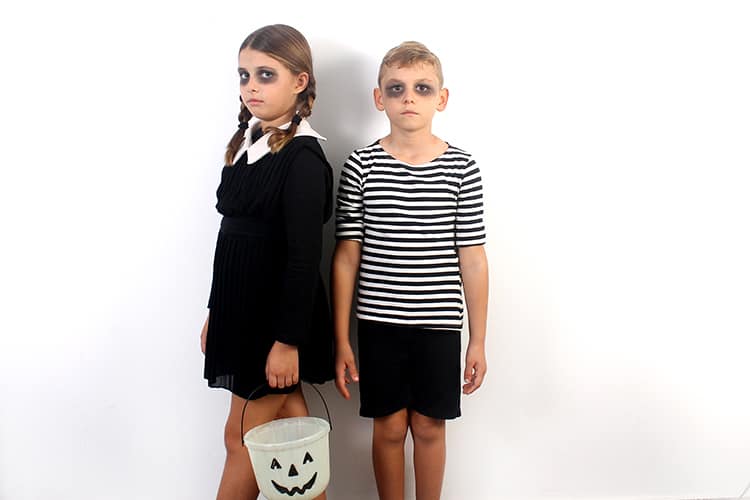 If you haven't seen the original movie, they've remade it into an animated version that everyone can enjoy. Snap this classic look together with black and white clothes, black eyeshadow, and embrace the dark and spooky vibes of the iconic Addams Family characters.
There's no clowning around with this Halloween costume! Forget about the colorful hair and big shoes because this modern clown costume is both stylish and adorable. It's no joke!
This adorable costume would make any little girl look like a porcelain doll. You can save your toilet paper rolls and grab some gold glitter paper for this Halloween costume craft.
There are no words to describe how charming this modern mime Halloween costume is. The timeless appeal of monochrome has always been a favorite, and the pop of red truly brings this classic look together.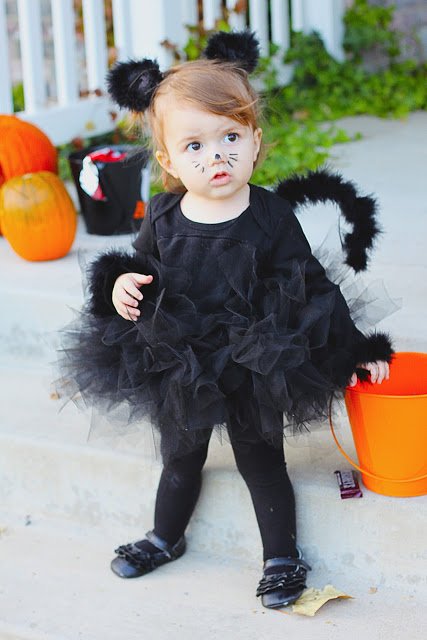 Meow on over if you're a feline lover! If you're not a scaredy-cat, this Halloween costume will be purrfect for your little one. Embrace the cuteness and let them channel their inner kitty for a delightful Halloween experience.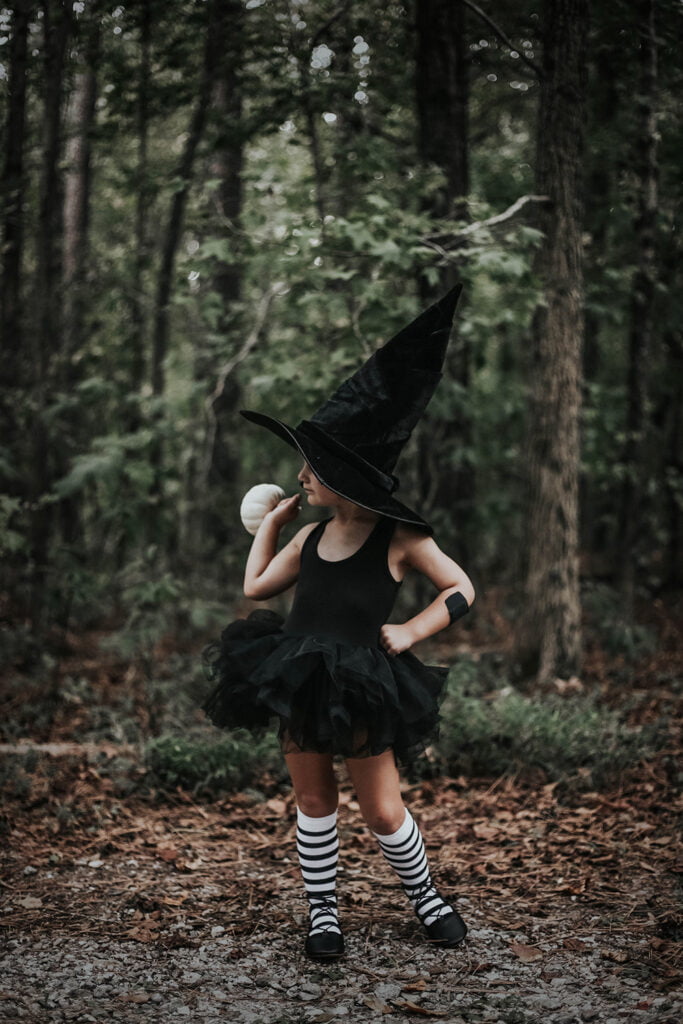 Twitchy noses, hocus pocus, pointy hats, and black cats! It's time to grab your broomstick and fly into Halloween with this trendy witch costume. Embrace the magical vibes and have a bewitching time!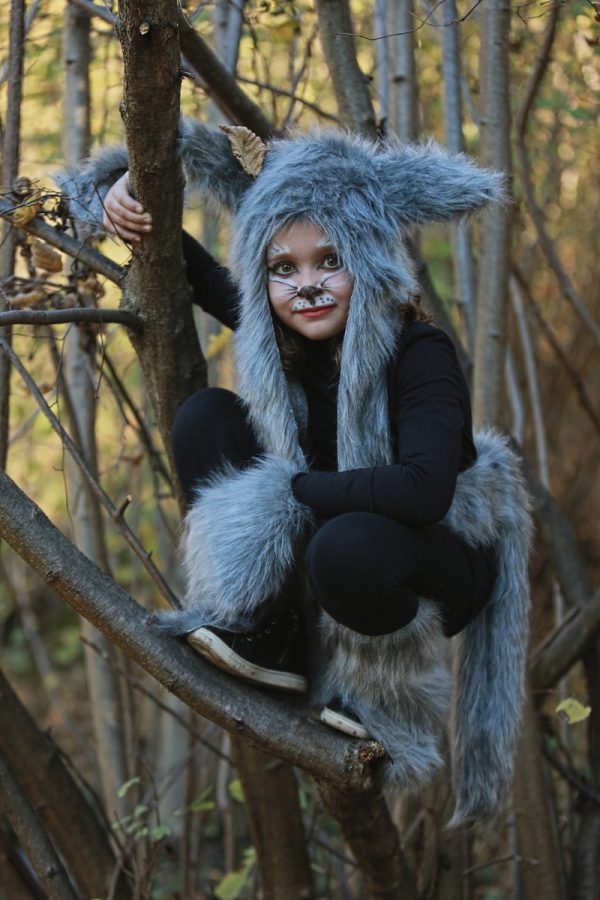 Get ready for a full moon with this Howloween costume! All you need are some cute furry ears and your favorite black outfit, and you're good to go. Get ready to prowl for some treats!
Your little one will be the pride of the pack with this roarsome lion Halloween costume! And those pink cheeks are incredibly sweet.
You don't need to hide in a bat cave with this Halloween costume! Your child will look super cool with a cape and mask. If bats are your thing, make sure to check out the tutorial for creating this costume.
What's cuter than a cuddly bear? A cuddly panda bear! If your child has long hair, you can create panda ears on either side of their head using buns. To complete the look, add some cute panda eyes and a nose.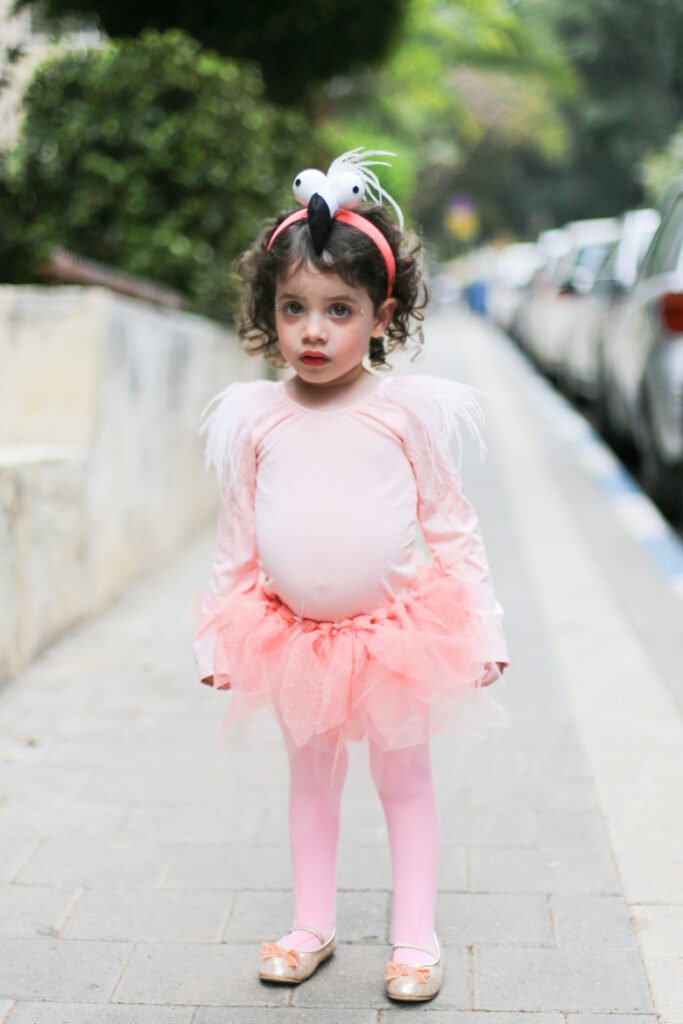 All the pretty pink in this costume speaks to my obsession with this beautiful color! If you love pink as much as I do, shake your tail feathers, and get ready to create this fabulous flamingo costume for Halloween. It's time to flamingle and have a pink-tastic Halloween!
This would have to be the most sophisticated Halloween costume I've ever seen. Complete this spooky skeleton look with a pair of non-prescription glasses and a book.
Wave your wand and craft up a magical fairy costume! With a twirling tutu skirt, homemade wings, and floral hair accessories, for an enchanting outfit.
Transform your little one into a mini vampire with a DIY costume. Just add a black and red cape, sleek hair, and dark eye makeup for a vamptastic look.
Make an adorable Bingo costume for your little 'pup' with ease! Use an orange hoodie as the base and attach ears, accents, and a tail using hot glue. No sewing required! Watch as your child transforms into the lovable character from Bluey, ready for a playful Halloween adventure.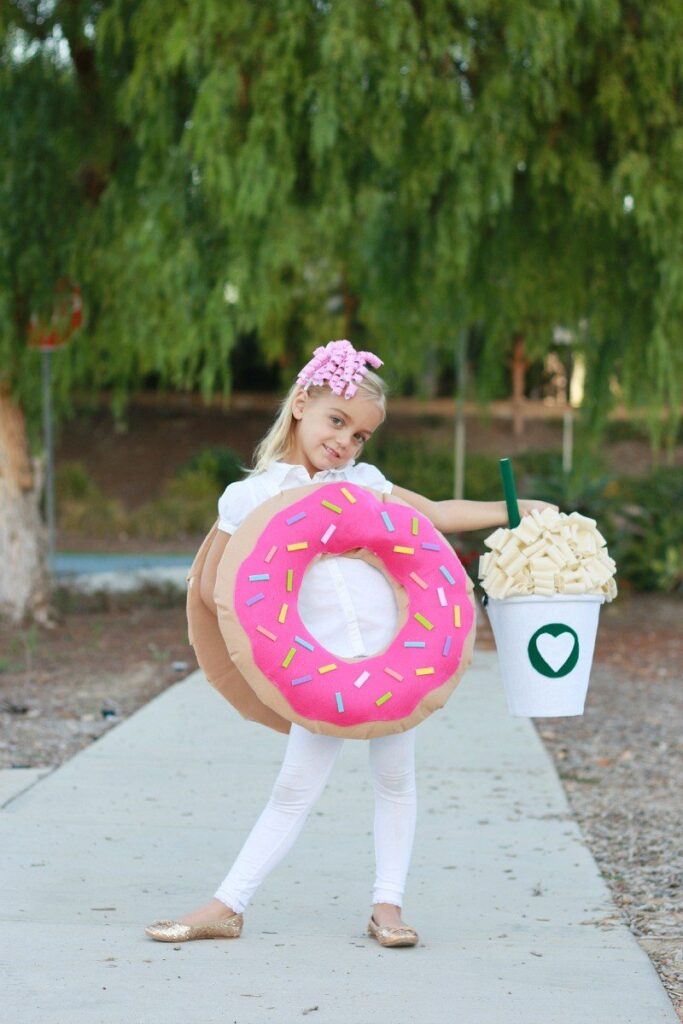 Donuts and coffee, anyone? This costume is perfect for the DIY-savvy, but even if you prefer hot glue over sewing, you can give it a try!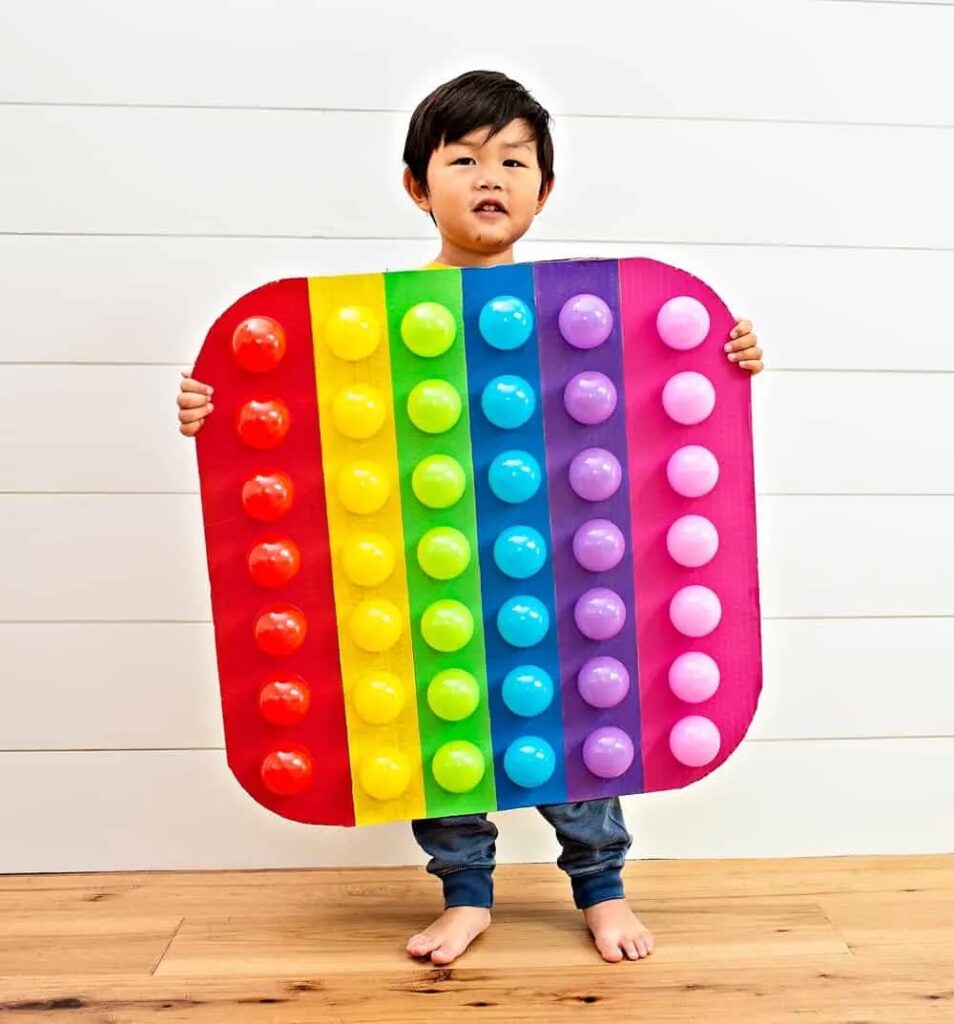 Create an adorable "Pop It" costume for your little poppet using just cardboard and colorful balloons. This simple and easy DIY project is loads of fun! Watch as your child becomes a walking, popping sensation.
Unicorns are forever a favorite! With a DIY unicorn costume, you can transform your child into a dreamy and adorable magical creature. Complete with a fluffy mane and a unicorn horn, they'll become the epitome of cuteness.
Here's a delightful idea for the tiny tots! Transform them into a cute and cuddly cloud with a friendly face. Craft a fluffy cloud costume using soft, white materials, and don't forget to add adorable eyes and rosy blush cheeks to bring the cloud to life.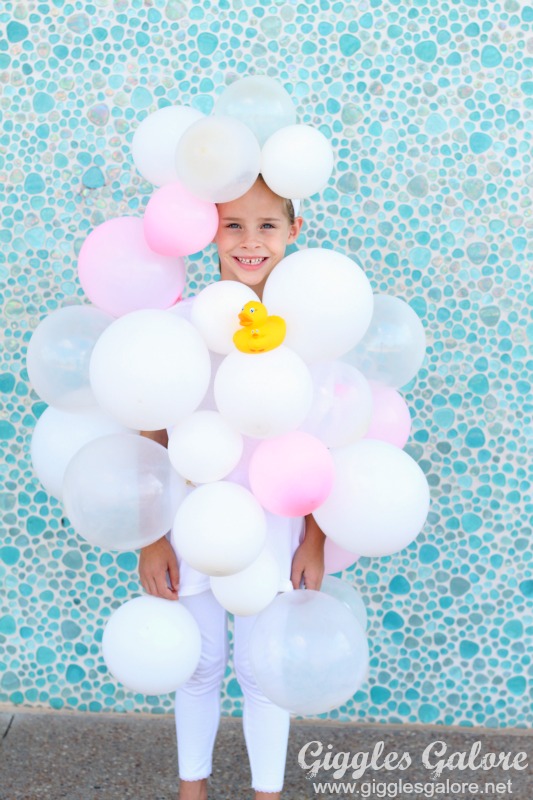 Dive into a bubble bath costume by attaching bubble-shaped balloons to an outfit. Watch as your child becomes a playful tub of floating bubbles, spreading laughter and joy.
Who would've thought? You can create an adorable Cookie Monster costume using loopy yarn and two Styrofoam balls for eyes! Craft this DIY masterpiece and watch your little one transform into the lovable cookie-loving character.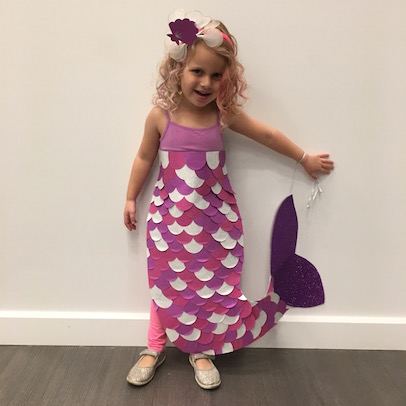 Shake your mermaid tail with this DIY mermaid costume! Crafted with felt and glitter cardstock, this mermazing outfit will transform your little one into a magical underwater creature.
YOU MAY ALSO LIKE:
DON'T FORGET TO PIN THIS FOR LATER!