This post may contain affiliate links, which means I'll receive a commission if you purchase through my link. Please read full disclosure here.
If you love all things spooky and delicious, you'll love these skeleton charcuterie boards for fright night!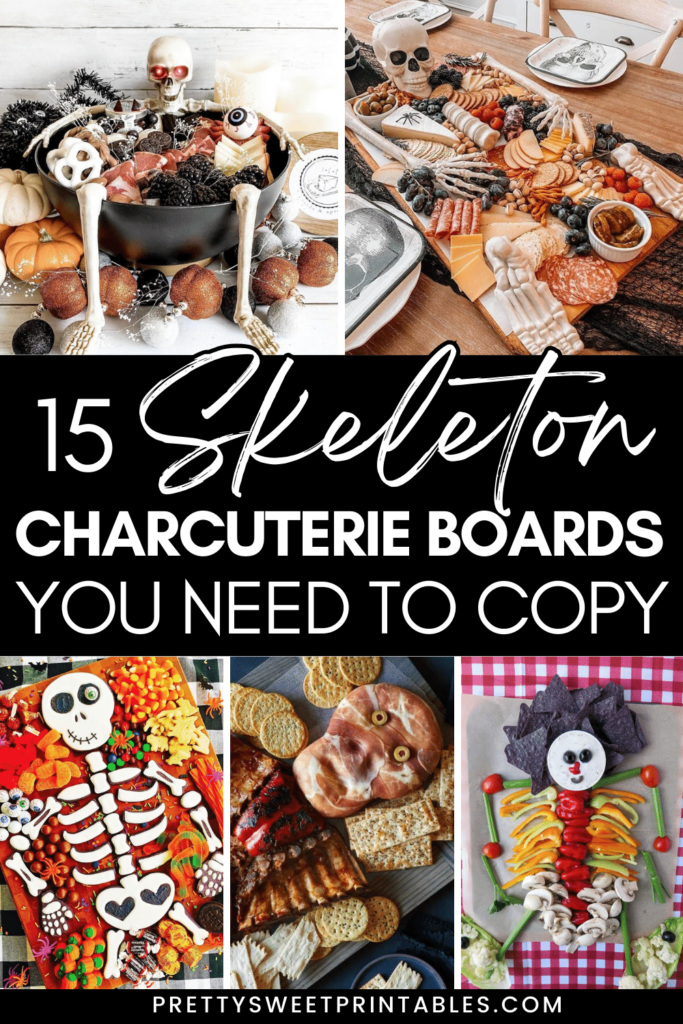 Halloween is just around the corner, and it's time to get creative with your party snacks. One trend that has been taking the spooky season by storm is the skeleton charcuterie board.
These eerie and playful boards feature skeleton figurines and a variety of sweet and savory treats to delight your guests.
Whether you're hosting a kid-friendly Halloween party or an adult-themed gathering, we've got you covered with ghoulishly good skeleton charcuterie boards!
SKELETON CHARCUTERIE BOARDS
1. Sugar Cookie Skeleton Charcuterie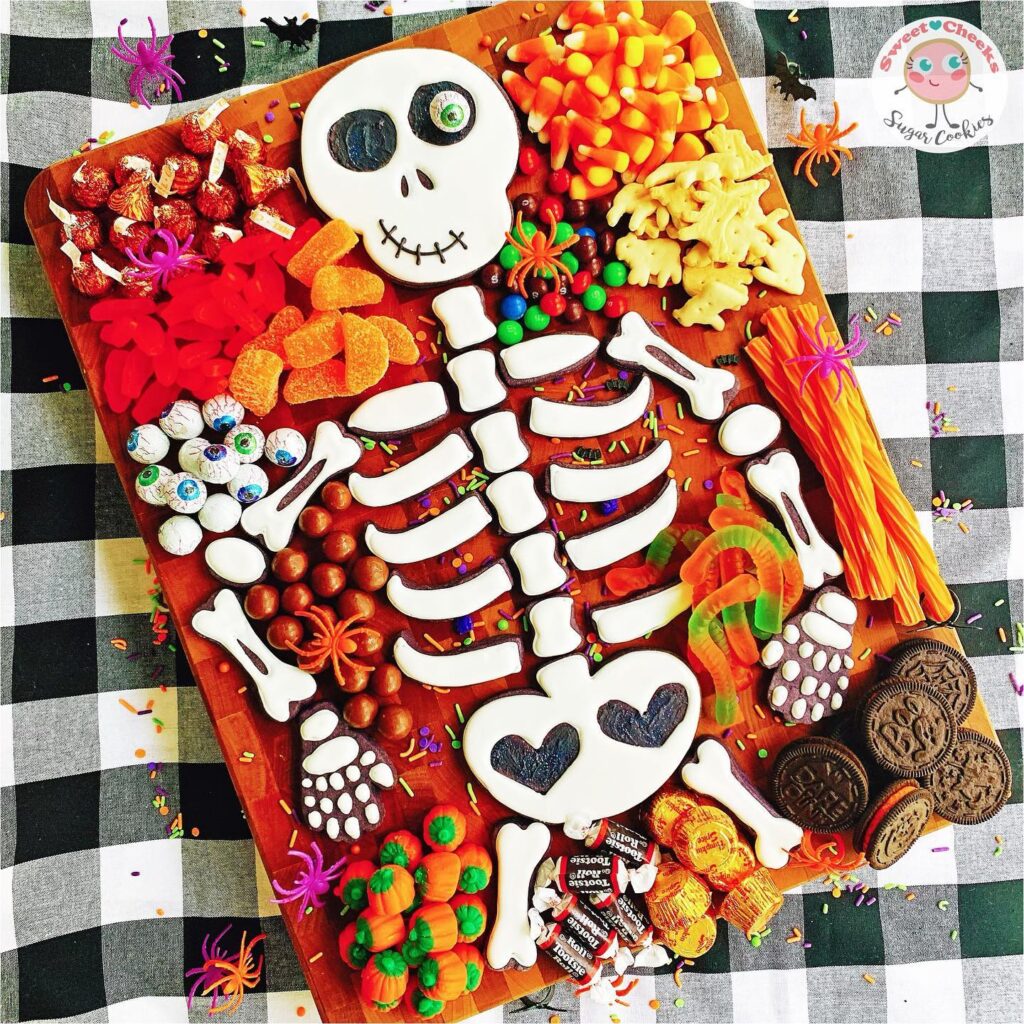 Imagine a skeleton made entirely of delicious sugar cookies, pieced together, and surrounded by a variety of candies that kids will love.
It's a sweet and spooky delight!
2. Skeleton Charcuterie Bowl
This skeleton figurine chilling in a black candy bowl, surrounded by a mix of sweet and savory eats is a bone-chilling centerpiece for your table.
3. Char-boo-terie Cheese Board
Place a life-size skeleton skull and bones on a large charcuterie board. Add a cheese platter with a selection of cheeses and meats that your guests can enjoy.
4. Halloween Skeleton Tray
You don't need such a large platter for this one. Just add a skeleton figurine to the center of a round tray.
To make it extra spooky, wrap prosciutto around his bones then scatter flower salami roses, cheese, crackers, and fruit around him.
5. Halloween Veggie Tray Skeleton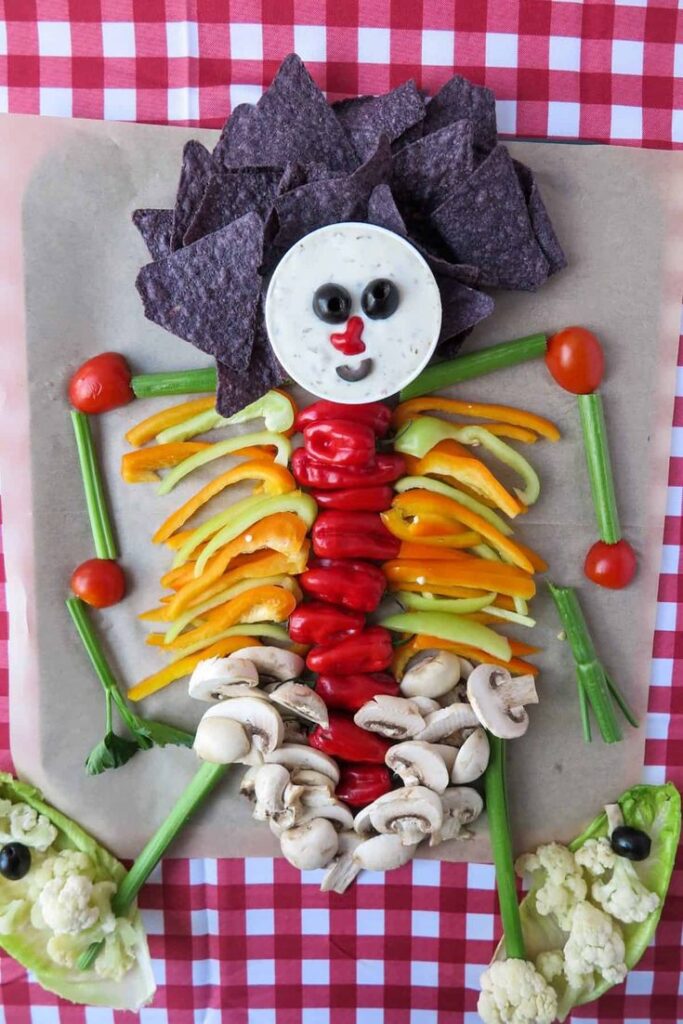 Transform your favorite vegetables into a Halloween Veggie Tray Skeleton, a delightful treat for both kids and health-conscious guests.
This creative and wholesome option combines the fun of Halloween with a nutritious twist.
Craft a skeleton-shaped masterpiece using fresh, colorful veggies as bones, and let your guests munch on this ghoulishly good and guilt-free treat.
6. Trick Or Treat Skeleton Coffin
Trick or treat, it's time for a spine-chilling culinary adventure that will thrill your guests.
Lay a skeleton on a coffin-shaped board and fill it with spooky eats and treats for a ghoulish twist on the traditional charcuterie board.
7. Skeleton Snack Boxes For Kids
For a playful and convenient way to serve Halloween goodies, pop a skeleton figurine into lunchboxes or containers and load them up with all the kids' favorite treats and snacks.
These spooky snack boxes will keep the little goblins happy and satisfied during the festivities.
8. Spooky Skull Halloween Charcuterie Board
Craft a hair-raising Halloween scene by concealing a skeleton's skull beneath a shroud of cold meats, while sinister olives peer out as eerie eyes.
But don't forget to add mini spiders as a creepy garnish to send shivers down your guests' spines. It's truly the perfect way to create an extra eerie touch to your party food.
9. Kid-Friendly Candy Skeleton Treat Board
This candy wonderland will have kids swarming around it in delight. Load up a life-size skeleton with an array of colorful candies for a sugary feast that's bound to be a hit.
This candy skeleton delight is a sweet treat that promises to make your Halloween party a sugar-coated success.
10. No Bones Halloween Snack Platter
While this one doesn't have a skeleton figurine, it's cleverly turned into a keto-friendly charcuterie board.
The brie cheese is transformed into a skull, making it both delicious and thematic.
11. Skeleton Meat Platter
A carnivore's dream come true! The skull, made of creamy cream cheese and wrapped in prosciutto, forms the spine-chilling centerpiece.
While literal rib bones, crafted from meaty delights, and sausage intestines sprawl around.
Don't forget the roasted bell pepper heart to add a flavorful twist to this carnivorous masterpiece.
12. Skully Halloween Charcuterie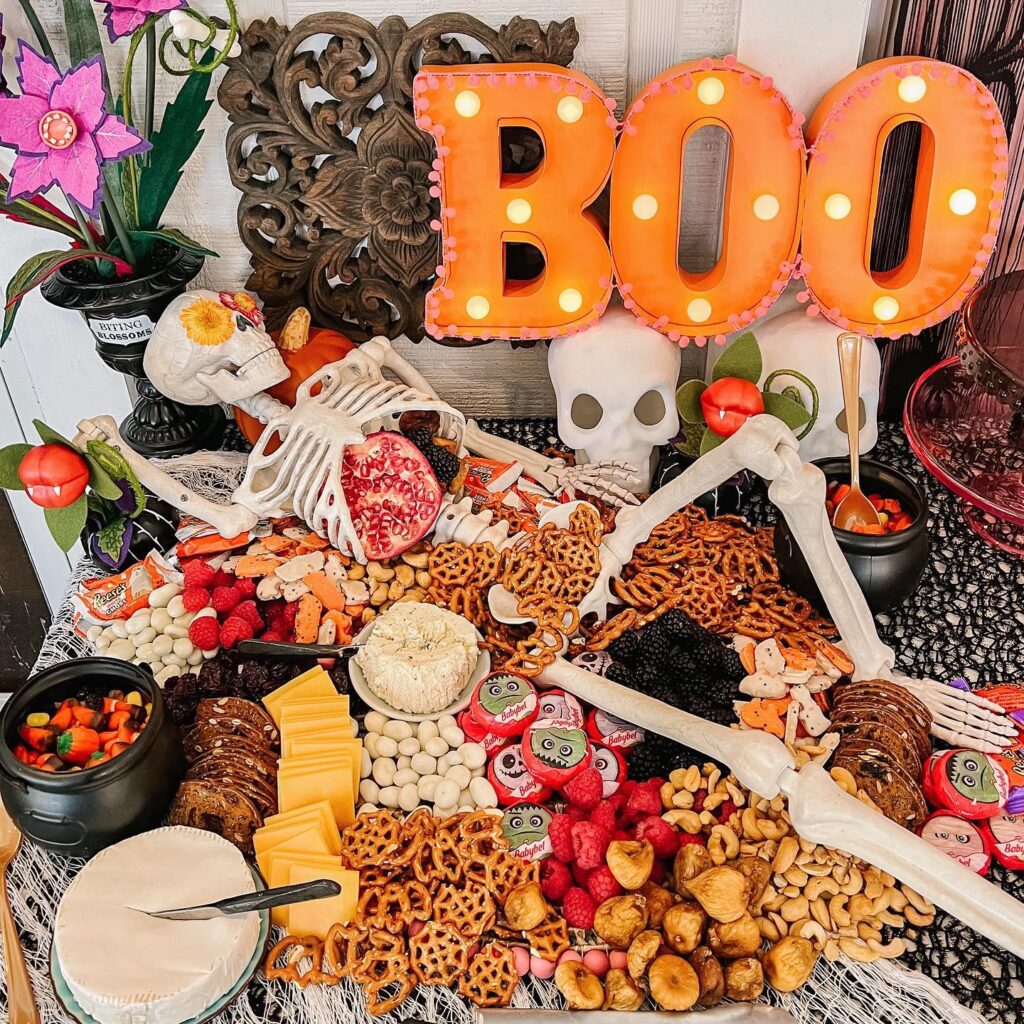 Here's a massive skeleton chilling across the snack table with a variety of pretzels, cheeses, fruits, and nuts scattered around him.
To add that extra eerie touch, tuck half a pomegranate beneath his ribs.
13. Skeleton Halloween Cheese Platter
Craft a scary masterpiece by cutting out the letters RIP from slices of salami and sticking them onto a piece of cheese.
Add faux black roses and a syringe filled with your favorite sauce for a spooky touch.
Then, finish the platter by arranging a variety of cheeses, meats, crackers, and nuts to create a spooky skeleton-themed cheese board.
14. Ghoul Gang Skeleton Charcuterie Board
If you're hosting a Halloween party with a girly touch, opt for an adorable pink charcuterie board.
Elevate the theme with a pink skeleton figurine and a delightful blend of sweet and savory treats. This spooktacular party idea is a crowd-pleaser for all ages.
15. Skeleton Halloween Snack Platter
Wrap up your culinary journey with a treat-filled charcuterie board, adorned with marshmallows, popcorn, candy-covered pretzels, and mini donuts.
This monochromatic masterpiece is a feast of indulgence, offering a sweet finale to your celebration.
YOU MAY ALSO LIKE:
DON'T FORGET TO PIN THIS FOR LATER!