This post may contain affiliate links, which means I'll receive a commission if you purchase through my link. Please read full disclosure here.
Ready to transform your face into a Halloween canvas? We've got a cauldron full of spooktacular Halloween makeup ideas that are not only eye-catching but also as easy as pumpkin pie.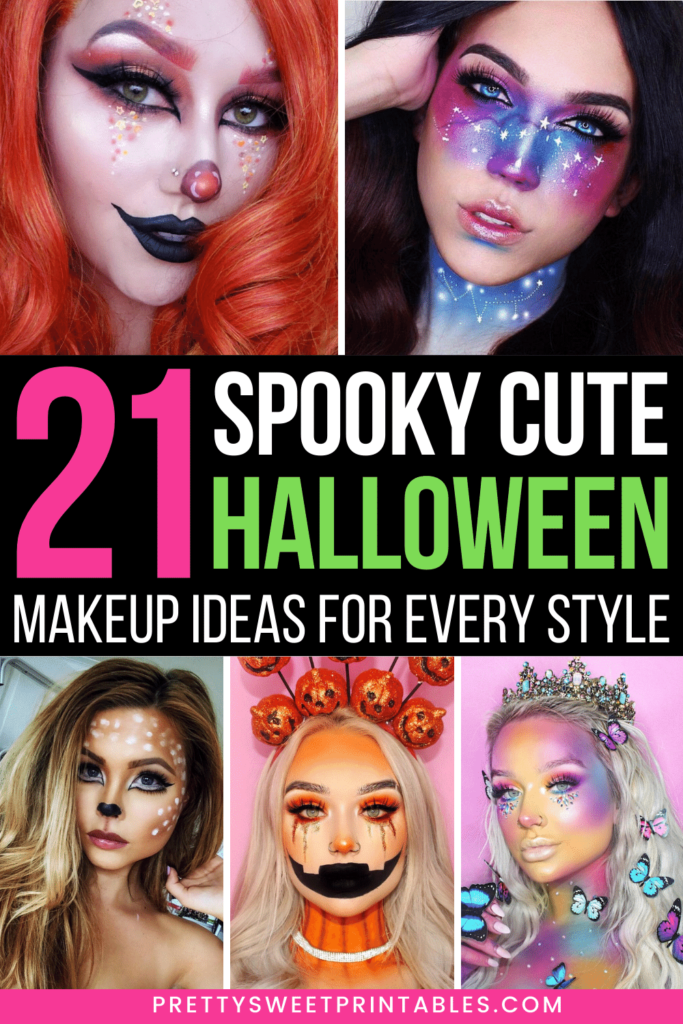 But that's not all! Halloween isn't just about makeup; it's also about having the perfect hairstyle and nails to match your spooky style.
We'll help you with that too!
And speaking of style, Halloween is when you can dress up as anything you want.
Whether you want to be a scary witch, a charming vampire, or a mystical mermaid, we've got makeup ideas to make it happen.
These looks are easy to do, so you can have fun while transforming yourself.
So, grab your brushes, and paint palettes, and get ready to dive into a world of simple yet stunning Halloween makeup looks.
HALLOWEEN MAKEUP IDEAS
1. Scarecrow Makeup For Halloween
Are you ready to become the cutest scarecrow in the patch? With some red, black, and gold makeup, you'll be ready to guard those imaginary crops in style!
2. Vampire Halloween Makeup
Sink your teeth into this classic vampire look. Don't forget the fake blood – it's a must for an authentic vampire bite!
3. Clown Halloween Makeup
This clown look isn't all laughs. With sparkling sequins over the eyes, it will add glamour to your playful persona – a dazzling twist on the classic clown style!
4. Skeleton Halloween Look
Who needs flesh when you can have bones? A simple yet striking look that's perfect for a Halloween night out.
5. Sugar Skull Makeup
Channel your inner Dia de los Muertos with an intricate pink sugar skull design. It's a celebration of life and death!
6. Deer Halloween Makeup
If you love Bambi, embrace your inner woodland creature with doe-eyed makeup and adorable spots.
7. Witchy Makeup
Bubble bubble toil and trouble! Brew up some magic with a classic wicked witch look. A pointed hat and broomstick are optional but highly encouraged!
8. Easy Pumpkin Halloween Makeup
Here's a Jack O' Lantern that everyone will want to carve. Sparkly orange makeup is the key to this look!
9. Galaxy Makeup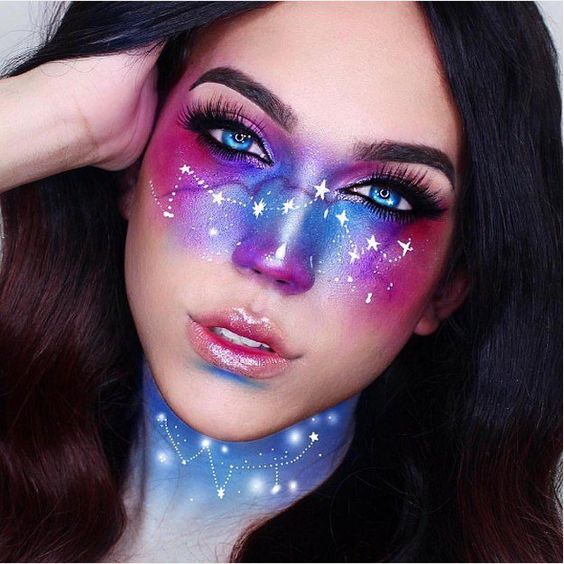 Go beyond our earthly realm with a stunning galaxy-inspired makeup look. It's a cosmic journey on your face!
10. Pop Art Wonder Woman
With bold pop art makeup, you'll be ready to save the world one Halloween party at a time, channeling your inner superhero!
11. Harley Quinn Halloween Makeup
Join the ranks of the infamous Harley Quinn with her iconic red and blue look. Don't forget the bat!
12. Butterfly Queen
As you flutter into the night with whimsical butterfly-inspired makeup, you'll become the queen of the enchanted garden, with a crown and all.
13. Melting Ice Cream Halloween Look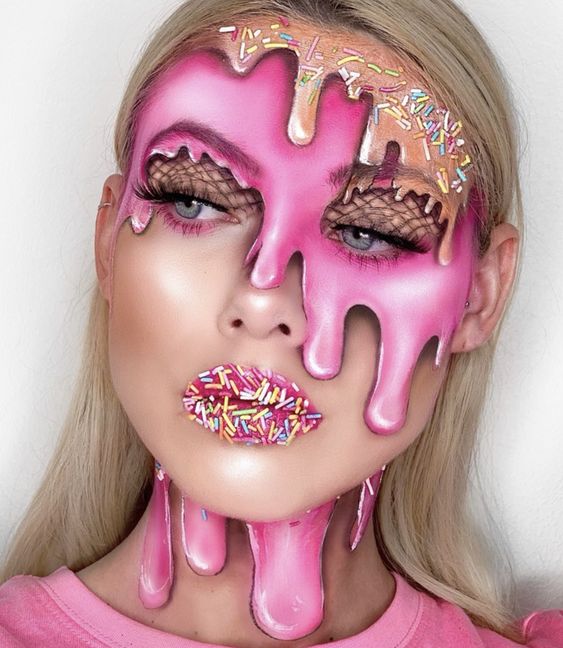 This melting ice cream look is as delicious as it is creative. You'll be the sweetest treat at the party!
14. Cheetah Halloween Makeup
This fierce cheetah print is the purr-fect choice for animal lovers. So, get ready to embrace your wild side!
15. Minnie Mouse Halloween Makeup
Bring the magic of Disney to Halloween with a Minnie Mouse-inspired look. Polka dots and a bow are a must!
16. Joker Halloween Makeup
Why so serious? Put on a smile and get ready to embrace chaos with a Joker-inspired look. It's all about those maniacal laughs!
17. Zombie Glam Makeup
You get the best of both worlds with this spooky and glamorous look. A zombie glam look will leave everyone in awe.
18. Barbie Doll Halloween Makeup
Achieve the iconic Barbie doll look with a lifelike appearance. Follow a tutorial to recreate the melting plastic face effect.
19. Poison Ivy Halloween Look
That girl is poison! If you want to channel your inner eco-warrior, opt for a Poison Ivy-inspired look. Green and leafy with red hot hair to boot!
20. Mermaid Halloween Makeup
You'll shimmer and shine like a true aquatic beauty with this mesmerizing mermaid look.
21. Kitty Cat Makeup Halloween
Meow! Transform into a cute kitty cat with whiskers and a button nose. It's the cat's meow of Halloween looks!
YOU MAY ALSO LIKE:
DON'T FORGET TO PIN THIS FOR LATER!