This post may contain affiliate links, which means I'll receive a commission if you purchase through my link. Please read full disclosure here.
Halloween is just around the corner, and it's time to get your spooky on with some Halloween hairstyles!
Whether you're planning an elaborate costume or simply want to add a touch of Halloween magic to your look, your hair can be the perfect canvas for your creativity.
But wait, there's more to a faboolous Halloween than just hair! Elevate your entire Halloween look with mesmerizing Halloween nails and spellbinding makeup.
While you're getting ready for the most haunting night of the year, don't forget to set the eerie atmosphere with spooky Halloween decorations and whip up some wickedly delicious Halloween party food to satisfy your ghoulish guests.
From crazy clowns to ghostly buns, we've curated a list of the best Halloween hair ideas.
So, get ready to turn heads at your Halloween festivities and make this year's celebration truly spooktacular!
1. Bone Chilling Purple Hair
This eerie and enchanting purple shade will set the tone for your entire Halloween look. Recreate this Halloween hairstyle by adding skeleton hands, bone clips, and spider hair clips for an extra dose of spookiness!
2. Crazy Clown Hair
Transform into a wickedly fun clown with hair that's been expertly styled to create a clown hat and some wild, chaotic strands on the sides.
A generous amount of hairspray is key to hold this unique clownish hairdo in place, ensuring that everyone will be laughing with you, not at you!
3. Purple Monster Bun
Unless you're ready to change your hair color permanently, we suggest starting this look off with the perfect purple wig. Now, let's unleash your inner monster with this playful bun that's perched atop the head.
To achieve this whimsically eerie look, add a fake eyeball to the center of the bun, and craft monster wings, a smile, and a horn using readily available craft supplies.
4. Spooky Spider Swirls
Creep it real with green pinup-style hair swirls, and don't forget to add some sparkly spider clips.
It's the perfect look for those who want to embrace the spookiness of Halloween while keeping a touch of vintage charm.
5. Halloween Hair Side Braid
The purple, orange, and white hair, combined with the natural hair color, adds a pop of Halloween to a bewitching side braid.
6. Spiderwebs
What's better than spiders in your hair? Spiders on webs in your hair! This simple look can be achieved by tying off sections of your hair with clear elastics, parting them, and tying off the hair again.
To complete the look, add some gold hair cuffs and attach fake spiders for an eerie yet classy Halloween hairstyle.
7. Viking Queen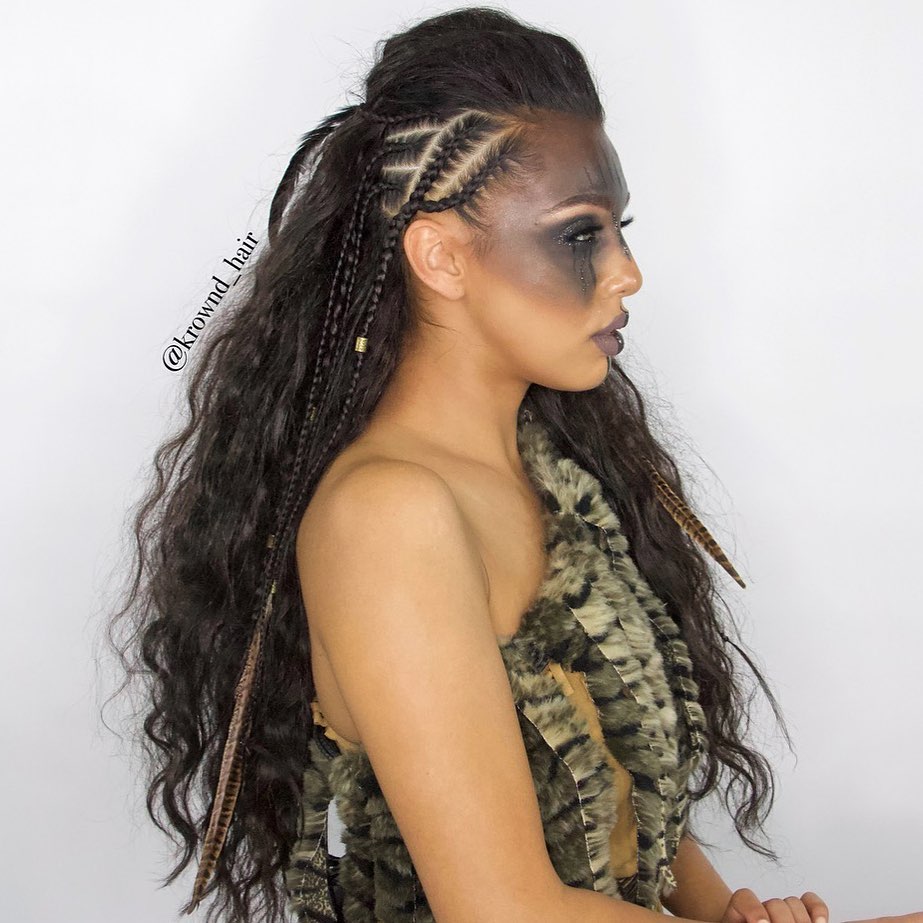 If you're dressing up as a Viking queen this Halloween, then your hair must be just as amazing!
Raw and untamed locks, adorned with varying braids, bring this look together so you can truly embody the fierce and regal spirit of a Viking queen
8. Maleficent Horns
This devilish Maleficent hairstyle is a stunning choice for those with long locks. To achieve this look, simply grab a pair of Maleficent horns and wrap your hair around them, securing it tightly with bobby pins.
This Halloween hairstyle will look even more gorgeous if you have different shades of color in your hair.
9. Halloween Ribbon Braid Pigtails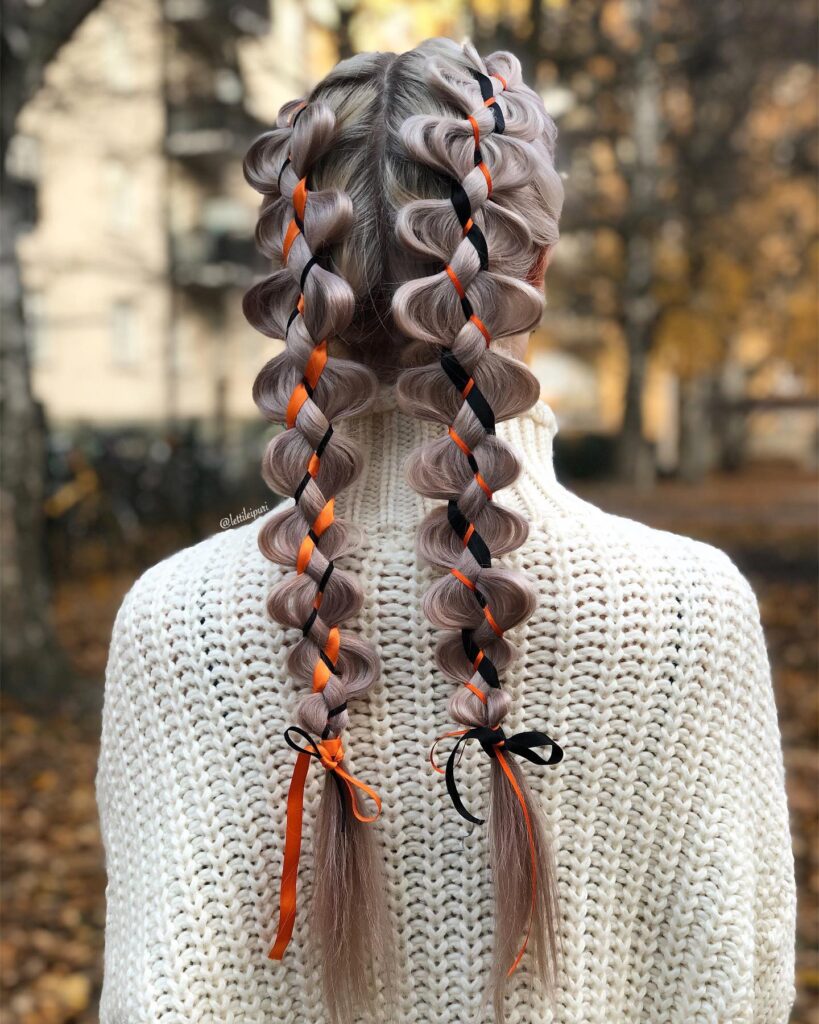 This Halloween look adds a pop of color to your hair with ribbon braided pigtails that are as sweet as candy.
10. Unicorn Hair Tutorial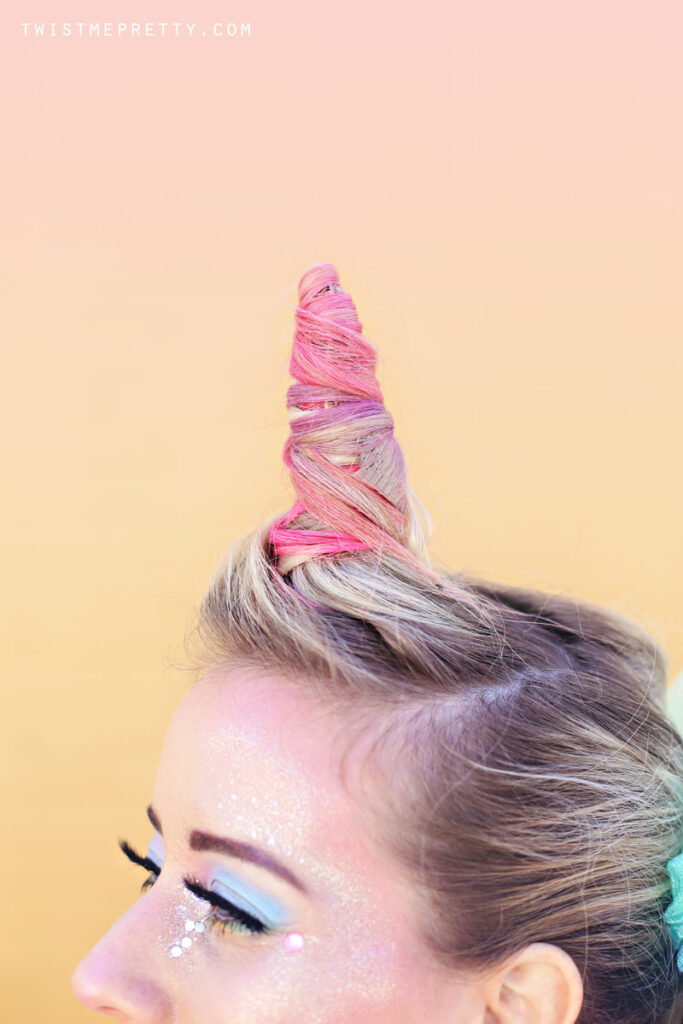 Unicorns aren't just for fairy tales! Achieve a magical look with colorful unicorn-inspired hair.
In the tutorial, you'll learn how to create this enchanting hairstyle using temporary hair color spray, a few trusty bobby pins, and a touch of hairspray.
11. Creepy Spider Hair
Scare your friends and foes alike with a hair-raising transformation that turns all your locks into a giant spider as big as an acromantula – the perfect hairstyle for Potter fans!
12. Skeleton Dutch Braid
This Dutch braid is the epitome of skeleton perfection. Achieve a spine-chilling Halloween look by wrapping your braids around skeleton figures atop your head.
For an extra dose of spookiness, draw a spine down your back, giving your braids a real-life skeleton effect that's sure to send shivers down your spine
13. Pink Skeleton Braids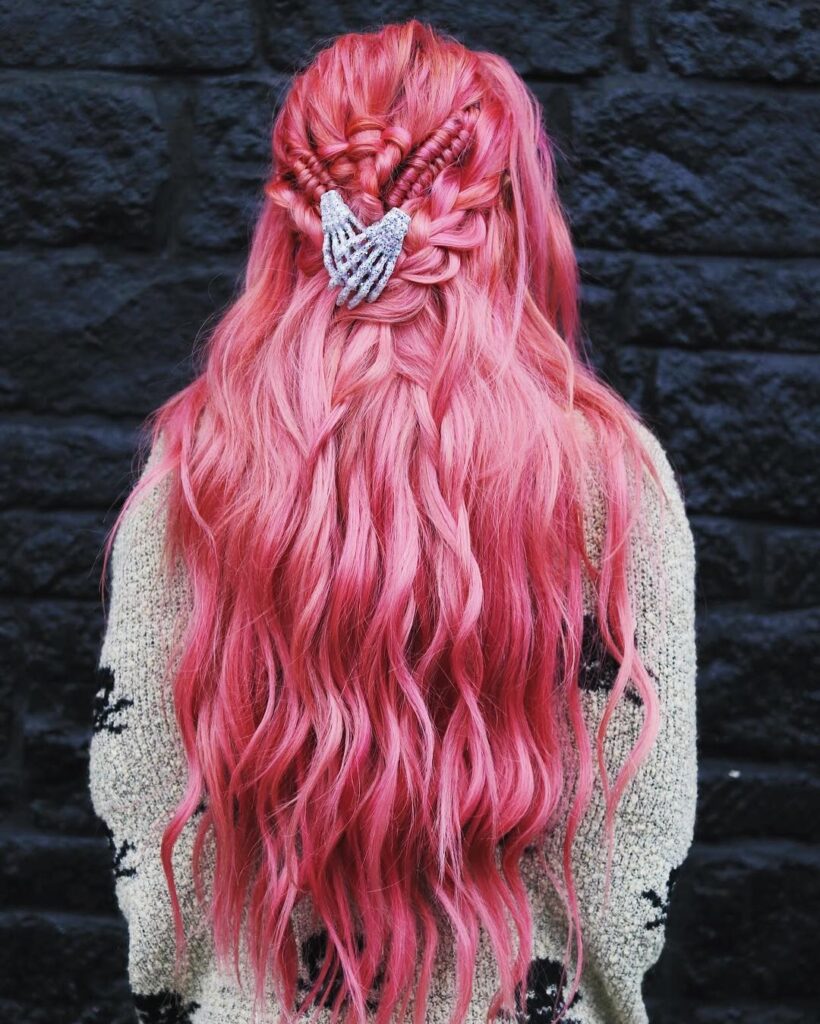 Pink hair, don't care! With stunning braids leading to spooky skeleton hands, this is my kind of Halloween hairstyle!
14. Sparkly Space Buns
This gorgeous hairstyle combines stunning mermaid-colored hair with playful space buns and a generous dose of pink glitter.
It's the perfect hairstyle to complement any fantasy Halloween costume, and I absolutely adore this look!
15. Candy Corn Hair Color
I love that this candy corn hair captures the essence of Halloween's favorite candy with vibrant color – a delicious blend of white, orange, and yellow.
Complete the look with a matching bow to take your Halloween style to the next level!
16. Glam Zombie Hair
Turn heads with glamorous zombie locks that blend elegance and horror seamlessly.
17. Scarecrow Braid Crown
I love how easy it is to create this scarecrow-inspired braid crown. Embrace the rustic charm; the rougher the look, the better.
Finish it off with cute daisies and straws of hay for that perfect scarecrow touch!
18. Kitty Cat Ears
Crafting these kitty cat ears is easier than you think, thanks to the magic of hairspray.
Follow this tutorial to achieve the purrrfect Halloween look and transform into a feline beauty with a hairstyle that's just right for the occasion.
19. Barbie Halloween Hairstyle
It's no surprise that everyone wants to dress up as Barbie this Halloween. So, if you're ready to party like Barbie, you'll adore this hairstyle.
Just remember to coordinate it with matching nails and makeup to complete the full Barbie look!
20. Batty Braid Updo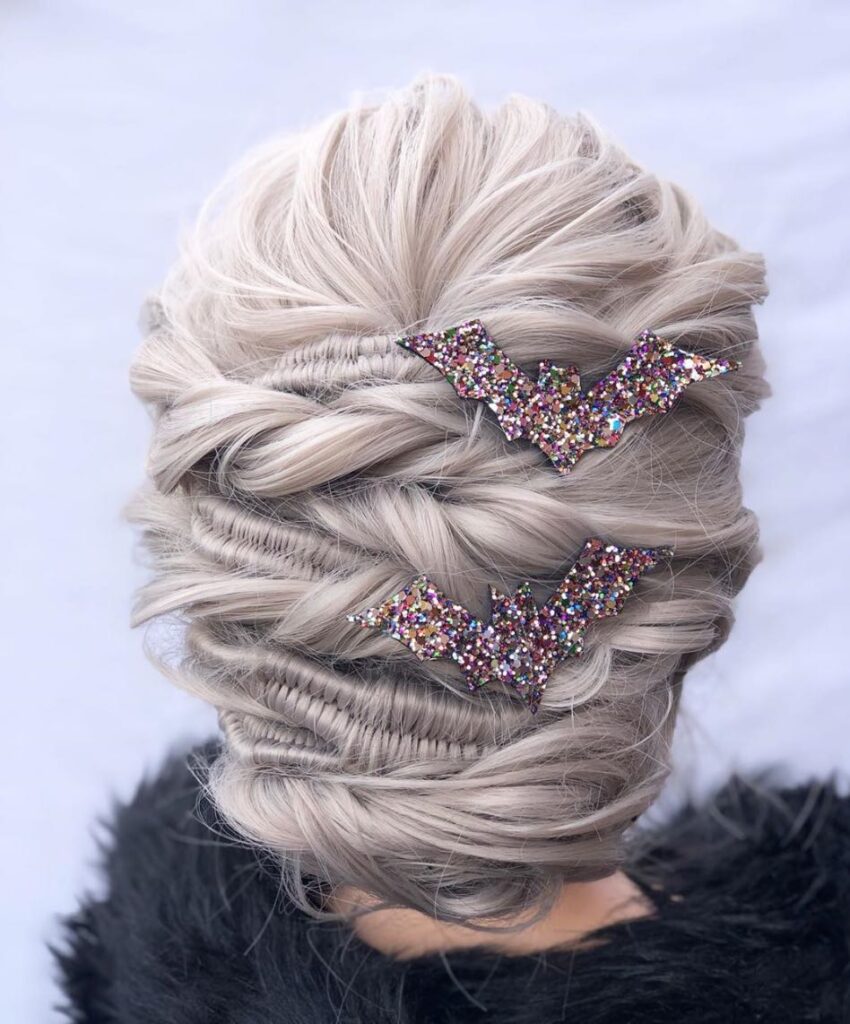 Embrace the night with bat-themed braids that create a stunning updo fit for a vampire.
21. Skulls Bubble Ponytail
This Halloween hair look is nothing short of spine-tingling.
Add an element of intrigue to your hairstyle with a bubble effect ponytail, featuring skulls inserted into each bubble for a daring and chilling appearance.
22. Poison Ivy Hair
Poison Ivy is synonymous with her fiery red hair, making it the perfect Halloween look if you're already sporting this hair color.
Otherwise, a vibrant red wig will work just as well. Prepare to channel Poison Ivy's allure with this enchanting and deadly hairstyle.
23. Spooktacular French Braid
If I were a spider, this would be the web I'd dream of.
A classic French braid that complements any Halloween costume, with a spooky twist by adding some spiders to make it even more Halloween-ready.
YOU MAY ALSO LIKE:
DON'T FORGET TO PIN THIS FOR LATER!